Tipster Street Review
Could choosing the perfect tipster give you an easy way of winning money regularly? While there is no guarantee that you will win using a tipster service, it can help. Good tipsters tend to boast of regular wins at decent odds.
This Tipster Street review will look at a popular tipster site. Tipster Street has been going for a few years and has plenty of subscribers.
Is this the place where you will find the tipster you want? Let's start by looking at what it is and what it has to offer.

What is Tipster Street?
Some tipster sites offer just the one option. However, Tipster Street gives you a range of possibilities. This is because it brings together a number of tipsters on one site. It's similar to Betfan & Betting Gods who we've previously reviewed.
At the time of writing this Tipster Street review there are 27 different tipsters. They cover a range of sports. So, you can choose to get tips on football if you prefer. Or do you want to be bet on horse racing, golf or something else?
Some of the tipsters even cover more than one sport. Other choose specialties like the ante post market and or value bets.
There isn't a lot of general information on their site. Basically, you will just want to get stuck in and choose a service. You will then be guided to that tipster. This is where you can see all of the details. There is also a blog that has a good, steady stream of content.
Naturally, the quality of this service comes down to the tipsters' results. We will look at this aspect later on in the Tipster Street review. For a general starting point, though, the site is easy to simple and look at.
It was launched in 2014. The aim of this site is to help the average sports bettor get a helping hand. The home page claims that over 80,000 people are making money with their tips currently. So how does it work?
How Does It Work?
As mentioned earlier, you start by choosing your tipster. They are listed in alphabetical order. All you need to do is click on the one that you are interested in.
While writing this Tipster Street review, the list had 27 options. The first couple are called Alex Rey Sports and Alan Wood Racing. The last couple are The Weekender and Value Favs. In between, there are lots of others.
If you prefer to narrow it down by sport then you can do this. The list of sports is perhaps surprisingly long. This is because some tipsters cover more than one sport. So you can choose speedway, cycling or ice hockey among others.
They only accept professional, proven tipsters on here. How can they guarantee this, though? The method used to is put new tipsters into a proof process. There are 3 stages here over a minimum of 6 months.
Once you choose a tipster, you will start to get regular tips through. The amount of tips and the timing varies by tipster. This Tipster Street review will cover a few specific tipsters' details in a moment.
The site is also neatly set up. Each tipster's page tells you about their record to date. You can also see details of the timing of the tips. Crucially, it is also clearly listed how much of a starting bank you need.
There is also the option of getting free tips. If you sign up for this, you will get 3 tips to your inbox each day. The site says that these free tips have won over £7,000 in the last 3 years. This is based on a stake of £10 per point.
Who Is Behind Tipster Street?
The About Us page tells you about the team. They include the manager, who is called Dave, and the assistant manager, Tina. With 4 bloggers on the team, it is clear that producing fresh content is part of their strategy.
The owner of the site is simply called Neil on here. This is Neil Stevens-Wood, who has been in the horse racing industry for 3 decades.
He also set up N.W. Racing in 2012. This is a company that offers horse racing data analysis and statistics. Neil's LinkedIn profile mentions his love of sports trends and statistics.
Rather unusually, they have a physical presence as well as a website. They opened a London office in 2017. The Tipster Street site says that people are welcome to visit. They can also be seen regularly at race meetings across the country.

Which Are Their Most Popular Tipsters?
There is nothing on the Tipster Street site to tell you which tipster is most popular. Therefore, you might want to check out what other people say about them.
For example, The Golf Profiteer, The Weekender and Value Favs are all highly rated. With a little bit of research, you can find which service suits you best. The good news is that you can find a Tipster Street review on many of their best-known tipsters.
Each tipster's page gave you all of the figures you need. This includes the starting bank, the total profit and the ROI. You can also see how months have been profitable. In fact, you can see their detailed results before joining.
To help you out, I have listed below some of their best tipsters.
The Golf Profiteer
As the name suggests, this tipster gives tips on golf tournaments. It is one of 4 golf services covered on the site. When writing this Tipster Street review, I saw that it had been going for over 5 years.
Since starting out in 2013, this tipster has registered a total profit of over £3,500. This work out as an average monthly profit of £48.10. In points, this is 4.81. The ROI given to date is 12%.
You can expect to get around 21 tips each month. They will typically arrive between 9am and 11am BST. The monthly cost is £9.95 and on a quarterly basis it costs £19.95. The 30-day trial at £4.95 appears to apply to all of the site's tipsters.
A starting bank of 250 points is recommended. The advised stake is £10 per point. The win strike rate is listed as 14% at the time of our Tipster Street review.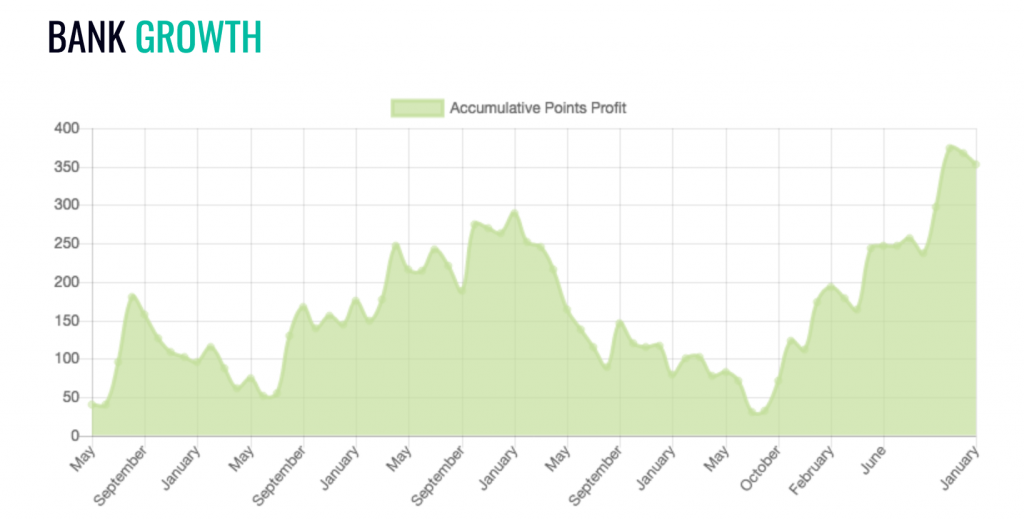 Value Favs
In this case, the service focuses solely on horse racing. To be more exact, the tipster looks for value on shorter-priced horses. Value Favs has been on the site since December 2015.
The total amount of profit accumulated in that time is £3,133. This gives an average of just over £82 each month. The profits work out as 8.24 points per month. As for the ROI, this is listed at 7%.
The number of tips each month is usually about 6, which is pretty low. They are sent between 9am and 11am BST. You will pay £19.95 to subscribe to Value Favs. If you prefer to pay quarterly then it is £39.95.
You are advised to have a starting bank of 150 points. The stake is £1 per point. Finally, what is the win strike rate? A very impressive 41%.
The Weekender
This is a fairly simple tips service. It focuses on all types of horse racing. The bets are for 1pt Win to advised BOG odds. It is said to be right for anyone with more time for betting at the weekend.
What about the profits so far. Since it started in January 2017, The Weekender had racked up £5,470 before this Tipster Street review. In terms of monthly profits, it is an average of £218 or 4.37 points. The ROI is shown as 34%
You will get about 14 tips each month. They are sent in the morning. Don't forget that this service looks at weekend races. The only subscription option is monthly at £9.95. However, you could sign up for the 30-day trial at £4.95.
The starting bank is given as £50. The stake is a substantial £50 per point. The win strike at the time of this review is listed at 34%.
Alex Rey Sports
This tipster has been with Tipster Street since 2013. He gives tips on a number of ball sports. There is a particular focus on football, golf and rugby.
The total amount of profits is close to £3,000. On a monthly basis, this is £41.55 or 1.66 points. The started ROI just now is 5%.
Each month, you will get sent around 21 tips. As is normal with this site, the tips are sent between 9 and 11am BST. The monthly cost is £19.95. On a quarterly basis it is £29.95.
What starting bank do you need? 150 points is recommended. £25b is the advised stake per point. Finally, the win strike rate currently sits at 41%.

Ante Post King
The last of the tipsters I will look at is Ante Post King. This service has been on Tipster Street since the start of 2013. As you would imagine, it looks at the ante post markets. This is one service that covers a range of sports.
The total profits built up so far sits at £435. This is a monthly average of a modest £5.95, or 0.23 points. The ROI is just 1%.
The tips sent each month totals around 16. They follow the usual system of sending out tips in the morning. The cost each month for Ante Post King is £19.95. On a quarterly subscription the cost is £39.95.
As for the starting bank, this is listed as 300 points. The stake is £25 per point. Right now, the win strike rate sits at 15%. Their cumulative results have suffered due to a poor run in the few months before this Tipster Street review.
How Much Money Can You Make Following It?
Clearly, the amount you win will vary from one tipster to another. Even a single tipster can experience good and bad runs. So, what is the best way of seeing how much you can win?
A good place to start is with their track record. Each tipster's page tells you their average monthly profit. Of course, you also need to take into account how long they have been going for. We saw earlier in this Tipster Street review a few examples. Let's pick out a few more just now for comparison.
For instance, what about Big Race Profit Basher? This tipster has an average monthly profit of £105.20. This relates to 10.52 points. Since this service has been going since April 2017, it has a fairly long track record. The total profit to date is £2,316.
If we move to Football Fever, the average monthly profit shows as £36.26. This translates as 1.45 points. In this case, the tipster has been going since May 2015. In that time they have £1,632 in total profits.
The final example comes from Flat Attack. This service has a monthly profit of £24. What this means in terms of points is 2.40. This service has been running since November 2015. It has total profits adding up to £937.
You can also see details such as the ROI for each tipster. Don't forget that there is the subscription fee to take into account too. What will your overall profit after this be?
The first payment option is with a monthly subscription. This is the recommended approach, as it lets you give it a try. The monthly cost varies by tipster. It is typically between $9.95 and £19.95, although a 30-day trial only cost £4.95.
You can get the same 30-day trial with the quarterly option. However, the full cost is then usually from £19.95 to £39.95 each quarter. When writing this Tipster Street review, I saw that most tipsters charge one or other of those two prices.
As we have seen, the profits vary a lot. It is common for tipsters to have good and bad months. Therefore, you need to consider where you want to look for a consistent but modest winner. Or perhaps you can handle a few losing months in exchange for some big wins.
Do They Have a Free Tips Service?
As mentioned at the start of the Tipster Street review, there are free tips. You get hold of them by signing up with your email address. This will let you get free tips every day.
This can be a sensible way to start on the site. If you have never used a tipster service then you might wonder how good it is. Beginning with some free tips lets you dip your toes in the water.
As we saw earlier, their free tips have a decent track record. However, with just 3 tips a day, you might find that you soon want more.
At some point, you will probably want to move on to a paid service anyway. However, you can stick to free tips until you are ready.
What Are the Other Tipster Street Reviews Saying?
The other reviews for this site are generally positive. There is certainly nothing to suggest that it is to be avoided.
Some Tipster Street review pieces look at certain of their tipsters. Others cover other tipsters. This means that the reviews are pretty varied.
Of course, each experience varies. Since there are a number of tipsters, most reviews only look at a few of them. In some reviews of this site, this has led to a handsome profit. Other reviewers haven't had as much luck, though.
You should also remember that new tipsters are added from time to time. This means that it is always good to see an up to date review.
Who Might It Suit?

Any type of tipster service is suitable for certain kinds of people. Maybe you want to find an easy way to win some money. Perhaps you just love sports and enjoy betting on them. But if you don't know enough to bet confidently what will you do?
These services let you see what the experts think. It is a tried and trusted approach to betting. Not everyone likes to leave their fate entirely in other people's hands, though. If you want to take more control then you need to consider alternative strategies.
What if you just want a steady second income? Well, no tipster service is likely to be best for you. These services are always going to give you variable profits. You certainly can't rely upon a tipster giving you a fixed amount each month. Even the best, most consistent tipster can go through a losing streak.
If you want to win every month then you need a strategy like matched betting. This will let you get a regular income you can count on. Tipster services will give you more variable results.
Tipster Street Review: Conclusion

This is a solid tipster site that offers a range of options. If you enjoy betting on sporting events then it is a good choice. You have a great deal of flexibility in picking the sport and tipster that you prefer.
Having said that, if you have never tried sports betting you might want to look around first. Before committing yourself to a tipster, you should take a look at other types of sports betting as well.
If you decide to go with Tipster Street then it is a professional package. You might like to try the free tips and then the 30-day trial offer before paying for any service. In this way, you can gently ease yourself in without any great risk.
Related: Here's my list of the best paid tipsters.