Proform Racing Review

Proform Racing is described as being the UK's leading provider of horse racing software. It is certainly a well-respected service. But does it deserve this title? And is it right for you? To find out, we need to look at in depth.
Let's take a look at what is offered and what it costs in this Proform Racing Review. This will let you see whether it is worth giving a try.

What Is Proform Racing?
This service covers UK and Irish horse racing. The Proform Racing software is packed with details and statistics on races. You can use it to select horses and find bets to make. You can also read through lots of information and updates.
In fact, at first sight you might find it a bit overwhelming. There is a lot of information to take in and to use. However, you could start by looking at just one aspect. For instance looking for the fastest horse in a particular race.
The site also has quite a lot of informational content to get you started. If you have time and patience, you will get to grips with it.
In fact, the service is probably ideal for someone with a lot of time on their hands. If you want to really delve deeply into horse racing, you will find plenty of useful information here.
It is mobile-optimised too. So, you can search through their giant database of form and results wherever you are. We will go into more detail on what they offer in the rest of this Proform Racing Review.
What Does It Provide?
There is a lot to go through here. The service is divided into different sections. You don't need to use them all if you don't want to.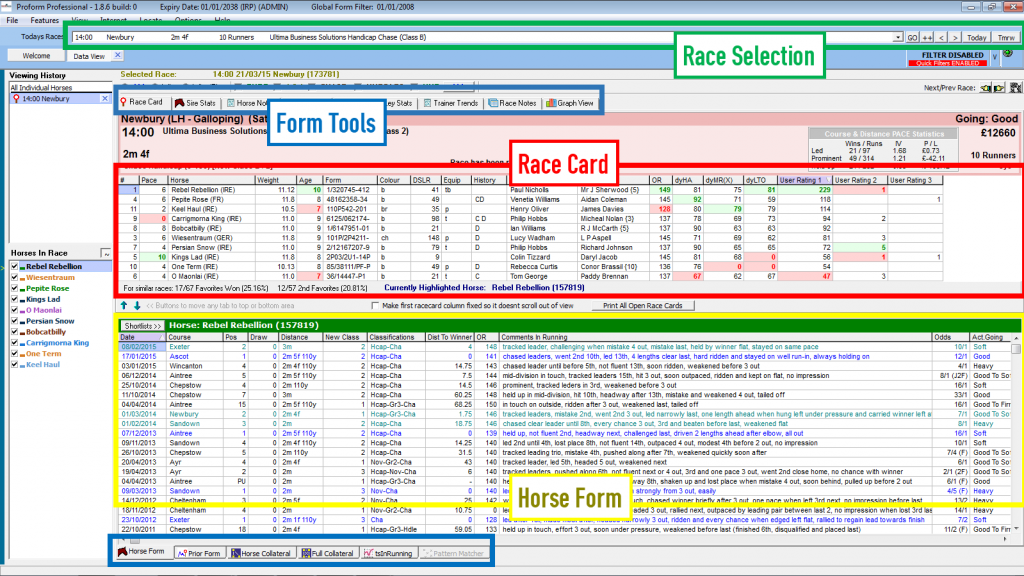 We can start this Proform Racing Review with their race guide. This gives you the Proform power ratings. These are said to offer a reliable way of finding the winner. According to their site, 60% of race winners are in their top 3 rated horses.
You can use this guide to identify those horses that are most suited to the race. Which horse is most likely to enjoy the distance and going? What jockey and trainer stats do you need to know?
The power ratings are probably the most useful aspect for those who want to analyse races. They give you a quick guide to who is most likely to win. But there is a lot more to it than that.
There are tons of other details here for you to go through. For example, you can see a draw bias and a pace map. The sheer volume of data is a bit of a shock at first. But it is all neatly presented and easy to read. You should soon get the hang of the simple, graphical displays.
Proform Racing Speed Ratings
The speed ratings give you one of the most important sources of information. This is a non-weight adjusted rating of how fast they are. It lets you see how quickly each horse ran the last time out. You can see this on a scale of 0 to 100.
You can also see whether the handicapping on a horse is right. A simple figure tells you if the current handicap is above or below what it should be. By now, you should start to get a more complete picture of each race.
Their daily stats give you a regular source of hundreds of reports. Free members can only see part of this. If you have a paid membership then you will have loads of new statistics every day.
You don't need to go through all of these details to make a bet, though. A simpler option with Proform Racing is to use their bet, lay and trade finder. This is a tool that lets you find possible bets very quickly.
It includes hundreds of filters, to narrow down your selection. Some of the features on this bet finder are pretty interesting. These include a way of seeing how your current filters would have fared on previous races.
Once you have found the bets to make, you can follow the action here. They will automatically give live updates and results. As with the guide section, there is a massive amount of stats here for you to use.
Paid members on the platinum level get access to years of historical data. Again, this is probably only useful for certain users. Not everyone has the time or inclination to go through so much information.
Details are updated each night. This means that it is recommended that you place your bets the night before races. Hopefully, this will give you the best odds.
Who Is Behind It?
For this Proform Racing review, we took a few steps back in time to see its beginnings. This company has been around for about 20 years. The man behind it is called Simon Walton. He started Proform when he was 30 but says that was betting long before that.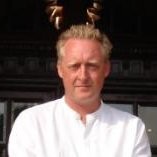 Walton is a computer programmer when he started working. He later discovered that his programming skills could be used for horse racing analysis. The breakthrough came when he read how analysts manually wrote out speed rating cards. This let him combine his work with his love for horse racing.
He realised that he could use the same manual process but make it computerised. This led to the first version of Proform being created. It was free to use and gained a decent degree of popularity in the 1990s.
It was only after being made redundant that Walton decided to get serious. At this point, he set up a company to offer a paid version of Proform Racing. The product has grown a lot since those early days, of course.
Walton says that he still uses the Power Ratings to bet every day. He is based in Yorkshire and lists golf as one of his other main passions.
The company was incorporated in 2000. It is based in Halifax. You can find Proform on Twitter and Facebook, as well as on their own site.
How Much Does It Cost?
You could use Proform Racing for free. However, this gives you a very limited set of features. If you prefer a paid subscription, there are a few different ways of doing it.
The free option is a decent starting point to give it a try. But if you are serious about making the most of this service, you will probably want a paid subscription.
There are a few different levels to choose from.
24 hour access. You pay £10 to get access to the service for a day. This gives you speed ratings, form ratings, daily stats and more.
1 week access. £20 gives you the visual race guides. This is similar to the previous package. But it doesn't include the bet finder or the daily stats.
4 week access. At the time of this Proform Racing review, 4 weeks costs £50. This is the same package as the previous one.
Platinum membership. This is their most complete package. It costs £195 for 8 weeks.

The Platinum level is clearly quite expensive. It is something that isn't right for everyone. However, it does add in some very useful extra details. For example, you get access to their 17 year database.
Platinum members also get other features. These include their form book, horse watcher and ratings importer. This level might be too complete and too pricey for a lot of people. It is aimed at people who are pretty serious about horse racing.
This is the sort of package a pro punter or tipster would use. It is arguably the most complete horse racing data service around.
Will You Make Money?
The big question is whether you will make any money with Proform Racing. This is something that is difficult to give a straight answer to. No Proform Racing Review can guarantee how much you will win. This is not Matched Betting.
The software is designed to let you find out lots of relevant details. You can then choose which horse to bet on. Therefore, there is no profit level that every user can expect to get.
There are so many different ways of using this. The variety of filters means that you will get unique results. You aren't just looking for tips here.
Therefore, the first point to bear in mind is what information you look for. If you choose the right factors, you have more chance of success. But if you filter on the wrong details, the results won't be so useful.
Then there is the question of interpreting the information that comes back. You need to know how to choose the right horse eventually. All the data in the world won't help if you make a poor decision.
Bet Finder
The bet finder makes the process of choosing a horse quicker. But you are still using filters to narrow things down. So we can't see a simple ROI figure the way you can with tipsters.
Since this service has been around for so long, it seems safe to assume people use it. Their site has some user testimonials on it. But no one mentions exact profits.
I found an interview with Simon Walton from 2018. He mentioned over 1000 points in profit when backing all top-rated horses in 2017.
Other Proform Racing Reviews mention a variety of results. Most show good ROI and strike rates. The ROI seems to average out at between 12% and 20% or so. The strike rate is typically 25% upwards.
Naturally, your results depend upon numerous factors. These include the filters you use, the final decisions you make and how many bets you place. Having said that, it seems that profits can be made if you use it wisely.
How Many Bookies and How Many Sports / Markets Are Included?
This service focuses purely on UK and Irish horse racing. No other sports or markets are included. However, it covers a huge number of races every day. These include the flat season and jumps too.
Once you identify a bet, you need to place the bet yourself. This means looking for the bookie with the best odds. You can't just link directly to the betting slip from this tool.
The latest version of the software includes Betfair prices. This can be especially useful if you planning to trade or place a lay bet.
Overall, it gives a pretty independent way of betting. All you are doing it using the service to find horses that you think will win. You then search for the best odds.
What Are Other People Saying About It?
The long-running nature of this service means that there are plenty of Proform Racing Reviews. Most of them are pretty positive. It is clear that this is a highly respected tool.
As mentioned earlier in this Proform Racing review, their site also has testimonials on it. As you would expect, these are all positive.
In terms of independent Proform Racing reviews, we can spot some trends. For example, people tend to be impressed by the range of filters. Reviewers like to be able to search for exactly what they want.
Of course, these reviewers are generally horse racing experts. So it is natural that they are excited with such powerful software. Newcomers also enjoy it, although some have noted that it takes time to get used to.
On the negative side, the cost is sometimes mentioned. This isn't a cheap option. Instead, it is a fairly expensive and comprehensive approach. So, it is more suited to people who are serious about betting.
Will You Get Gubbed using Proform Racing?
Getting gubbed is one of the great fears with any betting tool. What are the possibilities of this happening with Proform Racing?
The good news is that it would be virtually impossible for bookies to know you are using this tool. You aren't just blindly following a set of tips. Instead, you are using their tools to find horses to bet on.
If you win a lot then the bookies might still restrict you, of course. Therefore, we can't say that you will never be gubbed. However, it would be as a result of your success rather than directly because of this tool.
Most people will still lose enough to avoid this, though. If you use it wisely, you can make money without getting gubbed.
Advantages of Proform Racing
This Proform Racing review has covered quite a few positive points. The following are the most important.
An extremely comprehensive range of information. This tool has an incredible amount of racing information.
Free membership lets you get started. This can be a good way of getting to grips with the system.
Good support. This site is known to offer a professional support service. It is available by email and they respond quickly.
A strong history of wins. The statistics for this service show that they can be trusted to find regular winners.
Disadvantages of Proform Racing

The advantages above are just part of the story. We now need to look at some disadvantages in this Proform Racing review.
It can take some time to get used to it. The amount of statistics can make this awkward to get started with.
The cost for the full membership is quite high. Free membership is quite rather limited, though.
Fairly time-consuming to use. This is possibly the biggest drawback for a lot of people. It requires quite a lot of time if you want to research races fully.
Who Might It Suit?
There is no betting system that is perfect for everyone. This is because we all look for different things from this sort of service.
In this Proform Racing review, we have seen factors that help us work out who it suits. For instance, someone who loves going through stats will enjoy it. It will suit someone who has the time to do this thoroughly too.
Maybe you like the idea of hunting for the best bets. You are more likely to use this system if you are comfortable interpreting results. You make the final decision on each wager.
The fairly high cost means that it only makes sense for frequent bettors. You will want to place enough bets to come out ahead. So you need a big enough bank to deal with the inevitable losses now and then.
Who won't it suit then? From the previous points, we can narrow it down to the following. Someone who wants to be given tips and doesn't want to spend too much time on it. Or someone who never wants to lose and doesn't place too many bets.
Proform Racing Review: Conclusion

For some horse racing fans, this is a tool that is interesting as well as useful. It gives them a chance to get huge amounts of data in one place. For serious bettors with big banks, this is a solid approach.
Yet, it is also easy to see in this Proform Racing Review why it isn't right for everyone. Casual bettors and those looking for easy profits probably won't be so impressed. The free membership option means that it may be worth a try, though.