Top 5 Odds Comparison Sites
Finding value is one of the secrets to making money from anything in life. Things are no different when dealing with the bookies. You need to find the odds that give you the best chance of a tidy profit.
Of course, this is easier said than done. So how will you do this? One step is to find out what the best odds around are. This will let you secure maximum value.
Understanding how odds comparison sites work is vital in this. Once you get to grips with this aspect, things will be a lot clearer. What do you need to know to get started?
What is Odds Comparison?
The first point to consider is that not all bookmakers offer the same odds. In fact, prices can vary widely from one to another. You shouldn't assume that you can't find better odds elsewhere.
Sometimes the difference is so wide that it is obvious. However, this isn't always the case. What if the odds difference doesn't look big enough to worry about?
Even a relatively small difference can be important, though. Especially if you are placing a lot of bets each week. Therefore, it makes sense to compare odds. Getting the best deal can make you extra money.
You won't be surprised to see that doing an odds comparison can be difficult. There are so many bookies around that manually comparing would be impossible. We also need to remember that the odds change constantly. Once you complete your checks, the data could already be out of date.
This is why odds comparison tools and site are now popular. They let you very quickly and easily see where to get the best odds.
Should You Register Lots of Accounts to Get The Best Odds?
You might how easy it will be to take advantage of the best odds. After all, you are going to be comparing lots of bookies' prices. So, does this mean that you need accounts with all of them?
Yes, you need to register with lots of bookies. This means that you will have numerous accounts open. You can then take advantage of the best odds as they appear.
If you do this then you can place your bets smoothly. There is simply no point in using odds comparison websites without having plenty of open accounts.
If you do this then your options will be more limited than they need to be. Why even check all of the odds if you can only use 1 or 2 bookmakers to place bets?
Let's assume that you open all of the bookies account that you will need. The next step is to consider where to go to carry out your odds comparison work. What are the best sites for comparing odds just now?
Oddschecker
Oddschecker is one of the longest-running odds comparison websites going. It is also one of the most popular. So what is it that makes it trusted by so many people?

This is arguably your best option for checking UK bookies. In terms of sports, it is particularly strong on horse racing.
When you first enter the site, you will see the lists of sports covered. These are on tabs near the top of the screen. Their main sports cover football, horse racing, greyhounds and golf.
The list of other sports is extensive. For instance, you can also find the likes of rowing, ice hockey and table tennis odds. If you like a lot of variety in your betting then you will find it here.
However, their main focus is definitely on odds comparison. They have been doing this since 1999. This means it is no surprise that so many people check out here.
How does it work? You need to first of all choose the match, race or event. What do you want to compare the odds on? When I entered their site, they had a lot of Champion's League info on the home page. I choose the Barcelona v Liverpool game.
The bookies and exchanges are all listed along the top of grid. The three possible outcomes – Barcelona win, Liverpool win, draw – are down the left-hand side. The middle section shows you the variety of prices.

You then easily compare the different odds. This is made easier because the best figure is highlighted in bold. It is neatly laid out with a good use of colour to make life simpler.
If you prefer to see decimal odds then you can see them. Just go up to the settings button and change it there.
Once you are happy with the price what comes next? Just click on the price and you will be directed to the bookmaker site or betting exchange. This makes it very easy to place your bets.
What if you prefer to bet on the move using a mobile device? Well, there is a free Oddschecker app for Apple and iOS devices. 12 bookies are featured on here.
You will see a lot of bookie offers listen on the home page here. It is worth noting that they make money. When you follow a link and sign up Oddschecker earn commission on your betting activity. There is nothing wrong with this as such. That's why the website is free.
Odds Portal
While Oddschecker might be the best-known odds comparison site, there are others. One of the most important is called Odds Portal.

This is probably the best choice if you want to check out EU bookies. When you first enter you will see a huge amount of choice. This ranges from seeing the community action to looking at the live scores.
What if you want to get straight down to the odds comparison task? I went back in to check out the Barcelona v Liverpool match.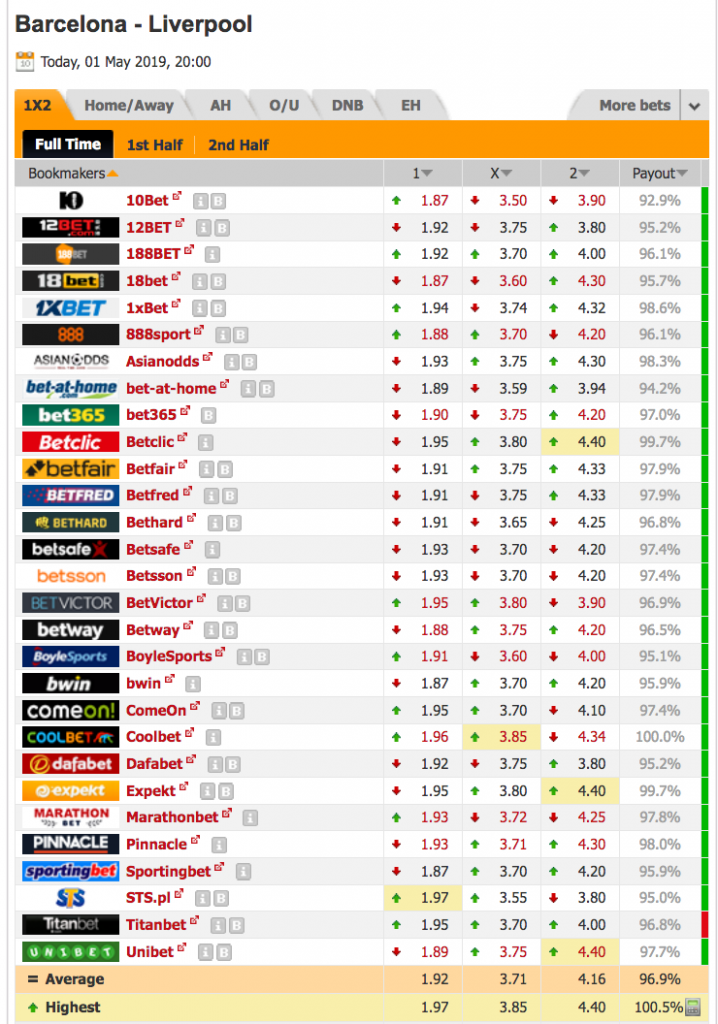 Would I see the same prices here? Very similar to Oddschecker not exactly the same.
When you hover over specific odds you can see the recent history. At the bottom of the grid, you can also see the average odds and highest odds listed.
There is one interesting feature on Odds Portal to mention. This is the percentage figure you can see in the pay-out column. This shows is who has the best over round.
One thing it doesn't have is a direct link to every bookmakers' betting slip. This makes it a bit more time-consuming than Oddschecker in some cases.
Easy Odds
This is another odds comparison that is solid enough for UK users. It is similar to Oddschecker in that it is best for UK bookies and horse racing.

As with the other sites we have looked at, Easy Odds offers more than just odds comparison. They also give you tips and links to free bets as well as offers.
If you want something other than horse racing you can choose from a drop-down list. Sports include run from football and rugby to cricket, darts and more.
With so much information crammed on, it looks quite confusing at first. It shouldn't take you too long to get to grips with it, though.

There are actually some useful features on this site. One is the tab that shows dropping odds. This is a nice tool for spotting events where the market is moving quickly for some reason.
You can also see a few sure bets on here too. The selection is pretty limited and the profits are small. However, you can join up as a member to see more bets of this type.
Another benefit as a member is that you can set up alerts. This means that you will be notified when odds on a specified event reach a certain level.
Registering as a member also allows you to see a lot more bookies. Their full selection is one of the biggest around. But the free list you can see only gives you a small percentage of them.
Perhaps it is the wide range of features that makes it a little difficult to get around the site. The community section alone has loads of tips and data for you to read through. It is definitely the sort of site for someone with time on their hands.
Bet Brain
This is an interesting odds comparison option that might suit EU users. It doesn't have quite as many bookies as some other sites of this type. Yet, it can offer a neat way of discovering new bookmakers.

They are based in offices in the UK and Romania. According to the Bet Brain site, they have 40 staff split over the different offices.
The site seems a bit less intuitive for users.
Again, this odds comparison website doesn't link you directly to the bookies' betting slip in all cases. They say they look at 97 bookies' odds. It is noticeable that they link to some of the major bookies, with deals to entice you to sign up.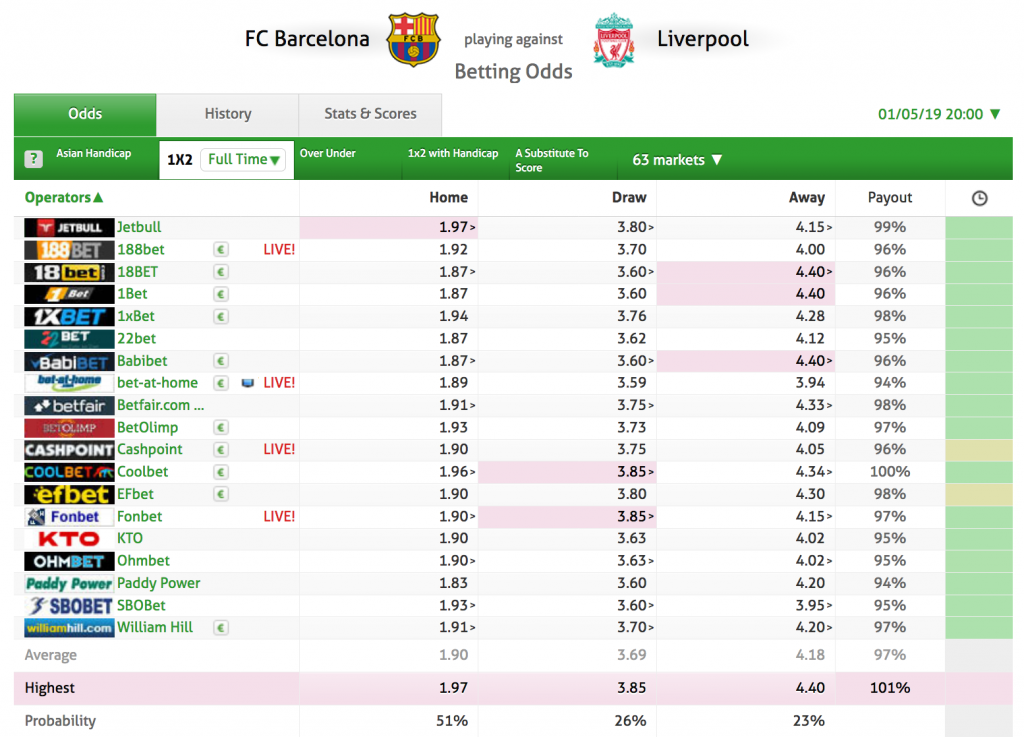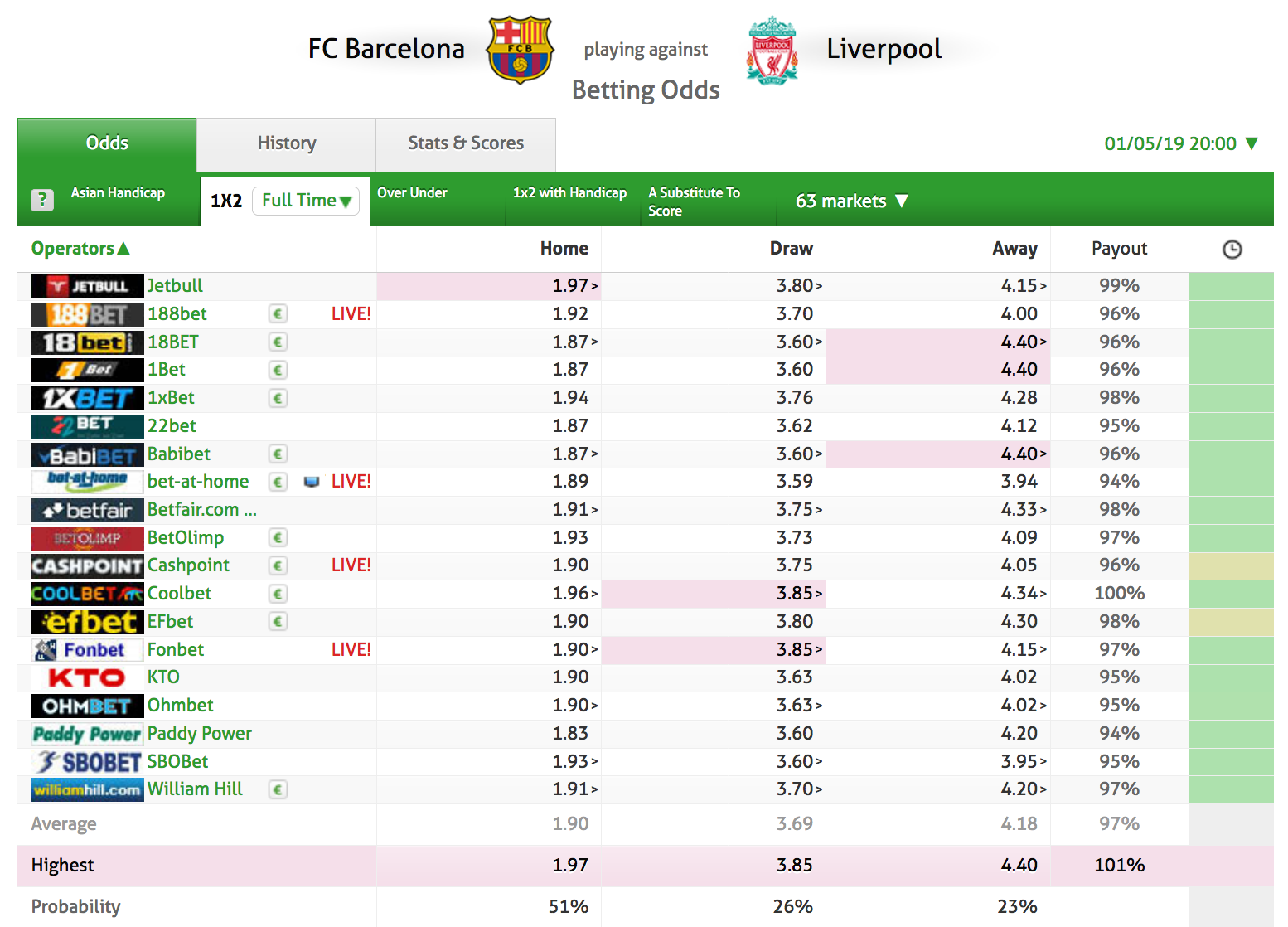 On the positive side, it has a clean and neat look to it. However, this seems to be partly down to having less information on it. It seems like the sort of site that a newcomer might feel more comfortable on.
There is also a limited selection of surebets and value bets on Bet Brain. They have been around since 2000.
Best Betting
This is another decent option for UK users. It is owned by the sports betting technology experts at Betgenius. Is their odds comparison site any good?

The selection of bookies is a bit limited and you can't always link directly to your betting slip. However, there are definitely some good things about it too.
The site perhaps looks a bit basic and old-fashioned. However, it is fairly easy to use right away. They seem to have found a good balance between putting on a lot of information and keeping it simple to use.
There is an extensive list of sports down the side of the screen. As well as hugely popular sports like horse racing and, you can choose the likes of kayaking and judo.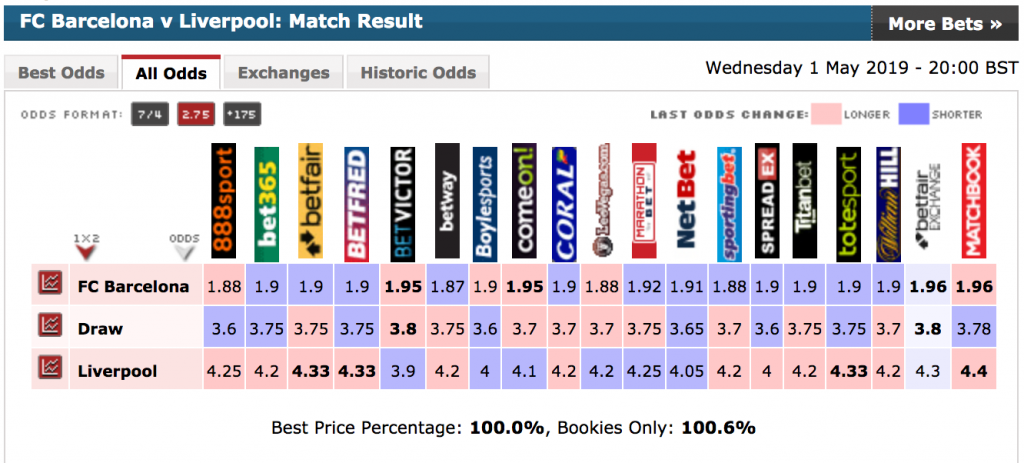 As with most of these sites, there are links to bookie offers for opening new accounts. They also have a page with steamers. These are selections that have shortened with several bookies. When I looked none were listed, sadly.
Other Odds Comparison Sites
Those are probably the 5 main odds comparison site you will be interested in. However, there are others out there too.
A quick search on Google brings back names like Hot-Odds, OddsFan and BetMonitor. There is no harm in trying a few to see if you like them. Yet, I feel that the 5 listed earlier should give you everything you need.
They are each different, appealing to different users. So take a few minutes to consider your needs. Do you need a UK bookie or an EU option? Do you prefer a simple site or something that you can really sink your teeth into?
By putting some thought into it, you can choose the option that best suits you.
Live Odds Comparison
It is vital that you use a site with live odds updates. This is due to the fact that the figures change regularly. Especially when it gets close to the time the event starts.
You might want to use more than odds comparison at the same time. Just do what I did and keep them open in different tabs on your browser. This will let you see any changes as they happen.
If you don't have the current odds it could be a disaster. When the market leaves you behind then you waste money. Instead of getting the best possible value, you are handing over money for nothing.
Paid Odds Comparison
You will notice that these services tend to be free. In fact, you can usually enter the site and check the odds without even registering. So why would you bother registering or paying for something you can get for free?
The truth is that the free services are too slow to be really useful. They don't update fast enough to really help you. You need to check a paid service flag up value bets and arbs. Speed really is of the essence with these strategies.
It is also worth remembering that free sites tend to get paid by the bookies? What does this mean for you? Well, it means that they probably won't show you any arbs opportunities.
Some of these services are extended for paying customers too. You might get to see more bookies or receive other benefits.
Can You Get Gubbed for Using Odds Comparison Sites?
What about the risk of getting your accounts gubbed? This is one of the great fears of anyone looking to beat the bookies. Is this possible if you use any of these sites to find the best odds?
It could certainly happen. The bookies won't be happy if you keep taking value odds. This is another reason why it is good to use different bookmakers as much as possible.
Of course, there is a limit to how long you can keep doing this before being spotted. If you place a lot of value bets as great odds you will probably run into problems at some point.
Odds Comparison Conclusion
There are plenty of sites around that let you compare odds. Most of them are simple to use and free.
However, they are of limited use to you unless it is as part of smart overall tactics. By looking for arbs opportunities and other strategies you can look to earn as much as possible.