Brand new from Mike Cruickshank
"New book reveals

How to profit from Matched Betting


… including the latest strategies for 2021"
From Mike Cruickshank,
Plymouth
Dear friend,
If you'd like to profit from Matched Betting, this might be the most important book you'll ever read.
Before I talk about the book I want to insert a disclaimer. I've been doing this full time for 7 years & my results are not typical. I can't guarantee you will make any money buying this book, but I'll show you what's been working well for me.
With that said, lets jump right in and let me show you.
This is different than any other betting book you've bought. It's simple to read & full of battle-tested strategies.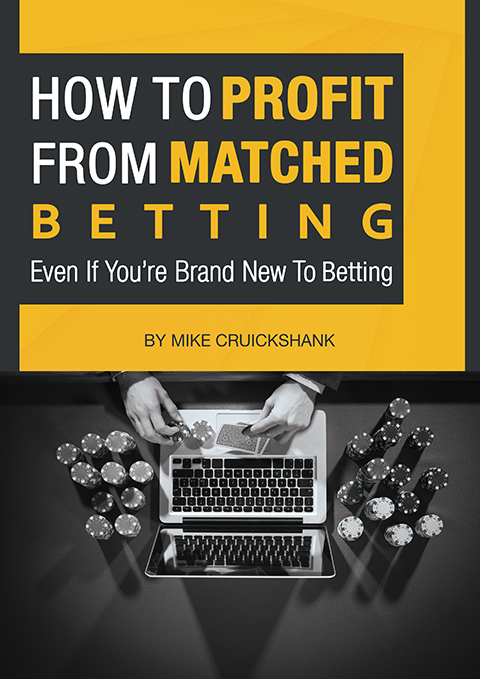 The book is 62 pages & full of actionable content. It can be read in a few hours.
It contains more than just basic Matched Betting.
You can use the same book to profit from all kinds of different methods and systems.
So like I said, there's a little more than just "basic matched betting". Here's part of what you're getting.
How to Profit from Matched Betting. I've explained exactly what you need to do step-by-step. Page 8.
Where to find enhanced new account bonuses that can be worth twice the standard offer.  Page 15.
Where to get free Odds Matching software (most websites charge £15 p/m for this). It contains all UK / Ireland regulated bookies, fast updating odds & one click calculator. Page 9.
The truth about horse racing offers. Instead of focusing on the refunds, focus on the extra place races. I'll show you how to find them and the maths behind the strategy! Page 15.
How to remove most of the risk from casino offers (even if they have wagering requirements). With some bookmakers you can place a back & lay sports bet with the deposit leaving the bonus by itself. Case study walks you through it. Page 44.
How to reduce the risk on free spin offers. Some casinos you can turn the deposit over on a low house edge game like Blackjack. Once you've done that you can withdraw leaving the free spins by themselves removing your deposit. Page 45.
How to keep your bookie accounts open longer. This ISN'T anything to do with placing mug bets – that stopped working years ago! Page 34.
Exploit a little-known pricing loophole within bookmakers Each Way bets to lock in some profit. The bookies are pricing the place part of the bet incorrectly. You can take advantage of this pricing error! Page 24.
Profit without using free bets. I've listed 5 of the best strategies for profiting without using any free bets or bonuses. This is perfect for diversifying your betting & not relying solely on bonuses. Page 30.
How to get bookmakers and casinos sending you valuable invite only offers. Have you ever noticed only some bookies send invite only offers? I'll show you how to get back on the radar and increase your chances of being sent something decent. Page 49.
List of casinos where you can 'trigger' cash bonuses. You heard me correct; they have no wagering requirements! Page 46.
Price boosts that most people overlook. This isn't the basic Manchester Utd odds boost. Most people don't understand how these work so I'll explain it step-by-step. Page 29.
How to work out the 'true' value of casino bonuses. The majority of Matched Betting websites teach the incorrect EV formula where there is no chance of busting. If you are using this to work out the estimated value you are missing out on lots of offers! With the right formula you could double the amount of offers you can attempt. Page 41.
How to structure your days so you get the best possible return whilst spending the least amount of your time. This is probably the most important part of the book! Page 57.
Where to find the best value "on going" offers. I'll show you some free resources that display all of the best value on-going bookmaker & casino offers. I'll also tell you strategy for using them. Page 22.
How to eliminate procrastination & overwhelm to help you to get better results. I'll show you my 5-step system for crushing procrastination and getting rid of overwhelm. Page 54.
How to become a full time matched bettor. What resources you need to do this for a full time job. Page 50.
User case study. I'll be walking you through a case study of one of my students. We break down exactly what they focused on to bank their profits. Please note these are exceptional results and are not typical!
Wow! That is a tremendous game plan.  But that's not all.
I'm also chucking in …
An advanced system for removing procrastination to help you get better results
Once I've taken you through all the Matched Betting strategies, I will show you exactly how to structure your day. The aim is to never spend more than 1 hour per day.
The key is always focusing on the highest value systems first.
I'll show you exactly how to work out the estimated value of each opportunity so you know what it's worth before taking action. That way you will always be focusing on the most profitable strategies and making the most of the time you have available.
I've made this for people who hate getting overwhelmed
Listen, if you've been searching about matched betting then you are probably completely overwhelmed with information.
You have lots of questions like this: —
Where do I start?
How do I profit after the new account offers are over?
What are the best strategies to use?
I've laid out exactly what you need to do from A – Z. It's written with simple instructions.
I've been running Matched Betting websites since 2010. I've spent years perfecting my system to get the best possible results.
When you follow my lead this will happen.
Firstly, you'll understand exactly how the 'Matched Betting System' works.
The next thing is …
You'll know how to use all the latest strategies
And you will do this without getting overwhelmed or spending hours sat at your computer achieving nothing.
I've used my years of experience teaching Matched Betting and seeing how successful students work to put together this simple system.
The book costs £2.97.
When you purchase a copy, you will be able to instantly download and get stuck in to the material.
You might be thinking why is it so cheap?
This is NOT one of those dodgy offers that automatically rebills you each month without your permission.
You are getting Matched Betting Secrets for a one off payment of £2.97.
I'm offering this book for £2.97 to show you that my products work. I want you to experience first hand that my systems are good value and this is the start of a long business relationship.
It actually costs me £20 in advertising to sell each copy! You can be sure that the content is 1st class.
As I'm personally losing £17.03 for each copy I sell. This offer could be removed at any time.
Sure, I hope that you're going to read this letter and be impressed.
I'm also punting that you'll profit from my advise & decide to do further business with me in future with one of my other products.
But I can't keep it open forever, as losing £17 per client soon gets expensive.
You're also getting a free coaching system
I will walk you through step-by-step your first 20 bookmaker new account offers.
I'll even email you the exact bets including teams, odds and stakes to place so that you lock in a profit. This will give you first hand experience of how to be successful with Matched Betting.
All you need to do is place the bets I send and you will lock in a profit. This coaching programme is worth £27.
Biggest guarantee in the world
Love it or it's free!
Pick up a copy of Matched Betting Secrets today and if for any reason you don't love the content then you can have your money back.
Simply email support@mikecruickshank.com and I'll issue an immediate refund.
I'll even go one step further.
You can keep your Matched Betting Secrets book and coaching program. You don't need to send anything back. I can't be any fairer than that.
Thanks for reading this letter & I look forward to a long & fruitful relationship.
P.S. If you've skipped to the bottom of the page, here's what you get: —
I'm offering a 62 page book on how to profit from Matched Betting including the latest strategies for 2021.
I'll walk you through the Matched Betting Secrets system including advanced strategies. Once I've shown you the best systems to use, I'll show you how to put it all together so you get the best results. The aim is to never spend more than 1 hour per day
The book is £2.97 with a full refund if you aren't happy. You don't need to send anything back.
You'll also get a free coaching system where I work out the bets for your first 20 bookmaker new account offers. This will give you first hand experience of how to be successful with Matched Betting.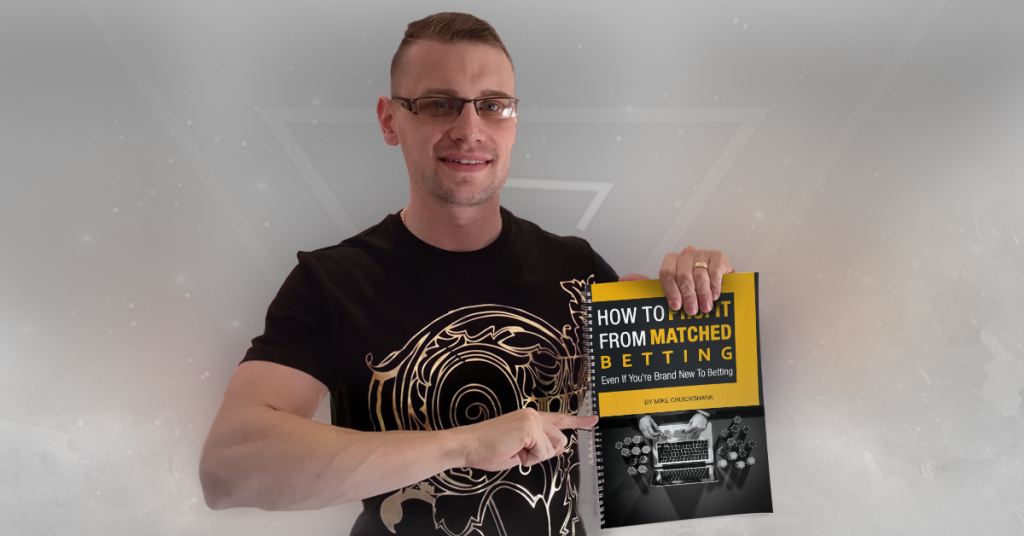 Disclaimer: All figures quoted are my own results. I've been doing this full time for 7 years so these results are not typical. It takes dedication & hard work to profit from betting. This is not a get rich quick scheme. If you take action with the system provided, you will see better results. This site is not a part of the Facebook website or Facebook INC. Additionally, this site is NOT endorsed by Facebook in ANY WAY. Facebook is a trademark of Facebook INC.