How Does the Best Odds Guaranteed Strategy Work?
Finding a smarter way of betting can be the key to bigger profits. If you keep on sticking to the same approach then you will get the same results. This is fine if you are winning all the time. But what if you want to start winning more, like most punters need to do?
What strategy should you be looking into now if you need a change? Is there something that could suit you perfectly now?
One smart option comes with the best odds guaranteed strategy. This is a popular approach to betting on horse races. It's also known as the Golden Parachute method. But is it the right way for you to make money?
It is a strategy that can be very profitable. However, it is important that you fully understand it and what it is all about. What do you need to know about best odds guaranteed before you start on it?
What is Best Odds Guaranteed?

As with any betting strategy, it pays to give yourself the best possible chance. One way of doing this is by looking for Best Odds Guarantee promotions. This means that you can hopefully win more money on horse racing.
So how does it work? Well, the bookie promises to pay you at the starting price if it's higher than the odds you took. If the odds increase your winnings go up. If they stay the same or decreases then no harm is done.
Example: –
You placed a £10 bet on Alaskan Bay at odds 3.0 with a best odds guaranteed bookmaker.
Alaskan Bay's odds drifted & his starting price was 4.0. He won the race, so the bookmaker pays out your winnings at odds 4.0. The payout is always cash.
Bookies offer this sort of deal to encourage punters to place bets earlier in the day. It means you don't need to worry if your horses odds drift higher once you've placed the bet. But it can also give you a terrific advantage. How can you use a Best Odds Guarantee to lock in a profit? I'll explain how the system works shortly.
What Is Horse Racing Dutching?
The truth is that it is fairly easy to explain the basics. So what is it all about? The name comes from Dutch Schultz, the mobster who allegedly created this way of betting. He worked out how to spread the risk by betting on different runners.
Dutching is mainly used on horse racing. However, the same strategy can be used on other sports as well.
The basic idea is that you split your stake. Instead of lumping it all on one bet, you split it over several runners. If you cover all horses, you will win no matter what happens. In some races you may need to accept a small loss, though.
This approach is useful when you cover the whole field. In this case, if the figures are right you can't lose. You are literally covering every possible winner.
How the Best Odds Guaranteed Strategy Works
This is a very simple system. Dutch all runners in a race. If the odds of the winner drift after placing your bet, you will lock in a profit regardless of the outcome due to best odds guaranteed.
Since you've covered all horses in the race, you will always have backed the drifting horse. Generally any major odds drifts will take place in the final 10 minutes before the race starts.
You won't win every time with this strategy. It's normal to take a small loss of £2 – £3 per £100 staked. Doing this protects your bookmaker accounts as you aren't placing any arbitrage bets.
This does not require any large liabilities as there is no laying. That means it's suitable for people with small banks.
Let's take a look at an example bet. I'll run through a real bet straight afterwards.
1) Head over to Oddschecker.com and scroll through the horse races. Look for the best book figure (it's underneath the racing odds). It needs to be below 103 for this to work. Any higher and the losses will be too large to make this profitable.

It you bet a total stake of £100 across all runners, that bet would make a £3 qualifying bet loss. If it was a 102% rating, a £100 bet would make a £2 qualifying bet loss.
Ideally you will focus on races with less than 6 runners. The lower the amount of runners the easier this strategy is.
2) Enter the best odds for each horse that are highlighted in bold in to the dutching calculator. Make sure the bets are with best odds guaranteed bookmakers.

Here is a link to the calculator https://www.oddschecker.com/betting-tools/dutching-calculator
You need to enter odds for all horses.
3) Next you will need to place the bets with each bookmaker. The dutching calculator will give you lots of strange stakes e.g. £21.21. Round them up / down to the nearest pound.
4) Once you've done that wait for the race to run. If the winner went off with a higher starting price than the odds you took, you will get paid out at the higher odds.
Overall this process should take no longer than 10 – 15 minutes if done manually.
Worked Example

1) I've found a good bet in a 4 runner race at the 16:00 Ripon.

2) Enter the odds in to the Dutching calculator https://www.oddschecker.com/betting-tools/dutching-calculator to get the stakes. Make sure you enter the total stake as £100.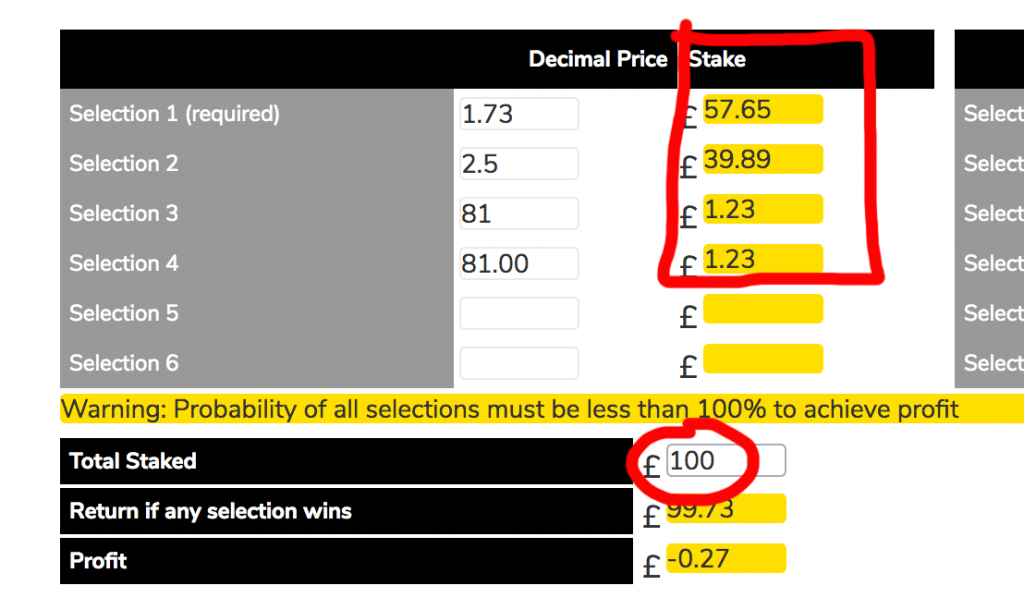 3) Next I placed the bets with the different bookmakers. Around the stakes up / down to the nearest pound so you don't stand out too much.
I staked: –
Hugin £60@1.73
Rodaini £40@2.5
Used to be £1.25@81.0
Mitigate £1.25@81.0
4) Rodaini won the race. His odds drifted from 2.5 up to 3.25. It doesn't tell you the best odds guaranteed on the slip. To work them out divide the return by the stake. £130 / £40 = Odds 3.25.

To work out the total profit: –
Rodaini won £130. £130 – £40 stake = £90 profit.
I staked £62.50 on the other 3 horses.
£90 – £62.50 = £27.50 total profit for the race.
Obviously I'm showing you a good scenario here. This won't happen on every race.
If Rodaini's odds hadn't drifted before the race started, I would have made a £2.50 loss.
This time, the Best Odds Guaranteed helped me out.
All of this helped the overall profit for the race to be £27.50. This is a very good result. Not every race will provide this level of winnings. In this case, the Best Odds Guarantee deal was a big help, though.
What Is the Best Size Field to Use?
Are there certain races that make sense for horse racing dutching strategies? As I said earlier, the numbers have to be just right. But when is this most likely to be the case?
The fact is that smaller fields are often best. Why is this the case? Quite simply, it is because are the easiest as they require less bets to be placed. If you are placing bets on races with 10 runners, there's a danger of the odds changing before you've placed all the bets which will mess up the calculations.
My preference is to focus on races with 6 runners or less for best results. Occasionally you will see 2 runner races! These are the easiest by far.
How Much Money Can You Make?
Is this going to a huge money-spinner for you?
This is a strategy that is best for winning modest amounts regularly. You won't win a fortune most of the time. However, you can keep your income ticking over nicely if you keep at it. As we saw in the example, I got a £27.50 profit with a stake of around £100. However, you may find that your profits are often lower.
You may also lose a small amount on some races. This is to be expected and isn't something to panic about. It is just a question of staying calm and getting the numbers right each time.
What sort of winnings can you expect to pick up each time? My results show a profit of £10 for every £100 staked in the long run. That's not bad at all for the betting world.
You will have larger wins. Here's an old screen shot from Paddy Power showing a £200 best odds guaranteed payout.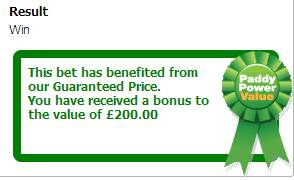 Wins and losses will balance each other out over time. As I mentioned previously, my results show a profit of £10 for every £100 staked in the long run.
How many horse racing bets do you need to place to win this amount? A decent sample of 20 bets should see this average out properly. Don't give up after just one or two races. This best odds guaranteed strategy should be successful for you if you stick at it over time.
I would recommend sticking to £100 bets. This will help to keep your accounts functioning as long as possible. Of course, with bigger stakes you can possibly win more. But it more likely that the bookies take a closer look at your account too.
Which Are the Best Bookmakers?
Are there certain bookmakers that are best for using this strategy on? There are definitely a few tips that can help you to make a good decision. To begin with, it is a good idea to stick to the smaller bookies. Why is this?
These smaller bookies tend not to have as many special offers. With bigger bookies, it is far better to take advantage of their bonuses and deals. This will win you more money in the long run than dutching will.
Some of the bookies that are good for the best odds guaranteed strategy are as follows. 888 Sport, Jennings Bet, 12 Bet, Betsafe & 10 Bet.
On the other hand, there are others where it would be better using their bonuses. These include Bet 365, William Hill and Ladbrokes. It isn't really worth using the best odds guaranteed strategy with these bookies too often.
What's the Best Time to Check for Bets?
Fitting your betting into your lifestyle might seem tricky. Do you work full-time and need to do this at a certain time? Or do you have a lot more flexibility?
We all have different situations and lifestyles to work around. What is the best time to bet in this way? Will you find the right time to place your dutching bets?
Any time after 10am is good. This is when the horse racing markets have started forming properly. You can see the prices from this time onwards.
There is no need to follow the action. You can just place your bets and then forget about. Just go back and check the final results when you have a chance. You might get a very pleasant surprise when you see the numbers.
Can You Get Software to Find the Bets Automatically to Save Trawling?
As hinted at earlier, finding the right bets can be the biggest concern here. You can't just look at a list of runners and decide whether horse racing dutching makes sense. A lot of calculations need to be carried out just right.
This means that you need some help. Using the right software is definitely necessary if you want to do this efficiently. This will help you to find the best bets swiftly and without any mistakes.
So how will you do this? Well, Advantage Play Secrets comes with Golden Parachute software. This is software that finds the bets for you. There is no fuss involved when you can find the right races easily.

It will also work out the stakes for each selection and tell you the best odds guaranteed total profit with one click of your mouse. The software only shows best odds guaranteed bookmakers. You can hide any bookmakers you don't want to see. This also cuts out the risk of choosing the wrong options. If you try and work it out alone you might make a mistake. Using good software makes life a lot easier for you. Click here to read more.
Conclusion
The best odds guaranteed strategy is a smart idea for winning money consistently. It doesn't usually provide huge profits on each race. Yet, it can be a terrific way of making money.
This is a tried and trusted method of beating the bookies. Provided that you make the right choices, it can highly profitable over time.
You probably won't make this your main betting strategy. However, it is a very nice way to keep regular profits flowing in. As a low-risk strategy that is fairly easy to follow, this is a fantastic choice.