Any Other Win Review
It is clear that lots of people love betting on football matches. This is a massive industry that moves millions and millions of pounds. It is good fun too, but can it be a way of earning cash as well?
Of course, most punters lose money when they bet on football games. Some bet on their favourite team regardless of the odds or the opposition. Others study form to choose which bets to make. Neither of these approaches tend to be particularly lucrative. This is because of the different factors that affect the outcome of games.


Either way, the bookies are usually the big winners here. It is incredibly difficult for punters to win through regular football bets. This is a notoriously difficult way to try and grow your money.
The desire of so many people to win on football betting has led to new approaches being found. Among them is the Any Other Win system. What is this all about and how can it help you to beat the bookies?
This Any Other Win review will look to see whether it is a system you should be interested in trying.
What Is Any Other Win?
Their site says that this betting method lets you "make profit from football betting". It does this by offering you trading advice as games are played. They say that they have a new way of betting that doubles profits. It all sounds good so far, right? But what does it actually mean?
This system specialises in correct score bets on Betfair. You get advised of a list of games worth betting on. You then choose which ones to go with.
Mobile alerts are then sent to your phone as the game goes on. These alerts tell you when a goal has been scored. They will let you know what to do in this case to try and profit from changes in the betting market. In fact, an alert will also tell you what to do if a goal you are waiting on doesn't come.
There isn't a lot of information on the site other than this. How do they choose the games that they list? What kind of selection do you get? How much time do you have to decide on each game? None of this is covered in detail.
The selections are sent out to members every day. However, can be sent out too close to the kick-off time. This might not give you enough time to assess them and get ready.
Working in its favour is the fact that it is said to be very easy to use. You get access to a PDF document telling you exactly what to do in each scenario. This means that you can get going with no hassle. You wait for an alert and then do whatever the instructions tell you to do.
It is something that is designed for complete beginners. There is no need to already understand football trading. In fact, you don't even need to be a big football fan to do this well. It is about using a tried and tested system every single time.
The fact that this is a mobile-based service makes it more flexible for users. Most other services of this type need you to use a desktop computer. This Any Other Win review covers a way of betting that you can carry out anywhere.
This system also uses a wide variety of matches from around the planet. So, there is always something to bet on. Even when there are no big British matches, you will get a selection sent to you. This is good news if you want to bet most days.
How Does It Work?

When you first sign up for Any Other Win you get some training included. This lets you understand what you need to do when you receive an alert. However, this isn't a huge amount of information to digest. So, you can get started fairly quickly if you want to.
You then get a list of the games that are featured for that day. Which ones will you choose to bet on? You should be ready to move once the match kicks off. After this, you need to be prepared to trade while the game goes on.
When something happens that merits some action you are notified with a mobile alert. This could be a goal being scored or the lack of an expected goal. Either of these things triggers you to make your move. How can you take advantage of the way that the betting market has reacted? Has the price shifted due to a goal being scored, for example?
You need to go back to that training document to work out each action. You can see on here exactly what to do as the game develops. This should become easier as you progress. At first, you may need to take some time to work out what to do each time, though.
This system is built around in-play betting. What this means is that you need to have time available to place the bets. If you don't have time to do this then it is going to be extremely difficult to win money. You have to be ready to move quickly when you receive an alert to your mobile device.
This is a low-risk approach to football trading. You will expect to win small amounts regularly. Losing runs appear to not come around very often. When they do, it can be tough to get back on track, though.
Interestingly, the site talks about a higher risk alternative too. You need to email the team for details of how to do this. Apparently, this gives you higher profits if you are happy to run the risk.
Who Is Behind Any Other Win?
The Any Other Win website is owned by a Norwegian called Helge Johansen. This isn't the only betting system that he is involved with. He also runs the Horse Cash Builder website. In addition, he also introduced the One Goal Winner system at Goal Profits.
It is worth pointing out that Horse Cash Builder has similarities with Any Other Win. The claimed strike rate is roughly the same at 80%. It is also about in-play trading. Yet, the reviews for this system aren't as good as they are for Any Other Win.
Has Helge found a new way of trading profitably? Or is it pretty much the same as his horse racing system? One issue I can see with the horse trading system is the lack of comprehensive training. This is something that he seems to have fixed now.
There isn't a lot of information online about Helge. He does mention that he has been a professional bettor for a few years now. It would be nice to know a bit more about his background. Is he coming at this from a number-crunching / analytical approach or a sporting background?
There is nothing to suggest that this is a scam. It seems like a solid, professional offer from an established trader. Of course, that alone doesn't guarantee that you will win money. However, it is always good to know who you are dealing with and getting tips from.
Can This Be Done on Betfair?
Some people prefer to bet with bookies. Other prefer to use the Betfair betting exchange. Which way can you place your bets using Any Other Win? Does it suit your own preferences in this matter?
Well, this is a trading approach that is designed for Betfair. So, if you have never used the exchange before then you will want to learn how to do so.
The good news is that you can't get gubbed with this method. Since you don't bet with the bookies, there is no risk of this happening. Having your account gubbed is one of the big risks with some other betting strategies.
Have you never tried using Betfair before? It might seem like a daunting prospect to start using a betting exchange for the first time. Yet, this system is designed to make it easier. It guides you through the process by telling you when to make your moves.
If you have used Betfair before then you will feel more comfortable. You can get started smoothly using this approach. There are no great surprises for someone who is experienced with Betfair trading.
The obvious downside to trading is the time commitment that it requires from you. As we will see in a minute, this is one of the big drawbacks in this Any Other Win review. You need to have plenty of free time to do this well.
How Much Money Can You Make Following It?
This is the key question really, isn't it? Any betting system has to be worth the effort in a financial sense. You really need to win enough to make this a good use of your time. If you win little or nothing then what is the point?
For this Any Other Win review, we checked their site for details. The bold claim on there is that they produce more than 85% winning bets. They say that they achieved this figure in both 2016 and 2017. It is certainly an impressive statistic but what does it mean in terms of cold, hard cash?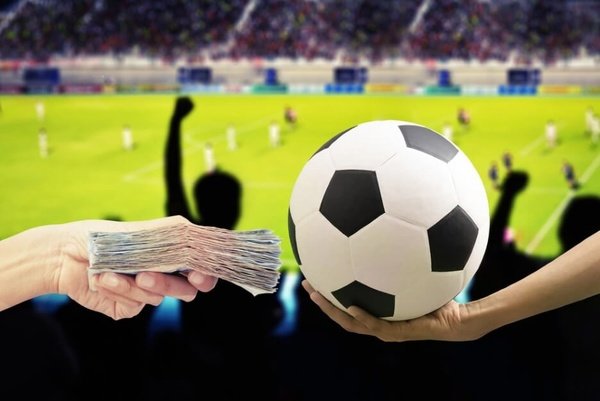 Well, their site also says that they have over 200 points of profit in 2018 to date. To back up this information, you can look at the results page of the site. In here, some spreadsheets show the exact matches that have been included each year.
I also looked at a few other Any Other Win review articles. Does everyone else agree that these profits are realistic? All reviews agree the strategy works. I don't think it's realistic for the average Joe to make 200 points profit however. I've written before about how difficult Betfair trading is.
This system seems to be one that gives low but consistent profits. You won't earn a fortune right away. Yet, the evidence points to slow, steady gains. It is a sensible approach that doesn't expose you to a lot of risk.
This is a good choice if you want to grow your bank slowly. It isn't a high-risk venture for fast profits.
How Much Does It Cost?
The other crucial point is around the cost of the service. How much do you need to pay to get started? Is there an on-going cost? Is there some sort of free trial or money-back guarantee included?
With any system of this type, the cost eats in your profits. This is why it is vital to choose wisely. Winning large amounts of cash isn't so great when it costs you a lot to achieve this. You might break even or just earn a small overall profit if you are lucky.
In the case of this Any Other Win review, you can see the price on their site. At the time of writing, the monthly cost is set at £36 including VAT. This is a decent price for access to a betting system.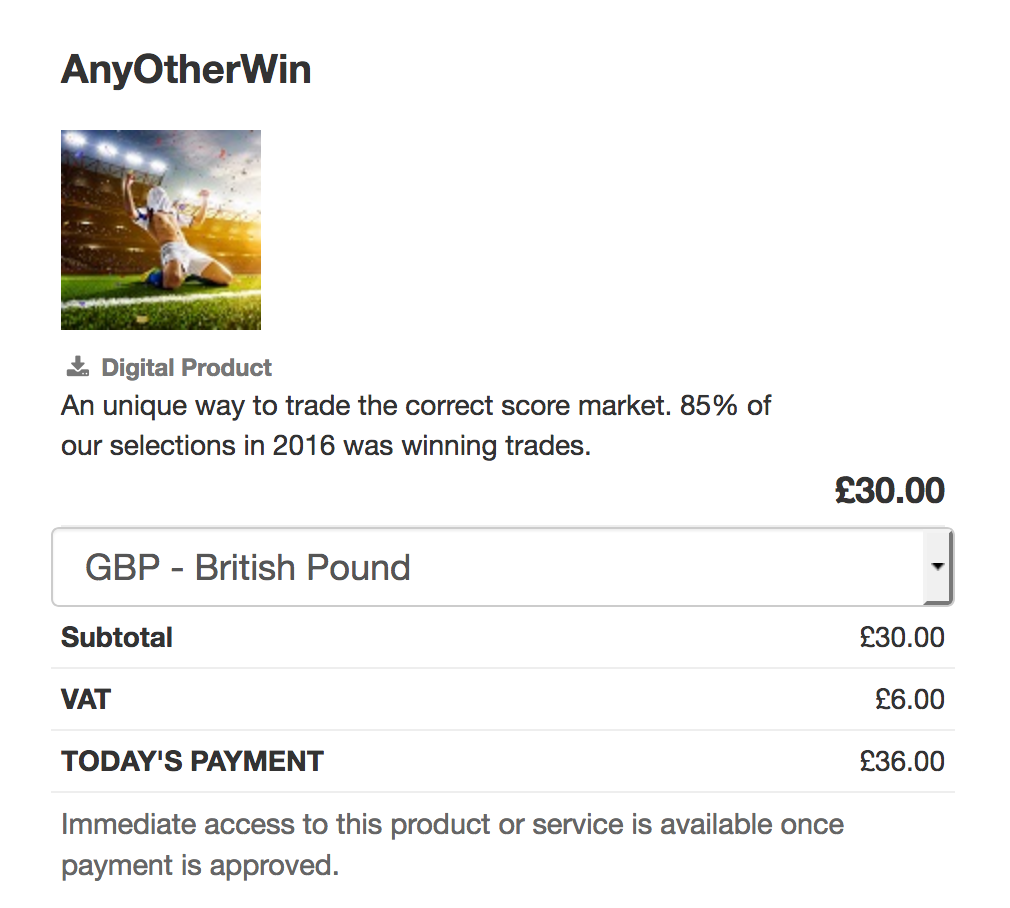 It is worth remembering that you also get a 60-day money back guarantee. The payment is run by Clickbank, which gives it some extra credibility.
What Are the Other Reviews Saying?
This is a relatively new betting system. What other Any Other Win review pieces can we find? Well, there are a few others out there to check.
The other reviews of this site are generally positive. The impressive strike rate achieved so far is one of the main selling points. This is a system that is designed for regular wins. Everyone likes to see more wins than losses, of course.
The fact that it is very easy to use is another plus point in favour of Any Other Win. Anyone who is interested in this can get started easily. There is no need to already be a football trading expert.
There are also a few negative points mentioned. Among these is the time that is needed to trade. It is a time-consuming approach that might not suit everyone. There are also some comments over the timing of the day's section of matches being delivered.
Overall, it is rated by others as being a good way to bet. It isn't perfect but a decent option.
Naturally, the results for these systems can change over time. It is always worth looking for recent or updated reviews. So far, Any Other Win has been nicely consistent, though.
Who Would Any Other Win Suit?
Are you tempted to give this betting system a try? Maybe you are still wondering whether it suits you. Should you do this or use a different approach?
The truth is that some betting approaches are better suited to certain personalities. Is this one right for you? There are a few different points to take into account here.
Do you have the time to do the trading? If you have a busy lifestyle you might find this to be difficult. If you are looking for a time-consuming hobby then it is a better fit.
You can't simply place a bet and forget about it. This means that it isn't the right choice for someone who wants the easiest option around. Some other betting strategies are quicker to use.
In the same way, do you want a low-risk approach with steady returns? Or do you prefer something more daring? This Any Other Win review has looked at a steady system.
The good strike rate means that you shouldn't face too many losing streaks. This is good news if you want to feel the pleasure of regular wins. You still need to start off with a decent size of bank. However, you should get enough wins to keep things ticking over.
Is it the right football trading method for you or not? By taking these points into account the answer should be obvious. If you still aren't sure you might need to give it try for a month or so. This should let you make a final decision.
Any Other Win Review: Conclusion
There are many football betting sites around just now. If you are keen to bet on this sport then this Any Other Win review has shown a decent option.
You are unlikely to win a fortune with this approach. The strike rate is impressive but you are more likely to win modestly each time. It is certainly an option worth looking into. As a starting point for a trading career, this is a solid choice.
Of course, you might prefer to remove the risk completely by using matched betting techniques. It makes sense to check out a few different alternatives if you aren't sure how to proceed.