Bet Angel Review
Are you keen on trying to make money through Betfair trading? If so, then you probably want a helping hand to get you started. This means looking for the right Betfair trading software to let you bet with confidence. In this article I'm going to be doing a Bet Angel review.
Recommended: Go here to see my no.1 recommendation for making money online
These tools are becoming ever more popular these days. The chance to learn from an expert is certainly worth thinking about. Could this be your best way of making money from trading without any fuss?
One of the most popular options in this respect is called Bet Angel. What is it all about and how can it help you? The following Bet Angel review covers the main points you need to understand about the software.
What Is Bet Angel?
This is a software tool that guides you through the process of Betfair trading. It is a long-running service that has been around for almost as long as Betfair itself. Indeed, the creator claims that it was the first Betfair tool to use stock exchange style software.
There are 3 different options for using it. These are called Bet Angel Trader, Bet Angel Professional and Bet Angel Basic. Whichever one you choose, you get a powerful tool that lets you place bets quickly and seamlessly. Each one is different in terms of what it offers, and this is reflected in the varying prices.
This software has a lot of features for you to use. For example, it has a chart building feature that can come in very useful. This is more powerful than on other trading tools, which often rely simply on Betfair charts.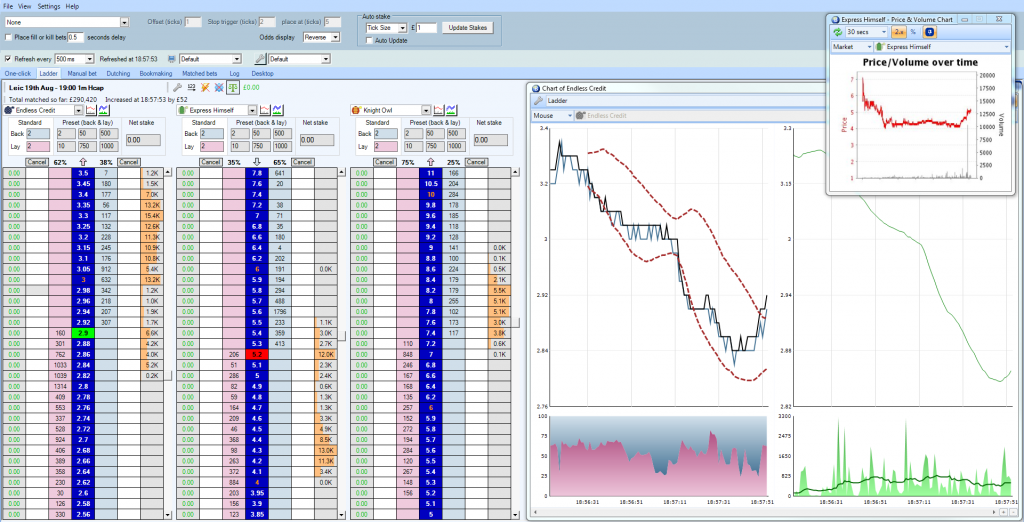 One of the main attractions is the automated trading that it offers. There are lots of templates for you to choose from if you want to automate the process. This comes with full Excel integration so that you can set it up very easily.
They cover a few different sports with this software. You get the likes of Soccer Mystic, Tennis Trader and Multi Market Trading. All of this makes it a versatile option with lots of different approaches open to you.
There is no doubt that it looks a little bit complicated at first. If this is your first time trading then it may appear to be nothing like you had expected. However, if you are used to stock market trading then the layouts and a lot of the terms may already be familiar to you.
It is worth pointing out that isn't a magic formula for printing money. You won't win every single time. Instead, it is a way of planning your betting approach better. There is a lot of help for you here but your success ultimately comes down to how well you learn to trade.
Who Created Bet Angel?
Peter Webb is the main man behind Bet Angel. He is described on their own site as being among the "world's most successful betting exchange experts and users". In fact, they also say that he was one of Betfair first clients when it started in 2000.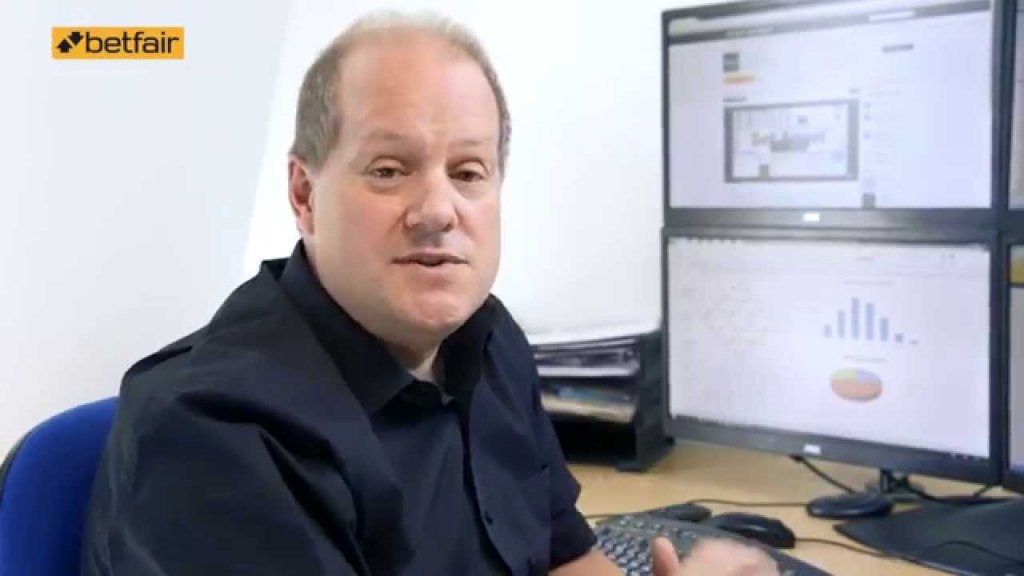 The Bet Angel site also states that Peter is still "successfully risking millions of pounds a week". They also claim that he is the person to have ever traded in front of a live audience. On his personal site, Peter explains how he was always fascinated by numbers and risks. He used to fill out his father's football coupon from when he was just 12.
He then started Bet Angel in 2004, after a spell trading on the stock market. Having started out in football betting, he realised that his new Betfair tactics could work elsewhere. Therefore, he moved into horse racing, tennis and other sports.
The software was initially created for his own personal use. However, over time he realised that it could be used by other traders as well.
These days, Peter runs seminars and also pops up from time to time in the media. He has certainly created a strong brand with Bet Angel but it is far from being his only business venture
How Much Does It Cost?
How much you pay for your Betfair trading software is a vital issue. After all, you need to pay less for it than you win using it. In this way, it makes good financial sense to use a tool. Otherwise, it is just a waste of time.
Recommended: Go here to see my no.1 recommendation for making money online
Each of the different options in this Bet Angel review comes with its own price. Naturally, the price reflects the quality and power of each package.
Bet Angel Basic is the simplest package from this site. This is their free to use option and their least extensive product. It is a very good starting point, although you may outgrow it before too long. If you have never traded before then it is worth sampling this free approach for a slow, steady start.
The next level is called Bet Angel Trader. This package costs £6 if you pay for it each month. If you opt for the annual option then it will cost you £60 for a full year. As you would expect, this mid-priced option offers a range of features between the other two. If you are happy to pay for a more complete service but don't want to spend too much this may make sense.
Bet Angel Professional is the most comprehensive package. This software costs £59.99 for a 3 month period. 6 months' worth of use will cost you £99.99. If you go for the full annual package then the price is £149.99. This is the deal you will want if you are completely serious about Betfair trading. You are going to have put in plenty of work to make it pay for itself and then give you a profit.
The paid versions all come with a free trial period to let you try them out before you pay any money. This is a good way of seeing whether it suits you without any risk. At the time of writing, the free trials last for 14 days.
Why Use Bet Angel Professional?
The Professional package is the most comprehensive package they offer. It is described as the "ultimate Betfair toolkit". As we saw above, it is a lot more expensive than others. What does is provide to make it worth spending extra on, though?
For a start, this gives you the biggest range of features. The truth is that you probably won't use all of these features. However, this is the option that gives you most flexibility for choosing what you want.
If you want to give yourself the best chance of winning then Bet Angel Professional is the most complete package. It still won't guarantee that you win but it will give you a strong start.
Why Use Bet Angel Basic?
As we saw earlier, there is also a free version of the software that you can use. This could be your best bet if you are just getting started. Maybe you aren't yet sure how often you will use it. The free version contains just the key features without all of the extras.
If you don't want to spend a lot of money on Betfair trading this is a decent free choice. It should let you work out whether you want to upgrade to Professional later on. You shouldn't expect to win a fortune with this free Betfair trading software, though.
Why Use Bet Angel Trader?
As the mid-price option, this clearly falls between the others. It is neither free nor truly comprehensive. Yet, it could be right for some traders.
Maybe you are confident trading but don't have a lot of time to do it. If you don't think you can use the Professional software to its full potential this might be a good choice. Equally, you might find the Basic package just too simple and limited for you.
This is a decent starter option if you want to get going without too much expense. You will be giving yourself a chance of trading well but without risking a lot of money on it.
What Features Has It Got?
A good example of the features comes with Soccer Mystic. This tool allows you to work out what should happen to the prices on a football game based on certain event. So, if one team scored how would that affect the market overall?
These predictions are based on data from thousands of previous matches. They aren't fool-proof but they do offer a very good way of seeing what could happen next.
Tennis trader offers the same sort of approach. It lets you get a firm idea of how the market would react to a certain thing happening. This lets you plan your reading in advance.
The fact that it links to a spreadsheet makes life easier for you. The speed of the system gives you prices 10 times faster than on Betfair.
You might also be pleased to see the practice mode. This is a good way of gaining confidence before you bet with real money. If this is your first ever time trading on Betfair then practicing first of all could let you bet with confidence.
Pro ladder trading is a common feature of Betfair software. Here, it is slickly presented and genuinely useful. This can be tricky to get the hang of at first. For this reason, it is a good idea to read the supporting material before you get started.
Of course, features like these don't make you money on their own. All that they can do is help you to trade more effectively. Therefore, you should take some time to understand them fully. The more features you have and the better you use them the better. Don't ignore potentially useful features just because you don't yet understand them.
Does Bet Angel Have Any Automation?
Also of interest to a lot of new traders is the automated trading tool. The idea of leaving the software working for while you do something else is certainly very tempting. Could this be the way that you earn a fortune without spending all day on it?
This works by letting you set the parameters that you want. So, you could tell it when to back the favourite and when you want to trade out at half time. There are many different ways of setting this up to meet your needs.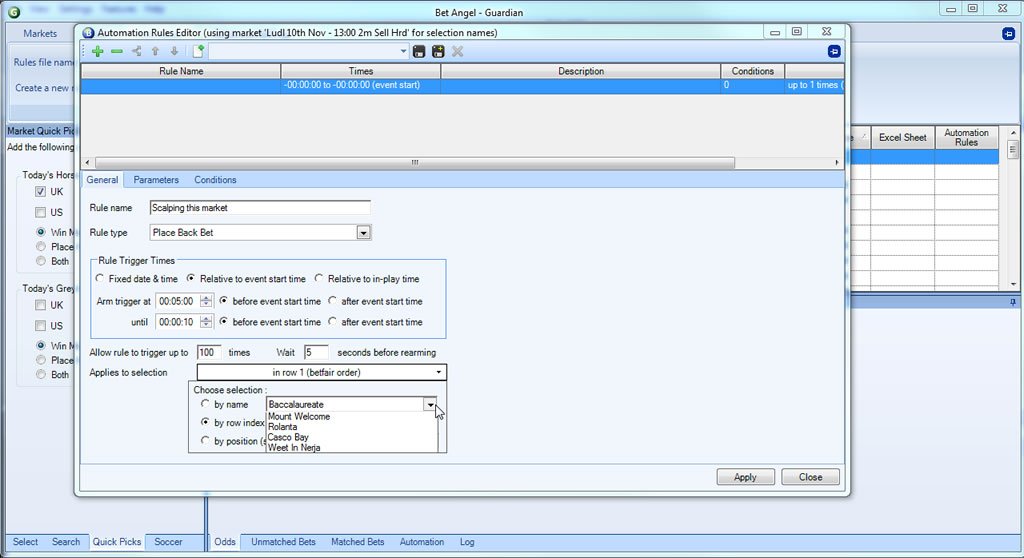 Naturally, you need to be completely confident of your strategies first of all. Automated trading isn't for beginners. Get it wrong and you could lose a lot of money. This is because it will carry on sticking to your instructions blindly until you tell it otherwise.
It is worth using the Bet Angel forum to discuss automated trading strategies. This will let you get to grips with it more quickly. It is then a question of keeping a close eye on it when it first runs.
Is There a Free Version?
As mentioned earlier, the free version of the software is called Bet Angel Basic. As you would imagine, it is a lot simpler than the paid versions. It only covers the basic features, although this is still enough to get you started.
The Basic package lets you carry out simple exchange trading. It includes some of the main features of the Bet Angel brand. This means that you can carry out one click betting with fast refresh rates, for example.
You also get one click auto refreshing charting included. Perhaps best of all is the function known as greening up. This allows you to equalise any profit across the field before the event even starts up. The idea is that it guarantees you a win before it starts.
Does It Work On a Mac?

No, you can't use any of the Bet Angel software on a Mac. The software requirements listed on their site are as follows;
Windows 7, 8, 8.1 or 10
1.5GHz Intel or AMD processor
1GB of RAM
50Mb Hard Disk Space
Very few Betfair trading tools currently work on Macs. The only trading software that does work on a Mac is Bet Trader.
Is There a Forum Where You Can Discuss With Other Traders?
Being able to talk with others about trading strategies and software issues is a big help. This is why it is good to see that there is a Bet Angel forum where you can join in. Once you join up as a member you can post and read other people's posts on here.
This forum is divided into threads with names such as "Bet Angel – Tips and Tricks". "Spreadsheet / Excel Chat", "Automation" and "Videos". As you can see, it covers a decent range of the topics that you will want to know about. You will find a lot of regular users in here swapping ideas and thoughts. It is likely that you spend a lot of time in here, at least at first.

Most of the threads in the forum have hundreds or thousands of posts on them. It is going to take you some time to read through them and get up to speed but it is worth doing. This isn't the only place where you can obtain help and support, though.
There is also the option of sending off a question to the support team. In addition, their knowledge base has a good range of FAQ. These include sections on the likes of payment, licenses, registering and using the features. There are dozens of answered questions in here for you to browse through.
Some questions are very specific to the use of the software. Such as "How can I place a Stop Loss in case a trade moves against me?" Then there is "Can you explain Betfair's new bet matching engine?" and so on. Other are more general issues with Betfair trading.
Bet Angel TV and YouTube Channel

Do you prefer to watch details of how you should proceed? If this is the case then you will like the fact that Bet Angel lets you do exactly this.
Their YouTube channel contains a good variety of videos on different subjects related to Betfair trading. This makes it a solid starting point for finding out about this matter in a relaxed way. There is a lot to go through so take your time and look at them whenever you have some free time.
Bet Angel TV brings together a wide range of trading videos. These are grouped by category so that you can spend some time flicking through them and learning.
Bet Angel Review: Conclusion

This is comprehensive and well thought out Betfair trading tool. Is it right for you, though?
It is important to remember that this software won't guarantee that you win money. Instead, it will help you to work out your strategy. There is still a fair amount of work for you to do before you start counting your winnings.
If you like the idea of being able to use a lot of good features then Bet Angel is a solid choice. The Professional package isn't cheap but it does give you a lot of flexibility in how you attempt to trade successfully. That concludes my Bet Angel review.
You can compare Bet Angel against other trading software here. I've also written a list of proven Betfair football strategies here.
Have you used Bet Angel? How did you get on with it? Let us know in the comment section below.
Recommended: Go here to see my no.1 recommendation for making money online