Blogabet Review
Have you ever wondered whether you could make smarter bets? Maybe you have considered turning to an expert. There are plenty of tipsters out there. But choosing the right one isn't exactly easy.
So, could Blogabet help out in this respect? This is described as the number one social platform for betting tips. It also promises to help you to "bet like a pro".
It covers a variety of tipsters on a range of different sports. So how does it work and what else do you need to know? With this Blogabet review I aim to answer all of your questions.
What Is Blogabet?
This is a service that brings together tipsters and punters. At the time of researching this Blogabet review, they claim to have over 10,000 active tipsters. You can read all of the details you need to choose which one to follow.

The name is based on a mixture of blogging and betting. So you will expect to see lots of information from each tipster. Apart from their track record, this is what lets you judge each one that you consider using.
They then send you regular tips. The site also offers tips and a guide to make it easier to place your bets.
They offer both free and paid services. It is said to be aimed at newcomers as well as experienced gamblers. So let's take a closer look at what it is all about.
How Does It Work?
What do you need to do get started? The first step is to sign up. As mentioned earlier in this Blogabet review, this can be done for free. Or you can sign up for a paid tipster.
Once you sign up, you will get tips sent to you. You can receive them to your phone or by email. They say that the tipsters use the latest technology in verifying odds. This means that they are verified in real-time. You also get advised of new tips instantly.
Your alerts will tell you the bookmaker, odds and suggested stake. If it is a free pick all of this is on the message. For paid picks, you get sent a link that you need to click on.
Tips also pop up on the feed page of the site. Before you register, you will only see the free tips on here. However, once you are a paid member you will see everything you have subscribed to.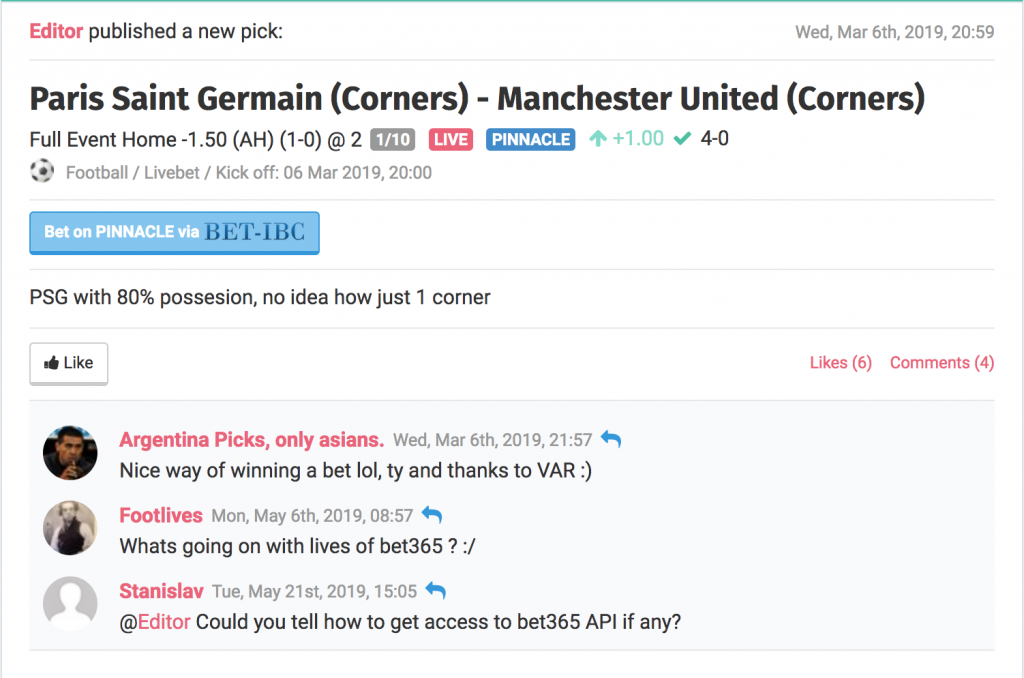 If you don't register, you can still see loads of tips. Each tipster can write a small piece telling you why they have chosen this particular bet. This makes for fascinating reading at times. But it does mean that you need to spend some time going through it all.
You then need to place your bets. Blogabet say that you can use their advanced tools to track your performance. If you are a complete beginner then the betting guide will help you get started. However, there is no nothing really complicated here for you to worry about.
What about the social aspect of this site? Well, you can comment on tips or leave a like on them. They certainly seem to encourage a high level of interaction. This makes it interesting for anyone who loves talking about sports and betting.
Who Owns Blogabet?
According to information on the site, it is operated by Betport Ltd, Bulgaria. There is a dubious, closed casino of the same name but it doesn't seem to be related. There is also a UK betting site called Betport that isn't related either.
The Blogabet LinkedIn account shows an address in Sofia. It is also listed as having 21 team members while I write this Blogabet review.
I could see Vasil Manolov listed as the lead developer. The sportsbook CRM manager and sports betting analyst is Balazs Pal. Many of the other names listed are described as tipsters. So the actual team seems pretty small. This is assuming that they are all listed on here.
The site has been running since 2006. It is widely regarded as being the most popular social tipster sites around. However, I could find out little more about the people behind it. It would certainly be nice to understand a bit more about them.
How Should You Pick the Best Tipster?
The most important task here is that of picking a tipster. Once you have done this, you can start betting. With thousands of tipsters to choose from, how can you do this wisely?
To get started, you need to go into the tipsters tab. In here, you will see the huge selection I mentioned earlier. In fact, you might find the number of tipsters a bit overwhelming. There is a massive amount of variety and tons of stats in here.
How do you get started then? A sensible first step is to use the filter options wisely. The first tip is for language, so this should be easy enough to choose. After that, you need to decide how to narrow down things further.
The next good decision is to filter by bookie. Only use bookmakers that you have an account with. You should also look to use Betfair if you can. Some of the listed bookies aren't even registered to operate in the UK. So you will need to avoid them.
Another filter to use wisely covers the pick type. This lets you choose from in-play, pre-match and combo options. You can also choose from a wide range of sports.

You can also filter by sport. As you would expect, the likes of football and horse racing are among the most popular. Some tipsters cover more than one sport too. Think about which sports most interest you or you are more knowledgeable about.
There are a few other options to filter from. However, perhaps the most important selection is the last one. This lets you order them by number of followers. Or you can choose to order by profit, number of picks or by field. This gets down to the nitty-gritty of how well they are doing.
You need to be aware that every tipster can re-set their stats. You can see how many times each one has done this. The figures on any tipster site can be mid-leading anyway. You shouldn't expect to win fortunes in this way with any tipster regardless of the stats.
Free Tips
You will see that there are some free tipsters you can choose. These are the ones that don't have a price listed next to them. Click on the details for following them. You should now see confirmation that it is a free service.
You can now choose SMS or email alerts for this service. As I mentioned at the start of this Blogabet review, you will also see free tips in the feed tab.
The top free tipster in terms of profits seems to be Jimin Jabao. This service has been running since 2017. With 1962 picks, it has delivered a +8462 profit and 45% yield.
Of course, most of the other top performers offer paid services. However, there are a few with decent figures that don't charge.
As you can see, it is pretty easy to find some free tipsters. Of course, with most services, the paid tipsters offer better results. However, what helps on Blogabet is that you can filter them together. So you can carry out a good comparison before deciding.
What I couldn't see is whether some services may move from free to paid after a while. For a instance, a popular service with a big profit may decide to charge at some point.
Paid Tipsters
As for the paid tipsters, what will you find? The fees are shown monthly and in Euros. They tend to run from about €25 to €50 or so. Remember that you need to win enough to cover the membership fee.
You aren't going to make any money winning by just betting £1 at a time. To do well, you will need to place bigger stakes. Since no tipster in history gets it right all the time, you will lose money at times.
For this Blogabet review, I decided to check out similar stats to the ones from the free tipsters. This will let us see some of the top paid services.
Right now (June 2019), I will look for the most followed football tipster in English. The result comes back as one who is called Bobic. This tipster is on a close-season break at the time of writing. However, their stats show 12,566 followers. They have been tipping here since 2012 and have delivered a +728 profit from 1065 picks in that time.
Who comes after that? In second place currently is the service from Cheser. The price of their service is €40 per month. They have been tipping since 2014. In that time, 1651 picks have led to a +658 profit. They have 6221 followers.
Both of these services are on a close season break at the time of this Blogabet review. So we can't see how much they normally charge. If you pay for a service be sure to check when they go on a break so you can get a refund.
Top tipster for horse racing
So, who is the top tipster for horse racing? This time I filtered on profit. AussieAussie came back above the other paid services. They have been tipping since 2018. The profit to date is +3734 from 2271 picks. They only have 174 followers so far, though.
Staying with horse racing, who has the second biggest profit? The next top paid service is Basti, which you can follow for €47 each month. They have a 16% yield since 2016. This comes from 4635 picks at a +3413 profit. Their number of followers is at 649.
The biggest profits from a paid service come from Domakome. For €65 a month, you get access to a service with a 15% yield. Running since 2018, it has given a +717 profit on 6046 picks. It only has 278 followers.

This is a good point to mention that you follow numerous tipsters if you like. For instance, you could follow this one and the free service mentioned a bit earlier. This would let you compare their tips.
The truth is that the free services look similar in terms of results. Unlike with some tipster services, there isn't a huge difference.
Is This an Easy System to Use?
There is nothing too complicated about using this system. As we saw earlier in this Blogabet review, picking a tipster involves a bit of research. After you find one that suits you, you just need to choose how to follow them. Will you prefer to get SMS updates or email alerts?
If you have chosen well then you will get tips with bookies that you use. Since the odds are verified, you should find it easy to get the same price. Of course, as with most tipsters you need to move quickly.
The more followers they have, the more people are likely to put on the same bet. Ideally, you will be ready to swing into action as soon as you receive a tip you like.
Is It Different to Other Tipster Platforms?
There are plenty of other tipsters around. Sites such as Betting Gods and Betfan also bring together a selection of tipsters. Is there anything different to be pointed out in this Blogabet review?
The main feature here is the social aspect. This is what is supposed to set it apart. The fact that people can leave comments and likes makes is stand out. Of course, you can choose to read these or ignore them, as you prefer.
Certainly, the idea of a social tipster site is a good one. It lets you share information and opinions. In reality, you might or might not find it useful. At the end of the day, the tipster's stats are the key. All the social element can really do is alert you to a new opportunity.
The way free tipsters are presented is also different. On most sites of this type, there is a limited selection of free tips. You normally have to sign up for free tips in general. This gives you a small number of tips each day or week.
On Blogabet, your searches bring back both free and paid tipster services. From my look around for this Blogabet review, some of their top services are free. This means that you can choose free or paid based on the numbers.
In fact, you get to see free tips before even joining. Just check the feed when you enter the site for the first time. You will see a range of bets listed in here.
Who Might It Suit? 
Each type of betting service tends to suit a different type of person. So who might be tempted to give Blogabet a try?
As we saw earlier, a tipster will always give you some losses. So it is an approach that certainly doesn't suit you if you never want to lose. You need to be prepared to accept that you will lose sometimes.
The system is simple enough to suit newcomers. However, there are plenty of decisions to be made. For example, how will you decide which tipster to use? And which of their tips should you follow?
It seems set up for someone who plans to spend a lot of time on it. After all, the social element means that you need to look through a lot of information. You can just bet on the feed you receive. However, that means ignoring the social aspect, really.
So, it may suit you if you want to look through a good deal of details. What if you want to just place bets on a smaller number of tips? You might find the number of tips here overwhelming. If you use the unfiltered tips feed then you will be looking through a lot of tips every day.
What Are the Other Blogabet Reviews Saying?

For a relatively popular service, there are pretty few Blogabet reviews out there. When I searched for the phrase "Blogabet review" most of the initial results were for their reviews of other sites.
Digging a bit deeper, I found a few reviews. There are also some betting forums where people discuss the service. Overall, opinions are mixed.
This tends to be the case with any tipster platform review. Not everyone is going to win money. Anyone who loses is likely to put on a negative review of the service.
Naturally, it is impossible to back up the claims – negative and positive – seen on other Blogabet reviews. Yet, it is clear that tipster services can never give guarantee results.
Blogabet Review Conclusion
If you are currently looking for a tipster service this is worth checking out. As with any other tipping platform, the results are highly variable.
In general terms, it is extremely difficult to make money from a service like this. It certainly doesn't guarantee the profits like matched betting does. While the stats tend to look tempting, you shouldn't think this is easy money.
Overall, this looks to be a site for people who want some fun while betting. It is highly unlikely that you earn a solid, regular income. Instead, you will win some and lose some.