Assured Soccer Profits Review
The idea of betting on football matches is incredibly exciting. Could you earn good money while enjoying all of the action as well? This probably sounds perfect if you love football and want to earn a profit. In this article I'll be doing an Assured Soccer Profits review.
Recommended: Go here to see my no.1 recommendation for making money online
It's no wonder that many footie fans look high and low for some help. There are loads of sites, strategies and systems out there. A smart football betting system is certainly worth its weight in gold.
This can give you nice wins and a lot of fun at the same time. There are so many of these systems around that knowing where to start can be a hassle, though. How will you know which is the best one to choose?
Could it be that Assured Soccer Profits is the exact system that you need? Check out the information in this Assured Soccer Profits review to find out more about it.
What is Assured Soccer Profits?
This site promises to teach you how to use the football betting exchange market. So, it is a trading system for use on exchanges such as Betfair. It tells you that you can earn regular profits even if you are new to trading. However, it is fair to say that it is far easier for experienced traders to use.

It works on the correct scores market. This normally means that you are looking to make accurate predictions on exactly how a game finishes. Of course, this is a very difficult way to predict games.
A single kick of the ball or slice of luck can change everything. Even if things had been looking good for most of the match it can still go wrong.
The approach taken by this site is different from just betting on the final score, though. Instead, you need an exit strategy before the game starts. What this means is that you will look to get out with a profit. With any luck this will be long before the final whistle is blown.
This is why it is important to understand different trading strategies. You need to know how to make the most of these trades. Which is where the right training on offer is essential.
It is important to point out that this isn't a straightforward tipster site. This method doesn't just tell you what game to bet on. It is all about using those trading strategies to earn money in the smartest possible way.
How does their system actually work in a real-life situation? The first step is to place a lay bet not long before kick-off. You then need to place one or more lay bets shortly after it begins.
You then wait to see if a certain event occurs. If it doesn't then it is a question of waiting a set period of time instead. Either way, you need to trade out smartly.
This means getting the best possible profit or lowering your losses to the minimum. It can be a tough balancing act if things don't go your way. Yet, this is exactly what some people love about football trading. You need to react perfectly to the changing circumstances.
It is clearly more time-consuming than simply placing a bet and waiting on the outcome. However, this means that you are also more in control of what happens. It is estimated that you need to spend about 5 to 10 minutes of real time on each game. However, this can vary depending upon the circumstances.
If you understand the different strategies then you can look to react to what happens on the field. The more strategies you are comfortable with the easier you can deal with whatever happens. You don't need to fear the next goal when you have a plan for it.
In a lot of cases, you will be a few pounds in profit by the start of the second half. In other cases, you will need to keep on working after that to avoid a loss. Each game is different but you will soon see patterns emerging.
Who Created Assured Soccer Profits?
Assured Soccer Profits is the work of a man called John Duncan. This is far from being the only betting help that John has developed. In fact, you can read all about him on his Profit Magnets site.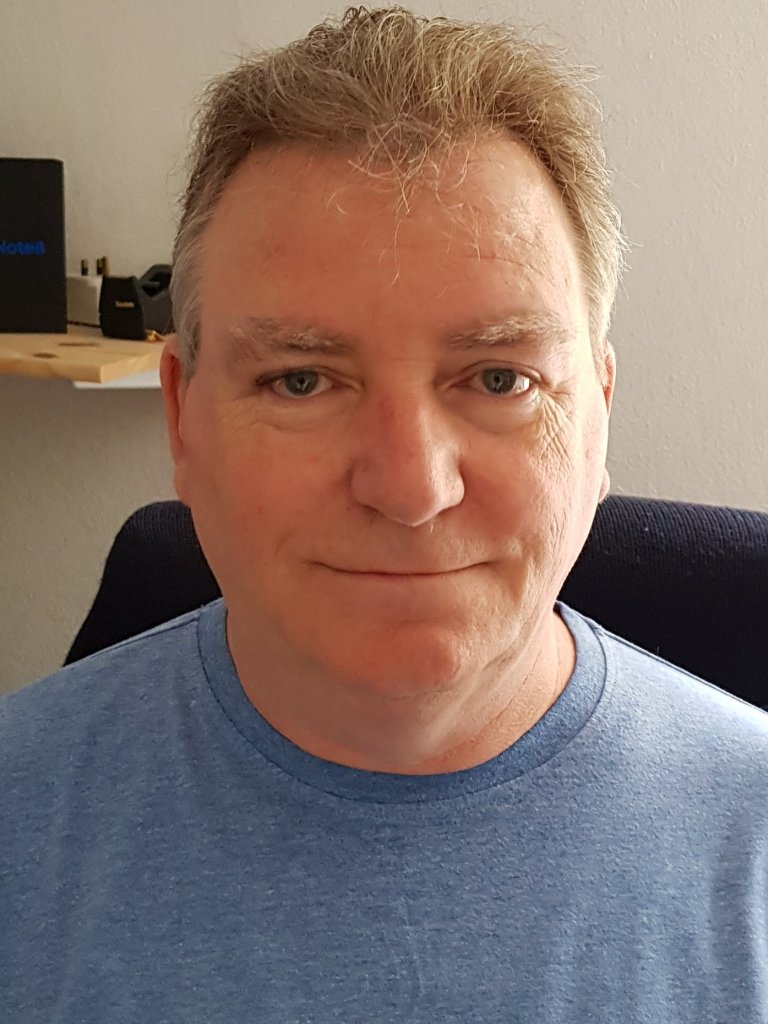 He had spent over 20 years working in sales, marketing and training before moving into online betting. His bio shows a wide range of interests, from betting to cryptocurrencies.
John says that he is a life-long football fan who bets for pleasure as well as for profits. This system has been around since 2011 and has gained a lot of fans. He has put together a comprehensive package. People also comment positively on the customer service that he offers.
He has done a good job and appears to favour an honest approach that appeals to a lot of people.
What Do You Get When You Subscribe?
You get access to quite a lot of material when you sign up. Therefore, we can go through them one by one to avoid confusion. The following are the main parts to look forward to using.
The most important element is the daily list of games. This is where you can see which matches are most likely to earn you some money. Looking at this daily list has to be your starting point every day.
A set of videos to get you up and running. There are 5 of them to get you started and then 20 more to follow up with. More are added now and then, so you will want to keep an eye out for this. You simply can't get started without watching a few of these videos. They cover the strategies that you will be using.
Other training tools. A full manual, numerous written modules and blogs are all available. The membership package also comes with a checklist to keep you on track. Many of their old blog posts have been turned into modules for ease of use.
Email support is also provided. This means that you can sort out any issues quickly and painlessly. Members rate the fast, friendly service here highly, in general.
A bunch of other tools. They include aids for keeping records and in-game calculators. These tools will help you to start trading more smoothly. However, getting to grips with them all will probably take you some time. Ideally, you will have time to revise them fully at the very start.
You also get access to the member's area. This is crucial, as otherwise it is going to be extremely difficult to use this system. In here, you can find out which games are especially worth betting on. See what the day's recommendations are and how to trade them wisely.
How Much Money Can You Make?
Clearly, anyone who joins this site does it to make money. As with any sports betting site, the aim is to get a tidy, regular income. So, how much can you make by using Assured Soccer Profits? Is it going to earn you a fortune?
The claims made on this site are rather more modest than what we see on many others. It says that once you are trained you can expect to win up to £100 per week. This isn't a huge amount of money for a lot of people. However, the key is that you can earn this figure consistently week after week.
It adds up to a £400 per month or around £5,000 per year. Of course, it is difficult to earn this maximum figure every single week. As well as the time you dedicate to it, you also need to have some luck. You need the right games to come up day after day too.
Maybe you just want a low-risk way to get some extra cash. Or perhaps you want to enjoy betting on football games with more success than before. It is unlikely that you give up your job to do this, but it is worth considering your motives early on. Are you happy with the idea if the profits mentioned, or are you after more?
Recommended: Go here to see my no.1 recommendation for making money online
It is clear that this suits someone looking for a fairly safe, steady approach. If you want to try and earn huge profits there are other systems to look at. This method is less adventurous, for sure. So, the risks are lower and so are the possible rewards too.
At the start, you will probably earn less than the £100 weekly mentioned earlier. There is definitely a learning curve here that has to be followed. You can't expect to earn the maximum figures right way. However, you can expect to gradually get better as you gain more experience.
There is a lot to be learned before this, after you sign up. While some betting strategies are easy to start with, this one is more time-consuming.
You need to start with the videos and other tools. After this, you will want to start off trading slowly and keep a close eye on what happens.
Your overall profits will also be limited by the number of suitable matches you are advised of. The more games the more potential profits. Of course, there is also the risk of losing more money if you bet more.
Reviews carried out on the system suggest that the stated profit figures are reasonable an achievable. The reviewers all seem to have earned pretty much what this site promises.
Is It Still Working?

The Assured Soccer Profits is still running. It has been around for a while and has undergone a number of changes. Most noticeably, there are now more videos and the user manual has got thicker.
However, the same basic principles still apply. The idea of trading on football matches remains at the heart of this site. If you have tried trading before then you know what to expect.
It is an approach that continues to work and should do so for the foreseeable future. The idea of footie trading has captured the imagination of a lot of people. This is why there are a number of different solutions like this around.
Trading is an approach that doesn't rely on tricks or loopholes. It is simply about learning what move to make and when. This means that it should carry on offering good opportunities in the future.
Some people look on this as a long-term earning solution. Others may just want to give it a try. Either approach is fine. However, as stated earlier, the ideal way is to look at it as offering modest but steady returns.
How Much Does It Cost?
Given that the possible profits are relatively modest, you will be hoping for a decent price for this system. Thankfully, access to this tool is pretty low cost. You can give it a try without too much of a risk.
At the time of writing, membership costs £99.60. Unlike with many other betting systems, this is a lifetime membership. Pay it once and you are a member forever. So, you never have to pay anything else to them.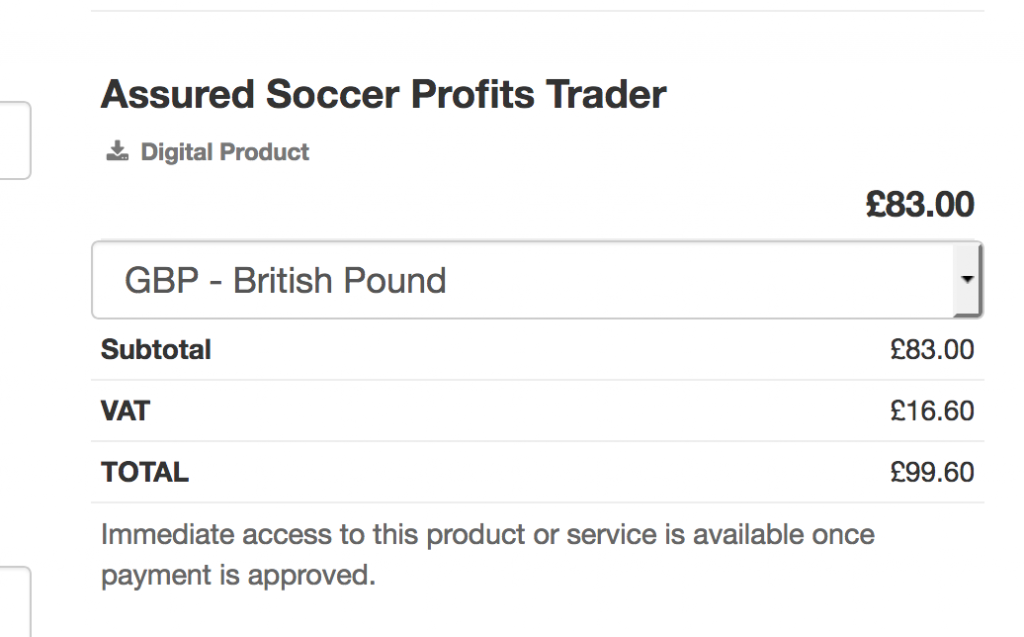 This is a good price for something that offer consistent if small profits. Of course, the price only makes sense if you use the site for long enough to earn than this. If you don't make at least £99.60 then it is an overall loss.
At a profit rate of £100 per week, you would recover the investment in under a week. However, this should be viewed as being close to a maximum profit for an experienced trader. Even then, it is at the top end of the profit scale, really.
If you are new to this way of betting then it will take you longer to get ahead. Expect to start off with small wins that eventually grow in size. It isn't a route to quick fortunes but the low set-up cost should help you to start off relaxed. You aren't taking huge risks with a lot of money by signing up here
As for the stakes, an average of £50 to £70 each day is recommended. You can stake more but the risks of doing this are explained in the Assured Soccer Profits FAQ page.
What Are the Other Reviews Saying about Assured Soccer Profits?
There a quite a few other Assured Soccer Profits review around. The reviewers tend to rate it fairly well.
This is a low-cost, low-risk way of getting started on footie trading. One issue that many people point out is that it can be tough for newcomers to get started with.
While it is a very comprehensive system, it may look too complicated at the start. If you have no trading experience then it could seem too difficult for you.
People seem to be happy with the level of support offered too. This is clearly something that is a priority on the site.
Overall, this is a good site that is recommended by a number of reviewers. It isn't right for everyone, of course. However, it is mainly a case of knowing what to expect from it.
Pros / Cons

It is refreshing to see a trading site that doesn't make unrealistic promises. The honest, low-key approach is a definite advantage in this case. It means that you don't start off with unrealistic expectations.
The low cost is also good to see. If you aren't sure about proceeding then the cheap price might persuade you to go ahead. For instance, if you are new to trading and just want to give it try for the first time.
If you take the time to learn the strategies, you will learn new skills. This is good news if you want to make trading or betting a career. Assure Soccer Profits gives a neatly organised way to get started.
There are two main drawbacks to bear in mind here. The first one is that beginners might struggle to get to grips with it. It looks kind of complicated at first sight.
The sheer volume of training material certainly doesn't help in this respect. It can be off-putting to see so many videos and blogs to wade through. If you are keen to get going then you might get impatient.
The wealth of information may be good news if you are happy to do a lot of research, of course. However, a lot of newcomers may be put off by the research needed. It really comes down to personal preference in the end.
This trading approach isn't about luck. It is about understanding a number of strategies perfectly. This means that it isn't the right approach for you if you want a fast start and little work. If you prefer to study then it is
Assured Soccer Profits Review – Conclusion
The truth is that Assured Soccer Profits delivers pretty much what it promises. It gives you a way of learning how to trade on football games. Once you have learned the basics you can get regular if modest profits.
Is this enough for you? If it is then you should be comfortable signing up here. Yet, some people may want something that is easier or promises bigger rewards.
By putting some thought into how you want to bet on football you can see whether this suits. If it does then expect to spend a fair bit of time learning some new trading skills. That concludes my Assured Soccer Profits review.
You can read my other Betfair system reviews here.
Recommended: Go here to see my no.1 recommendation for making money online