Bonus Chum Review
The large number of online casinos around now is definitely good news for players. There is so much choice that these sites need to fight to win our custom. Basically, they know that they need to pull out all the stops to get you to play there. In this Bonus Chum review we will take a look at what this program offers. Is it going to help you win a lot more cash in the future? Can you really take free money off a casino so easily?
One way that they do this is with their juicy bonus offers. These are special deals that let you play for free or make your deposit go further. This is great, but the problem is that most people don't use them as wisely as they should.
Some people choose the wrong bonus offer. Others waste them by playing the wrong games with the money. Some players don't realise at the start what the rules are. For instance, that they need to play through their winnings a certain number of times.
It is easy to fritter away a casino bonus without making any real money from it. This is exactly what the casinos want you to do, of course. They are delighted when someone signs up and then wastes their welcome offer.
This is why there are now sites dedicated to helping you to make the most of these casino offers. These are places where you can calculate the value of each offer. A simple simulator tool can make all the difference to your winnings.
I've written a detailed post on the different type of casino bonuses and the formula for working out the estimated value here.
What Is Bonus Chum?
Quite simply, this is a piece of software that lets you work out the value of casino bonuses. It does this by cleverly simulating the conditions in which you will spend it. The tool will go through the different scenarios numerous times to see what happens. Do you walk away with clear winnings or do you go bust before then?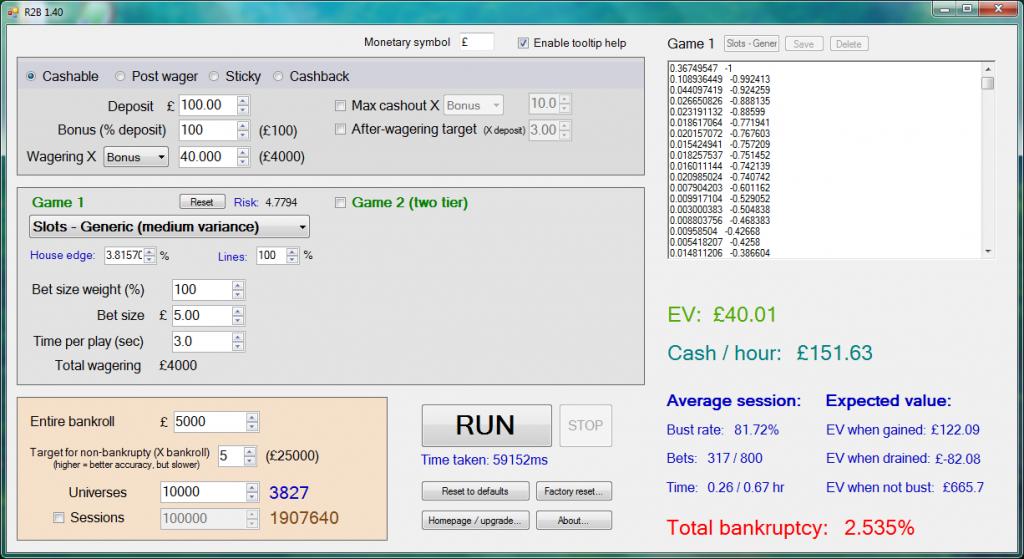 It runs on Windows and has been around since 2015. Daniel White is credited as being the creator. He apparently made this software as he wasn't satisfied with other simulators around. So, he set out to make something that is better.
There is a lot of different information that you can feed in here. This includes the deposit amount, the bonus amount or percentage and the wagering requirements. If there a limit on the winnings you can end with this should be entered too.
Basically, you enter everything needed to calculate the estimated value of the bonus. This might seem like too much information at first. Yet, all of these details are needed to accurately work out the results.
For slots bonuses, the information that is needs differs. This covers the house edge, the variance level and the time per spin, among other factors. Again, the simulator will work out the end result of playing this slot over and over again.
All of this lets you see the estimated value of the bonus. You can get the software to run through the bonus countless times for greater accuracy. The more times it runs the more accurate it should be.
It is worth noting that there is the option of a two tier approach. This means starting with a high variance slot to build up some cash. You then switch to a low variance game to work through the wagering requirements. This is a dated strategy and may see your account getting suspended.
One you run the simulator, it will come back with a range of useful information. This includes the expected value and profit of the offer. You will also see how likely you are to go bust or bankrupt.
The tool also lets you see how long you are going to spend playing to earn the cash. Perhaps you will make money but it will take far too long. Or maybe you can pick up a modest win fairly quickly. The rate at which you can win shows how worth your time an offer is.
This is all fantastic news. Making the most of a casino bonus is the key to huge profits.
How easy is it to do, though? In the rest of this Bonus Chum review I will look at the practical matters. These are the issues that will show you whether you can genuinely expect to make money in this way.
How Is It Different to Free Estimated Value Calculators?
There are other calculators around that do a similar job. In fact, as mentioned, the creator of Bonus Chum started it because he wasn't happy with other simulators. This Bonus Chum review, therefore, has to show what exactly he offers us.
So, has he provided something that is better? Or is it just a more complicated way of getting the same results in the end? What are the key differences that make this bonus simulator worth trying?
The main difference with other EV calculators is that Bonus Chum is more accurate. They use the correct estimated value formula so you get much more accurate results.
The great advantage is that it opens up far more offers for you. For example, even if the wagering requirement is 40x you can trust this tool. The detailed, accurate results will give you confidence to grab more casino offers.
Because of this, it should help you to win more money in the long term. There are no guarantees of this, but the accuracy is a huge help. You can feel a lot more confident about grabbing bonuses in this way.
It is also more flexible. The number of different details you can put in means it is easy to tailor. Any sort of offer that you find can be used on this tool. This Bonus Chum review will go on to look at how this works in real life.
How Much Does It Cost?
The cost of this tool is £120 at the time of writing. It is a one-off cost that gives you access to Bonus Chum forever.

This is obviously a fairly steep price to pay. We need to bear in mind that many EV calculators are free or cheap to use. Does this software really offer enough to make it worth paying so much for?
Would it be better to save the money by trying something else? Maybe you are happy taking your chances with simply trying out a few bonuses on your own?
However, as we have already seen in this Bonus Chum review, it is powerful and accurate. Using it should see you win more money by using your casino bonuses more wisely. A less powerful simulator could see you waste time and money.
This is especially true if you have a limited amount of money to work with. Going bust and losing your own money is a disaster. Knowing what awaits you will help you to avoid this risk.
Therefore, the cost of Bonus Chum shouldn't be too big an issue for most people. The truth is that it should pay for itself before long. If you earn from casino bonuses each week it will be well worth it.
Of course, as with any betting tool you need to use it enough to justify the cost. There is simply no point in paying this money and then not using it. Ideally, you will look for suitable deals every week.
By doing this, you can earn a regular second income. This might sound too good to be true. However, there are so many good casino bonuses that lots of people do this now.
What Features Does Bonus Chum Have?
This is a piece of software that needs to be run on a Windows PC. You download it to your computer to get started.
The interface is simple but it does offer a lot of powerful features. As noted above, there are several different options in terms of the details you complete.
A handy feature is the one that offers bankroll simulations. Because of this, you can be sure your bankroll is big enough to tackle an offer. There will be no danger of your going bust.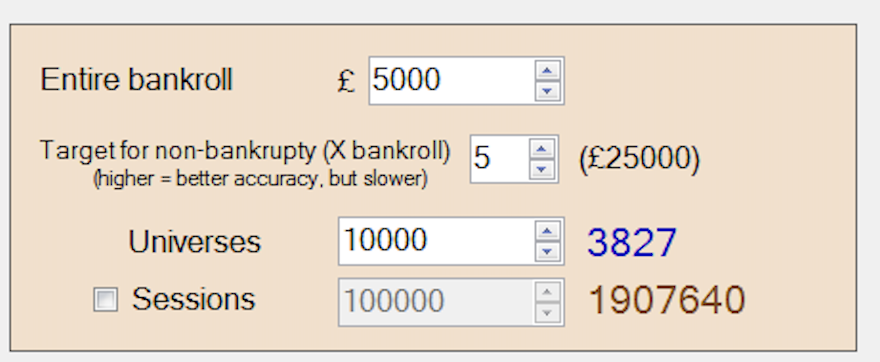 You might see a tempting offer but not be sure if it is right for you just now. By carrying out a bankroll simulation you can see whether you have enough money to risk it.
The flexibility of this calculator is a big benefit. This allows you to adapt it to any kind of offer. You can easily put in how many times you want to simulate the offer too.
On the other hand, other simulators tend to be more limited. In a lot of cases, you only put in the deposit and bonus amounts, RTP and wagering requirements. This is easier to do but gives you a less comprehensive simulation.
Despite being fairly complex, Bonus Chum is easy to use. Clearly, you will want to avoid making any mistakes with it. Take a few minutes to get used to it and you will feel confident.
Who Would Be Suited to Bonus Chum?
This software is going to make life easier for some players. In general, it is suitable for advanced matched bettors. They can look to increase their casino profits pretty simply in this way.
So, if you have been playing for a while this could be a good move. You can look to take your casino profits to the next level with this software.
Maybe you have already exhausted the basic bonuses. With this tool you can look at more complicated deals. You might decide to look at new casinos whose offers you have some doubts about. Are they really good offers or best avoided?
This tool also lets you consider new ways of winning more. Should you be taking a chance on higher risk slots? Have you been ignoring games that you should be playing with your bonus money?
What is the next question for this Bonus Chum review? We could ask if it is right for beginners, too. Well, newcomers to matched betting can certainly use Bonus Chum if they like. However, they may find it a little too complicated for their needs.
You should remember that this isn't going to give you guaranteed wins every time. What it does is help you understand how much you can expect the bonus to win you overall. It doesn't automatically remove the risk of losing. It just lets you know what the chances of this are.
This means that you will have long losing runs even when using the software. Because of this, you need to be sure that you have a big enough bankroll.
You also need to understand basic casino terminology. It uses phrases such as house edge, wagering requirements and so on. You will want to understand these terms before you start playing for real.
Is Bonus Chum Easy to Use?
You may think that this software looks complicated at first. This is especially true if it the first casino bonus simulator you have used. Or maybe you have only ever used a simple alternative in the past.
Either way, it is easier to use than you might think. You will soon get the hang of where the put the right figures. Reading the results is also easy to do once you get used to it.
Perhaps the biggest issue is in putting in the right figures to start with. As with most calculators or simulators, putting in the wrong information will lead to poor results.
So, you should only use this tool if you are confident of being able to find the right offers. You need to have all of the correct information to hand before getting started.
How will you do this? I will look at this crucial point in the next section of this Bonus Chum review.
Does Bonus Chum Show You the Casino Offers?
We have seen that you can easily simulate casino offers on here. But, can you find the offers to get started with too? If not, how do you do that in order to get going in the right way?
Unfortunately, you won't find any casino offers on Bonus Chum. This means that you need to find the latest deals yourself. Of course, there are different ways of doing this. Which is going to suit you best?
You could look through all the casino sites to find deals. This might sound like fun but the truth is that it would be extremely time-consuming. There are just so many casino sites around these days. You could take ages trying to find the right deals.
Then there is the risk of letting possibly juicy offers slip through your hands. Could you really check on every casino site often enough to get all the deals? Few of us have the time to do this.
Far better is the idea of letting someone else do the work for you. In this way, you can get the best offers without any hassle or delay. For example, you can do this by signing up to the service from Profit Maximiser. Profit Maximiser includes: –
126 new account advanced casino bonuses
On going advanced casino offers
Very active forum with advanced casino threads (there is over 30,000 comments on it!)
By using this approach, you will easily find the best current deals. You can use your time in the best possible way. There will be no time wasted in looking around the internet for suitable offers. There is currently a 14 day trial on for you to test it here.
Once you find some deals, the rest is easy. Just plug in the information to the Bonus Chum simulator. You can then decide whether it is worth giving it a try or not.
After you win some money you start the whole thing again. Look for a new deal and see how worthwhile it is. With new casino offers launched regularly, you will never be short of deals to check out.
This Bonus Chum review has already shown that this is a fine way of assessing offers. Finding a smart way of locating those offers will get you ready to use it to its full effect.
Bonus Chum Review Conclusion
As the number of online casinos grows, so does the number of offers. This might sound like good news but it can make life more difficult. How can you possibly be expected to choose the best one?
You don't want to spend endless hours looking at offers, do you? Even then, it can be virtually impossible to work out if an offer is good or not. You could spend a long time looking at the details without understanding how good it really is.
This Bonus Chum review has shown that it can be a clever way of choosing the right deals. You can make sure that you get an offer that really suits you every time. There is no longer any need to guess which casino offer to go for.
This means that it is great for advanced matched bettors. If you are new to this way of making money then can you use it? You certainly can. But you might feel that it is a little bit too in-depth for your needs.
Overall, this is a great tool for many different types of people. It is easy to use and comprehensive. The fact that it isn't free might cause you to think twice, though. The cost is reasonably high but it should help you to win more money.
Why take chances with casino bonuses? You can use Bonus Chum to fully understand what each offer could truly be worth to you.
I'd also recommend a subscription to Profit Maximiser to highlight the new account bonuses and on going offers to save you time. Click here for a 14 day trial.