Ron Williams Racing Review

The Ron Williams Racing site promises to give us "professional racing tips". With mention of making effortless profit in minutes, it is worth taking a closer look at.
We all know that it is incredibly difficult to make money from the bookies. Does this service have some tricks for you? Let's take a look now and see how it all works.
What Is Ron Williams Racing?
This website provides horse racing tips. There are no other sports represented. Just horses every day. So, it could suit you if you want to specialise in this sport.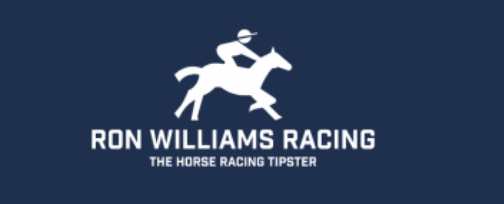 It works by giving you regular tips by email. There are no betting systems for you to follow here. You just get sent tips for certain horses and races. It is then up to you to decide whether to follow them or not.
So, it is a horse racing tipster service. Ron Williams says that he been betting on races for 40 years. There are no details of how he chooses his tips. If he has a system or inside contacts then it remains a secret. This Ron Williams Racing review can only look at his service and results.
This service has results going back to 2017. At the time of writing, the service has close to 17,000 followers on Twitter. So far so good. We can now look more deeply at what it actually provides.
What Does It Provide?
Quite simply, you get sent tips on upcoming races. They are normally sent out the evening before the race. Expect your tips to come through about 6pm UK time, up to maybe 8pm. This time probably suits a lot of us. Especially those who get home from work around that time.
When you get the tips through, you also get advised of the recommended odds. That's all the information that you need. There is no system or software that you have to use after this. Just look for the bet and place it if is the price is right.
It makes sense to place your bets quickly. The advised price might change if you leave it too late. This is particularly true if a lot of his members place the same bet.
The site says that it is suitable for newcomers as well as experienced bettors. There is no specialist knowledge needed. The site doesn't give training courses or guides. This is simply because there is no need for them.
How many bets can you place? You get an average of two to three tips each day. The weekly average stated on the Ron William Racing website is 15. This is pretty low. Hopefully, it is a sign that they are carefully chosen for quality.
Interestingly, there is no starting bank recommended on here. Neither does he tell you how much to bet. It is mentioned that you can bet the likes £10 or £1, whatever you are most comfortable with.
This gives you a high degree of flexibility. It also affects your profits. We will look at this in detail later in this Ron Williams Racing review.
You get each way tips, as well as winners. You need to know enough about betting to make the right bet each time. But it is no big deal for someone with basic betting knowledge.
Who Is Behind It?
As mentioned earlier, Ron Williams has been betting on horses for 40 years. He says that he takes an honest, straight-forward approach to his tips.
Williams is said to be widely regarded as one of the UK's top horse tipsters. Many Ron Williams Racing reviews call this the number one tipster service. He can also be seen on the Betting Gods site.

But who is he? A lot of sites call him an expert on horse racing. But I couldn't find out much about him. For instance, I couldn't see any interviews with him anywhere. Is this a bad thing or does it not even matter?
Most of the other reviews simply repeat the blurb about 40 years of betting experience. This comes from his own site. I couldn't see anything anywhere else to confirm this. The Betting Gods site has his photo on it but no personal details.
In this case, you are using the service purely based on his results. You aren't basing your decision on the man behind it. This isn't a big deal for everyone. But some bettors like to know the man behind the service.
How Much Does It Cost?
This is a pretty low-cost tipster service. The monthly cost is just £37 plus VAT. That compares quite well to other tipster services. You can cancel your subscription at any time after starting.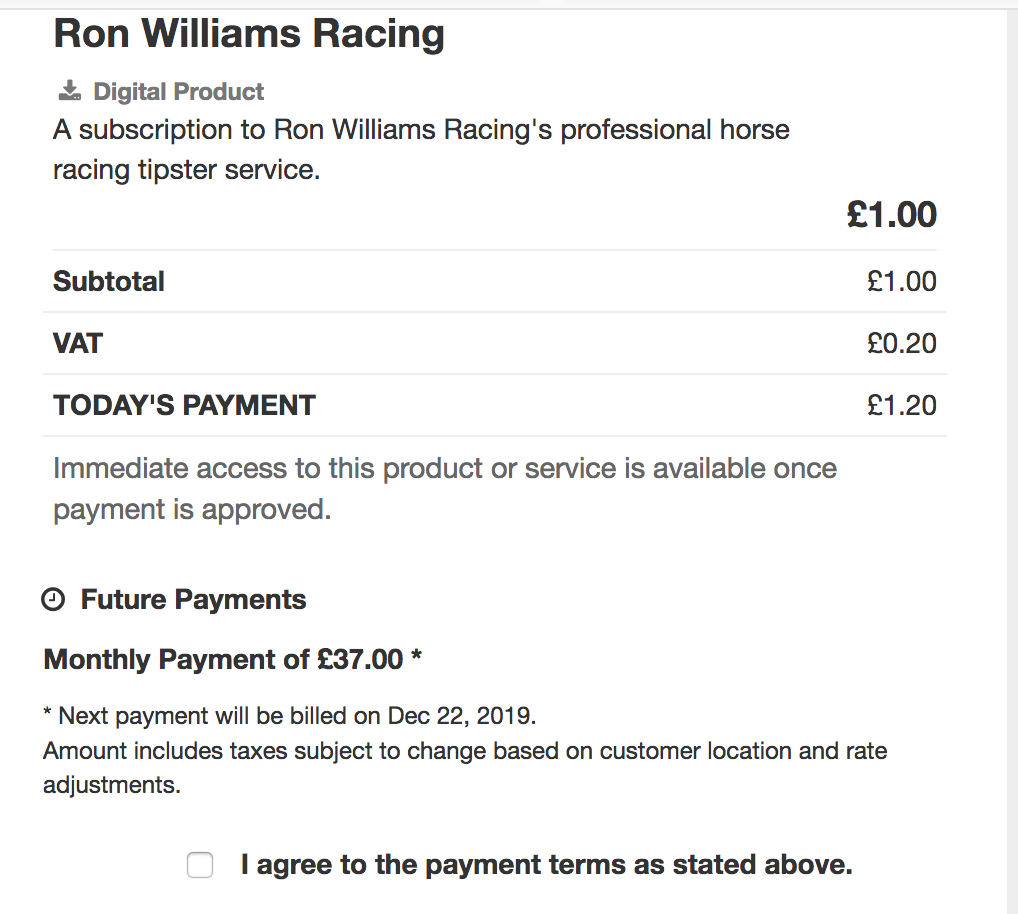 Of course, the value depends upon how much you could make. We will look in a minute at the potential profits. You need to earn enough to make it worth your while paying for the tips.
Purely in terms of cost, it is a good deal. It is made even better by the trial offer. This gives you two weeks of tips for just £1 plus vat. It is a really good way to get to grips with this service.
If you have never used a tipster before then the trial period is going to help you. You can give it a try with no real risk. Use low stakes to keep the risk as low as you want it to be until you are comfortable.
Will You Make Money?
With any tipster service, the amount you earn is the key. This is what makes the time and money you put into it worthwhile. What did I find out researching this Ron Williams Racing review?
The site talks about making £1,250 or more each month. It also mentioned winners at odds going up to 33/1. Are these claims realistic?
Well, it is very flexible. Since there is no fixed stake, it is difficult to give exact figures for your profits. Also, not everyone will place all of the tips. They might also get different odds, depending when and where they place their bets.
Therefore, what we need to do is look at the tipster's record. How many wins has he picked up since getting started?
The Results section of site has figures going back to the start date. So, that lets us see how he has done since July 2017. The results are actually based on £25 stakes. This isn't mentioned anywhere as the amount you should wager, though.
Using this figure, we can see an overall profit of £6,479. This translates as a ROI of 20.39%. That's a good start. Let's look at the numbers in a bit more detail now.
The monthly breakdown shows how much profit was made each month. A quick count shows seven months with losses. The rest resulted in profits. That is a good winning percentage.
At the time of writing this Ron Williams Racing review, the last completed month is November 19. This ended in £407 profit. Before that, October has a £164 profit. September led to a £175 loss.
The best month to date was April 2018. He won a fantastic £1,261 that month. The poorest was November of the same year. The loss then was $284. The rest of the months vary quite a lot.

In terms of winning streaks, the start of the service had eight consecutive profitable months. May and June 18 are his only consecutive losing months. He has also had four-month winning runs twice.
Overall, the winning rate is good. However, remember that your profits will be lower if your stakes are lower. If you wager the £1 or £10 he mentions, it will be a lot less.
To match his figures, you need to use £25 stakes. If you are unlucky, you might lose a few races in a row.
Going on the figures in this Ron Williams Racing review, you should make a profit. Providing you use a reasonable stake, the service will pay for itself and more. But you will need to take some time over it. After a couple of months, the profits should even out.
Of course, with tipster services it is all about timing. Some people join in a losing month and then give up. Others get lucky and join on a great month. You might need to take the long-term view if you lose early on.
If you want more information then click on the All Results tab. This shows you the specific bets and horses from past tips. As you would expect, there are plenty of losses on individual races. This is pretty much unavoidable with any sort of tipster.
However, there are also plenty of good wins. Many of them at reasonably high odds. This explains why he comes out ahead in the long run. These aren't all bets on strong favourites.
Out of 995 bets, there have been 233 winners. This is a strike rate of 23.42%. His Betting Gods profiles has more bets. The strike rate is a bit higher but the profits are lower. 
What Are Other People Saying About It?
There are lots of very positive Ron Williams Racing reviews online. Most reviewers seem to be impressed by the service on offer.
It is good to see that their trials generally confirm the stated figures. Decent profits have been noted by various reviewers. There is no suggestion that this is a scam. The figures can be backed up and proven.
People also like the straightforward approach that Ron offers. There is no unnecessary stuff included here. Just the basics are given to get you going. Which is all that most of us want anyway.
This tipster has a good following on Twitter. His account has a lot of positive feedback and comments on it. He seems to have helped many people to win well. This is a good sign.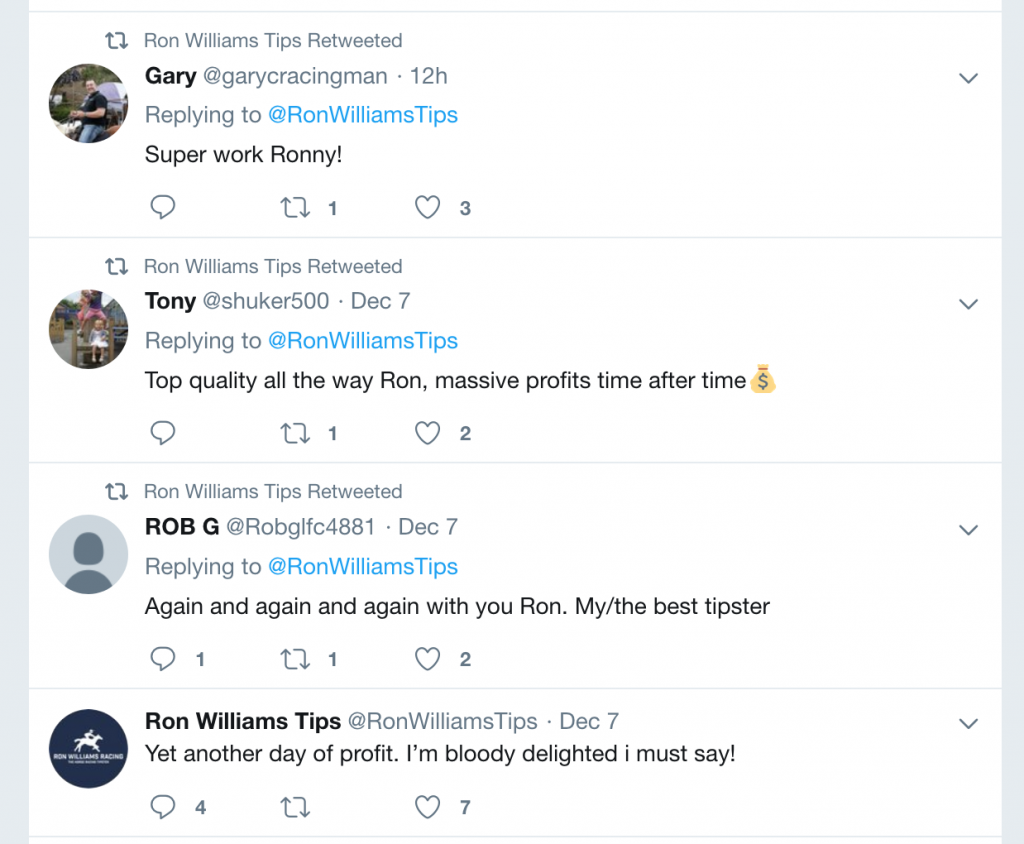 Every tipster has some negative feedback too. Often, this comes down to someone unluckily joining during a losing streak. Or maybe they have unrealistic expectations. It is important to read these comments first of all.
The negative comments on Ron Williams Racing reviews are limited in number. There are no real red flags here. Just what you would expect to see for any service of this type.
Will You Get Gubbed using Ron Williams Racing?
The site tells us that the service uses the biggest bookies. The names mentioned include Bet365, SkyBet and Coral. On this Betting Gods page, the commonly used bookies are listed. These are Bet365, BetVictor, SkyBet, Unibet and William Hill.
Bookie names aren't mentioned on the results page. However, it is fair to say that the biggest bookmakers are used. This leads us onto the subject of accounts being gubbed or limited.
Ron points out on the website FAQ that this is a possibility. Following a tipster always leads to the risk of being gubbed. So this is something to bear in mind at the start. This Ron Williams Racing review assumes that you avoid being gubbed on all of your accounts.
What is this tipster's advice on the subject? He says that there are plenty of sites that will be happy to let you bet. This includes Betfair as well as bookmakers.
Naturally, this would add a bit of work to your betting. Ron Williams tells you where to bet. So, if you are gubbed there you will need to look elsewhere. It isn't a deal-breaker, but it does complicate life a little for you.
Advantages of Ron Williams Racing
What are your main reasons for signing up to this service?
Easy to use. You just need to look out for an email. Then place the recommended bets. That's all there is to it really. It could suit someone who wants to make money with no fuss. You won't need to spend much time on this.
A good track record. Tipsters live or die by their results. In the case of Ron Williams, he has produced a lot of winners. This gives us confidence that he will carry on doing the same. At the time of this Ron Williams Racing review, the profits are good.
You can get in touch anytime. This is something you will probably never need. Nonetheless, it is nice to know that the option is there.
Cheap Trial. For just a pound, you get a trial fortnight. This is a nice way of giving it a try. If you aren't sure whether it is for you then this is a good way to find out.
Disadvantages of Ron Williams Racing

No betting system is perfect. With tipsters, we tend to see the same disadvantages on all of them.
No guarantee of winning. This is a biggie for a lot of people. If you can't afford to lose then don't use a tipster. You will lose bets in this way.
Relatively small selection of bets. This might be a good thing for some people. On the other hand, a lot of us prefer to have plenty of bets to choose from.
Who Might It Suit?
We have looked at the different aspects in this Ron Williams Racing review. Can you see now whether it is right for you?
The first main point is about the profits. If you want guaranteed profits then it isn't for you. Surebets and matched betting give you guaranteed wins. Tipster services don't. This approach gives you the thrill and uncertainty of not knowing if you will win.
The fact that the tips are delivered to your inbox is a big factor. There are only a few of them too. So, it is probably best for someone who is busy. Or maybe someone who doesn't want to spend time hunting for bets.
Therefore, it might suit you if you are busy but want to make more money. If you have a full-time job you can still do this. It only takes a few minutes in the evening each day.
However, you need to be prepared to lose sometimes. If you have a decent starting bank you should be fine.
This is also a good point to go back to the subject of wager amounts. We saw earlier in this Ron Williams Racing review that the results are based on a £25 stake. Yet, he says that you can bet £10 or even £1.
The problem with low stakes it that they lead to low profits. If you bet £1 each time then you will barely cover the cost of the service. If you need low stakes then look for a cheaper service or low risk profits.
You might like to use low stakes during the free trial. Yet, after that you need to raise the level a little. You don't need to throw huge amounts of money at this. But you need to be prepared to take a few risks to make profits.
Ron Williams Racing Review: Conclusion

This is one of the top-rated horse racing tipster services. It is easy to see why based on this Ron Williams Racing review. Ron has an excellent track record. The service is also fast and easy to use.
That doesn't mean that it is perfect for everyone. For a start, not everyone wants a tipster service. Do you want exciting unpredictability or wins every time? By understanding your motivation, you can decide whether this service is right for you.