OLBG Review
The original name of this site was "Online Betting Guide". Its tagline is "Lets Beat the Bookies". But in what way can it help you to do this? Is it going to be the key to greater betting success from now on?
In this OLBG review, we will take a look at what it offers. Let's see whether you can boost your profits with this service.
What Is OLBG?

This site brings together a collection of useful information for punters. These include betting tips, strategies and free bet offers. So, it is a decent place to find a range of things related to betting.

This community has been around since 2002. So it is one of the longest running betting sites. It is probably best seen as a lively community. If you want to take part and pick up some tips then it is a decent place to visit.
OLBG is owned by Invendium Ltd. This is an online betting group with a number of sites. OLBG is their flagship site but you might have heard of others, like ValueChecker, too.
This site has a reported 50,000 members. This makes it one of the most popular sports betting sites around. They get millions of visits each month. There is also a mobile app that has been downloaded close to a million times. You can follow them on Twitter for the latest news as well.
In this OLBG review, we will look at the overall site. What can you expect to find here to help you?
What Features Does It Have?
At the top of the screen you will see a few different categories. These are as follows. Free bets & offers, best bookies, free tips & tipsters, betting strategy, members & tipster competition.
We will look in detail at these areas later in the OLBG review. Clearly, there is plenty there to keep you going. But will any of these features help you to make more money?
If we go through them one by one, we will see what they each have to offer. Once you have chosen a bet, you are taken straight your betting slips. You can also head straight to a bookie offer. This means that you can find bets and offers here then sign up to the right site seamlessly.
OLBG tipsters

For some people, this will be the highlight of the site. After all, there are lots of people looking for good betting tips. There are also many websites offering this service just now. Where does OLBG stand out from the rest?

The first thing you will see here is that there are "over 2000 daily active sports betting experts". This means that there are plenty to look through. You won't be short of tipsters to choose from on here.
Thankfully, you can filter your selection based on different areas. For instance, you could look for those with the highest annual profit recorded. Another option is to filter by annual trends. Other filters include annual strike rate, 30 days profit or 7 days profit.
We will look later in this OLBG review at the best tipsters. For the moment, we can see how to find out more on each one, though. You do this by clicking on the tipster you are interested in.
This lets you see a range of details. So you can see their latest tips, as well as lots of statistics. Included here are their best and worst months. You can also see how their daily profit has varied over time.
If you are happy to put in the time, you can discover a lot of useful information. With so many tipsters, you can try to find the perfect one for your needs.
OLBG Tips

We just saw how to look for individual tipsters. However, it is also possible to look for the top tips directly. You do this by entering "free tips and tipsters". You will then see a bar appear with different categories.
Your options are as follows. Today's best tips, football tips, horse racing tips, best tipsters, accas.
If we look at the day's best tips, what do we see? These are the site's hot tips. This means that they are the most popular choices for that day. This takes into account the combined wisdom of the site's members.

At the time of this OLBG review, the top tip is for football. After that, there are a few more football matches and then some horse racing.
You can see a list of different information on each bet by entering into it. For instance, the first one just now is for Spain Women vs USA Women. This is in the Women's World Cup.
I can see that there have been 46 tips on this game so far. 43 of them are for the American ladies to win. There have been 2 tips for a Spain win and 1 for the draw. You can also see what the site's best tipsters have to say on this bet. It then shows the odds for the overall best option on this match.
Below this, are a number of comments. These include opinions on different types of bets. You can see why tipsters believe you should bet on number of goals scored, both teams to score etc. Basically, all of the information needed for you to make your decision is gathered here.
Of course, the accas part covers accumulators. These are formed using the site's best tipsters. They take into account when a number of the top experts suggest the same tip. You also have the option of making up your own accumulator if you prefer.
The football tips and horse tips let you filter out these sports. They are the two most popular types of tip on OLBG. If you look in the day's bet tips, you will see that most are for football or horse racing. Other sports like tennis and rugby are covered but are less frequently seen.
OLBG betting strategy blogs & school

If you are new to the world of betting then you may want to check out this part of the OLBG review. You will find the option at the top of the screen on the home page.
If you go to the betting strategy school first of all you will see some articles. These are evergreen betting articles on subjects like how to find winners and handicaps explained. It is a solid starting point.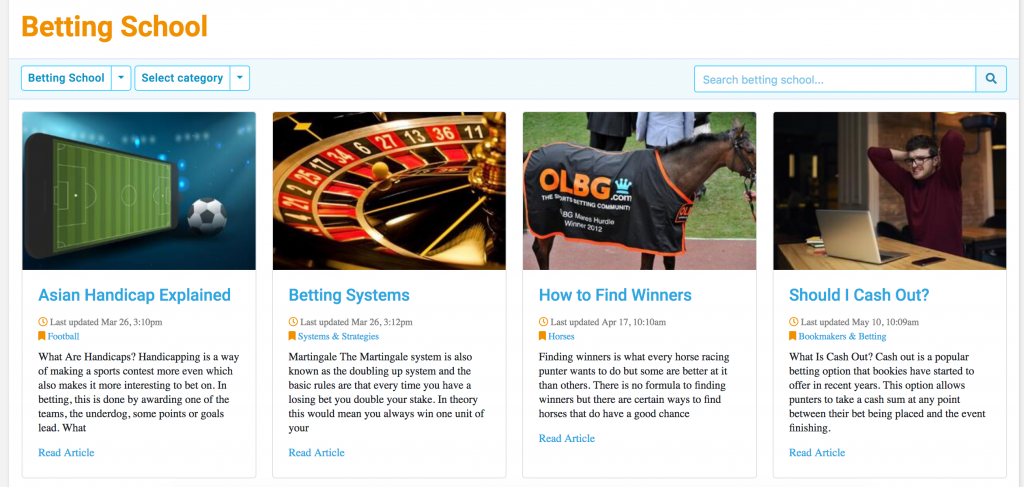 Everything seems to be well explained. It is easy to follow the information, so it is fine for complete beginners. Anyone who is relatively experienced might find it a bit too basic, though. Either way, it is worth taking a look at when you first sign up.
If you move over to the betting blogs you will see the latest information. This includes details such as trainers to follow and upcoming events in this month. Again, it is all put together nicely so that anyone can understand it. This is where you are likely to come back to now and then, for up to date news and views.
The betting forum is also in this part of the site. This is split into sections like horse racing, football and sports betting. The sports betting part covers all of the sports other than football and horse racing.
It is a good place to visit if you want to find out more about betting. Yet, it probably won't suit you if you just want to find some quick tips. This is somewhere to look around when you have some time.
Another part of the site covers members & tipster competition. You can also see the latest bookies offers on here too. So there is a lot of information on here. But you probably won't need to look through it all very often. Most times, it will just be a case of choosing a tip from the daily selection.Which
Tipsters Should You Follow?

Are you planning on following a tipster after reading this OLBG review? In that case, which one would be best for you to choose? There are so many to pick from that it may seem confusing at first.
A good starting point is with the best tipsters section. At the time of writing, the top tipster is called The Prophet. This member has made a 3419 profit on Horse Racing in the last year. Their annual strike rate is 20%. The last 30 days' profit is 518, but in the last 7 days it is -72.
In second place is another horse racing expert; Jibber Jabber. In this case, the annual profit is 3258. Their annual strike rate is 24%. Last 30 days' profit is 153, with 145 over the last 7 days.
The top rated football tipster at the time of writing is called Alettymer. They have posted a 916 profit on football in the last 6 months. This comes from a strike rate of 28%. However, they are in negative figures for both the last 7 and 30 day periods.
It can take a while to find the best tipsters on other sports. I could see FineJoeYoung, who is a tennis tipster. At the date of this OLBG review, he is on profit for 5 of the last 6 months. The annual profit shows as 241. His strike rate on tennis is an impressive 55%. The last 30 days shows a profit of 13, while the last 7 days are at 30.
Filtering by strike rate brings back a few at 100%. These include Samuraii, Nilupa12 and Tomney66. You could spend a lot of time using the filters and looking for tipsters you like the look of.
If you go further down the list, you will see many tipsters. Naturally, it is up to you whether you delve in really deeply or not. Will you take the time to study all of the tipsters? Or will you simply choose the top-rated one? It is really just a question of what you are comfortable with.

Another option is to look at what other people are saying about them. There are a few OLBG reviews around. However, few of them actually go in depth with individual tipsters. The forum on the site is a better place to get a feel on the differing opinions around.
Therefore, the best idea is to look at the forum and in the comments if you have time. Combined with the results listed, this will give you a good feel for each tipster. There is nothing to stop you from signing up for more than one tipster at a time either.
How Much Does It Cost?
You are probably used to seeing tipsters that charge a monthly fee. Some of them charge a lot each month. This eats into your profits a lot, meaning that you never win as much as you expected to. So it is good to see that OLBG tipsters are all free to use.
You need to register using your email address. After you have done this, you can then start following tipsters. So there is absolutely no cost involved. You just need money for the bets that you place. You then keep any profits made.
This applies to all of the tipsters and other services. There is nothing on this site that you need to pay for at any time.
Who Might OLBG Suit?
This site has a lot of information on it that is aimed at newcomers. If you are planning on betting for the first time then it could help you to get going. If you are brand new to betting, you would be best starting off with Matched Betting and building your bankroll with the minimum amount of risk.
What if you are someone who is a bit more experienced in betting? In that case, you won't need to spend so much time reading the help sections. It is possible to just dive in and start picking up tips right away. You can spot good tips and just place a bet immediately if you like.
The other doubt that you might have is around how long it will take. Do you need to dedicate a lot of time to this site? The truth is that it really depends whether you want to look into things in depth or not.
It should turn out to be easy enough to just find a tip that you like. You will see a link that lets you go straight to the bookie's site and place the bet. So, you could easily place a lot of bets in little time.
On the other hand, if you prefer doing a lot of research you can do this too. You could read all of the comments on each tip. Then you could head over to the forum if you want more information. It is possible to spend a lot of time looking into each bet.
Therefore, it depends upon your available time and preferences. Of course, if you find a tipster you trust this will help you make quicker decisions. If you are happy to use their recommendations then you can bet more quickly each time.
Is It Worth Following?
Bearing in mind what we have seen in this OLBG review, is it a good choice? Are you going to make any money from it?
The first point in its favour is that the tips are free. This is a far better way to bet than with paid tips. Everything that you win here is pure profit. With tipsters that charge, a good percentage of your wins could go in subscription fees.
This leaves the question of how good the tipsters are. Free tips are great providing that you win regularly. If winners are thin on the ground then there isn't much point in them, though.
It seems as though some of the OLBG tipsters are doing well just now. With so many of them, you might find it makes sense to regularly check for the best ones. Otherwise, you might prefer to stick with just 1 or 2 that you trust.
Either way, the secret lies in finding a tipster with a long track record. If you do this then the service could be good for you. If you don't win enough then it being free won't be of much comfort to you.
The ideal approach would seem to be to put some time into choosing your tipster. If you do this wisely then you can look to make some profits.
How Does OLBG Make Money?
Since many tipsters charge fees, you may wonder why OLBG experts don't. They must be making money out of this somehow, right?
Well, the site earns money through bookmaker affiliate links. When you click on an offer to place a bet, you are taken to the bookie site. If you sign up as a new member then OLBG get the commission from your bets.
Not everyone is comfortable with this way of working. Yet, it is a pretty common approach in the online betting world. Certainly, there is nothing untoward about it. Overall the site provides a lot of value to the user for free, they have to make money somehow.
They then run competitions for their tipsters. The top tipsters can win a decent amount of prize money. So they aren't really working for free after all. Indeed, they say that they have shared out over £650.000 so far.
OLBG Review: Conclusion
This OLBG review covers lots of free tipsters. It is the kind of site that is useful to newcomers looking to start off confidently. If you are happy spending a lot of time on it, you can learn a lot.
You aren't guaranteed to win; these are just tips after all. However, the fact it is free lets you start up confidently. The free tips listed on this site beat a lot of the paid services that I've reviewed!