Betrush Review
If you love sports betting, you might be keen to get some extra help. Tips and advice from the experts could help you to boost your winnings. But how do you know who to trust and who to avoid? How do you know what the best tipsters are?
This Betrush review looks at a site that promises lots of picks. They do this by bringing together many tipsters. You can choose from free or paid tips.
Will they increase your chances of beating the bookies? I had a good look at the service, to find out the answer. Let's see what I found out.

What Is Betrush?
To put it simply, Betrush gives you a selection of picks from tipsters. When you first open the site, a huge amount of information jumps out at you. For a start, there is a long list of free picks. Everything you need to place a bet is right there on the home page.
Another section mentions Premium Picks, which cost money. We can also take a look at the tipsters. Then there is a list of bookies and some information on bonuses. If you are new to sports betting some of the details are quite useful.
I could see a few different sports covered. The odds and type of bet also vary quite a lot. The use of many different tipsters helps to add variety here too.
It is a promising start. If you want to see lots of tips, that is exactly what you will find. Let's go a bit deeper in this Betrush review and see what exactly they offer.
What Does It Provide?
The home page starts off with the Betrush Top 5. It turns out that these are their top tipsters. They are listed in three categories; all-time, last 90 days and this month. At the time of researching this Betrush review, no one was on more than one list.
The figures for these tipsters are decent but not spectacular. I will look at them in depth a bit later in the review.
The next section is called Active Picks. These are tips for games today in the next few days. I could see about a dozen for today (it is quite late in the day). Then there were 4 already up for tomorrow as well. So a shortage of tips doesn't look like being a problem here. In fact, choosing the best ones is probably a bigger issue.
Each tip has the following headings.
Game. A symbol at the start shows you the sport, followed by the name of the participants. I could see mainly football, with UFC and some baseball. The variety was quite good, with footie from Italy, Brazil, the Faroe Islands and Sweden coming up.
Pick. This tells you what to bet on. Some are straight home/away or draw bets. Others cover over/under goals, both to score etc.
The tipster. You can see who is offering the tip. This gives you a link to their own profile. I could see a variety of tipsters, rather than just the same names on all the tips.
If you click on the game link, you can see a preview of it. The previews are decent but don't really suggest inside knowledge. In the main, they seem to have been put together by someone who has done some research. So, they offer a reasonable starting point. Other users can also add in comments below the preview.
After that, we can see the list of how recent tips worked out. For this Betrush review, I counted roughly 50% correct predictions and 50% wrong. On the face of it, those results aren't too bad. Hovering over each one shows the odds on the bet too.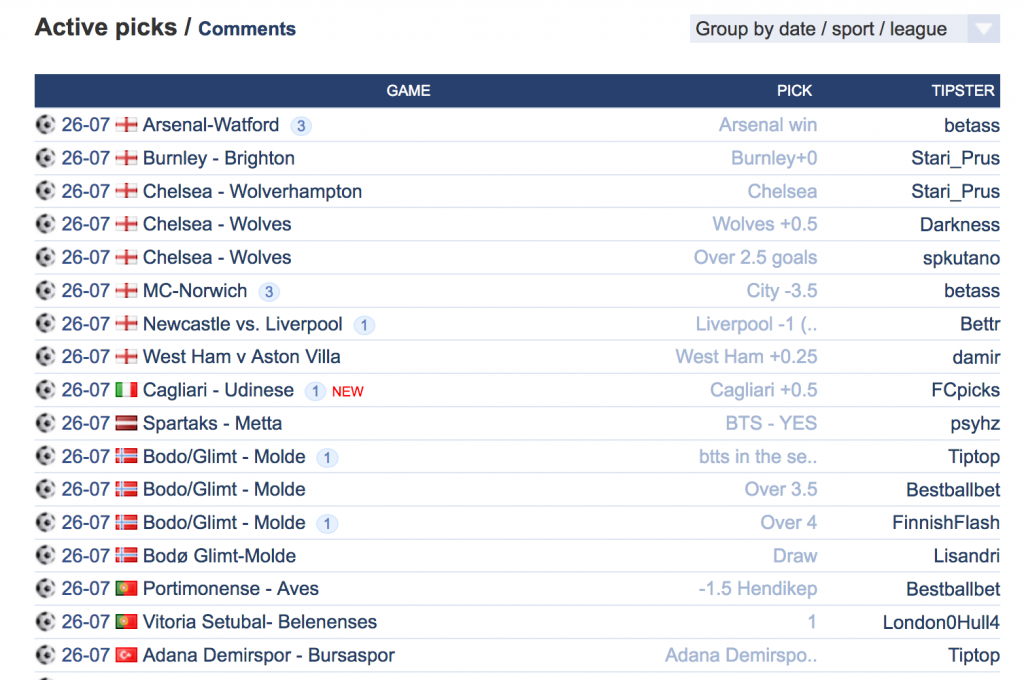 Most of the successful bets were at pretty short odds. I didn't see any stand-out successes. It seemed to be more of a case of earning small profits fairly regularly.
Down the side, I could see In Focus. These are links to blogs on their site. They seem to publish about one a day or a bit less some weeks. The subjects are fairly interesting to be fair. But a few more posts would be nice. Some of them are also pretty general filler content about sports betting and offers.
If you are looking for in-depth analysis, you won't find it here. These are light, interesting articles that may help you get a general feel for a sport. But you won't pick up any great insights, I would suggest.
They also have links to bookies and to a couple of other betting services. This is usually a sign that the site is an affiliate. It isn't a guarantee of it being a scam or unreliable. But it does suggest that they earn money from bookies. This could mean that their main interest is in simply get you to place bets.
It works by giving the website owner commission on the bets you place. So the more wagers you make the better for them. This is a common enough system on tipster sites. However, it should make you wonder about their motives. Does it suit them to just fill the place with as many tips as they can?
The Premium Picks part of the site is where you can pay for tips from "carefully selected tipsters". Betrush say that this is a profitable service running since 2011. You need to pay a subscription fee for these picks, which I will look at in a moment.
Betrush Verified is the section of the site where past results are verified. Basically, it is a tipster proofing service. Finally, a Betting Forum is where you can discuss a range of betting matters with other members.
Who Is Behind It?
The Betrush site doesn't provide a lot of details about the people behind it. They seem to be based in Bulgaria. A couple of forum posters mention the person who is possibly the owner. But I couldn't see this confirmed anywhere.
They have a Twitter account but with no recent activity. It was started in 2010 but nothing has been posted since 2019. They have just under 1,000 followers. It's a similar story on Facebook.
It would be nice to know more about the people behind it. This is always a way of feeling more confident about a betting site. However, I guess it's the tipsters that really matter in this case. Can we find out more about them?
Clicking on a tipster give you details of their stats. You can also see their chosen avatar, which is usually a club badge, favourite player etc. I couldn't find out anything about the people behind the tips.
Does this lack of transparency matter? It might to some people and not to others. I guess it just depends upon whether you like to know who is giving you tips. Some people have accused this site of using computer-generated tipsters. I can't confirm or deny this, due to the scant information provided.
How Much Does It Cost?
We have seen in this Betrush review that most tips are free. It seems that they mainly make their money from affiliate fees by sending members to bookie sites.
The Premium Picks section is where you need to subscribe. This costs from €9.90. For this price, you get access to all of their tips.
The €9.90 price is for 7 days of access. 1 month costs €29.90 and 3 months €79.90. 6 months has a price of €149.90.
Will You Make Money?
With so many tips on here, you need to be selective. If you adopt a scattergun approach and select lots of them, you are unlikely to win much.
The key is in finding a method that helps you. An example is if you investigate the tipsters. You might find one that you trust. Perhaps they have a strong record on certain types of bet or game.
Another approach is to use the tips to back up your own feelings. You might have an idea what to bet on. Finding a tipster here for that same game can help you to make up your mind.
A look at the recent picks earlier in this Betrush review suggested a 50% strike rate. I decided to look at a few individual tipsters. Their tip all-time tipsters is called fpicks00 and had a total profit of 1181.3. They have only been sending 1 tip each month in recent times. This means big swings, from a 100% monthly loss to profits over 60%.

Perhaps a better example comes from FollowMe. This is the top tipster in the last month. They have a total of 1066 picks. This has given a yield of +2% and a profit of +242.6 over close to 5 years.
The highest on the list in the last 90 days is franeq. This tipster has over 90 picks to their name. A +17% yield and +136.1 profit is pretty decent. But the sample size is still quite small.
The service has over 700 tipsters just now. If you randomly choose your bets, I reckon you are more likely to lose money than win it. Picking the right tipster could reverse this situation. But it still feels like a bit of guesswork. None of the tipsters really convinced me that they are experts who will consistently win me money.
Their paid tipster service is fairly expensive. They say that it has provided more than 15,000 picks since 2011. It is also said to be "proven profitable". But no figures are mentioned to back that up.
The Premium Picks are partially hidden until you pay for the service. All you can see is the date of the match and the tipster. When I looked, there was 3 for tomorrow and 2 for the next day.
Also listed are recent wins but not losses. There are usually a few wins each day but it isn't clear how many bets lose. These picks seem to be mainly on football, from different countries and markets. They say that they only use Pinnacle and the main Asian bookies on these picks.
Most of the listed picks came from tipster abdulalhazred. I had a look at this tipster's profile. They have a yield of +4% and a profit of +39.1. This is on close to 900 tips over the last year. Average odds are 1.94.
I can't see anything to justify the price of Premium Picks. They may be more selective than their free tips. But it still feels like a bit of a scattergun approach. They choose fairly low odds, so a reasonably high strike rate is to be expected. There is no clear sign that these are expert tips worth paying for.
How Many Bookies and How Many Sports / Markets Are Included?
The Betrush website confirms that they cover "popular sports as football / soccer, basketball, tennis, hockey and more". The others include tennis, snooker and UFC.
At the time of this Betrush review, most of the upcoming games are in football. These cover many different leagues and cups around the world. I guess their tipsters come from all over. Which means that it makes sense that they have varied expertise.
In terms of bookies, the home page has a list of 12 of them. They include the likes of Bet365, Betsafe and Rivalo. So it is a mixture of big names and others that aren't so well-known. Click on "see all" to see a total of over 30 of them.
Presumably, most of their tips use these bookmakers. For this Betrush review I checked out quite a few of them. The only bookie mentioned not on their list appeared to be BetVictor. But clicking on the bet still took me to the bookie's own site.
They use Pinnacle and Bet365 a lot. I guess this comes down to the tipster's choices. The paid picks are mainly on Pinnacle who do not ban winning players.
What Are Other Betrush Reviews Saying About It?
This service has been around for quite a few years now. So I was hoping to see a lot of Betrush reviews. Yet, there isn't a lot of solid information to go on.
A couple of short, positive reviews don't go into many details. Other Betrush reviews call it a scam but don't back it up with any evidence. This is where they even claim the tipsters are computer-generated.
In short, there are no truly independent Betrush reviews. They either swing too much one way or the other. It would have been nice to see someone use the site for a while and track their results.
Will You Get Gubbed Using Betrush?
You don't want to get gubbed by bookies. This is because it is something that severely restricts your access to offers. The good news is that a tipster service won't normally get you gubbed.
The main reason for this is that you will lose bets. Using tips isn't a secret to constant success. This means that bookies will view you as a regular punter. They will be quite happy to see you lose more than you win.
Your problems with bookies will only begin if you start to win regularly. With tipping services, this usually isn't a problem.
The risk of gubbing is also lowered by using different bookies. This means that there is less chance of a particular bookie restricting you.
As we have seen, the Premium Picks are on Pinnacle. This means that there is more risk of you getting gubbed. But the results to date don't suggest that this should be an issue anyway.
Betrush Review – Advantages
In this Betrush review, we have seen some interesting information. What details can be classed as being advantages to their service?
Easy to find tips.
A good number of tips each day.
Fairly detailed information on tipsters and their records.
Match previews.
Betrush Review – Disadvantages

There are also some drawbacks here to take into account. The following are issues highlighted in this Betrush review.
Paid service is quite expensive.
Difficult to see how you could make a sustainable profit.
Generally low odds.
Who Might It Suit?
Taking everything into account, this looks like it is designed for someone who just wants some fun. Maybe you love sport and would like to be a bit better informed. This service will highlight some of the bets you might like to try.
On the other hand, it won't suit you if you want to make serious money. This isn't the sort of service where you will win huge sums. There is a mixture of wins and losses here. Plus, the winnings odds are often pretty modest.
Therefore, it seems right for someone who isn't looking for a money-making scheme. They just want to enjoy betting. This is fair enough, as we don't all want the same thing. As long as you go into with the right attitude, it can be a lot of fun.
Looked at in this light, it is easy to see who might like this site. For others who want regular wins, matched betting remains a solid choice.
Betrush Review: Conclusion
During this Betrush review, we have seen a lot of interesting details. It is clear that this is a service that sports fans could find interesting.
I'm not convinced by the profitability of their free tips. Their Premium selection also seems unlikely to make you much money. However, it is always good to remember that we don't all look for the same things.
If you want to have some fun betting, this site will help you. If you want to make regular profits, I suggest looking elsewhere.