The Full Story on No Lay Accas
Everyone knows what accumulator bets are. This hugely popular type of bet brings together different elements in one wager. You might bet on several horses winning their races. Or a selection of football teams all winning their games.
The chances of winning are slimmer than on a single wager. The more bets you include the lower your chances. But the potentially huge wins make them attractive to some gamblers.
Can the no lay accas strategy twist things in your favour?
What Are No Lay Accas?
No lay accas make this type of wager simpler and more effective. You are taking advantage of offers to increase your possibilities of clearing a profit.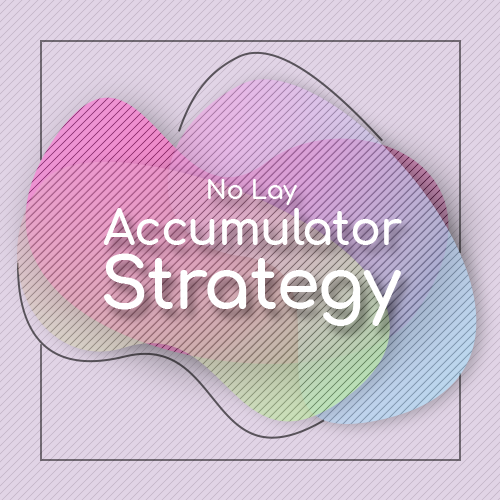 If you are used to matched betting then you may wonder when you make you make the lay bet. You don't. There is no lay bet needed for this. This type of accumulator is just about the back bet as it's an value betting strategy.
So, you make the back bet on several different wagers. You might pick 5 teams to win their respective matches.
Then you just wait to see if you win. Well, it's not quite as simple as that. We will also look in a minute at the offers that make this more attractive.
Are no lay accas risky? Yes, the fact that there is no lay bet makes them a higher risk option. You aren't protecting yourself with a lay bet. The advantage comes from the offers. But they won't stop you from losing some of your wagers.
There is no doubt that it is thrilling to place a series of bets like this. You will then watch with growing excitement as the results come in one after another.
This isn't right for everyone. Is it right for you, though? To understand whether it is or not, we need to go into a bit more detail.
Why Should You Not Lay Off Accas?
If you are used to matched betting you may wonder why there is no lay bet here. Wouldn't it make more sense to place lay bets on your accumulators? After all, it is a tried and trusted method.
The truth is that it isn't worth the time and hassle. You would need to lay off each lay individually. This would make it a quite a tough task, Instead, you just place the back bet and that's all there is to it.
Don't forget that the estimated value of an accumulator offer is about £3 on average. There is just no good reason to lay off these bets as it's too time consuming.
That doesn't mean that you get to place bets without any thought. It is a strategy that requires you to place smart bets.
There are still some issues we need to look at next. These include the offers that make no lay accas more interesting and worthwhile.
Types of Offers
Accumulators are pretty high-risk bets. All you need is for one to fail and you lose the bet. This means that it is possible that you lose more than you win. In fact, some people lose far more often than they pick up winnings.
Thankfully, there are plenty of bookie offers that you can use. Choosing a good offer lowers the risk, so let's take a look at some of them.
Acca insurance is a great help. This kicks in when only one result from your selection lets you down. In that case, you get a full or partial refund. However, you still lose the full amount if more than one prediction lets you down. If all of them win, you get the full payout.
Free bets clubs can give you interesting offers. Most of the big bookies have some sort of offer of this type. A high-value accumulator is a good but risky way of using your free bets.
You might also see some other on-going offers. These include the Bwin / Genting Bet / Mo Play weekly free offer. They are well worth looking out for. The usefulness of each one will depend upon the exact details.
Placing accumulators without any sort of offer increases the risk greatly. These are tough bets to win. Even if you choose a series of hot favourite, the odds are against you.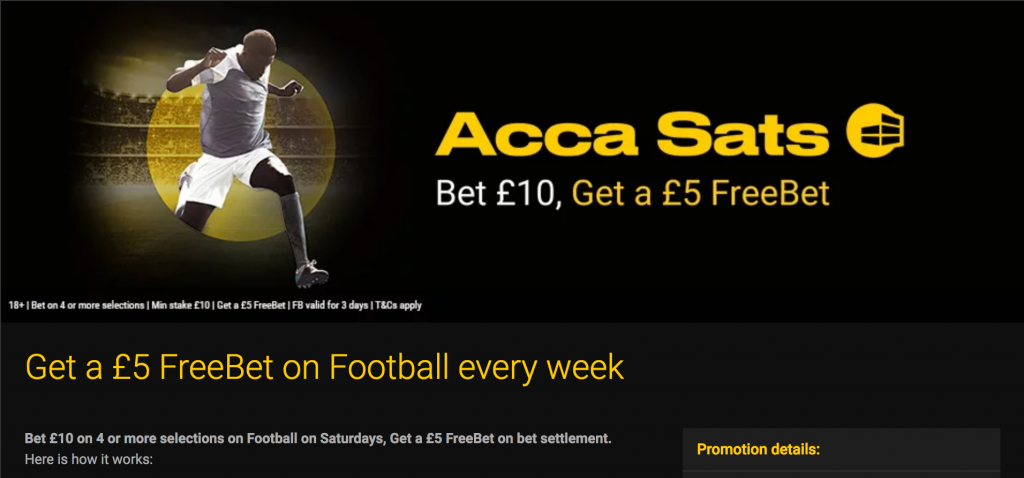 Bankroll Management on No Lay Accas
You already know that good bankroll management is vital in betting. Is the approach to no lay accas any different from other strategies?
The fact that this is a high-risk strategy is certainly a factor to take into account. This means that you won't want to put too much on any bet. If you place large wagers, your bankroll could quickly disappear.
I would suggest not using more than 1% on any bet like this. Any more than this and you risk losing control of your bankroll.
Will you bet only on no lay accas? Or will you combine them with something else? It's up to you, but I would recommend not relying purely on this approach. It is a little too high risk to be the only type of betting for most people.
Something steadier like matched betting will keep the profits rolling in. Adding a few accumulators now and then gives you extra excitement. As well as the chance to pick up some bigger profits too.
As for the individual bets, choosing favourites that have close back odds compared to the Exchange is your best move. You can use a tool like Accumulator Generator that will find the best value bets for you.

How Much Can I Make Each Month?
There are a number of factors to take into account here. For example, how many bets will you place? What offers will you take advantage of and what will your success rate be?
You need to first of all consider how much time you will dedicate to it. Then you can see how many bets you are going to place.
A reasonable profits figure is up to £300 per month after balancing out winning and losing bets. These figures are based on you placing at least 50 or more bets a month. Fewer wagers mean that it might not be worth the effort.
Give it a try for a month or so, to see what sort of figures you can manage.
How Much Time Will it Take?
Some betting strategies take a lot of time and effort. With no lay accas, this isn't a huge concern. These are quick and easy to place.
Since there are no lay bets, expect this to take about 5 minutes on each bet. As you can imagine, this means that you can place a lot of accumulators if you want to.
However, it is important to stick to your plan and control your bankroll. It isn't wise to go wild and place too many bets. Keep it steady at the start and look for a pattern to emerge.
Losing Runs
There is no denying the possibility of losing runs with this strategy. This is the type of bet that you just can't win with every single time. If you expect to win all the time then you will soon get frustrated.
To deal with losing runs, you need to have an idea of how long they can be for. This lets you plan ahead and prepare for the worst. I used an online expected losing sequence calculator to work this out.
At average odds of 4.0 I have a 25% strike rate. This means that if I place 100 bets I can expect a maximum losing streak of 16. This is a pretty long losing run. As you can see, it isn't right for everyone. Not everyone can handle losing 16 bets in a row.
For a start, you need to have enough bankroll to deal with it. Apart from that, you also need the ability to deal with it mentally. Some people will give up after a poor run like this. Or they might run out of cash.
To get a better idea of the possibilities, I looked at a sample size of 1,000 wagers. This increased the maximum losing sequence to 24. Would you be comfortable going through that sort of sequence?
Knowing these figures will help you to see if this is right for you. You will be going into it with your eyes wide open.
Tips for Reducing Exposure
One of the temptations with football accas is to stick to the same teams. There are probably some teams you expect to always see win. Barcelona, Liverpool, PSG, Celtic, Bayern Munich etc. These teams are usually always at short odds. So it is tempting to rely heavily on them.
The problem this raises is when they lose. Let's imagine that you put Bayern Munich on all 10 of your weekly accumulators. This is fine when then win. But when they lose, you automatically lose all of your bets. That's not a wise use of your funds.
For the best results, don't put the same team on too many accas. I recommend never putting any team on more than 3 accas on any weekend. This gives you a good balance. You can place more bets but without too much exposure on one team.
Looking to the future, your bankroll will increase as you win. This lets you increase your exposure in terms of the number of teams you choose.
Carry on Recording Your Results
Keeping control of your betting is crucial with any strategy. No lay accas can be very profitable. But we have also seen here that they produce losing streaks.
Therefore, good record-keeping is even more important. You should look to record the following basic details.
Your EV
Cumulative EV
Profit / loss
Cumulative profit / loss
Having access to these figures lets you see exactly how you are doing. This is crucial, as you can control your bankroll in this way.

It is a visual representation that lets you see that things are working. It is even more important that you have this when you go through a difficult period. You will gain confidence from seeing how it has worked in the past.
You might also see patterns for things you need to change here. If your results aren't what you had hoped for, what is the reason?
Remember that we have seen a couple of important issues so far. The volume of bets and not having too high an exposure to one team are hugely important. There is a good chance that one of these things is letting you down. Can you identify where you have gone wrong without these records?
Just get into the habit of recording every bet. It might seem like a waste of time at first. But this information will come in useful at some point later on. You will also get faster at recording the details and at interpreting the historic numbers.
How Many Bets Should You Place a Month?
I have already mentioned that the volume of bets is important. So let's go into more detail here about how many of them you should do.
The key point here is that it is up to you. How much time do you have for it? What is your bankroll situation like?
Everyone will have a different number of bets from other people. However, this is a good point to put in some general guidelines to help you out.
I think you should be aiming for a minimum of 50 no lay accas a month. This might seem like a lot. But remember that these bets are fast and simple. At 5 minutes each, there isn't a huge amount of time needed each month.
There is also the fact that you can take on smaller value offers. £10 offers are worth it, as you don't need to bother with laying off. This will open up possibilities for you on deals that wouldn't be worthwhile otherwise.
Above all, it just isn't worth it to place fewer wagers. The risky nature of them means that you need a decent volume. This is what will see you grab an overall profit.
The Benefits of No Lay Accas
This is a system with a range of benefits. The following are some of the most important advantages to be aware of.
It is possible to have selections that play at the same time. This is better than the standard accumulator with games at different times. You can look to get more value in this way.
Save time by avoiding laying off bets. You just need to place the accumulator and it is ready to go. This makes it more suitable for someone with limited time available.
No need to hold funds in a betting exchange. You will be placing your bets directly with the bookmakers. Yet, you will need to have a fairly high balance with the bookies. Remember that you will lose a percentage of your bets.
EV is higher than when you lay. This is because you aren't paying lay commission on winning bets.
Are There Any Downsides to Using This Strategy?
No betting strategy is perfect. The secret is in finding one that is right for you. With no lay accas, you need to look at the downsides. Are they big enough to put you off doing it?
In this case, the biggest advantage is the fact that you will go on losing runs. As we saw earlier, these streaks can go into double digits. That is enough to put off a lot of people. It is understandable that not everyone is comfortable with losing.
If you want a safe and steady approach, this might not be for you. Anyone who hates losing runs might stay clear of accas. However, if you are happy to deal with losses, it is a good strategy.
It is probably best for someone with a bit of experience. If you have used bookie offers in matched betting this will be easy for you. It gives you a different approach to try out and hopefully benefit from.
No Lay Accas: Conclusion
People love placing accumulator bets. This is one of the most exciting ways of wagering in sports. By using the no lay accas strategy and finding good offers, you can make money from them.
It is a way of betting that doesn't suit everyone. However, if you like the look of it then you can make good money. Stick to the recommendations on here and you won't go wrong.