Pyckio Review
One thing the world isn't short of right now is tipsters. Pyckio is one of numerous tipster sites that you can choose from these days. Can it help you to choose your bets more wisely? Above all, will it help you to win more money from betting?
In this Pyckio review, we will take a good look at what it offers. You can then decide whether to follow their tips from now on. There is a lot to look at here. So let's see what it is all about.
What Is Pyckio?
This is a service that brings tipsters and punters together. The website is available in England and Spanish. When you sign up, you can use both types of service it offers. This means that you can load your own tips and also follow other tipsters.

If you want to find better bets, this could be a decent solution. There are loads of tipsters on here to choose from. Some are free and some charge a regular fee for their services. If you want to make money with your own tips, it depends how successful you are.
It is also worth noting that they classify their tipsters by their success. So it is fairly easy to see how successful any tipster has been. The truth is that there is a big difference between the most successful and the least successful.
You can use the desktop site or mobile app. Both are neatly presented and easy to navigate.
What Does It Provide?
We can look at the services for punters first of all. You might want to start by looking at the tipster ratings. They use an algorithm to give each tipster a rating of between 0 and 5.
User. This is a tipster who hasn't yet submitted any tips to the site.
Trainee. This is someone who has got a negative yield. Or else they have a positive yield but with under 100 picks so far.
Rookie. In this case, their rating is between 0 and 1.0. This generally applies to newcomers.
Promise. This tipster sits at somewhere between 1.0 and 2.0.
Coach. The rating in this case is from 2.0 up to 3.0.
Master. This tipping expert has reached 3.0 to 3.5.
Grand Master. Somewhere between 3.5 and 4.25 has been achieved by this person.
Pro. This is awarded for a score of 4.25 to 5.0. In addition, they need to have made 500 or more picks. And have a minimum yield of 4.5%. They are clearly the best tipsters on the site.
Only tipsters who reach 4.25 can charge fees. It isn't clear if this is an automatic switch once they reach this level. I imagine that it is, as the whole thing is automated and pretty slick.

Free Picks
You might want to start by looking at the Free Picks page. As the name suggests, this is where you can find no-cost tips. You won't be surprised to see a lower level of quality here. Many of the free tipsters are new or have relatively poor records. But you might find something that interests you.
Some have good yields from a small sample size. For example, I can see the user bot4c with a yield of over 13%. But this is from just 4 picks. Anything you choose from this section is going to be a bit of a gamble in terms of quality. You need to see a good sample of 100 – 200 bets before they are worth looking at.
If you look at Pro Picks, you will see the top tipsters on the site. But you will have to pay to get their tips. At the time of writing this Pyckio review, the top tipster's name is André Cunha (motaliz). He has a rating of 4.78 and a 7.7% yield to date. This tipster looks at football using match odds (1×2), Asian handicap and over/under markets.
Next is Nishi Kori (nishikori) with a 4.7 rating for tennis tips. This tipster has an impressive 8.4% yield right now. Their strategy is to look for value at fairly high odds. They look at markets like 1st set winner, match odd and over/under.
The third best tipster on here is called Jurgen Tischer (nietzsche). He looks at volleyball, which is something you won't find many other tipsters for. His yield is 4.6% from over 7,000 picks. Some lower placed tipsters have better yields, but the Pyckio algorithm has rated him higher.
You can go through the full list of Pros in this way. There is a lot of details on each of them. As well as their results, you can see the odds used. The number of bets and types of bet are all listed for each of them too.
So, you won't want to just choose the first one you see. If you want a good strategy, you need to look more in-depth. This will allow you to see the full details to take into account.
There are a total of 18 tipsters with a rating of over 4 in here. It is in this section that you are likely to make some money. There is no guarantee of this. But these tipsters all have a pretty strong track record.
Tipster Analysis
A nice touch is the option to only see tipsters with analysis included. Some of them have fairly details analysis included. Others cover this area very briefly. It is up to you to decide whether it matters to you.
Another option is to filter by sport. The following different sports are all covered on Pyckio.
Football
Tennis
Basketball
Baseball
Hockey
Volleyball
Rugby
American Football
MMA
You can also choose the match you are interested in. You can then see what tipsters are working on it.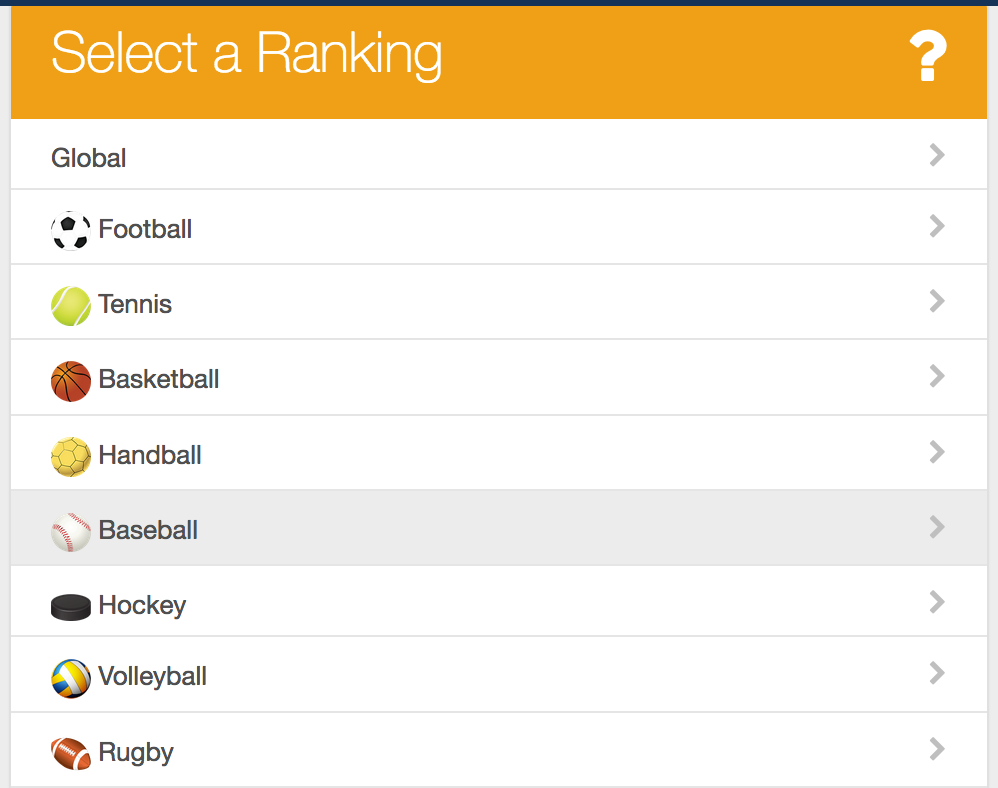 There are actually a couple of ways of choosing your picks. One is to enter your personal timeline on the site. You will see in there the activity of your selected tipsters. The other option is to enter the match or event page. This is where you will see all of the tips and analyses made on it, in one place.
When you sign up to a tipster, you will see how many tips they produce. You will also see when they send tips and the odds they tend to use. When they publish a new tip, you get an email advising you.
A Betting University section gives you lots of information to get started. They also have a blog. Here, you will find posts from some of their top tipsters. The site is well thought out so that you can find out a lot of good information very easily.
Who Is Behind It?
The Pyckio site lists 4 main members of the team. Daniel Mateos is mentioned as being the co-founder and CEO. He is from a financial markets background. He is a pro tennis tipster too and also follows football. Daniel also writes most of their blogs.
Fernando Montero is co-founder and CTO. He is their technology expert and worked as a senior developer before this site. Andrés Barge is listed as a partner and advisor. He is a big sports fan and technology expert. Finally, Alfredo Hiernaux is another partner and advisor. He appears to be mainly involved in statistical analysis.
It isn't clear how many other people work for them. According to LinkedIn, they have between one and ten members of staff.
How Much Does It Cost?
As we saw earlier in this Pyckio review, free tips are available. However, you might prefer to pay for tips from more proven tipsters. It is really just down to personal preference how you do this.
The charging system is a bit unusual, as you pay for the number of Pro picks. For example, the top-rated Pro charges €1.72 per pick. You are offered packages of 50, 20 or 1,000 picks. This means that the top package costs a whopping €1,723 and a few coins. With an average of about 30 tips a month, this would last you around 3 years, though.
The price falls as you move down the list of Pros. The second placed tipster costs €1.62 per pick and the next one €1.56. The cheapest Pro I could see at the time of the Pyckio review was €0.63 per pick. This for a tipster with a 4.03 rating.
The tipster earns 50% of the revenue that they generate. You can earn this too with your own tips. But you need to move up to the Pro level to do so.
If you select a couple of packages of 1,000 then you get 10% extra on each. You can also change your picks from one tipster to another if you want to, once a month. Picks that are at odds under 1.10 are free to choose.
When a tipster drops below a 3.75 rate they stop being Pro. So you can switch to another tipster with your picks that are left if this happens.
A different option is to sign up for Grand Master tips. Remember that this is the level below Pro. This subscription gives you access to all of the tipsters on this level. One month costs you €257. A yearly subscription is just over €925 at the time of researching this Pyckio review.
Will You Make Money?
Really, there are two possible ways of making money here. The first one is to post your own tips. If you climb up the rankings, you will earn part of the revenue you generate. They encourage tipsters with profiles on other sites to switch over to them too.
Yet, most people will be looking to subscribe to a tipster. The free tips are interesting but it is difficult to see how to make money. Most of these tipsters are unproven or have patchy records. You could lose money just as easily as win it.
With free tipsters, the only way I can see is by catching an emerging star. You might spot someone who is moving up the ranks. In this way, you can get free tips before they become a Pro.
The Grand Master selection is pretty expensive. It is going to give you a decent amount of picks. But these aren't from the site's best tipsters. It may suit you if you have a lot of time, I guess. You will want to do some research and choose the best picks from here. For some people, it will be just too much hassle and too much time.
Choosing a Pro tipster is the easiest approach. You could simply bet on whatever they tip. These are tipsters with a decent track record. It doesn't guarantee that you will win, though. Given that each pick costs money, you could struggle to make a profit.
Either way, any profits are likely to vary. Some tipsters can keep up their winning records for a while. But others may suffer big swings in their fortunes. You never know what will happen next.
How Many Bookies and How Many Sports / Markets Are Included?
Earlier in the Pyckio review we saw that it covers a variety of sports. Football is the most popular, but there is quite a strong focus on tennis too. There are several other sports to look at as well.
Different tipsters look at varying types of bet. For instance, we can look at the Grand Masters category. For football, we can see the likes of match odds (1×2), Asian handicap and over/under. A similar, varied approach applies in other sports too.
What Are Other Pyckio Reviews Saying About It?
I had a look for other Pyckio reviews and feedback. To be fair, there isn't a lot to be found on it. As always, comments on forums and social media are varied. Their top tipsters attract the most positive reviews. In particular, the tennis tipster Nishi Kori has been well spoken of online.
The lack of reliable reviews is a worry. Pyckio has been around for a while, so hopefully there will be more soon. For the moment, we need to rely on the site's own figures.
They say that the statistics and ratings are automatically calculated. So there is no chance for tipsters to cheat on their own results. This is good news, but it would also be nice to see some third party verification.
Will You Get Gubbed using Pyckio?
You can get gubbed by bookies for a variety of reasons. The bookies are quite secretive about how they do this. So you can never be sure whether you will get gubbed or not. Even when you get an account restricted, it might not be clear why it has happened.
Generally, following tipsters isn't that risky in terms of getting gubbed. This is because you are going to lose some bets and win some. To a bookmaker, you might not look all that different from a regular punter.
The more you win, the higher the risk of getting gubbed. But it probably shouldn't be a major concern for you if you use this service.
Pyckio Review – Advantages
In this Pyckio review, we have looked at some positive issues. The following are a few of the key advantages to take into account.
Easy to get started on.
Choose your tipster.
Lots of statistics, blog posts and other useful information.
Covers a variety of sports, including some not commonly seen on tipster sites.
Pyckio Review – Disadvantages

We have also covered some negative areas in this Pyckio review. Here are some of the main disadvantages of the service to take into account.
It is quite expensive to subscribe to.
No free trial period is offered at the time of this Pyckio review.
There is also no option of signing up for a very short period, to give it a try.
Following the tips can be time-consuming.
Lack of independent reviews tracking their results.
Who Might It Suit?
Tipster services are generally popular with different types of bettor. You might want to find an easy way to place some bets. Or you could be looking for lots of stats and information to help you out.
This site seems best suited to someone who wants to dedicate a lot of time to betting. This is because there is a lot of information to plough through. It is especially true if you choose the Grand Master subscription. You will have access to a lot of tipsters in this case.
You could spend a lot of time looking at the data on here. Of course, this is something that some people enjoy and others don't.
As always, tipster services don't guarantee wins. You could get lucky with a winning streak or you could lose a few in a row. It isn't something that suits someone who wants to always win. A strategy like matched betting is more suitable in this case.
Pyckio Review: Conclusion
This Pyckio review has looked at an interesting tipster service. If you want to place some bets it is worth taking into account.
Tipster sites like this aren't right for everyone, though. You will want to have a think about whether it suits you. If you have time for it, then it could make betting a bit more enjoyable. But you probably shouldn't expect to make a fortune in this way.