How to Profit from Request a Bet Offers
The idea of creating your own bet is certainly very tempting. Surely this is a great way of beating the bookies, isn't it? After all, it is a bet that you have created. Won't you stand a better chance of winning like this?
Well, the truth is that the bookmakers absolutely love this sort of DIY bet. They know that they are going to make a lot of money out of them because you can't check their value against Betfair. But do you stand a chance of making anything in this way? Or is it something to be avoided altogether?
There are some smart moves you can make with request a bet bonus offers. There are also a few common mistakes to avoid. Let's take a look at what they are and how you can best use them.
What Are Request a Bets?
We need to start by going right back to the beginning. What are they about anyway? They are a relatively new arrival to the betting scene. So it is possible that you haven't yet come across them at all yet.
It is probably easiest to describe them as being similar to traditional accumulator bets. You either build up your own bet or choose one that has been pre-made. Each bet covers a range of parts to it. You need them all to come up in order to win.
Here are some examples from Sky Bet.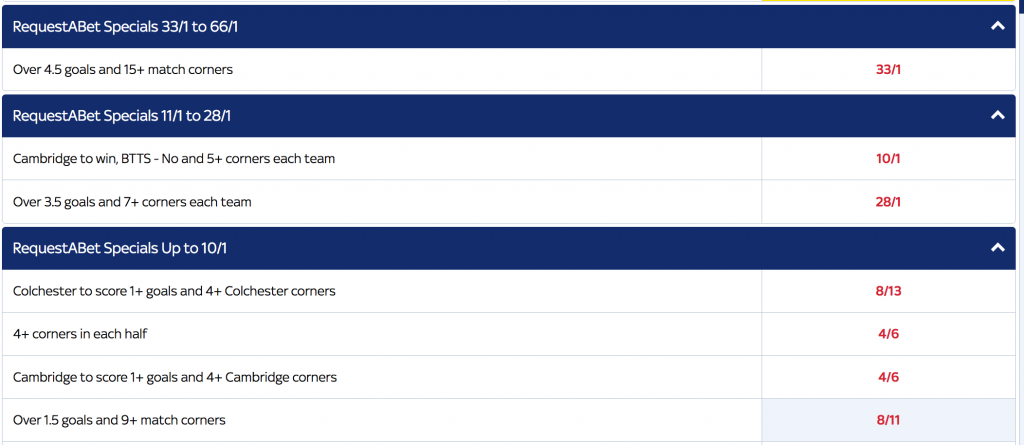 Like classic accumulators, these bets usually offer poor value. Each extra outcome you add increases the bookmakers house edge. The odds are usually high but they have no value without an offer attached.
Are they best just to be ignored then? Not quite, as you can turn them to your advantage if you are smart about it. I will look in a moment at how you can hope to win using them. It is possible if you do it right.
Which Bookies Have Them?
Not all bookies have these request a bet available to their customers. Depending upon which bookmakers you use, you might not have seen them yet.
However, with the popularity of these DIY bets growing, you may see them soon. It is highly likely that more and more bookmakers start to offer them. For the moment, the following bookies are among the main places that offer them: –
10Bet – Create Your Bet
888Sport – MarketMaker
Bet 365- Bet Builder
Betfair Sportsbook- Odds On That
BetFred – PickYourPunt
Betway – Bet Your Way
BetVictor – PriceItUp
Boylesports – Bet Builder
Bwin – Build A Bet
Coral – Your Call
Ladbrokes – Get A Price
Paddy Power – What Odds Paddy
Sky Bet – Request A Bet
Sporting Bet – Build A Bet
William Hill – Your Odds
These are very similar services with different names. Once you build your own bet with one bookie you can do it with any of them. The theory is always the same in every case.
I will also look later on at the bookies that let you ask for odds on your own bets. This is most commonly done over Twitter.
Example Bet
How does this work in real life? How will you set up this bet? There are 3 options.
1) The easiest option is to choose something that someone else has already requested. This means that the price will already be waiting for you. Here is an example from the Blackpool v Accrington game.

2) Some bookmakers have a bet building tool. You can do this directly on a mobile device. Just choose the different options that you want to include. You can very quickly build a bet in this way.

3) The other way you can do this is to tweet them a request. Include details of exactly what you want to include here. This gives the bookie the chance to work out a price and get back to you.
The easiest option is either using existing request a bet already displayed or the bet building service (if the bookmaker has it).
How Do You Profit from Them?
As with traditional accumulators, it is difficult to extract any value. You need a few different things to all go in your favour. If we look at the examples above it is easy to see how it can go wrong.
Yet, you can still profit from them. How will you do this? The best idea is to use the matched betting approach. This means backing with the bookie and then laying off on Betfair. The advantage in this approach is going to come from the bonus they give you.

Of course, this means choosing your bet wisely. Most examples of this type are hard to lay off efficiently. This is because you are covering a few different things at the same time with your bet. You can't get a single lay bet that covers each element all at the same time.
This means that it isn't like the typical matched betting approach. If you lay off each element individually the numbers won't stack up. So it is time to be creative about it. It is time to find a smarter approach to lowering your risk levels.
Matched Betting Examples
How you can lay them? The key is understanding some of the more exotic Betfair lay markets. These tend to have very liquidity until 1 hour before the game starts. I'll explain the markets and the basic rules.
Any time Wincast market – Predict a correct combination of a player to score in this match AND the correct match result. Example Kane to score and England to win the match,
Scorecast market – Predict who will score the first goal in this match AND what will be the Correct Score. Example Kane to score first and Correct score 2-1.
To Score 2 Goals or more market – Predict which player score two goals or more in the game. Example Kane to score 2 goals.
Penalty taken market – Predict is a penalty is going to be taken. Note this should not be confused with scoring a penalty.
Match odds and BTTS market – Predict the winning team and if both teams score. Example England to win and Both teams won't score.
What you need to do is compare the request a bets on offer against the available Betfair markets in the game. They are usually going to be in the exotic markets above. Let's run through a few examples.
Betfred Pick Your Punt Matched Betting Example
Betfred is running a Pick Your Punt £5 offer on the England v USA game.

Checking the markets I have found either team to be awarded a penalty at odds 3.75.

This can be layed off on the Betfair Exchange market penalty awarded – YES at odds 4.3.

Sky Request Bet Matched Betting Example
Sky frequently have request a bet offers so I've included an example with them. Searching their markets I've England to win and both teams to score no.

This can be layed off on Betfair at odds 2.4. As you can see they aren't giving away much value with these bets! The gap between the Sky Bet odds and Betfair lay odds is massive. No wonder they are pushing them so hard.

The key is trawling through the markets available and matching them to the correct Betfair lay market. It does take a bit of time, but once you have learnt how to match the markets, you will be able to do it much quicker in future.
Ideally, you will get the best of both worlds with a free offer and a lay bet. In every case, you need to carefully check the numbers. You can then work out what the risks and potential profits are.
As you can see, this method needs some thought put into it. You can't just stick to the same formula every single time. The first thing to check is whether you are going to get a free bet with it. After this, it should all fall into place.
Advantage Play Strategy
It isn't always possible to lay all of these request a bet offers. You might find that there is simply no way of covering all of the possibilities. How can you make this work well for you, though?
A good example is the Sky Bet NFL Request a Bet Promotion. It's not possible to lay the request a bet option off. There are no matching lay markets.

One option is to choose a low odds request a bet deal . You can do this if you are safe in the knowledge that you will get a free bet. Once it's settled you will either be in profit or have a slight loss.

Let's take a bet £5 get £5 free offer. If you can extract £4 from the free bet then it's still a good deal. Even if the £5 qualifying bet loses, if you can make £4 from the free bet. Then you've only lost £1. If the £5 qualifier wins, you are laughing all the way to the bank!
Let's imagine that the bookies edge is 15% on the initial £5 bet. This gives an average 75p loss completing similar offers over a large sample of bets (roughly 50). That still works out as an estimated value of roughly £3.25.
It is clear that this method isn't free of risk. It will require you to take part in a decent sample of offers. The advantage comes from the free bet that is awarded. It's also the fastest way of completing them.
Other Types of Request a Bet
In some cases, the bookie will offer specific request a bet offers. However, we have also seen that you can ask for your own bet. The bet building tools on some sites are easy to use too. This gives you the opportunity to check out a few different approaches. You should do this before you go ahead and request a bet.
You can also expand your options by using Twitter to get your bets agreed. This lets you create your own bets with more bookmakers other than those listed earlier.
The bookie will assess your bet and come back to you with the odds. If you are going to do this then be sure to get started early. Give them time to come back to with their terms before the game starts. Remember that you will need time to set up the lay bet too.
You need to send the bookie a message on Twitter to get the ball rolling. Be sure to use the right hashtag when you do this.
For example, with Betfred you can send your requests tagged as #PickYourPunt. If you want to get a DIY bet with BetVictor then it is known as #PriceItUp. For BetWay customers, tweets should mention #BetYourWay.
Other hashtags include #GetAPrice for Ladbrokes and #WhatOddsPaddy at Paddy Power. Finally you can ask about request a bet offers with William Hill using the #YourOdds hashtag.
Once you have tried them all you will have a feel for what they each accept or reject.
Which Sports Do They Have Offers On?
Football is currently the main sport for request a bet offers. This is what you are most likely to see offered to you. It is a sport that works well for these bets. There are plenty of different bets you can choose on each match.
There are also some American football offers now and again. As noted earlier, people sometimes send through requests on sports like basketball and horse racing too. But there are still very much in a minority.
What does the future hold for these DIY bets that you can create? Since they are good value for bookies and well received with punters, they should get more popular. Therefore, they will probably add more sports over the coming months and years.
It will definitely be interesting to see the future levels of demand. What sport will most punters be interested in over time? Football bets should remain extremely popular, though.
Are Request a Bet Offers Worth It?
Like most types of sports betting, there are both good and poor value request a bet offers. Whether they are worth it comes down to finding the right value.
For instance, some people might only like the risk free option. This is where you can lay the bets off. It is a decent way of making profits when done well. As with all types of matched betting, you are aiming for modest but regular wins.
It is definitely worth looking into this type of DIY bet for another reason. They look like they are here to stay. It really doesn't look like, they are going anywhere. Bookies like their high margin products. Mug punters like the large odds the bets provide.
If you are smart about it, you can add a new string to your bow this these deals. It is a question of evolve or dissolve when it comes to matched betting. You need to always take part in new offers to increase your chances of more profits.
Who Might This Approach Suit?
These bet offers are typically attractive to people who like long odds. These are the gamblers who dream of winning a fortune at a stroke. However, they tend to lose far more than they win. The sort of person who gambles big on accumulators might be tempted create their own bet.
When it comes to matched betting, who might it suit? It could be perfect for you if you spend a lot of time on your matched betting. This is because you get access to more possible deals. There is less chance of you running out of deals to take advantage of.
If you like to put some thought into things then you might like this too. It often needs a creative approach to find the right bets. You can get fully engrossed in this approach and spend a lot of time on if you like.
Request a Bet Offers: Conclusion
This is a fairly new type of bet that has become extremely popular lately. At first sight, it might appear to be weighed too heavily in favour of the bookies.
Yet, we have now seen that they can become a solid part of your strategy. By being creative, you can use matched betting techniques for safe, regular profits.
It certainly doesn't pay to just ignore these request a bet offers. The more ways you can make money from the bookies then the better for your overall income. Just be careful to fully understand the numbers and the risks each time.