Matched Betting Software Review
Matched Betting Software is perfect for users who get frustrated comparing dozens of bets manually. This risk-free software is a simple solution for saving you time scouring through several websites.
The platform lets you customise your matched betting experience based on your interests and preferences. Choose many different sports and bet while the game is on. Matched Betting Software will make you feel 100% confident with Profit Maximiser and matched betting in general.

Doing Matched Betting manually is very time consuming. You have several websites open manually compare the odds, trying hard to understand how the calculator works so that you don't make any mistakes. One tiny error could completely ruin your Profit Maximiser experience.
The Matched Betting Software removes the possibility of making that error.
It saves you a lot of time. This piece of software is able to compare hundreds of bets instantly, and singles out the best bets for you immediately. Matched Betting Software relies on maths, not luck – its automated algorithm and APIs take seconds to compare and calculate the winning odds of any offer.
You can use the odds matcher for free bets you receive. You select the bookie on the software platform, and all the relevant information, together with the odds and the exchange market, will open right in front of you.
Pick the top match and click on the calculator option. The odds matcher will work out your stakes taking your free bet into consideration. One more click and your bet will be placed.
You don't have to limit your matched betting experience by betting only on football or horse racing. With the odds matcher you will be able to find back and lay odds matches in ANY sport really quickly, including golf, cricket and greyhounds. We include every regulated UK bookmaker so you never miss a single offer.
The logic behind Matched Betting Software is simple. It identifies the best bets quickly so that you can get them before anyone else.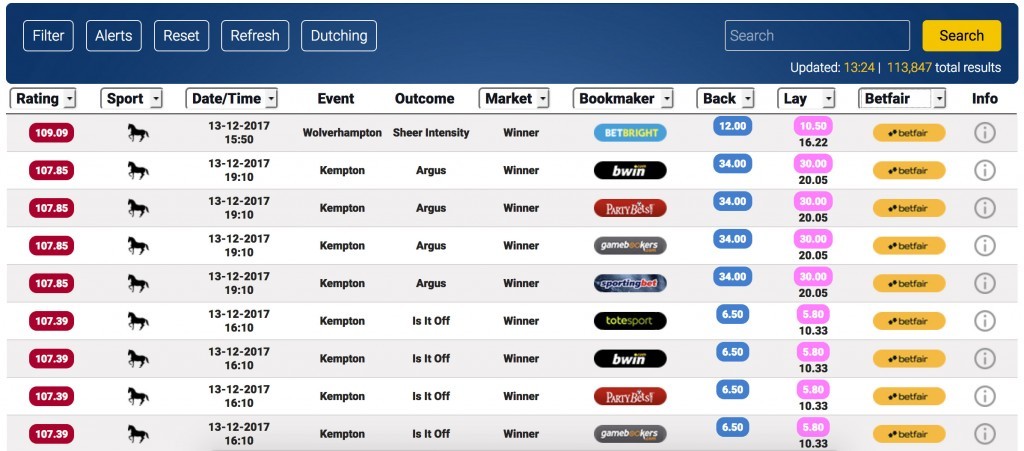 Once you upgrade to the Matched Betting Software, you will instantly see great changes.
Odds displayed for all sport calendar offers. All the relevant information, including the odds, will automatically pop up underneath. You won't need to do any extra searching.
The Custom Search filter can quickly filter bets by team, match or start time. You can choose to work with only one market or a selected number of bookies. Once you've made your selection, name and save that filter so you can reuse it anytime. This feature is useful for refund offers which tend to be limited to a specific event or sport.
ITV Racing Software, which is used for all horse racing offers. This piece of software includes a Multiple Race Dashboard Display where you can quickly move between different races to access updated info about all of your bets. Finally, there is also the Criteria Alarm, which goes off whenever a bet that matches your pre-selected criteria appears. This means that you don't even have to monitor the bets. The ITV horse racing odds update every 10 seconds right up to the start of the race.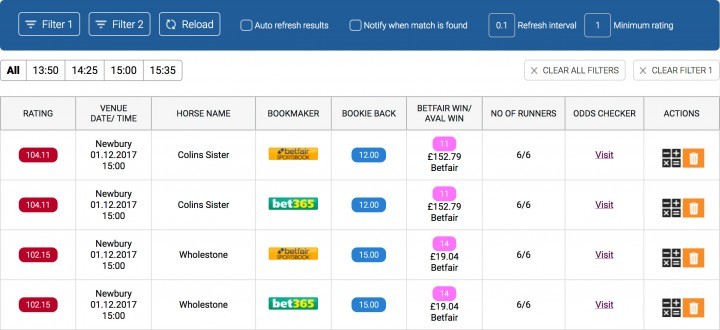 In-play Odds Software, which focuses on in-play bookmaker offers and advises you about the best bets. This piece of software provides you with up-to-the-minute odds, from the moment the game starts until the end of the game. You can also place bets during half time, as they will be more stable them. This tool is fantastic for those in-play free bets that bookies like Bet365 (usually around £50) and Betfred (£10) give.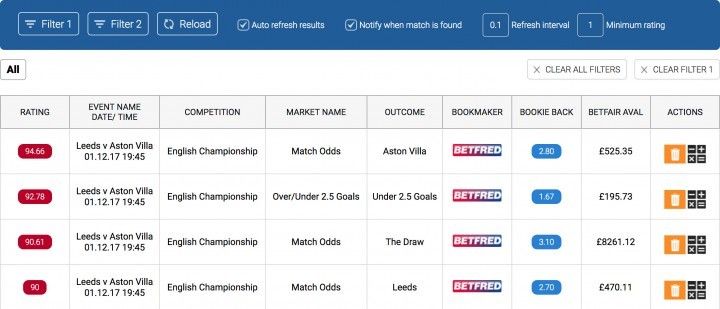 The In-Play Odds Software Filter

The Dutching software has 50 different bookies available. This identifies bets that don't require exchanges, but simply two different bookies. You won't pay commission, so placing bets this way can turn out to be beneficial. It allows you to profit by backing the only two outcomes available in that market.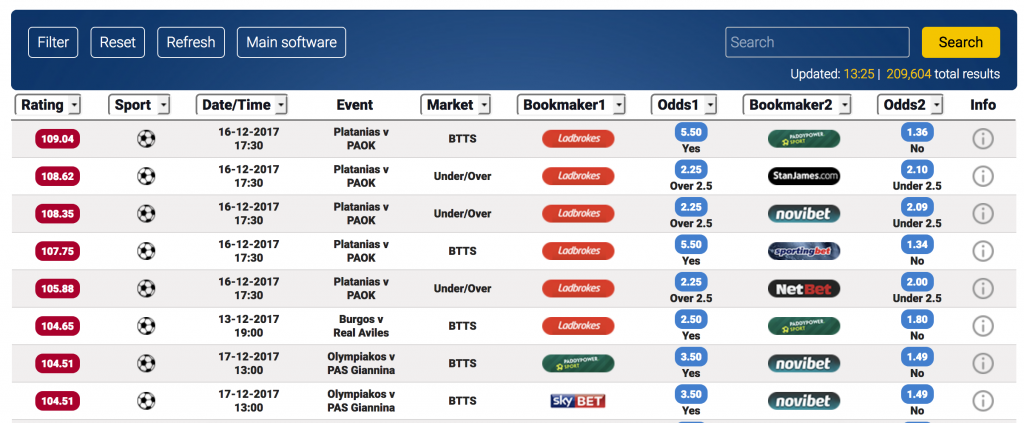 The dutching software calculator
The star feature: Betfair Alliance Software
You can now place your Betfair lay bets from directly within the software. You don't even need to leave the Matched Betting Software. The Alliance software is approved by the Betfair API team. You can lay your bets from directly within the Matched Betting Software with one click of your mouse.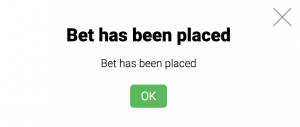 Unlike most other matched betting products, Matched Betting Software doesn't stop updating 15 minutes before the race starts. This odds matcher keeps updating until the start of the race because you can get the best odds matches in those last few minutes.
All the calculations are done with only one click of your mouse. For example, if you are looking into horse racing, the software will give you all the information. All you need to do enter your stake and the calculator does the magic for you.
The system also allows arbitrage bets. The online system displays different numbers in red on the far left, which show you how much profit you can make from arbing – if, for example, the number is 111.03, you will make £11.03 if you place a £100 bet. I do however warn you that the bookies have a tendency to spot the users who are arbing really quickly and limit or even close their accounts.
Arbs can be disabled through Filter 1.
Matched Betting software is mobile friendly, which means you can do and see all of the above on the go. You can find a perfect bet while you are stuck in traffic or having lunch. Even better, you can have the alarm notify you about any perfect opportunities wherever you are.
The mobile version of Matched Betting Software
If you are serious about matched betting this is another no-brainer. The product will pay for itself in a couple of days. So not only will you have even higher profits, but you will also get hours of free time each day. You won't miss good opportunities because you are tired and frustrated with all the searching.
How much money can you make if you upgrade to the odds matcher? It will ultimately depend on how much time and effort you want to invest.
Matched Betting Software is available to Profit Maximiser users for £1 for 30 days trial. If you like it, purchase it for £98.97 + VAT for your 12 months access. If you are not happy with the upgrade, I will refund you at any point within the first 30 days.
Final thoughts: Matched Betting Software is a very unique product
This refined piece of software will make your life easier, so it is a must-have for both experienced matched bettors who want to upgrade their Profit Maximiser experience. It not only finds the best possible bets for you, but it also offers unique features found in no other products, so I believe this upgraded odds matcher is definitely worth your while.