Get BIG results from The Cheltenham Festival Matched Betting 2019
Matched betting is a strategy that you can use to make money week in and week out. You can use this approach on races, matches and events that you know virtually nothing about. In this article I'll be talking about the Cheltenham Festival Matched Betting 2019.
Yet, you can also use matched betting at big events that you already know about. A good example of this is the Cheltenham Festival. This horse racing event gives you plenty of opportunities to make a profit.
This is the biggest date in the racing calendar and it should be a key event for you too. So, how do you make the most of your Cheltenham Festival matched betting 2019 opportunities? It is easier than you probably imagine it to be.
What is the Cheltenham Festival?
To start with, you need to understand more about the Cheltenham Festival. This is a world famous horse racing event. It takes place at Cheltenham Racecourse in Gloucestershire.
This festival runs in March of every year. It is behind only the Grand National in term of prize money in the UK's National Hunt racing calendar.
Among the main races run here is the Cheltenham Gold Cup. Also included is the Champion Hurdle, World Hurdle and Queen Mother Champion Chase. The whole event runs for 4 days in total. Ladies Day is typically held on the Wednesday.

This is a huge betting market, with vast amounts of money being bet during the 4 days. Some estimates put the total amount bet at €172 million (£151 million). Close to €5 million (£4.4 million) is won in prize money by the entrants each year.
Why is this event such a big deal for matched betting? Well, for a start the amount of betting done makes it an extremely competitive market. This means that the bookies need to try and attract punters with special prices or deals.
This is perfect from a matched betting point of view. This strategy is all about making the most of bookmaker deals. So, the more offers there are to choose from the better for you.
Indeed, we could call this the biggest 4 days of matched betting in the year. This is when you can make a lot of money from numerous races in just a few days.
As for Cheltenham 2019, what are the dates and times that you need to be aware of? First of all, the dates for this year's event are from Tuesday, March the 12th to Friday March the 15th.
Of course, if you can't make it to Cheltenham you can watch the action on TV. The first five races of each day are to be shown live on ITV. If you have the Racing UK subscription channel then you can see every race as it happens.
The first day is Tuesday and it all kicks off at 1.30. This is when the Supreme Novices' Hurdle takes place. Races then come thick and through the day, with the full list as follows:
Tuesday March 12th Cheltenham 2019
1.30 Sky Bet Supreme Novices' Hurdle
2.10 Racing Post Arkle Challenge Trophy Chase
2.50 Ultima Handicap Chase
3.30 UniBet Champion Hurdle Challenge Trophy
4.10 OLBG Mares' Hurdle
4.50 National Hunt Chase Challenge Cup (Amateur Riders' Novices' Steeple Chase)
5.30 Close Brothers Novices' Handicap Chase
Wednesday is Ladies' Day. The highlight of this day is the Queen Mother Champion Chase. The full listing is below. Be sure to take advantage of our Cheltenham Festival matched betting 2019 tips on a few of these races.
Wednesday March 13th Cheltenham 2019
1.30 Ballymore Novices' Hurdle
2.10 RSA Chase
2.50 Coral Cup Hurdle (A Handicap Hurdle Race)
3.30 Betway Queen Mother Champion Chase
4.10 Glenfarclas Cross Country Chase
4.50 Boodles Fred Winter Juvenile Handicap Hurdle
5.30 Weatherbys Champion Bumper (A Standard Open NH Flat Race)
The action carries on into Thursday. This is traditionally known as St Patrick's Thursday, although it is a couple of days before St Patrick's Day this year.
Thursday March 14th Cheltenham 2019
1.30 JLT Novices' Chase
2.10 Pertemps Network Final
2.50 Ryanair Chase
3.30 Sun Racing Stayers' Hurdle
4.10 Brown Advisory & Merriebelle Stable Plate
4.50 Trull House Stud Mares Novices' Hurdle
5.30 Fulke Walwyn Kim Muir Challenge Cup Handicap Steeple Chase
The final day of Cheltenham 2019 is the Friday. It is also known as Gold Cup Day. The eagerly awaited Gold Cup race takes place at 3.30. This is one of the world's greatest and most prestigious events in jumps racing.
Friday March 15th Cheltenham 2019
1.30 JCB Triumph Hurdle
2.10 Randox Health County Handicap Hurdle
2.50 Albert Bartlett Novices' Hurdle
3.30 Magners Cheltenham Gold Cup Chase
4.10 St. James's Place Foxhunter Chase Challenge Cup
4.50 Martin Pipe Conditional Jockeys' Handicap Hurdle
5.30 Johnny Henderson Grand Annual Handicap Chase
How Much Profit Can Be Made?
The sheer number of races and horses means that you should be looking to get a handsome profit during these 4 days. As we have seen, there are 7 races each day, giving a total of 28 races.
Of course, no-one can say exactly what prices are going to be offered yet. We also don't know what bookies' special offers will be available.
This is why it is important to staying informed. The amount you win at Cheltenham will be directly related to the number of deals that you find. Don't miss out on any of them.
You should certainly be looking to make this your most profitable matched betting event of the year. The number of high profile races coming so close together is perfect for doing this.
How to Prepare for the Cheltenham Festival – Open Bookmaker Accounts
One thing you don't want to do is wait until the last minute before getting ready. While the event runs for 4 full days, you need to be ready at the very start. In this way, you can earn profits from the very first race onwards.
So, how do you do this? The first step is to open your bookmaker accounts. You will want to do this before the festival starts.

To really make the most of matched betting you need accounts with at least 10 bookies including all the big boys such as Bet 365, William Hill, Ladbrokes, Coral, Paddy Power & Betfair. Ideally, you will do this without any rush or stress in plenty of time.
In this way, you will be ready once the first day's action starts. I've written an article showing you how to take advantage of new account bonuses here.
How to Prepare for the Cheltenham Festival – Learn the Basic Strategies
You will also want to know how to make money before it all kicks off. Thankfully, this isn't too difficult to do. However, you need to do some research first of all.
This is because there are some basic matched betting strategies that you need to know. With the help of these tactics you can feel confident from day one.
The whole idea behind matched betting is to take on low risk bets. This means that you will never lose money other than a very small amount in qualifying bet losses
The perfect bet is one in which you always win. You can do this by betting on all possible outcomes.
This sounds too good to be true at first, right? Well, you will soon see that it is completely possible. You need to be ready in time, though.
To do this you need to understand how to take the risk out of gambling. This can mean using free bet offers. Or you could take advantage or different prices from a number of bookies.
It is the same way that matched betting works in all types of gambling. From risk free horse races to no-risk casino offers. It is all about knowing how to give yourself an unfair edge.
How to Prepare for the Cheltenham Festival – Find Out About Intermediate Strategies
There are also some intermediate strategies you should know about. Basically, the more ways you have of winning the better.
These Cheltenham Festival matched betting 2019 suggestions are for people who are already comfortable with the basic strategies. If you want more options then you will find them here.
While the basic approach is great, these extra tactics give you more variety. By understanding more ways of winning you will be able to bet on more races.
Some of the intermediate strategies include horse racing refunds and extra places. The refunds are generally offered if a certain outcome occurs. For example, if the favourite wins you would get your money back.
This is ideal for matched betting purposes. You then just need to know what bets to place to do the rest of the work.
So, by understanding how refund offers work you add another string to your bow. You will then be delighted when you see one of these deals for a Cheltenham race.
Another interesting, intermediate strategy is to look for those extra place offers. In this case, you get an extra chance at winning. This is because the bookie pays out on an extra place.
How to Prepare for the Cheltenham Festival – Discover Advanced Matched Betting Ideas
There are also some advanced strategies you should know about before Cheltenham kicks off. A good example is each way dutching. This is an approach that works on certain races.
With this strategy, you are looking for races with generous prices for a certain horse getting a place. The amount of bookie competition at this festival means that they may offer better prices than you would expect. They want to attract punters so much that they can end up being too generous without realising it.
You should also look into extra place dutching. This is another way of using a bookmaker's offer to pay out on extra places. By betting on all of the horses you remove the risk of losing.
If you want the best possible chance of winning then the more advanced strategies you understand the better.
Can Gubbed Users Make a Profit During Cheltenham?
It is incredibly frustrating to have your account with a bookie gubbed. This is even worse when a huge event like Cheltenham is coming up. Is all hope lost, though?
No, it isn't. The truth is that gubbing will greatly restrict your matched betting. However, you can still find ways to make money from this event.
For instance, you could use each way arbing strategies. This is a great way of using a gubbed account at this time of year. To do it, you need to cover all possible outcomes.
Each way arbing lets you win every single time. It is definitely worth looking at if your account is gubbed but you want to profit from Cheltenham.
Extra place strategies can also work well even after gubbing. This is because they don't rely on you using free offers. If the bookie has restricted your use of free offers then this is your best option.
Overall, Cheltenham is a fine festival even for gubbed punters. This is because there are lots of competitive prices around. The large betting limits also mean that you can win more with decent sizes bets.
Anything to Watch Out For?
So far we have seen that there is a lot to be positive about when Cheltenham starts. With the help of our Cheltenham Festival Matched Betting 2019 advice you can expect to make healthy profits.
Having said that, is there anything to be aware of? What do you need to watch out for over these 4 days of action?
Well, one issue to be aware of it that of smaller bookmakers offering very generous odds. If an offer looks too good to be true then you should be careful.
A small bookie that promises huge odds may struggle to pay out the winnings. In fact, there was some controversy after Cheltenham a couple of years ago. Winnings weren't paid out and accounts were closed by a few betting sites.
Again, this is the advantage of setting up you accounts before Cheltenham. In this way, you have time to make sure you are using only trustworthy bookies.
There's been issues with Black Type already. They are offering a bet 4 x £25 trebles get 4 x £10 free bets. They seem to be gubbing anybody placing a qualifying bet.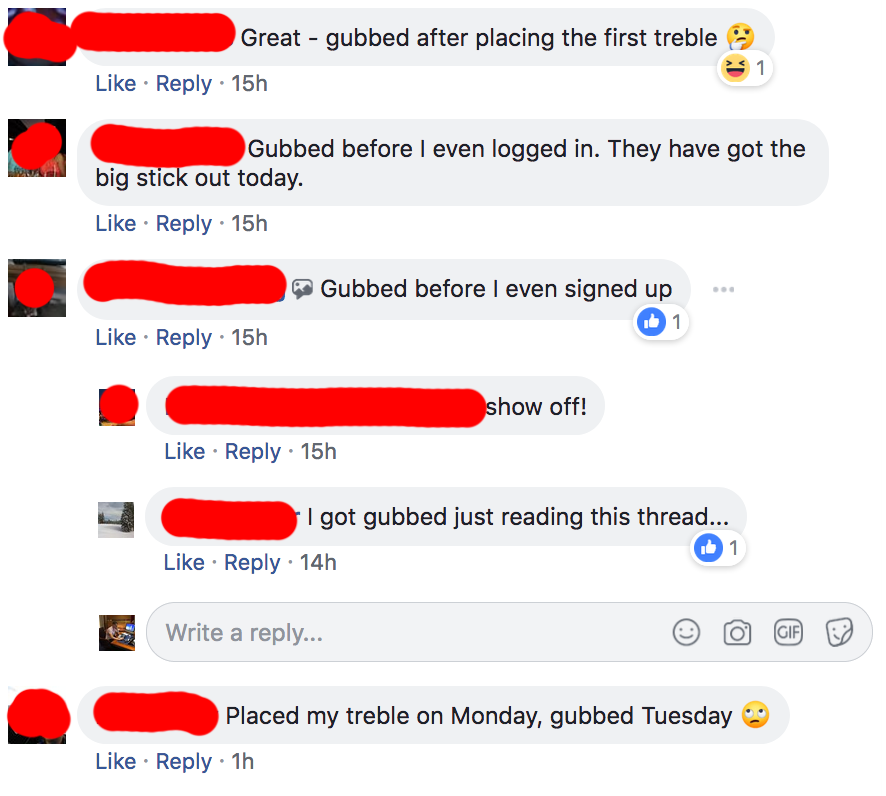 If you are tempted by an extremely generous offer what should you do? If you don't know the bookie then take a few minutes to find out if you can trust them to pay out.
Booking Time Off Work?
Are you planning to take time off work for Cheltenham this year? This could be a great idea. As well as watching the races on TV, you can stay up to date with all of the offers during the day.
With some matched betting deals you need to be fast. You may only have a small amount of time to place your bet or lose the opportunity. Being at home makes this so much easier.
If you love horse racing you might take all 4 days off. Yet, what if you can only take one day? Which day out of the 4 should you choose?
A good idea is to use our Cheltenham Festival matched betting 2019 ideas on the first day. This is when it makes most sense to take time off work.
The reason for this is that the first day sees more offers available. You can look to make a lot of profit in this day's races. The bookies tend to start the festival with a bang, with lots of good offers.
The rest of the event typically sees a slowing down of the amount of good deals. These are still great days for betting but not quite as good as the first day.
Therefore, if you are only going to take one day off work for this festival then it makes sense to do it on the first day. You can then settle down and enjoy a terrific day of betting and making money.
Where to Find All the Cheltenham Matched Betting Offers?
As we have seen, Cheltenham is ideal for using matched betting strategies. However, isn't there one issue still to be sorted out?
How are you going to find all of these offers and great odds? Even if you take a day off work you can't be expected to find all of the best deals. Can you?
To make life easier, you need a matched betting service. This is a type of software that goes through all of the offers and lists the best ones. You just need to check out the listing and choose which ones to take.
A reliable service such as Profit Maximiser is the best option. This software will work out how much you have to wager and how much you will win. It makes everything incredibly easy, even on a busy day filled with races.
The way it works is very simple. You get emailed with details of the best offers the evening before the race. The email will also come with instructions on the best order to complete them in.
By doing it in this way you won't get overwhelmed by all of the different offers around. Instead, you can simply follow the advice and reap the rewards.
This is an ideal approach for users with small bankrolls. It allows them to maximise their results rather than waste time and money focussing on the wrong things.
As well as this, Profit Maximiser also gives you state of the art betting software. This means that you can easily find bets yourself too. In addition, you also get access to a lively forum where you can discuss offers with other users.
By using these tips you can get a lot more out of Cheltenham this year. Don't let this festival pass you by without making money from it.