Exploit the Bet 365 & Paddy Power 2 Up Offer
Getting hold of the best available offers from bookies and casinos is the key to matched betting. Yet, how will you know which ones to use and which to avoid? Are there any that are just too good to miss out on?
A good example of a deal you can't miss is with the Bet365 and Paddy Power 2 Up offer. This is a deal that has attracted a lot of interest lately. But is it really worth it? In short, will it help you to win a lot more money?

You can use this offer with either of the bookies mentioned. Yet, you will see that it suits you to choose one of them over the other. This will let you aim for the highest possible winnings.
It is definitely something that you should be looking into. By taking a good look at the details of this offer, you can find out how to take advantage of it.
How Do You Make Money from the 2 Up Offer?
The first thing you need to know is how to make money in this way. To do this, we need to see how the 2 Up offer actually works first of all. Then we can see how you will use it in in your real-life betting.
If you have Profit Maximiser, there is a detailed video with me walking through examples. It's under the on-going bookmaker offers section.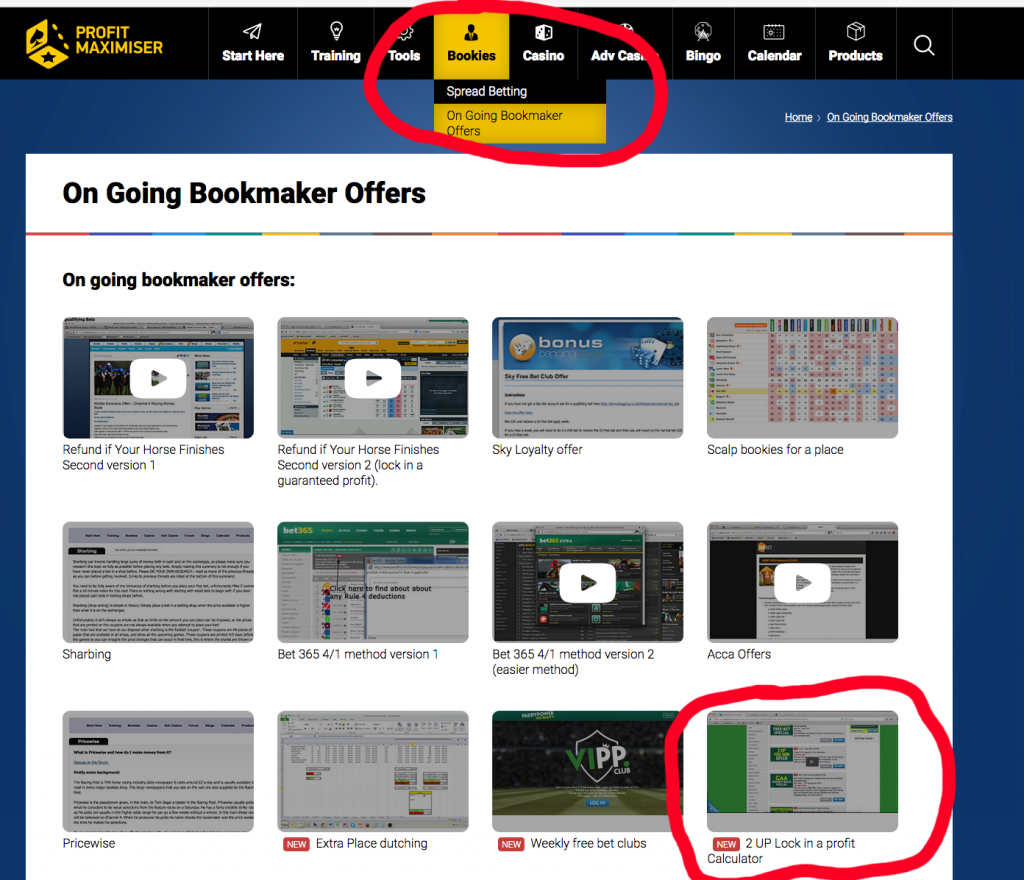 Basically, this is a deal for football match betting. It pays out on your team as the winner if they go 2 goals up. So, let's say that you bet on Everton to beat Southampton. Everton go 2 goals ahead in the first half hour. You have already won your bet by this stage.
It doesn't matter what happens next. Southampton could score 3 or 4 and you will still win. It could end as a draw or your team could lose but it won't matter. You still win the bet in any of these situations. As soon as Everton got the second goal the bet was decided.
So, the instant that your team goes 2 goals up you are a winner. But just on this part of the bet. However, there is still a decision to be made on what to do with the lay bet. This is what will finally determine exactly how much you win.
The moment your team goes a couple up you need to decide. You can either cash out the lay bet or let it run. How does this work in terms of your final profit? Well, it all depends whether your team holds on to the win or not.
If they lose their 2 goal lead and you don't cash out what happens? In this case, you would win both the lay back and the back bet. You won the back bet when Everton scored 2 goals. You then won the lay bet when Southampton fought back to win 3-2 or whatever score it ended.
This could mean that you get a fantastic profit. You will have achieved the Holy Grail of winning both sides of the bet. A few wins of this type will really see your profits build up.
However, what if your team holds onto the lead and wins? When this happens, you lose the lay bet, obviously. This means that when the 2 Up offer is triggered you might want to cash in the lay bet. Rather than hoping for a fight back, you are taking the safe option in this way.
I will look at this decision in more detail later.
Is the 2 Up Offer Worth Bothering With?

It is clear that some bookie deals are better than others. Is this one that you should be looking to use? The answer is that you should definitely make the most of this 2 Up offer while you can.

The deal varies according to the bookie used. This is due to the different odds that they provide. The better the odds you get on the back bet, the bigger the potential profit up for grabs. With the right odds you can get a huge win like this.
When it comes to Bet365, this is their very best sports offer right now. In fact, their great odds make it one of the best sports offers I've seen. You can definitely pick up a lot of money in this way.
With Paddy Power, this season the odds have been relatively poor. This means it's not as easy to extract value out of them. This offer only makes sense when the odds are good enough. Don't waste time and effort on poor odds.
Therefore, you are better focusing on Bet365 bets. The fact that that they have much more competitive odds is great news for you.
This deal is typically offered on high profile matches. This means games in the Premier League, La Liga and the Champions League are all featured. There is no need to look into obscure leagues and low profile games.
2 Up Calculator
How will use the 2 Up offer to the maximum effect? As with most things in matched betting, it comes down to understanding the maths behind it. You then use the figures to work out what to do next.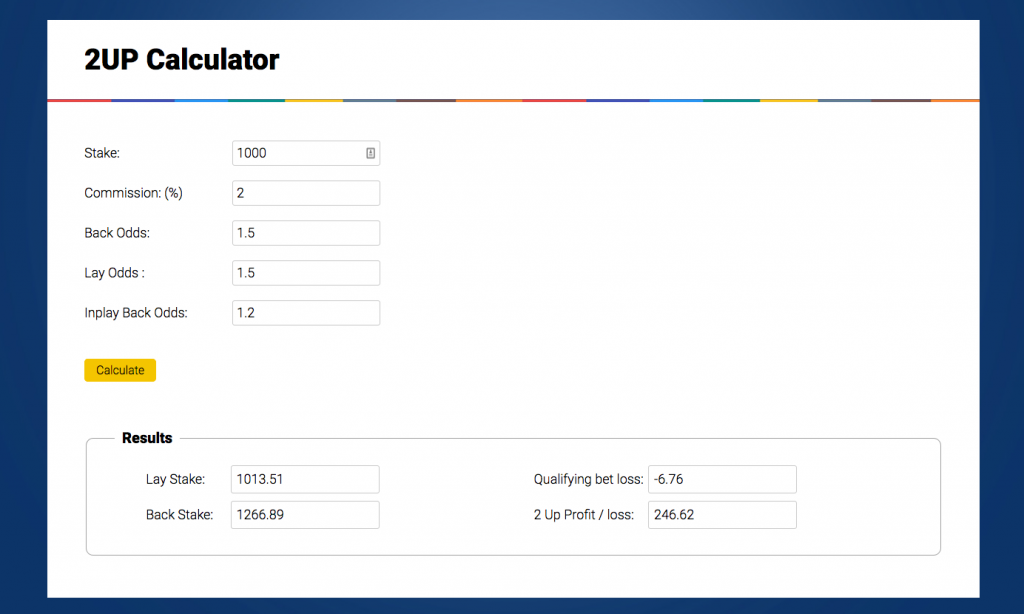 This means that using my 2 Up calculator makes life a whole lot easier. To start doing this, you can put in some simple details. You enter the stake, the exchange commission, the bookie's back odds, the lay odds and the in-play back odds.
These basic detail allow you to see the different possible outcomes. By doing this, you can be sure whether it makes sense to lock in a profit or not. It is very easy to understand and quick to use.
You need to join Profit Maximiser to get access to this tool. You will also be able to see the training video that shows you how it works in real life. This is going to make matched betting so much easier for you.
Should I Lock in a Profit or Let It Ride?
As we have seen, the big decision is whether to lock in a profit or not. This is something that you need to decide once your team goes 2 up. There are a few points that are going to affect your decision.
First of all, do you have the time to sit around and check the matches? Or will you need to place the bet and then let it run? Will you be ready to spring into action as soon as a couple of goals are ratted in or not?
Personally, I like to let the bet ride as it means I don't need to sit and constantly check the matches. However, it really depends upon your own taste and your lifestyle. If you love following matches live then this won't be any problem for you to do.
What if you have some spare time and are completely new to matched betting? Well, then I would lock in when the score gets to 2-2. This gives you the chance of locking in the best possible profit with no fuss.
Above all, it is vital that you make a plan of action and stick to it. Do not cash out when it goes 2-0 and you see a small profit. It's not worth doing over the long term, as the profit isn't big enough.
This is a way of carrying out smart matched betting that gives you the chance for far bigger wins. Why not set yourself the target of winning as much as you can from the 2 Up offer?
What Is the Maximum Qualifying Bet Loss I Should Take?
When you start placing bets using this 2 Up offer, what qualifying bet loss should be your maximum? This is important in order to be sure that you are going to make money from the offer.
I'd recommend £2 per £100 staked. If it is any more than this you might not make any money from it.
Then there is the matter of the best odds range to focus on. I've found more success with teams that are priced above 1.6. Short priced favourites don't tend to be the best value for money. This is because when you cash out the odds are typically really low in these cases.
With this approach, you shouldn't be afraid of betting on outsiders either. You can often can place a small bet and still make a massive profit. The qualifying bet loss is often very small when you do this.
How Often Does the 2 Up Occur?
This is the sort of bookie offer that you will want to see as often as you can. So, how often can you lock in a decent profit? Roughly once every 30 bets is my experience.
This can mean that you will get good winnings over a month or so. However, it also means that qualifying bet losses can build up if you aren't careful. You will be able to lock in a profit every single time.
It is a good idea to make a plan to place a good number of bets like this. For example, you could commit to placing at least 250 bets. With this sort of figure, the results should average themselves out.
Don't just settle for a bet now and then. If you place plenty of bets you will see the true value of this offer.
How to Find 2 Up Bets?
How will you find the right matches to bet on? The simplest approach is to use the odds software on the calendar. This shows you the bets that qualify. You can very quickly find suitable bets in this way. It only shows bets that qualify for the 2 Up offer.

Another smart idea is to follow the Profit Maximiser forum. Here, you can see what bets other people recommend right now. This lets you move quickly and without any fuss.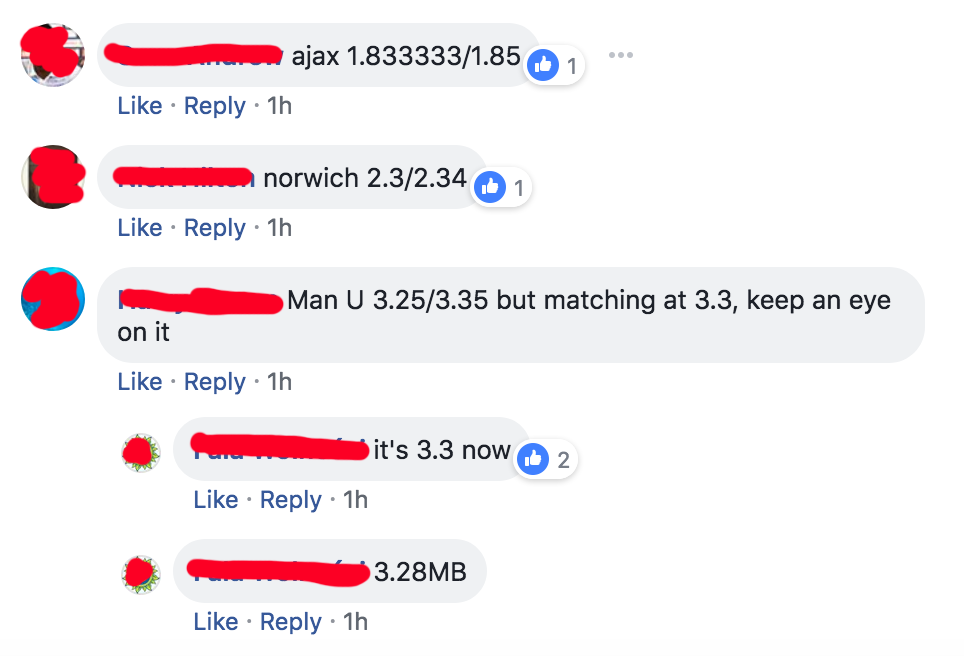 What if you are an advanced user and want to search for your own? You can do this too, although clearly it will take more time to do so. However, it is incredibly satisfying to find some great matches on your own.
It is worth remembering that you shouldn't look too far ahead. Only place bets for games taking place within the next 12 hours. Do not place any bets on matches that are taking place days away.
The Bet365 traders don't like it. They may ban your account a lot faster if they see you doing this. So be patient and wait until closer to kick-off time.
Ideally, you will place a bet only when the game is starting within a few hours. There is much more liquidity in the markets at this time too.
Can You Get Gubbed Doing 2 Up Bets?
Getting your account gubbed is one of the big fears with matched betting. This is when the bookmaker thinks that you are winning too much. Maybe they have noticed that you are taking advantage of too many offers for their liking.
They will restrict your account, which will severely hamper your matched betting activity. You might not be able to use any offers for a while, for example.
Yet, by being clever you can try your best to avoid it. Is betting on 2 Up offers going to affect this? Will regular profits on this deal put you firmly in the bookie's sights?
Yes, it certainly can. This is because you are taking value from Bet365. Like all bookies, they want to see their customers losing money. If you keep taking value then they will keep a close eye on your activity.
Bet 365 haven't been coming down too hard on this lately, though. Therefore, this offer remains well worth taking up for the time being. However, don't touch any arbitrage bets. They won't like it if you do that and may well restrict your account.
How Many Bets Should You Place a Week?
This is a common question to asked. People tend to wonder how many bets they should place. Is there a certain limit that you need to be aware of? Is there a minimum or a maximum to bear in mind?
The truth is that it's very difficult to answer this question. However, the best answer is that you should place as many as you can. In other words, as many bets as your bank will allow.
We don't know how long this offer will be around for. It could disappear at any time. This means that you should look to take advantage of these deals while you can.
Will the 2 Up Offer Be Around Forever?
Well, as we saw in the last point, this deal won't last forever. Quite when it will disappear for good is anyone's guess, though. Will it be around until the end of the year or longer? Hopefully, we still have time to make some handsome profits on it.
Bookie offers chop and change all the time, though. Why is this? Mainly it's because it's not an effective marketing strategy to keep the same one. When people see the same offers all the time it doesn't have the same impact. A new offer tends to look fresher and more exciting.
The next offers to come out from Bet365 and Paddy Power might be as good. They might be better, or they might be worse.
We simply don't know yet. The one thing we know is that the deal won't last forever. This is why it is such a good idea to take advantage of this offer while you can.
Use Smarkets for 0% Commission
The commission that you pay on the lay bets can greatly affect your overall profits. Therefore, it pays to minimise any qualifying bet losses as much as possible.
Using Smarkets for your lay bets is a good way of doing this. Rather than paying the 5% with Betfair, you get a 0% commission deal.
This 5% difference might not sound like much. However, over a number of bets it will make a substantial difference. If you haven't yet given this betting exchange a try then now is a good time to do so.
Can You Only Do 2 Up Offers on Football?
Most people think that this offer only exists on football matches. This means that you might that it isn't available on any other sports. This isn't quite true, though.
You can also place 2 Up offer bets on NFL matches as well. In fact, this can turn out to be extremely profitable. As well as adding some extra variety to your week, of course.

The key is in finding close odds matches to bet on. If you do this then American Football can be great for betting on too. If there aren't any suitable footie matches on then this is a nice alternative.
2 Up FAQ
This has been written by Profit Maximiser member Cathal.
What's an acceptable qualifying bet loss?
Opinions vary between a percentage of stake or a percentage of potential profit. Many aim for a maximum qualifying loss of £2 per £100 staked.
How often does it hit?
Research on the results across all the leagues in the offer has shown that a team that goes 2-0 up and then loses happens on average once in 35 games. As there are two teams in every game,  look for minimum effective odds of 70.
What are effective odds?
Effective odds are the actual odds you will have taken, based on your potential winnings from your qualifying loss. For example, if your qualifying loss is £1 but you stand to earn £100 profit then your effective odds are 100.0.
How do I calculate effective odds?
Effective Odds = Profit / Qualifying Loss
What is 'cashing out'?
A cash-out is when you take some of your potential profits from the promotion before the match has finished. If a team which went 2-0 ahead then went 3-0 ahead, it would become less likely that your lay bet would win and you wouldn't profit overall. It's possible to guarantee some profit by cashing out at 2-0, 2-1, 2-2 or 2-3.The in-play odds on your team for the cash-out, and therefore your profit, will be lower at 2-0, higher at 2-1 and higher again at 2-2 or 2-3.
How do I cash out?
After your team has gone 2-0 up, you can choose to place an in-play back bet on the same team you originally layed. You can do this at the exchange . You need to use the 2 Up calculator on the Profit Maximiser website to calculate the back stake using the current in-play odds.It is essential you understand the cash-out process BEFORE the match starts, as anything can happen during a football match and the in-play odds can change very quickly. Watch Mike's videos beforehand – TWICE!
What's the best strategy when a team goes two goals up?
Opinions vary. The five main strategies in terms of increased profitability and higher risk are:

Cash out your full stake if the match goes to 2-0 (although this may not produce much profit, especially for low odds teams).
Cash out your full stake if the match goes to 2-1.
Cash out a percentage (e.g. 50%) of your stake at 2-1 and then the rest if the match goes to 2-2.
Cash out your entire stake if the match goes to 2-2.
Let the bet run without cashing out at all. This will give the highest profit if the team which went 2-0 doesn't subsequently win the match. However this strategy runs the risk of the team that went 2-0 up, then were pegged back to 2-2, eventually scoring again to win 3-2. In this scenario you wouldn't have made any profit.

Does this offer help get the £50 in-play free bets?
The general consensus is that it does. Many members have reported that their free in-play bets jumped from £10 or £25 to £50 after a few weeks of doing £50+ stakes for the 2Up promo.
2 Up Offer Conclusion
There is no doubt that the 2 Up offer is worth using. This is especially true with Bet365, thanks to their more attractive odds.
It isn't a particularly difficult bookie offer to use. But you do need to understand the figures behind each bet. By getting to grips with the basics you can enjoy a lot of success in this way.