Matched Betting and Coronavirus
The coronavirus outbreak has affected just about every aspect of our lives in the last few weeks. From work to travel and social activities, life has been thrown off track for all of us. So it is no surprise to see that matched betting has been impacted too.
What does this mean for anyone who currently makes money like this? To understand it better, we need to take a closer look at each different area. Let's see what matched betting and coronavirus really means for you.

The Short-Term Effects

Some of the biggest news stories recently have announced the cancellation of sporting events. At the time of writing, the English Premier League (EPL) had just announced their latest update. Football in England will be suspended until at least the 30th of April.
The Champions League and Europa League have also been postponed. Euro 2020 has been put back a year. Golf, boxing and cricket are some of the other sports affected.
As each day passes, more events are cancelled or postponed. For matching betting, this means a chronic lack of events. This means fewer chances to make money. Without sports, this way of making money is incredibly difficult to carry out.
One of the great things about this type of betting normally is the variety. You can usually find lots of different options every day. So, it comes down to how much time you have to take advantage of them all.
It is easy to see now that we take this for granted. Have you ever stopped to consider how lucky we are? Matched betting is hugely convenient and you can do it on the sports and games that you prefer.
Yet, the coronavirus restrictions are making life difficult. The lack of sports action means far fewer things to bet on. This is going to affect your profits, of course.
How short-term will the impact be? The simple answer is that we don't know. Various dates are being bandied about. But no one knows when sport will start up again.
To understand this, we can take a closer look at some sports. What events have been cancelled and what plans are in place to get them played?
More Details of the Cancelled Events
It is difficult to keep up to date with the list of cancelled sporting events. It is a situation that is constantly changing
However, it is clear that the sporting calendar has been decimated. Here is a brief summary at the time of writing. It might very well have changed by the time that you read it.
Domestic Football – Leagues have been suspended in the UK and most parts of the world. It is expected to be at least June before football starts up in Europe. The 30th of April date given by the EPL for re-starting seems optimistic. It still isn't clear whether the current league season will ever be finished. The current leaders may be declared champions or the results may be voided. Liverpool fans are praying that the season can be completed one way or another.
European Football – The current plan seems to be to try and finish the big UEFA competitions. The Champions League and the Europa League were at the knock-out stages when suspended. June and July have been suggested for finishing these tournaments. But that looks difficult right now.
International Football – Euro 2020 has already been moved back a year. It will now take place in the summer of 2021. This is partly to free up this summer to try and finish the club competitions. Copa America 2020 has also been moved to next year.
Horse Racing – The latest news is that all British races are suspended until at least the end of April. Irish races are to continue behind closed doors. It is restricted to one meeting a day, though. The Dubai World Cup will also be behind closed doors, on 21 March. It is worth staying up to date on the latest news in this respect.
Golf – Some upcoming events have been postponed. These include the US Masters and the PGA Championship. 5 tournaments in Europe have been cancelled too. There is no word on the British Open yet. This is due to begin on 16 July at St George's. There is still some hope that the outbreak is cleared up b then.
Tennis – The French Open has been postponed until September. Wimbledon chiefs are still planning on their event going ahead. Wimbledon is due to start at the end of June. Further updates are likely to be issued in the next few weeks. At the time of writing, it is touch and go whether it goes ahead.
It is clear that most sporting events will be off soon. This situation will be for at least a month. However, other estimates suggest that we will be lucky to see any sport before June.
As mentioned before, this is a constantly changing situation. It is worth looking at the latest news to get the current picture.
Should You Withdraw Funds from Bookies?
We should bear in mind the effect that this has on the bookmakers. With little or no sport going on, they have virtually no income. We can see on the stock market that their shares have plunged.
A lot of punters have been looking around for sports to bet on. The likes of the Turkish football league has attracted attention. It is one of the last to shut down. At the time of writing, they are still going despite the health crisis.
Even the Cheltenham Festival disappointed bookies. Huge crowds flocked to one of the last big events before the inevitable shutdown. However, they are reported to have barely broken even. A second Gold Cup win for favourite Al Boum Photo meant that they performed poorly.
What does all of this mean for the bookies? It seems certain that some of the smaller brands may go bust. They simply can't go on without any sport for people to bet on.
Bigger names should survive, especially those who have diversified. Some of them earn from casinos and bingo sites too. In the same way, a bookie that operates just online will tend to have lower overheads.
Even William Hill is not safe. Their share price has tanked from 192 on the 21st Feb down to 35 on the 19th March. That should give you a clear indication of how it's effecting some of the bookies.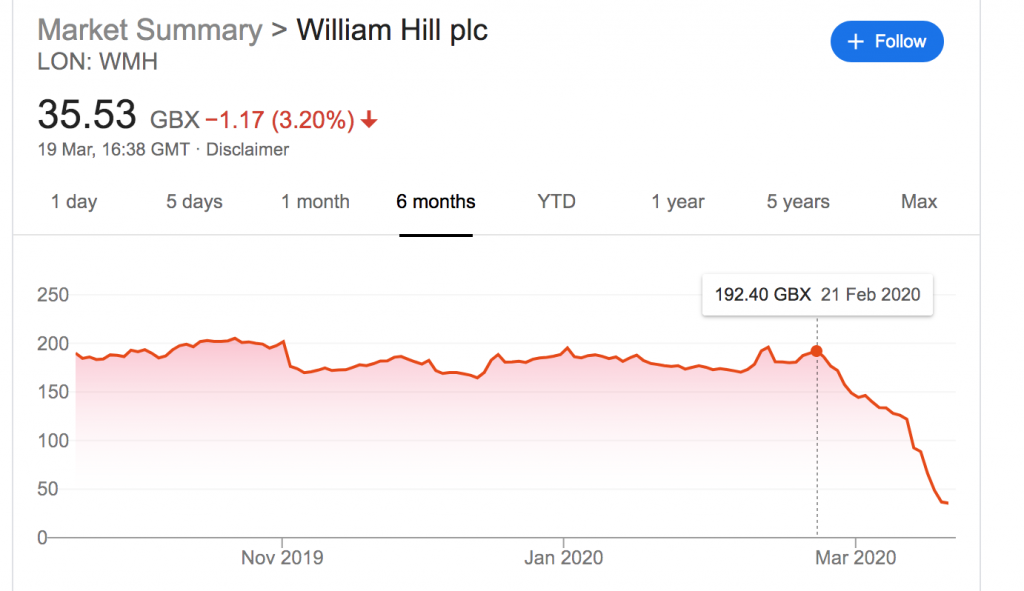 When I first started Profit Maximiser, William Hill seemed like an invincible bookie. They don't look in good health right now, I except a merger of some sort to save them.
Since you can't place wagers, it makes sense to withdraw your cash. It will be safer in your bank account than in a bookie's account. I've written a guide with the different bookmaker deposit protection levels here.
We will also look in a moment at other things you could bet on. The bookies might make money in these ways. Although there probably isn't a big enough market to go round all of them.
How to Make Money During the Coronavirus Crisis
There is no doubt that your profits will dip in the next few weeks & possibly months. Matched betting and coronavirus don't go well together.
With a lack of sporting events, you can't make the numbers stack up. As we have seen, it will likely be some time before things get back to normal. Worst of all, we have no idea when this will happen.
Thankfully, there are some ideas to keep you ticking over. The following are some of the best ones to think over.
Casino Offers
The best casino offers still work well. It is a good idea to focus on them just now. This is a hugely competitive market with dozens of good casinos. They all have worthwhile offers for you to grab.
If you haven't yet tried casino offers, now is a good time to do so. They offer a sensible way of diversifying your matched betting. This activity isn't affected by the current health situation.
In fact, more and more people are going online to play. With self-isolation and social distancing now common-place online sites are more popular. This could lead to a boom in internet casinos.
If more people start playing slots and other games what does this mean? It means more money for the casinos. They are likely to boost their offers too. With lots of new potential members, casinos will be keen to get them to sign up.
If they see a jump in internet searches for casinos, they will be keen to cash in. It is the size of the welcome offer that persuades a lot of people to sign up.
Be sure to check out which slots have the best EV.
Virtual Sports Offers
With no sports taking place in real-life, people are sure to look for any alternative. One interesting possibility is that of virtual sports filling the gap.
This is an industry that has been growing recently. With the coronavirus outbreak causing so many sports to be cancelled, this area may grow.
With virtual sports, the bookies accept bets on a virtual sporting event. This could be a football game, horse racing or any other sport. They then pay out on the final computer-generated results. You might be able to watch the event take place in a virtual stadium.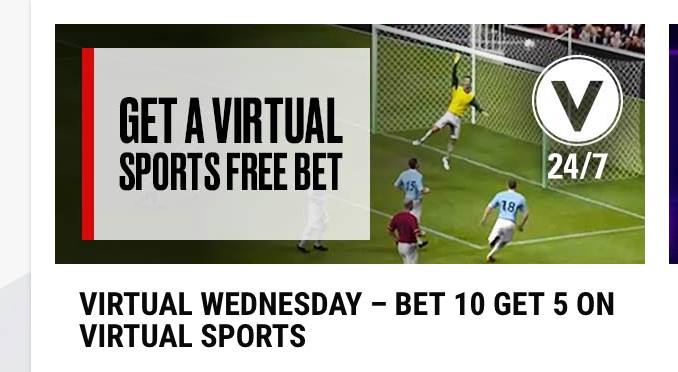 It may seem like a strange idea at first. But it could be the salvation for some bookies. If enough sports-starved punters switch over, it will keep their revenue coming in.
Could virtual sports offer matched betting opportunities too? We have seen Virtual Sports offers this week from Genting Bet, Poker Stars and Betfred.
This is certainly something to keep an eye on in the weeks to come.
Horse Racing
As noted earlier, this is one sport that is still limping on. You could try using the each way no lay value system.
It is a method that involves a small degree of risk. You also need to follow the process closely. If you do this, it can be rewarding.
You could also look out for horse racing offers. As bookies get desperate to attract bets, they could make their offers more tempting.
Naturally, the fewer races the more difficult it is to make money. At the moment, it is already really difficult to make a profit. Any more cancellations and it will be impossible.
Playing Behind Closed Doors
We looked earlier at the suggestion of playing behind closed doors. This is an approach that has been mentioned in many different sports.
For the moment, it isn't feasible. If we look at the world of football, there are several players and coached infected. We need things to settle down before sport behind closed doors could be considered.
Yet, this could be a huge success. Sports fans stuck at home will be delighted to see games on TV. Even without a live crowd, it would be very welcome.
It could also be seen as a sign of things starting to return to normal.
Most importantly, we could start to bet again. For instance, what if the EPL started up behind closed doors in May? Almost instantly, matched betting would be on the cards again.
It is likely that we would see huge numbers of people betting again. This could make the markets far more liquid.
The same applies to most sports. It is easy to imagine cricket, basketball, tennis and other sports getting played with no crowd.
Stay Positive
It is clear that matched betting and coronavirus restrictions don't go together. This makes it a difficult time for anyone who is used to earning money in this way.
Yet, there are far more important issues just now. The banning of mass gatherings and the postponement of sports is vital. These are measures that are created to save lives.
The time will come to make money on matched betting again. This is a method that isn't going to go away. It simply evolves over time, according to the circumstances.
Just like a lot of people, we are frustrated about not being able to go about our normal lives. However, it is crucial that we all stick to the established guidelines.
Once things go back to normal, we can make money again. We will probably be incredibly keen and ready to work harder than ever. With a bit of luck and with everyone working together, it will happen sooner rather than later.
Matched Betting and Coronavirus Conclusion
The current restrictions have virtually put a halt to matched betting. Yet, there are a few possible alternatives we have looked at here.
Virtual sports and probably going to be bigger in the future. So, now is a good time to find out about them.
Perhaps our biggest hope is for sport to start up behind closed doors soon. In this situation, matched betting can start up again as normal.
For the mean-time it is up to everyone to stay safe and healthy. Do this and you will be ready to make money again before too long.