Common Mistakes to Avoid on Casino Offers
Casino offers provide a great way of earning more on matched betting. If you have been focusing on sports betting then this is something else to consider. Most casinos have decent deals for you to look at.
Yet, you might not be an expert in online casinos. Perhaps you have never used one before. If this is the case, you may be worried about making a mistake. Casinos can seem like daunting places to enter, after all.
Even if you are familiar with them, mistakes can still happen. To make the most of these deals, there are some common mistakes to avoid. The following are some of the main points to be aware of.
Not Checking the EV of an Offer Correctly
There are hundreds of online casinos. Pretty much all of them have offers. These offers are for new players and also so for existing members. They come in all shapes and sizes.
So, we are spoiled for choice. But we can also get confused. You can't easily compare one offer to another. One might say 100% and the other 200%. But the second one isn't automatically better. There are other issues we need to know about before deciding.
This means that you don't need to rush in. Don't accept any old offer and cross your fingers. Instead, you need to choose carefully. This means looking at the expected value (EV).
This is the figure that tells you what the offer is worth to you. If it is negative then forget it. All you will do is waste your time. It needs to always be positive. The higher this number is the better for you.
This is easily done using the right software. The online simulator at EV Maximiser tells you all you need to know. There is no reason to take a chance on something you don't understand. Plug in the details and see what comes out.

Even easier, you could look at the list of recommended deals. A list with the EV included will let you choose very quickly. This number isn't a guarantee of how much you will earn. But it does give you a very good indicator.
Using Unreliable Casinos
If a casino offer seems too good to be true it probably is. Especially if it comes from a casino that you have never heard of. You might end up just wasting time. Or you might even lose your deposit in the worst case scenario.
If it an outrageous deal and you know the brand, look into it. It might be an unmissable offer. Or it might have some terms and conditions that take the shine off it. The key is that with a reputable casino you know they will be upfront with you.
On the other hand, what if it is a casino you haven't seen before? As we have seen, there are tons of them. You can't expect to know them all. Naturally, some are better than others.
Fortunately, it is easy to do some research. First of all, do they have a valid UK license? This is what ensures the protection of players. A casino with a license has to stick to a strict code of conduct. You can normally see the confirmation at the bottom of their home page.
A rogue casino with no license can do whatever they want. You have no protection at all. Their offer might be real or it might all be lies. If they are honest and fair why don't they have a license, though?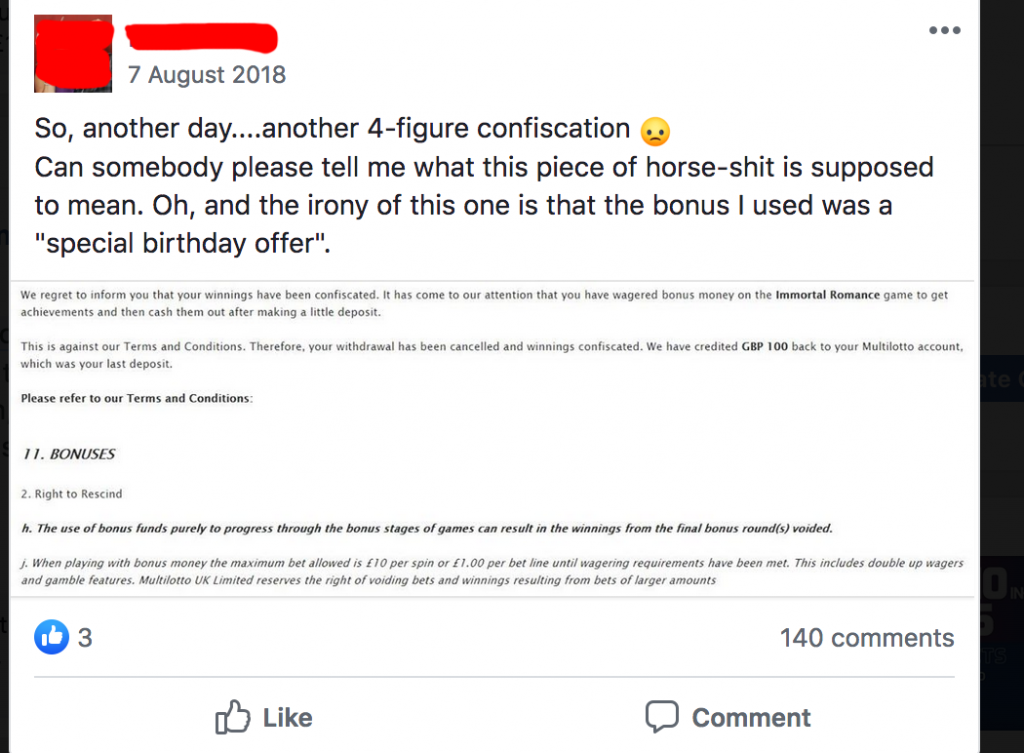 You should be aware of non-UK licenses too. Some casinos use them in different regions. For instance, they might use a Malta or Curacao license in every country. It is better than nothing. But it doesn't give you the protection of a proper UK license.
You could also search for online reviews. It should be easy to see the general feeling people have for the site. If there are a lot of complaints or it is black-listed it will jump out at you. Most sites have a mixture of negative and positive reviews. Scam sites will have far more poor reviews than good ones.
Of course, the best idea is to look for deals on a reputable matched betting site. This will filter out the poor offers from dodgy casinos. It will also cover the last option we looked at, by clearly showing the EV for each one.
How can unreliable casinos mess you around? The offer might be unobtainable because of huge wagering requirements. Or the limit on wins might be tiny. Or they might just decide to not process your withdrawal.
Some dodgy casinos could fix the games too. Basically, if they aren't licensed you can't trust them. You have no way of complaining to the authorities either. It just isn't in your best interests to even consider them.
Choosing the Wrong Games
Some offers give you a lot of flexibility. You might be able to choose any game from the site. In other cases, you might be restricted to certain slots. Either way, you want to choose the right games.
The first thing to do is check the permitted games. Which ones will count toward your play through requirements? Do they count 100% or just partially?
Let's say that you can only use slots for 100% of the requirements. That is still a lot of games to pick from. You might see hundreds of slots. Some casinos have slots in every genre under the sun. So you need to narrow it down.
The first step is to check out the return to player (RTP). This tells you how much it generally pays out. It is a figure that is worked out on millions of spins. It isn't a guarantee how much you will earn. But it gives you a good idea.
You can find the RTP for specific games online. Look for reviews or check out the developer's own site. However, it makes sense to use a matched betting tool. This will show you which slot to use and what stake to put down for best results.
Making the Wrong Bet
Once you have chosen the game, you need to bet correctly. What size of stake do you need to use? This is part of the simulation we just looked at. But you also need to know how to place that stake.
This might not be as easy as it sounds. Casino games are all set up differently. Each software developer will use their own ideas on where to put buttons.
Most slots will have the stake size at the bottom of the screen. You might be able to choose the coin size. Others let you select a number of pay lines to use. In other slots, you can add extra stakes for more features. You can even choose your level of volatility on some of them.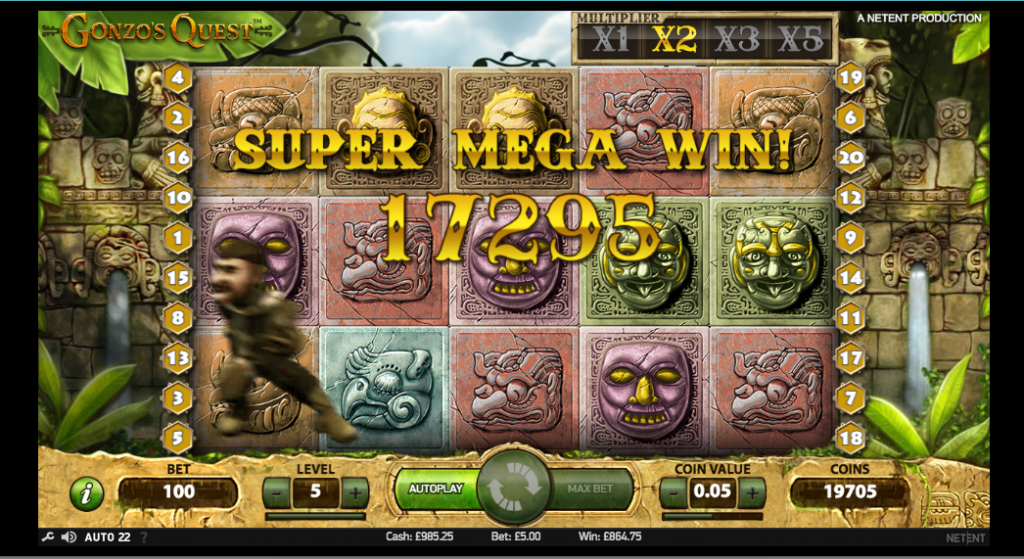 All of this means that each game is unique. You need to take a moment to understand the controls. If you dive in, you might bet the whole lot on a single spin. Work out how to place the exact stake you need. Some people will play a demo version first, to get the hang of it.
Advanced users can use the auto-play function. This makes life easier for you. It also cuts out the risk of accidentally hitting a button between games. You might alter the bet size if this happens.
Not Sticking to the Terms and Conditions
Every casino offer comes with terms and conditions attached. If you break them, you won't be able to withdraw your money. Worst of all, you might not even realise this. You will only know when you try and withdraw money.
Therefore, the first thing to do is understand the terms and conditions. Is there a maximum bet limit in place? Are certain games excluded? Do you have to complete the play through requirements in a certain time period?
Most casinos will have broadly similar terms. Yet, you can't afford to take this for granted. Be sure to check their website carefully before going ahead.
The terms and conditions are pretty long sometimes. However, there are certain key points. The main ones are listed below.
Size of the bonus. This is usually a percentage of your deposit
Minimum and maximum amounts
Play through requirements, expressed as 30x, 40x etc.
Eligible and excluded games
Maximum winnings
Max bet size
Length of time you have to use the bonus
Free spins amount
Payment method availability. Some bonuses are only on deposits using certain payment methods.
Not Checking if the Casino is Part of a Network
Some casinos are part of a global network. In fact, many casino operators own more than one site. A good example is the Aspire Global brand. Their network includes the likes of Chilli Spins, Campeon UK Casino, Casiplay, King Casino and a lot more. You could enter one of these casinos without realising this fact.
If it is part of a network this raises some questions. Most important of all, can you claim bonuses on more than one casino? In other words, is only one bonus available across the whole network?
This may seem quite difficult to check but it's not impossible. The first thing to look for is the name of the operator or owner. This is usually at the bottom of the screen on the home page. After a while, you will get used to seeing the same names.
Next, you can Google their casinos. This is easy to do, as there are several casino sites that gather this information. Just type in something like "Aspire Global casinos". You can now see how many sites they own.
A further step is to Google again. I typed "Aspire Global more than one bonus". The first results said that they reserve the right to limit welcome bonuses. It says that "you are prohibited from claiming a welcome bonus at other Aspire Global's brands". So now we know not to look at their other casinos.
This is a little bit time-consuming. But it is better than setting up an account only to discover that there is no bonus. As mentioned earlier, you will soon get used to the big names. So, you probably only need to check each operator once.
Of course, this information will also be in the terms and conditions. Yet, with so much information on there, it is easy to miss when you read it.
Not Looking for Winning Caps
I mentioned winning caps earlier in passing. But it is worth spending a bit more time on. This is a condition that can seriously limit your earning potential. Therefore, the first step is to look at the terms and conditions.
If a winning cap in place, you need to see whether it is still worthwhile. Most casinos put some sort of cap on their offers now. However, the exact amount varies a lot.
It is a good idea to re-check the estimated value. Use a lower spin size to see if the offer is still good enough.
Using Low Value Free Spins
At first glance, free spins are fantastic. This is an easy way of trying to rack up some profits. Yet, the terms and conditions can affect you here too.
For example, you need to know the value of the free games. The higher this is, the more you can hope to win. If it is too low then it is a waste of time. You can't win big prizes with tiny stakes.
A good example is with some recent casino offers. Some places offer 2p free spins. You won't win enough on them to make it worth your time. You need to focus on bigger offers instead.

Not Being Aware of the Maximum Bet Size
This is similar to the last point in some ways. Are you going to be restricted to a tiny bet size each time you play?
Again, this makes it a lot more difficult to earn a lot of money. You might also need to play many more times to meet the playthrough requirements.
You will see a bet limit on just about every offer. What varies is the size of it. Try to steer clear of really low limits. They are poor value.
Playing Games That Don't Count 100% Towards the Wagering Requirements
This is another point mentioned under terms and conditions. It is worth going into more detail here, to help you avoid a common error.
When you look at the T&C of a casino offer it will say one of two things. You might see the games that you can use it with. Or you might see the excluded games. In both cases, you should see if some games don't count 100%.
Since this varies, be sure to take a moment to read it fully. You will want to be completely clear on the games that count 100%. These are the ones that you want to play.
Let's say that roulette only counts for 50% of the playthrough requirements. What does this really mean? You'll need to play twice as much.

Imagine the winnings can't be withdrawn until you complete 40x requirements. With roulette at 50%, this increases to 80x. So, sticking to 100% games saves you a lot of time.
You can choose auto play on some games, such as slots. But some types take longer than others anyway. A slot will tend to be faster than a card game, for instance.
Playing Slot Machines That Are Excluded
In some offers, only certain slots count too. You need to read the list carefully to be sure. Rather than sticking to one game, it is a good idea to be open to new ones. You can check the RTP and volatility of any game that is included.
In terms of free spins, they might only be for use on one slot. The likes of Starburst from NetEnt is a good example. You might see this slot on offers from various casinos.
New slots are sometimes added to offers like this. It gives players a reason to try a brand new title. If this is the case, check it out first. With only one slot to play, you need it to offer good value. If it has a poor RTP then avoid it.
Summary
We can all make mistakes from time to time. This is understandable, especially when casino offers can be confusing.
Yet, by understanding these common errors, you can look to avoid them. There is no reason to make the same mistake that others have committed before you.
Ultimately, you will save yourself time and make more money. Since this is your overall goal, it makes sense to spend a few minutes extra on avoiding these issues.