Can You Trust Online Betting Reviews?
The world of online gambling is complicated. There are plenty of websites out there that claim to provide a non-biased pool of reviews of online bookmakers or betting services. One of the main concepts is that real users of share their experience and rate each sportsbook or system. As a result, you can get legit feedback about the bookie and make an informed decision if you want to open an account there.
Another type of websites will claim that a team of experts rates each online casino or bookie and then shares an unbiased opinion. There are plenty of affiliates that provide tons of reviews under such pretense.
In theory, they all look useful and are meant to help you. The big question is if this is really the case. Can you trust online betting reviews of online gambling operators? This is something I will explore in this post and help you find a reliable source of information on both bookies and casinos online.
Examples of Online Betting Reviews by Users
Let's start with websites dedicated to the user reviews of bookies. This is how they work. Anyone can go to such a page and leave a review of the bookie. Usually, the users can leave a couple of sentences about the good and the bad sides of each operator. They also drop a rating. The website collects all of the ratings and offers an average one.
In theory, that sounds like a reasonable approach. Getting the personal impressions of a large mass of real players should provide some reliable conclusion, right? I would say that's not really the case for a number of reasons. For a start, there's no way to verify if each person that provides feedback and rating has ever used the services of the online casino or bookmarker. But that's only one of the many problems of online betting review sites.
Let me give you an example with some of the biggest portals for user ratings out there and you will see what I mean. The first one is this Bet365 review and the average rating of the sportsbook according to TrustPilot is the abysmal 1.7/10.

At the same time, the Boyle Sports reviews in another respected portal shows a rating of 4.53/5 which implies a solid platform.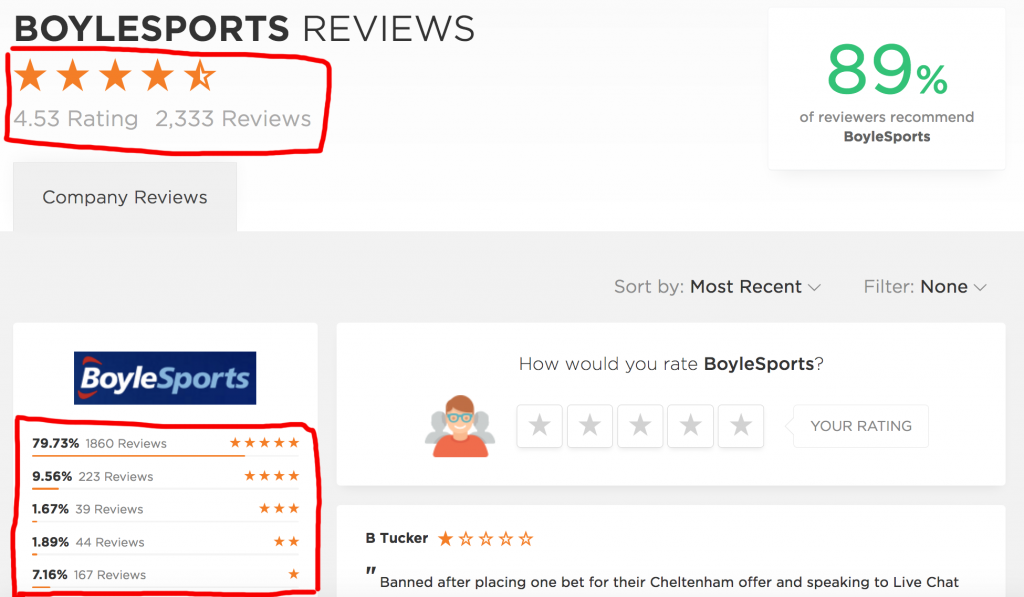 If you decide to draw conclusions from those two, you would assume Bet365 is a terrible website, while Boyle is among the best bookies in the business. Everyone that has been betting for a while knows that's not the case. In fact, it's quite the opposite.
Bet365 is one of the leaders in the online gambling industry for many reasons. The company has plenty of offers for both new and existing customers spread across all of the Bet365 brands. You can get regular £50 bonuses for live betting, as well as £50 daily for horse racing.
You can add the free spins in the casino, and the many bonuses in their other gambling products like Vegas & Bingo to the list. There aren't many operators on the markets that can compete with Bet365 when it comes to promotions.
On top of that, Bet365 has one of the largest betting coupons on the market and consistently offers high odds. Their live betting console is great, you can watch live streams, and take advantage of other cool features. Simply put, Bet365 is a solid bookie that offers a great service. Sure, it's not perfect and there might be issues every now and then, but it's about as good as it gets.
At the same time, Boyle Sports has poor promotions, their margin is higher, and they are gubbing accounts for fun. They limit and ban winners as soon as they have the slightest suspicion you are a good punter. This is exactly the kind of bookmaker you would prefer to avoid. You can get enough extra value from promotions and you are getting banned if you are a winner. Why even bother and how on earth is Boyle Sports rated so highly by the users of this website?
What's the Problem with Online Betting Reviews Left by the Users?
Obviously, something's wrong with this system and even the biggest websites for betting reviews aren't working as they are supposed to. The examples above are not an exception, but rather the rule. You will often find good bookies with low ratings and vice versa.
This is a big issue for every player looking for a reputable bookmaker. If you don't take the information of reviews websites with a pinch of salt, you could easily end up in a sportsbook that simply isn't good enough.
There a couple of reasons why this approach doesn't work and you shouldn't take websites for reviews as a good source in your research:
The negative bias of the players
Most people are way more likely to leave a review if they had a bad experience with a bookie or a casino. Whether something was wrong with a bonus, they got their account limited, or something else, they will happily have a go at the operator. Sometimes, the player could be at fault, but it doesn't matter.
If there's frustration involved, the players are willing to make an effort. They will visit websites for reviews and leave a negative feedback in order to revenge the bookie. Sometimes people will actually lie and even go too far just to feel better.
At the same time, when a customer is happy, he doesn't even think about searching for a reviews website and leaving his feedback. It happens in many other industries and psychology explains it well. The negative emotions have a much stronger effect on us, so we are more likely to act as a result. The online gambling industry is not an exception to this rule.
The negative bias problem is also related to the number of customers. For example, Bet365 is the biggest bookie in the world. They have the most players and as a result, even if the percentage of unhappy customers is very small, the actual number would be big. So, you will see plenty of them finding a way to express their feelings. This hurts the reputation of the operator.
At the same time, sportsbooks like Boyle Sports can't get close to Bet365 in sheer numbers. As you could imagine, there aren't many people complaining, even if the percentage of unhappy players is much bigger.
Proactive approach from some bookies
Some sportsbooks don't care that much about reviews websites. Other are proactively trying to get positive reviews there. The second approach is legal and often works. However, it changes the results drastically.
For example, when a bookie has resolved an issue, the support might ask you to leave positive feedback. A lot of people who are satisfied at this point would spare the effort to actually go to a website and drop a couple of words. Since not all bookies are doing it, the percentage of happy customers that leave a review varies a lot. This also skews the end results and could mislead you.
The bookmakers and casinos that ask their customers to leave a positive review will have an artificially boosted rating at the end. This could be misleading and cost you money in the long run.
Can You Trust Affiliate Portal Websites?
There's another type of websites that claim they are providing objective reviews of online sportsbooks, casinos, bingo, and poker rooms. Those are the affiliate portals that work closely with the operators.
If you trust their words, they send a bunch of experts in the field to test the services of each bookie/casino and conduct the reviews. They explore each aspect of the platform, the games, the promotions, and share their opinion. Again, this sounds great but there are a couple of reasons to be highly skeptical.
In reality, the affiliate portals are selling you the products of each operator for their own benefit. The whole business model of affiliate portals is to provide you with reviews that contain their own links. As soon as you join the casino/sportsbook, the site starts earning a commission.
Considering this, it's almost impossible to believe any affiliate portal online. It's in their best interest to highlights the positive sides of the gambling operators and leave the negatives aside.
There are two ways that the affiliates may earn from every registration. The first one is for them to receive a fixed amount of money for each new player that signs using their links. If an affiliate works like that, it doesn't really care what happens after you open a new account and this is a terrible situation for the players. The sole purpose of the website would be to lure you to sign up and cash in. That's when it stops caring about you.
The other option is that the affiliate earns a percentage of your action. This one is a bit better, as the website wants you to actually stay and play longer. This could only happen if the casinos or bookie is at least decent. However, the affiliate is still biased and its purpose is to actually make money, not provide a fair review of the online gambling operator.
You have to also consider that not all casinos and sportsbooks have the same affiliate plan. A bad operator that is paying its affiliates more money is more likely to get exposure than a good one that has a lower commission. As you could imagine, the big loser in this situation are the players.
You probably reached the same conclusions yourself, but my honest opinion is that you shouldn't trust affiliate websites. Sure, you could check some facts or something like that, but don't go too far. Remember that they are trying to profit and are partners of the casinos and sportsbooks reviewed on their website.
What About Sites That Review Betting Systems?
Obviously, you should be careful with pages that are providing reviews of the online gambling operators. But what about websites that are working with betting systems? I believe this one is more complicated. Some of them are genuine, but you need to do your homework first.
You should always dig deeper before actually spending any money. Check the website, check the betting system, see if it makes sense. Ideally, you will be shown some kind of reliable evidence about the results of the strategy. You shouldn't simply take it for granted, though, but go through the details to see if there is proof.
Remember that it's hard to actually recommend gambling products, as most of them will have some bad runs. Unless the system is related to matched betting or arbitrage, it's bound to experience variance. This makes it hard for the websites and services alike.
Still, if you decide to give it a shot, take a closer look. Check if the website and the people behind it seem trustworthy. The good news is that many of the betting systems out there provide stuff like a free trial or a cheap first month. Some even have a refund policy for the first couple of months. Make sure to research your options and pick the safest route.
The most important thing is to pick a betting product you could trust. It's a sneaky business, though. Recently, there was a case where a website wrote a bad review of a competitor and tried to push its own product. Unfortunately, this happens every now and then. Always be careful not to be a victim of such a scam.
How to Find Reputable Bookies?
It seems that the world of online gambling is a jungle and you shouldn't trust anyone. This is true to an extent, but not completely. The best approach would be to actually take into account the information provided by someone that does not benefit in any way.
A good example is the Profit Maximiser list of solid bookmakers. They have been proven as fair and many players have been happy with their services for years now. If you want to go a step further, visit matched betting forums and other communities of pro bettors.
The people there are willing to share their insights, as the mutual effort to beat the bookies is the top priority. You can always count on the genuine feedback of players who have been there for ages and have recognized which sportsbooks are the best.
Another important factor is the license of the bookmaker. It should be issued by a respected regulator and none is better than the United Kingdom Gambling Commission. This is the most renowned authority in the world of online gambling. While not bookies licensed by the UK Gambling Commission are perfect, the majority of them provide a good service.
Conclusion
If you are looking for the best online bookmakers, you shouldn't rely too much on affiliate sites or pages like TrustPilot. The first group is actually biased and will benefit from providing you with a misleading information. The second is manipulated by the bookies itself and doesn't give you fair feedback either. Both approaches could bring you trouble.
Instead, you could always trust Profit Maximiser and other resources that have no financial incentive to lie to you. We've been around for a while and know very well which online casinos and bookies are good and which suck.