How to Make Money on Virtual Sports Betting
One of the effects of the coronavirus outbreak has been in the sports world. While there are greater problems in the world right now, it is frustrating for a lot of people. Sporting events have been put on hold indefinitely.
The public have been urging football players to take wage cuts. Teams are struggling financially with no income and horse racing venues are closed. Football fans are arguing about whether current competitions should be voided. Then there is the effect it has had on punters.
An acute lack of betting has robbed many people of their favourite hobby. For serious bettors, it could mean the loss of their main income source. Either way, it has left a hole in a lot of lives.
The bookies are suffering too. With no sports to accept bets on, they are losing money every day. It is feared that some could go to the wall. Worst of all, no one knows how long this situation will drag on for.
One of the possible replacement being mentioned by some people is virtual sports betting. Is this a way of carrying on betting on games until the world gets back to normal? It doesn't solve all of the issues mentioned above. But it could help to ease a few of the problems.
How can you make money from virtual sports betting? To find out, we need to take a close look at what it is all about.
What Is Virtual Sports Betting?
This is a simple but fascinating concept that is relatively new. Basically, the bookie lets you bet on a game that isn't really taking place. Instead, it is a computer-generated event. Two made-up teams or a group of virtual horses take part.

The odds are listed on their site as normal, though. You place your bets in the normal way before a random result is generated. You either get paid out or lose your stake, as in normal bets.
It is most common in football markets. The virtual footie games seem to have struck a chord with many punters. It seems that lots of people are happy to bet on simulated games like this. It looks a bit like a computer game but no one is controlling the players. They are randomly operated, so even the bookmaker has no idea what will happen.
You can also see it in horse racing and greyhound racing, among other examples. It seems possible that the same approach could be used in just about any sport too.
These virtual games can happen at any time. In fact, most bookies will have an almost constant stream of them. You can bet in this way on a 24/7 basis if you want to. There if often just 2 or 3 minutes between matches or races starting.
How Does It Work?
Let's go through an example, to see how it works. Right now I can see upcoming virtual football games on SkyBet. They have Nerazzurri FC v Verona Wanderers coming up soon. The home team are 8/13, the away team 9/2 and the draw 9/4. They have 5 pools of teams, including clubs and international teams that they use.
I can also see a variety of correct score odds too. You could also bet on the total goals scored and over/under goals markets. There are games like this every few minutes. You can even watch the action unfold live if you want to. At least 4 attempts on goal will be shown over 60 seconds.
Who will win this match? I honestly have no idea. And neither does anyone else, to be fair. The result is completely computer-generated, so there is no skill involved in it.
Most punters will just choose a team they like the sound of, or the odds that they prefer. In the example above, we know nothing about Nerazzurri FC or Verona Wanderers. We can't take form, injuries and other factors into account.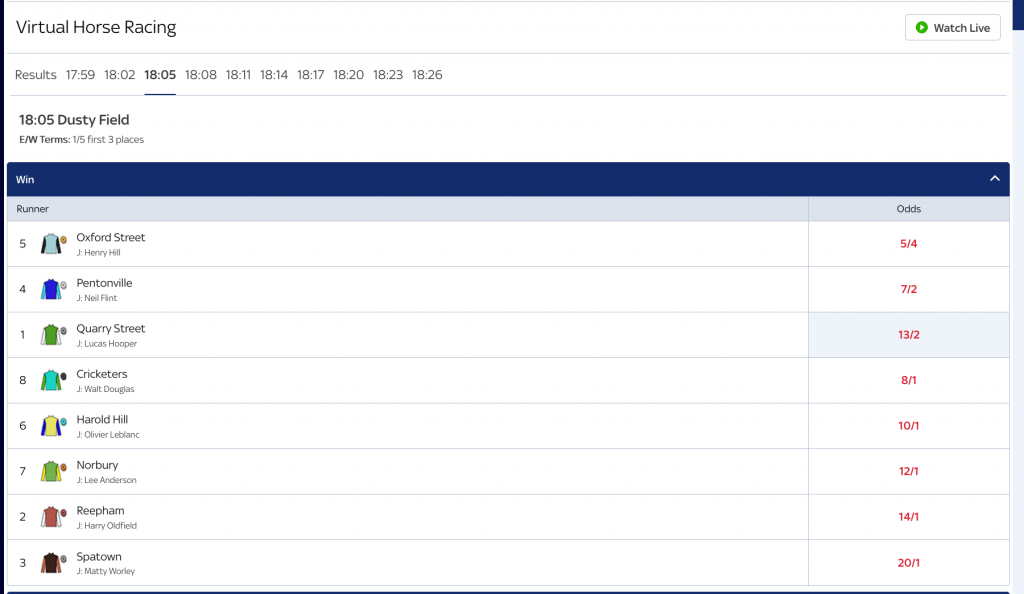 I then looked at their horse racing selection. I could see a number of virtual events coming up too. One is at Sandunes Park and another is at Dusty Field. They each have a list of runners and their odds. Again, none of these places, horses or jockeys exist.
For example, the 22:08 at Dusty Field has 12 runners. The favourite is Frampton at 5/2. The biggest outsider is called Nook and is at 80/1. You can even see their colours and the jockey's name. There are typically flat, jumps and sprint races.
Horse races last up to 45 seconds and take place in different conditions. You might see them run at night or during the day, for example.
Greyhounds, motor racing and speedway are all available on here too. Each sport has its own set of rules that you can read. This tells you the basics about stadiums, competitors, how long events last and so on.
Is It Worth Doing?
To be honest, it is good fun to watch the action. It can get exciting near the end. If your team is a goal down and pushing hard you might find yourself shouting encouragement at them. It isn't like watching a real game. But if you are used to watching computer games you should like it.
If you are missing your dose of sporting events then this is interesting. But can you make money from it? Is there any way to win on your bets?
The bookie's edge in these games is quite large. This can be as high as 30%. Remember that this is how much that the bookie expects to earn over a large number of bets. You might perform better or worse than that.
You can see the RTP listed on the sites. They vary widely, but on SkyBet I saw between 70% and 85% on horse racing. Football was slightly better, with most markets hovering around 90%. So the odds are stacked against you right away.
William Hill has up to 95% RTP on football. But in some cases it is as low as 87%, which is for the correct score market.
Since it is all randomly-generated there is no such thing as insider knowledge or tips. There are no value bets, as you have no way of identifying overly generous odds. Equally, with no betting exchange there is no chance of using matched betting techniques.
Therefore, most of the usual betting tactics don't work. We are going to need to find a different way of making money.
So, what if we take all of this into account? Betting on a random outcome doesn't make sense. The odds are just too much in the bookmaker's favour for this to work. Is there anything we can do to make this work for us?
What About Sports Betting Offers?
The bookies are keener than ever before to sign up new punters. This is why you will find a lot of virtual sports offers just now. As mentioned at the beginning, they are losing money due to the lack of real-life sports.
At the moment, BetFred gives you £5 in free bets. This is given when you wager the same amount on virtual sports. They also have a daily lossback offer. Their free bet club covers computer-generated events too.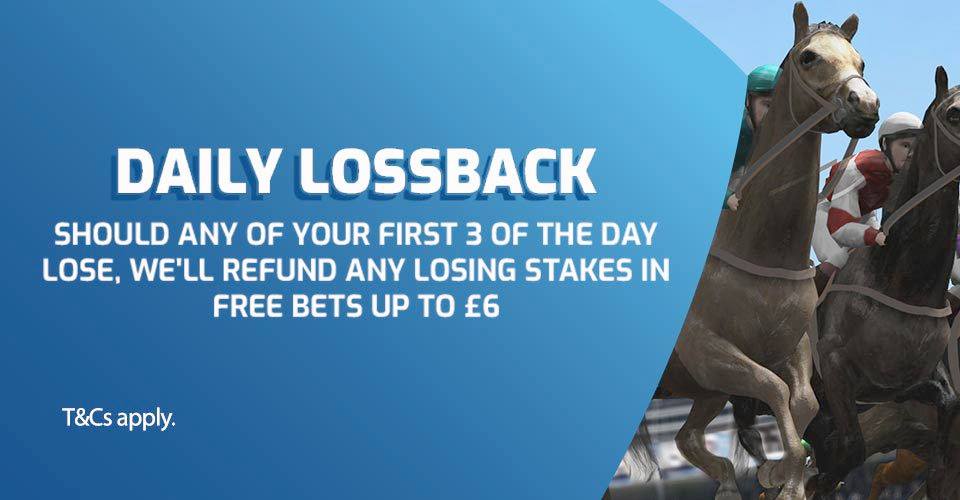 SkyBet gives out a £5 bet for free too. You need to bet £10 to get it. This offer is only valid at certain times of day as well.
Bear in mind that you usually need to opt in to a deal. Don't miss this step out or you'll lose the offer.
Also, you can get a deal even if you are already a customer. The key is that you haven't bet on virtual sports with them before. The offers tend to be specifically for your first time betting on virtual games. Certain others are for repeat customers.
The longer that real sport is stopped for, the more offers we will see. As more and more punters turn to virtual sports, the harder bookies will try. They need the income generated in this way.
How to Use These Offers?
As always, the key is in using these sports betting offers wisely. It can help to look on them as being like casino offers.
The truth is that they are more like casino offers than typical bookie offers. Therefore, we need to look for as much value as we can.
The first step is to go back and look at those RTPs. This is just like looking at the value on slots games. The higher the RTP, the better value the offer. There is simply no point in betting where the bookie's edge is high.
We have seen that the figures vary a lot. Let's say that you are using that SkyBet offer. We can look through their list of RTPs to find the best ones. Using football as an example gives us the example below.
You will want to avoid the correct score market. An RTP of 80.65% is too low. Their next lowest number is 87.72% for total goals. On the other hand, the best RTP is 92.59%. This applies to under/over goals and Asian handicap. This is a bit more acceptable.
On SkyBet horse racing, the RTP drops as the field increases. You will want to use races with the minimum of 8 horses. The win market is 85.3%. For each way bets, it drops to 83.3% with an 8 horse field.
Research the RTP
You need to do research in this way for each bookie and sport. After that, you can pick the option with the highest RTP.
Next, we need to see the expected value. To do this, we will look at the SkyBet offer of bet £10 and get £5. With the top football RTP of 92.59%, we can work out the qualifying loss. It is £10 x (0.9259-1) = -£0.74.
Using a 70% retention for the free bet gives us £3.50 (70% of £5). Finally, £3.50 less £0.74 leave an expected value of £2.76.
Another useful tip is to spread the stake. You don't normally to put large wagers on a single race. If you have a large free bet to use, it makes sense to split it up. This gives you a better chance of winning something. Be sure to check if you can do this. Not every bookmaker lets you spread out the bet like this.
What odds should you choose? As we saw earlier, some bets have very large odds. Others are a lot more modest. If you stick to smaller odds the volatility will be lower.
Use the lowest odds possible for the qualifiers.
Then odds around 4.0 for the free bets bets.
However, in some cases you might find that the expected value makes longer odds worthwhile. This will happen when using the bonus cash. But you still don't want to go too high. With your own cash, you will always want to keep to the minimum odds.
How Much Can You Make using Virtual Sports offers?
At the moment, there isn't that much to be earned here. This is because the offers are generally fairly small. Plus, there aren't as many bookies offering virtual sports as we would like. So, you could be looking at up to £8 in EV from each bookie each week.
If you can do this 3 or 4 bookies it will start to add up over the month. Remember that these offers are fast and simple to complete. The action is over in a couple of minutes or less. You are then ready to move on to the next event.
It is still quite a bit away from what we are used to, though. Is there any chance that the winnings get better over time? It is certainly possible. If the sports world remains on lockdown, virtual sports could carry on growing.
This would see more bookies enter the scene. In turn, this would lead to more offers. As the number of punters increases, better offers might be put in front of them.
What Does the Future Hold for Virtual Sports?
I can't see virtual sports betting ever becoming as big as traditional betting. Some people probably just aren't interested in it. Others might notice that there is no skill involved in picking a winner. Once real-life games and races are back, others will go back to them.
Yet, for the moment it is a reasonable replacement for part of our betting approach. I wouldn't recommend relying solely on virtual sports, though. You aren't going to win a lot even using the current offers.
Instead, it could work to top up your earnings. Use it together with the best casino offers to keep things ticking over. With a bit of luck, real sports action will be back before too long. Until then, have a look to see if this is of any interest to you.