Geegeez Gold Review
Research is a big part of horse racing. If you are serious about trying to beat the bookies, you need to know your stuff. This means that there is a big market for analysis and form tools.
The problem is that many of them are time-consuming. Others are difficult for non-experts to understand. Is there a better option to get started with?
In this Geegeez Gold review, we will look at one of the most popular options. Will this site help you to win more? There is a lot of information for us to go through.
What Is Geegeez Gold?
The Geegeez website brings together a big selection of details. This service lets you see a range of horse racing tips, analysis and previews. You can find everything that you need on here to understand who to bet on. You just need to take the time to look for the details.

Their Geegeez Gold service is a part of their comprehensive horse racing betting service. Among the highlights are the racecards. These cards are packed with lots of useful details. Use them to discover more about the form of each horse in upcoming races. There is a lot on here that you won't find elsewhere.
You also get access to reports, tips and ratings from Geegeez. This means that you can read through all of the most relevant figures. This service is solely for UK and Irish horse racing.
One of the most noticeable things is the layout. The designers have gone for a highly colourful scheme. This means that it is easy to interpret. While writing this Geegeez Gold review, it was easy to work out what the site offers.
Overall, it is clear that a lot of work has gone into making it simple to understand. The colour coding is especially useful. You might think it looks a bit confusing at first. But you are sure to get used to it quite quickly.
The site is also fast and constantly updated. With good customer service and a strong community, it is a good overall package.
What Does It Provide?
Possibly the most useful aspect involves the racecards. These cover the latest odds and current form. The information can be filtered and sorted to suit your search needs.
As well as the horse's form, you also get links to the jockey and trainer form. Breeding and sales information are included too.
The racecards have the following columns on them.
Number
This covers jockey, horse and trainer
Horse name and colours
Head to head data
Comments
Breeding and sales data
My ratings
BetTracker: Record bet placement
Age
Weight
Trainer
Jockey
Odds information
You can click on any of the entries to get more information. Therefore, there are two ways of using these cards. You can skim the basic information or really go in-depth. It is entirely up to you.
When writing this Geegeez Gold Review, I could see the races for the next few days. It seemed to have everything I would need to choose a horse.
The Form Filter tool is a fast way of understanding the horse's past performance. You can filter in a number of ways to get the most relevant results. For instance, it is possible to see how the horse has performed over a certain distance or surface. You can also see how it has run with the same jockey.
This lets you really drill down on the detail. It isn't just about the basic form. Instead, it shows you huge amounts of relevant data. This lets you find out everything that you need to know. So, you can adapt your betting in every single race.
Pace Analysis is an interesting inclusion. This is a factor you won't commonly see analysed elsewhere. Something similar is often in foreign horse racing sites. But you won't see it on UK sites.
It brings together running style data from the last 4 races. So it could be an extra bit of information that comes in useful to you. It isn't a definitive listing for pace. However, it will give you a good idea of this issue. This might be the extra information that you need to get ahead. This would be useful if you are Dobbing.
Both the Form Filter and the racecards are free. You just need to register to start using them. Access is a bit limited for free use, though. You can't get hold of everything that they offer. This could be frustrating if you want to find out everything there is to know.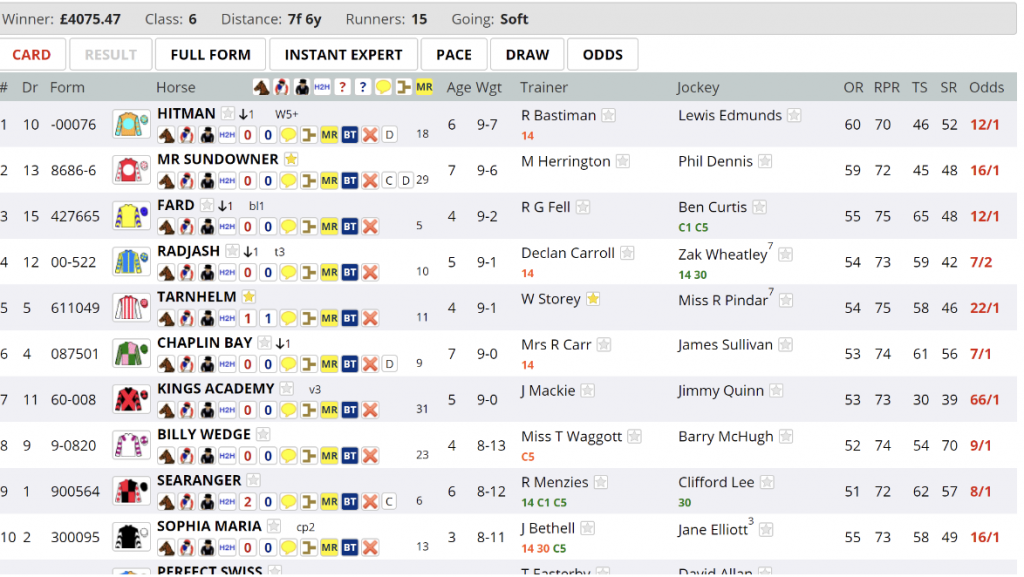 The next feature is only for paying subscribers. This is called Instant Expert and it possibly the best tool they offer. It is a race overview packed with details. Instant Expert is set out as a neatly designed colour coded grid. This makes it easy to see which runner is most likely to win.
By gathering so much data, it gives a powerful overview. A single view of the race, it helps you to instantly make an informed decision. If you want to make quick decisions that is a great help. There is no need to hunt around for additional data.
They also offer a long-running service with daily tips. This is a single daily tip every day from Monday to Saturday. From its start date in 2011, it has earned 215 points and a 24% ROI. It is worth taking a look at these tips.
Bet Tracker lets you see your own betting history. This is a way of seeing the factors that you need to know about. Do you bet more wisely in certain conditions or over certain distances? Do you have certain strengths or weaknesses?
The site's blog has some interesting posts on it too. While writing this Geegeez Gold review, I saw the latest post reveals how to use the sectional data that they use. It is presented in the form of s short video.
Who Is Behind It?
Matt Bisogno is the man behind this site. He is a pretty well-known figure in the betting world. You can find him posting actively on social media sites such as Twitter.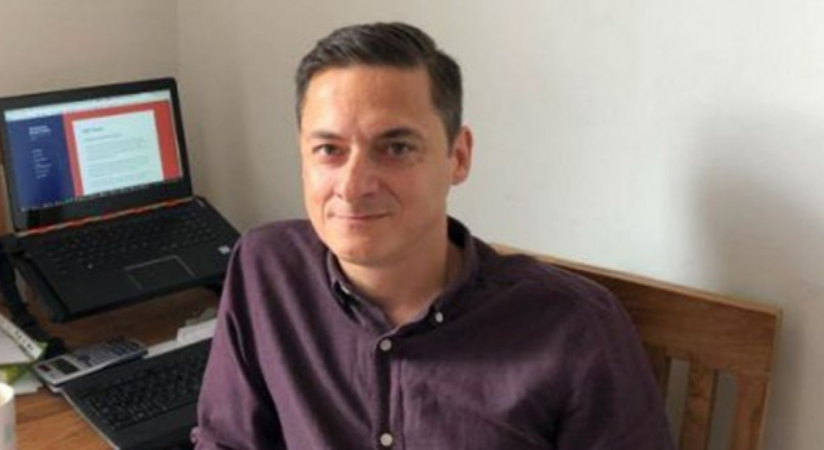 At the time of writing the Geegeez Gold review, he is the editor in chief too. He states that he is from Bournemouth and has 20 years of betting experience. However, the company's offices are in Hackney, London.
It seems that he spent time working in betting shops while studying. At some point, he has become fascinated with horse racing statistics.
His first venture online was with the Trainer Track Stats service. He started this up in 2006 and it was a success. It lists data showing who the most profitable trainers are. The Nag Nag Nag site followed. However, he handed over control of this site in 2008.
Bisogno now has the vision of making Geegeez one of the best independent horse racing resources. It is an independent site with impartial reviews and editorial content. This marks it out as different from the bigger commercial sites in the market.
He is also the current chair of the Horse racing Bettors Forum. This is a voluntary body that looks after the interests of punters.
Matt seems to still write most of the stuff for the site. It isn't clear how many other staff are on the team. Certainly, a few other names pop up on the blog as contributors.
How Much Does It Cost?
As we have seen, some of the services on here are free. This makes it perfect for dipping a toe into. If you are new to betting, you might want to start off gently. However, there is only so far you can go with a free membership. At some point, you will want the full service.
If you want the more powerful elements you need to subscribe. This is when you can unlock the really useful stuff.
You can sign up for a month if you like. This costs £36 each month. At the time of this Geegeez Gold review, the first month costs £1. This first month is a good time to really give it a thorough testing.
The annual subscription is at a cost of £297. So, it is a good deal cheaper than the monthly option. Again, you can benefit from a price of £1 in the first 30 days.
There also a couple of short-term subscription options. The first one is for two days and costs £6. The other is £12 and lasts for a week. These are both decent options if you want access for a big meeting or event.
Will You Make Money?
This is the big question. Will you come out ahead of the bookies with the help of Geegeez Gold? It is certainly a good tool for helping you to make smarter bets.
However, it is difficult to see exactly how much you can win. This is because you are still making your own choices. Everyone who uses this service will get different results. So it is impossible to give an exact figure for expected profits.
In fact, different users will also interpret the data in their own ways. Ten people could look at a particular race and draw ten varying conclusions from the information. It isn't the information here that makes you money. It is how well you use it.
What is clear is that you should win more with Geegeez Gold than without it. You won't be making uninformed guesses. Use it right and every bet that you make will be backed up by solid research. This isn't all, though. You still need to interpret and use the information.
The area where we can see figures is with the daily tips. As we saw earlier in this Geegeez Gold review, it has produced good profits. This works out as 215 points and a 24% ROI since 2011. This is a good tipster service although it is limited to one daily tip.
In summary, how much you earn depends upon how you use this data.
What Are Other People Saying About It? 
The Geegeez Gold site has a range of customer feedback on it. This isn't the best way of gauging any betting service. The owners will only put on here the best comments. However, it is still a good sign of there being happy customers.
Independent Geegeez Gold reviews offer a more balanced view. They let you see the good and bad points of the service. There are a few of these reviews online.
Generally, the Geegeez Gold reviews are very positive. It is clear that Matt Bisogno is highly respected in this industry. Most reviewers are happy to report that this service is extremely useful. They all seem to like the way the tools are clearly presented too.
There is no suggestion that this is a scam site. You might not get the results that you want from it. But it is a genuine horse racing resource.
Will You Get Gubbed By Using Geegeez Gold?
Getting gubbed is one of the big risks of most betting sites. However, it isn't such a big deal with this one.
You aren't following a system. This means that it is more difficult for the bookies to spot you. Even if you win a lot, you will just look a punter who has a decent success rate. They have no way of knowing how you are selecting your bets.
Of course, bookmakers like to restrict the accounts of regular winners. There is a chance that they limit you if you win a lot. This could happen it this site helps you to win time and time again. Yet, the risk here is a lot less than on many betting systems. You can always place the bets with Betfair Exchange if you do get limited.
Advantages of Geegeez Gold
Are there any particularly strong reasons for using this service? The following are a few of the points from this Geegeez Gold Review that you should be aware of.
Lots of information that is clearly presented
Colour coded for ease of use
Huge data of relevant data
The use of information that isn't commonly used could give you an edge
Different subscription packages
Disadvantages of Geegeez Gold

There are also some negative points to take into account on this Geegeez Gold Review. The main ones are as follows.
The best features require a paid subscription
You still need to do the research and make the decisions
There is no guarantee of winning
Newcomers might find that it has just too much information for them
Who Might It Suit?
You might be wondering whether this site is perfect for you. Like all betting services, it is right for some people but not for others. Take a look at what it offers compared to your needs.
The first thing that we need to consider is the time that it consumes. While it is neatly laid out, you still need to look through the data. It isn't like receiving a direct tip. You still need to do the research on your own.
Therefore, it could suit you if you love looking at data. There is plenty of it here to keep you happy. You can search and filter for hours on end if you want to. So if you have time and enjoy horse racing this is a fascinating tool to use.
That sort of approach isn't right for everyone, though. You might not have the time or interest in all this data. You might just want tips sent straight to you. This site does offer tips but the service is limited to one a day.
What if you want to win every time? In that case, you need a betting system like matched betting. Other services tell you exactly what do bet on. This is better if you just want to make money as quickly as you can. With a research tool like this, you might or might not win.
Using this service doesn't guarantee any sort of result. You could easily go on a losing streak. So if you don't want uncertainty then it won't suit you. You probably also need to start off with a fairly big bank.
Overall, it is probably ideal for someone who already places bets. They might be relatively experienced but want to step up to the next level. This can be done by better understanding the market and the individual race conditions.
Geegeez Gold Review: Conclusion

This is a comprehensive horse racing service with lots of useful details. If you are looking to make smarter bets, the information that you find here will help. This could help you to turn into a more interesting and profitable hobby.
It is certainly worth giving a try if you are happy to delve deeply. However, if you want to get given tips or never lose, it might not be what you need. Therefore, it all comes down to what you are looking for.
As we have seen in this Geegeez Gold Review, there is a lot to like here. Horse racing fans will certainly enjoy the process of looking through the various tools. If you are just looking for straight tips, it might be more than you need, though.