Are Bookies' VIP Schemes Worth It?
We all love to hear someone call us a VIP. This is something that hints at us being special, valued customers. VIP schemes are common in many different industries. They have also become more widely used in online betting sites. The big question is whether this is something that is worth doing.
There is a lot to take into account here. However, the main question to look at is whether they are worth it. Should you be dreaming of becoming a VIP or avoiding this privileged status?
Why Do Bookmakers Offer VIP Schemes?
Let's start with the basics. Who are these programmes aimed at? And what do bookies gain from offering them, anyway?
They are designed to appeal to the site's biggest spenders. These are the punters that the bookie wants to keep happy. After all, they are likely to make more money off them than off regular bettors.
Therefore, they want to show these customers how important they are. This will encourage them to stay and carry on betting. It is a way of creating more loyalty among customers who lose money.
However, the rewards can't be so big that it costs the bookie too much money. They want to keep these members sweet. But they need them to remain profitable too.

Remember that they want their VIPs to feel more important and valued. If the VIP scheme achieves this, their relationship will improve. This could lead to the customer spending more with them instead of elsewhere.
What about those people who aren't yet in the scheme? Perhaps they could see joining this scheme as a long-term aim. It could also be an incentive for newcomers to join up.
Overall, it is about building better relationships. If this happens, the bookie will expect to gain more than they spend on it. It is about getting the balance right for them.
What Do VIP Customers Receive?
We have seen that this sort of programme can make sense for bookies. But what do customers get in exchange? Each bookie will have their own list of benefits.
There are numerous different rewards that can be offered in this way. The following are some of the most common things you will see.
Special prizes
Unique bonuses
Gifts
Prize draws
Interesting sporting experiences
Better offers than regular members get
Improved odds
A dedicated account manager
Faster banking
The exact details of how it is run vary between bookmakers. Some of them link it to a loyalty scheme. Some advertise their VIP clubs while others keep them secret. There is no single way of doing this.
In general, they all offer ways of making your money go further. It is typically marketed to be as exciting as possible. The bookie will focus on the most interesting aspects of it.
A VIP scheme may also have several different levels to it. These are typically known by names like Bronze, Silver and Gold.
The rewards will increase as you move up through these levels. This may be clearly laid out, or you may only discover when you change levels.
How Do You Become a VIP?
The entry requirements for VIPs also vary widely. Not all bookies make it clear what you need to do to become a VIP. However, since we know the type of member that want, we can assume this.
In general terms, they are based on your gambling history with the bookmaker. This usually means that those who bet most money are invited to join. However, they might look at how often you log in to decide this. How often you deposit and withdraw is also taken into account.
In some cases, they may also take into account your volume of bets. This would allow you to join even if you don't bet large amounts. If it is based on points awarded then every bet you make may count.
You will probably never know your bookie's exact VIP criteria. This is true even if you join their scheme. You might enter and leave the scheme without ever knowing how it happened.
In fact, many players enter and leave these schemes. If you bet more at certain times, then you may find that you become a VIP for a period. This membership will probably end once you start gambling less.
VIP status is typically reviewed on a monthly basis. You might qualify one month and lose access the next month. This is purely a business decision. They want their top members to benefit in this way.
Let's say that you stake a lot during the World Cup. Or doing a big horse racing meeting. You might get an invite for the next month. If your betting goes back to normal you could lose this benefit after a month.
Do you think you should be a VIP? You may be able to contact the VIP team directly. In this way, you can ask for an invite if you feel you deserve it. They might refuse you, though.
I have seen bookies suggesting that you provide evidence of VIP status elsewhere. This could make them see that you are a high-roller. They might decide to give you VIP membership to encourage you to use them more often.
How Do bookmaker VIP Schemes Work?
The bookmaker's website might not make a big deal out of their VIP scheme. Most appear keen to keep it a secret. But you can be sure that most of them offer something like this.
There are a couple of good reasons for keeping it low-key. For a start, they don't want to annoy their other members. Someone who has bet there for years and isn't a VIP might get jealous.
Another reason is to avoid potential compliance issues. They could get in trouble if they are seen to encourage people to bet more. Obviously, wagering more than you can afford just to get a VIP invite isn't a good idea.
Yet, you can be sure that they take it very seriously. Most of them have a special team looking after their VIPs. They act as a personal contact for their most important members.
As we saw earlier, they don't always let you see their entry criteria. You can be sure that this team is monitoring activity, though. They will be keeping an eye on who to invite next.
You may be advised by email or by phone that you are eligible for this special status. You will probably think that there is no reason to refuse. However, we will look later at some possible drawbacks.
More About the VIP Scheme Benefits
At first glance, most bookie VIP schemes are very similar. The types of reward mentioned vary little from one to another. Yet, in practise there is often a world of difference between them.
To get a better feel for this, we can look at some of the rewards in more details.
Prize draws. This is one of the most common and most exciting VIP rewards. Yet, it can come in many different shapes and forms. As well as widely varying prizes, they will also be run in different ways and with different frequencies. Look out for the regularity of prize draws, as the more the merrier.
A dedicated account manager. This special benefit will give you direct access to the support team or to a single person. You might never contact them. Or it could be a really useful way of getting in touch.
Special promos. VIPs can sometimes take advantage of unique promotions. These are usually enhanced deals that are really worthwhile.
More loyalty points. When a bookie has loyalty points, VIPs tend to earn more with each wager. You might also find that they are more valuable when redeemed than other players'.
Days out. For big sports fans, this is the best benefit of these scheme. You might get invited to a memorable day out at a big event. Loads of bookies have hospitality boxes at sporting venues due to their sponsorship deals. So, they can invite small groups of VIPs along.
Better odds. You will be given access to enhanced odds too. This won't apply to every single bet you make. However, better odds on certain events can be very useful.
Smoother cash withdrawals. Bookies don't want to risk upsetting their most profitable clients with slow withdrawals. Therefore, you will probably be offered easier, faster banking.
Cashback offers. Bookies expect their VIPs to spend more and lose more. However, they like to soften the blow of losing regularly. This means that cashback schemes give back a percentage of losses each week or month.
Most of the biggest bookies offer rewards of this type. William Hill gives you access to a personal account manager. You also get "flexible account controls" and hospitality at big sporting events.
888 is an example of a big bookie with a strong VIP scheme. They often greatly increase their standard offers for VIPs. You also get a weekly cashback based on how much you wager during the week.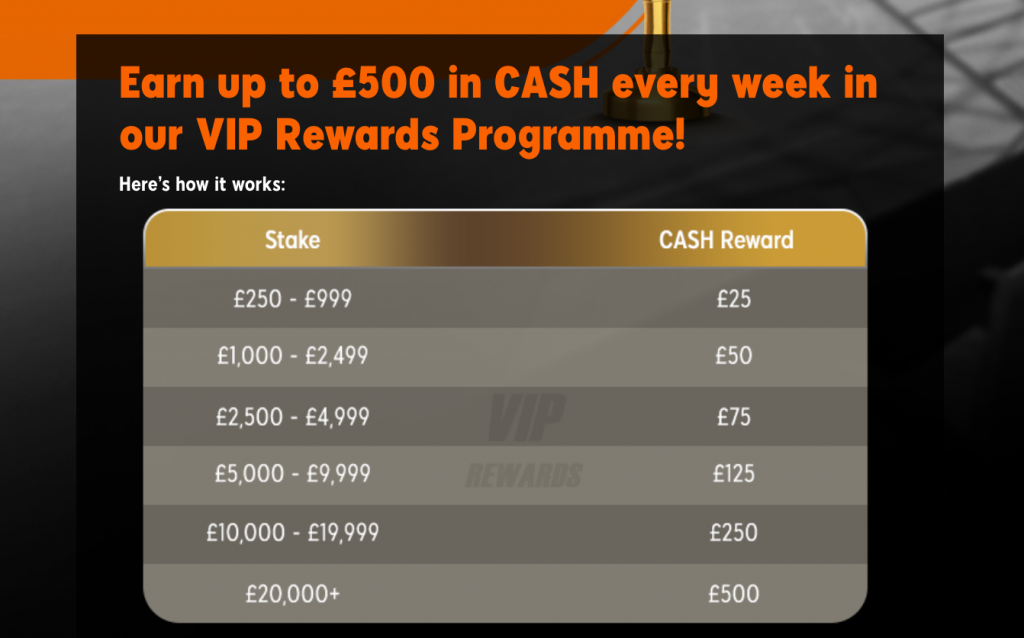 Another example comes from Coral. They have a ladder system in place. You need to earn a certain number of points to become a bronze member. After that, you can aim for silver, gold and platinum. Better offers are part of the scheme, as are comp points.
Ladbrokes are part of the same company as Coral. So their VIP scheme is the same. If you are a member of one of the biggest bookies then have a look. There is almost certainly a VIP scheme.
Here is an example of a VIP offer from Ladbrokes.

Is It Worth It? The Possible Downsides
As we have seen, there are some great benefits to being a VIP. It all sounds great so far. However, when something sounds too good to be true it probably is. So what's the catch in this case?
The main issue is that none of this is really free. It is all sounds good but why are they giving you these benefits? It isn't just out of generosity.
If you are made a VIP it is because you make the bookie money. You lose more than you win. They are trying to keep you sweet with these offers. This is because they hope that you carry on losing money.
Is there a better approach for you? Well, you could look at an alternative betting approach. It would be more profitable for you to win more than you lose. If you are made into a VIP then your current strategy is only making the bookmaker money.
The truth is that your losses are paying for the benefits. If you were a regular winner, the bookie wouldn't treat you so well.
It's unlikely you will become a VIP by mug betting. They will likely catch on before you get invited.
VIP accounts are closely monitored
Another point is that VIP accounts get more closely looked at. It is unlikely that you have been carrying out matched betting. Otherwise, you wouldn't have lost enough to be invited to this scheme. Having said that, some bookmakers base entry upon total wagers rather than total losses.
However, it is worth remembering this greater level of scrutiny. If you have tried any strategies that are frowned upon then this is more likely to come to light. It will also limit your chances of trying out new approaches.
For some bettors, there is another possible downside. This is the difficult in trying to retain VIP membership. It isn't easy to keep wagering at this high level. You might end up only retaining the status for a month or two.
But what if you are really keen to stay as a VIP? It could encourage you to bet more than you should. Placing frequent wagers just to stay in a scheme is a terrible idea.
Is a VIP Scheme Better Than a Loyalty Scheme?
This is a good moment to look at the differences between VIP and loyalty programmes. Are they pretty much the same thing? Or is one of them better than the other?
It really depends how the bookie runs it. In some cases, the loyalty and VIP schemes are sort of fused together. In others, they will be completely separate.
The name of any particular scheme doesn't really matter. The most important points are the entry criteria and the benefits.
We have seen that VIP schemes offer a variety of benefits. Some of them tend to be more useful than others. You might not use some of the offers that you receive.
Loyalty schemes tend to more direct. You will earn points as you wager. These points can then be converted to cash at some point. This type of approach is more useful for many bettors. But it is less eye-catching.
If you are using a betting strategy then a loyalty scheme is probably more suitable. You can still earn loyalty points or comp points as you earn money. Your account is likely to be under less scrutiny as well.
Everything is done automatically in a loyalty scheme. You just earn the set number of points on every bet.
Perhaps the biggest difference is with a personal account manager. Once you get one of these agents appointed, it becomes a VIP scheme. The likes of special events and days out are also unique to VIP programmes.
Do Some Bookies Not Offer VIP Schemes?
Not every bookie has this sort of programme. Yet, it is becomingly increasingly rare to see that one doesn't.
This kind of programme used to be used more in casinos. But they have started to move into bookmaker sites in recent times. As noted earlier, it isn't always clear whether an operator offer one or not.
What if you have never been invited to become a VIP? A look on their site should let you see if they offer details of a scheme. If there is no information then just ask about it. There is nothing to lose.
You might never get an invite. Even if you bet regularly, this isn't all that they take into account. The VIP team will also look at your overall history with them.
If they don't want to make you a VIP there isn't a lot you can do. Changing your style might help, though. Some of the negative factors they take into account are betting on low odds and withdrawing regularly.
They prefer to see regular deposits and big stakes on varied markets. Is it worth your while changing your style to get an invite? Probably not.
Eventually, you might decide to go elsewhere. If a certain bookie doesn't value you highly then why stick around? This isn't a bad idea. You can then get new player offers with a different site.
VIP Schemes Conclusion
Bookies' VIP schemes are pretty good for some people. However, if you plan to make money from betting then this isn't the way.
They are aimed at people who stake high and lose a lot. These are completely the opposite types of bettor to those who make money.
If you are using matched betting you are probably never going to be a VIP. This is fine, as you will be making money in a different money. Also, the less scrutiny your account gets the better.