Trade Your Bets Review
The Trade Your Bet system is based on the simple fact that you can't beat the bookies. The introduction tells us all the reasons why this is the case. But what can be done about it? One option is to try trading.
Trading on sports is a popular choice these days. But not everyone is comfortable getting started on it. Some people think that is might be too complex, risky or time-consuming.
This site promises to let you do it better. Let's takes a look in the Trade Your Bets review at what it offers. Could it help you to make money on a sustainable basis?

What Is Trade Your Bets?
This is a tool to help you to trade on sports. The idea is that it gives you everything that you need. Of course, one of the big issues with trading is getting started. Many people are put off by the thought of learning numerous strategies.
All you need do is sign up for their advice. You can then start using a betting exchange to make smart bets. You don't need to be an expert or spend a huge amount of time on learning what to do. So, it is suitable for newcomers as well as people who already know a bit about trading.
It is based purely on football bets. Having said that, they cover a variety of leagues and markets. You can also choose between simple bookie bets and Betfair trading. This is a crucial point. Firstly, because it means that it appeals to different people.
These varied ways of betting also give you added flexibility. You might like to trade sometimes and keep it simpler at other times. It lets you choose the right approach for your lifetime and schedule.
What Does It Provide?
There are a few different things here for you to use. The Member's Area is where you will find the tools that you need to make successful trades.
A 10-year database is used to ensure that you get solid selections. When you enter, you will see the day's selection listed by league. For example, the day of this Trade Your Bets review, I saw matches from Australia, Austria, Paraguay and several other countries.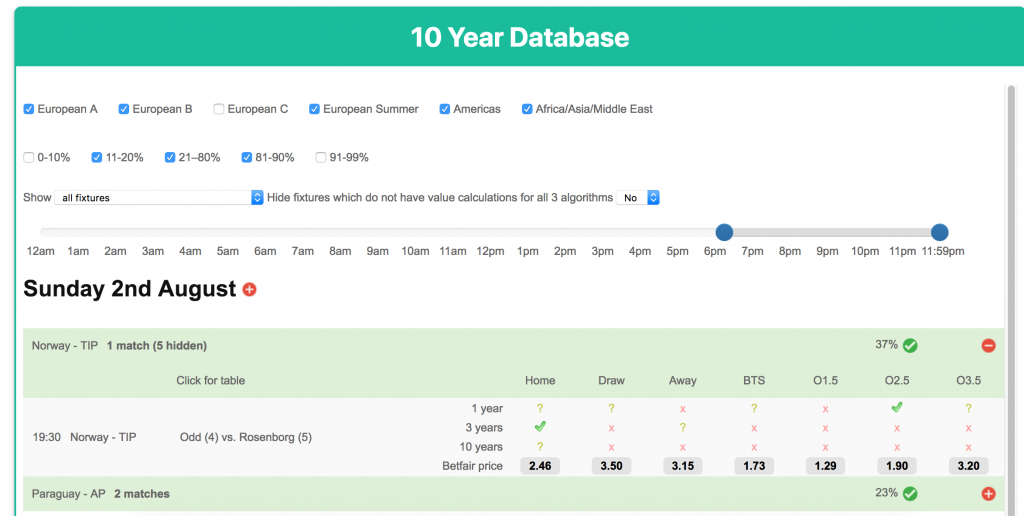 There were 13 leagues listed for today. Each one says beside it how many games are mentioned that day. The total number of matches was close to 50 today. However, you almost certainly won't be trading on all of them. You can filter on certain leagues and other criteria if you want to. This lets you see the most suitable and interesting matches.
Each league has a symbol and a percentage next to it. This lets you see at a glance how attractive it is for trading. I could see the following signs:
A green tick. The league has settled form for trading.
A green warning sign. The league is still settling into form. Trade with caution.
A red warning sign. This is used in different situations. For example, if the league has just started and teams have no current form. In other cases, it is used when some teams have nothing to play for.
This system lets you quickly see which leagues to focus on. Clearly, the green tick is what you want to see. If you choose one with a green warning sign you will want to do some research. The red warning sign leagues are best avoided. In some leagues, there will be no suitable bets. In other cases, you might have options on all of the matches.
Trade Your Bets 10 Year Database
If you click on the + sign next to a league it will open up. This shows you the games taking place, including the teams and the kick-off time.
You will also see 7 columns for each match. These are Home / Draw / Away / BTS / O 1.5 / 0 2.5 / O 3.5. There are the different markets that you can trade on. If a certain one isn't recommended, it will show an x. A tick is used to show that it is a good trading prospect.
The bets are calculated on 1 year, 3 year and 10 year data.  Each is shown with an individual tick, cross or question mark. The three sets of data often coincide, but not always. Finally, the current Betfair price is shown at the bottom. As this changes during the day, the green ticks may appear and disappear.
The set-up is pretty simple. It looks kind of basic and maybe even a bit old-fashioned. Yet, there is no doubt that the information is useful and clearly presented. For many people, this will be more important than the style aspect.
Trade Your Bets Members Area
Further down the member's area, some different picks are listed. At the time of this Trade Your Bets review, I could see a decent amount of variety. We will look at them now.
The website recommends using the KLOver selections as set-and-forget bets or as trades. These are very simple trades based on the Over 2.5 goals market. It is clearly explained how to get out with a profit, provided at least one goal is seen.

David's 'ESTW' (Either Side To Win) selections are also recommended on the site. This is where you use the lay the draw strategy. Like the previous picks, they are simple to place.

Another option is to look at the 10-year database. Simply following the green ticks shows you the games to bet on. Ideally, a match will have a series of three of these ticks. This will give you more confidence to bet on it.
They also say that the customer support is excellent. I didn't test this, and I couldn't see any feedback from other members.
Who Is Behind It?
The Trade Your Bets site is run by a man called Kevin Laverick. He describes himself as a professional football trader. Kevin says that in 2016 he decided to completely switch to trading. He had seen that the bookies had swung the market too far in their favour.
As for his background, he mentions a degree in Pure Maths and Statistics. Kevin also mentions working with Steve Brown at Goal Profits. Together, they developed the algorithms that the system uses.
Kevin says that he has been using Betfair since it started. He mentions 2005 as being the key year in which he realised how to make a profit from it.
As a youngster, he loved playing football. Yet, he ended up working as a chartered surveyor. When he tried Betfair in 2000, he lost £40,000 in 4 years at first. He learned how to trade. Then he started blogging about strategies and went back to Betfair in 2005.
You might see it mentioned that he has also sorted up Value Football Betting. This looks like the same site, with the name changing to Trade Your Bets as some point in the past. But the way it works is now different, so it isn't just a name change.
You can still see the database from the earlier service. But it probably suits someone who is happy doing a lot of research. It isn't as simple to use as the new site is.
Kevin also works as a tipster on some other sites. For example, he is mentioned a lot in connection with Goal Profits. However, it appears that Trade Your Bets is his main focus right now.
How Much Does It Cost?
The monthly cost at the date of this Trade Your Bets review is £25. If you sign up for a quarter it is £65. A full year costs £200. You can pay by PayPal or Skrill, with the former recommended on the site for ease.
You can cancel at any time, although no refund options are stated. So I think you just stop your membership in terms of future payments. There is no free trial either, so you need to sign up for at least a month.
As for the starting bank, a figure of £1,000 is mentioned as being ideal. It is pointed out that some members have started with £500 or less. However, £1,000 will give you the basis for 100 points at a value of £10 each. It probably isn't worth paying for if you don't have a decent bank to use.
Will You Make Money?
The variables here make it impossible to put a figure on potential profits. For a start, there are lots of different trades to choose from every day. You won't be placing them all. So, it depends which ones you choose to place. You might get lucky and choose the day's best bets, or make a poorer decision.
Then the exact strategy comes into play. Will you cash out at the right time or not? The site gives no indication on potential profits to base this Trade Your Bets review on.
One thing that is shown is the record for a certain selection of games. It is pointed out that 12 out 12 selections won on Danish games a certain day. This led to a 14.36 profit. This is impressive, but is it likely on a regular basis?
We will look in a moment at other Trade Your Bets reviews. The concept of finding winning trades sounds good. But most people probably want some solid profit estimates to go with.
I could see mention of the set and forget Over 2.5 goals tips. They say that the bank on here increased by 22% in the first month using them. This was February 2020, but the lockdown straight after this put it on hold.
There is also a summary of the double and treble bets from James Leadbetter. He apparently tripled his bank with the tips he shares. The other section is David Heaton's bets and trades. 121.84 points and a 29.43% profit was gained in the first two months. It is pointed out that the members who staked £10 per point gained £1,218.40 profit in this time.
Persoanlly I would focus on the trades and bets provided rather than using
How Many Bookies and How Many Sports / Markets Are Included?
As we have seen in this Trade Your Bets review, it is all about football. A variety of football markets and leagues all over the world are included. So there is a good degree of variety here, even if it is just one sport.
The key is in using Betfair to make trades. You will need an account with this exchange. It is their prices that are shown on picks. However, not all of the tips need a trading approach.
The use of simple bets you can place with a bookie adds more variety. These are what they call set and forget bets. They are faster and simpler to place than trades on the exchange. However, it is pointed out that your account might get restricted if you are successful.
As noted earlier, there are many different leagues. You might choose the divisions that you are most comfortable with. Or you might decide to follow the ticks. Simply betting on matches with three ticks on a certain market is an option.
What Are Other People Saying About It?
This trading service has been about for a while now. So I took a look to see if I could find many Trade Your Bets reviews. To be fair, there is a lack of independent reviews of it just now.
Certainly. Kevin Laverick is quite well respected in the industry. He is well-known because of this service and his work on Goal Profits. His previous Value Football Betting has a couple of decent reviews. However, he points out that the focus was more on stats and it was less user-friendly.
Kevin is fairly active on Twitter. He sends out a few tips each day, although there is nothing new from May to July. He keeps his messages short and simple. Although he has close to 1,800 followers, there aren't enough replies to judge the reactions.
There is nothing to suggest that Trade Your Bets is a scam. It seems to be an honest, reliable service. The big question is whether you can make money. This is where seeing some Trade Your Bets reviews might have helped.
Overall, there isn't enough information out there to decide what people think about it. A lack of Trade Your Bets reviews leaves us short of information. However, the only real worry I have is over the amount of the profits.
Will You Get Gubbed Using Trade Your Bets?
This site is very clear on bookies restricting your account. It is one of the reasons that they adopted a trading approach in the first place.
The site gives you the option of placing bets with bookies. But it notes that you might get gubbed eventually. This is where moving to Betfair will help. They won't restrict you on the exchange.
Therefore, there are a few different approaches you could try. You might decide to stick to just Betfair trades. Or you could start with the bookies and move to the exchange if needed. The other possibility is to switch between both types of bet from the start.
Advantages of Trade Your Bets
With this Trade Your Bets review, we have looked at a number of positive points. The following are some of the main ones to bear in mind.
It is easy to find the current recommended bets.
Lots of picks from around many different leagues.
Choose from straightforward bookie bets or trading on Betfair.
Good level of support offered to members.
Disadvantages of Trade Your Bets
Not everything is good news, though. We have seen the following negatives in this Trade Your Bets review too.
Not clear how much you could win with it.
No free trial or short-term membership plan.
The site looks a little bit dated.
Who Might It Suit?
It is clear that different betting sites appeal to different types of people. Who is likely to give Trade Your Bets a try?
The fact that simple bets and trades are both offered is interesting. This means that it might be a good idea for newcomers. Especially those who want to learn as they go. It seems possible to start off gently and then learn about trading.
It won't suit someone who wants to win every time like Matched Betting. They have a big database and a clear strategy. But you can still expect to suffer losses. This isn't a recipe for sure-fire wins on every match. So you need to be comfortable with the idea of losing sometimes.
Trade Your Bets Review: Conclusion
This Trade Your Bets review has covered a decent football trading service. It is clearly explained and anyone can start using it without any training.
The big question left unanswered is whether you would win money with it. My feeling is that you would in the long run. The big database and the clear presentation mean that you will be making informed decisions.
Like any betting or trading system, it isn't perfect. You could suffer a bad losing streak. But overall it is well thought out approach. It is easy to imagine a newcomer to trading getting off to a nice start with it.