PounceBet Review
Finding the perfect moment to pounce is crucial in betting. Any service that promises to help us do this has to be looked at. A helping hand can make it possible for us to find more opportunities. In this PounceBet review, we will look at a mobile notification service.
It claims to tell us exactly when to place a wager, then automatically work out when to cash out. It even works with Betfair. This sounds like a decent idea, but does it work?
Take a look at what this service offers and what it costs. Does it give you the opportunities you are looking for?
What Is PounceBet?
This is a system that identifies favourites that are currently losing. It searches the market for teams or players who should win. Then it looks for a situation in which they aren't winning.

It covers football and tennis. It kicks in when the favourite team goes a goal down. Or it could be that the favourite in a tennis match loses the first set.
The software analyses the situation. Will the favourite bounce back to win? This depends upon a variety of factors that they take into account. If the chances look good, it is given a rating out of 100.
You are then automatically notified of this situation. The favourite will now be at better odds to win. In theory, this is a good moment to pounce. So you now have an in-play betting opportunity.
The app work solely on Betfair markets. No bookies are involved. You carry out all of our in-play betting on the exchange instead. In fact, you can set up a strategy that automates most of the process if you want to.
What Does PounceBet Provide?
First of all, you download a mobile app. This is available for all Android and iOS devices. You can download them from the PounceBet site or from Betfair.
You are then instantly notified as pouncing opportunities become available. The software tracks sporting events all over the planet 24/7. It then uses a smart algorithm to decide which bets are worth making.
It is easiest to explain with an example. Let's imagine that there is a top of the table vs bottom of the league game. At the time of this PounceBet review, that means Liverpool vs Norwich.
Liverpool go into the game as hot favourites to win. Everything points towards the Anfield team winning. Yet, it is Norwich who score first early on. The odds on Liverpool winning will now increase.
At this point, this tool works out whether it is a good bet. To do this, it takes into account a range of factors. For instance, it will look at possession and shots so far. Then, it will assess their previous form and rankings. Should we now back Liverpool at their new odds?
If they still win as expected, their odds will drop again. This could give you an opportunity to cash out with a nice profit.
PounceBet Index
Once all of the calculations are done, a number up to 100 is generated. This is the PounceBet Index, also known as the PBI. The higher it is, the more you should be interested. You will also be shown the possible winnings to be made.
The minimum PBI for a pounce is 30. However, the chances on winning increase as you go up to higher numbers. We will see later in this PounceBet review how this affects your profits.
The app also shows recent pounces, to give you a feel for it. If we look at their site, it shows some examples too. These include Federer going a set down to Del Potro. We can also see Arsenal going behind Swansea and Napoli losing to Genoa.
If the PBI number is high enough you need to decide what to do. If you agree it is a good bet then a single tap lets you proceed.
You then need an exit strategy to leave with a profit. Using the Auto Pounce functions automatically places bets and cashes out. If you are confident of your strategy then you can do this manually instead.
If you take the auto option, the odds need to drop sufficiently to guarantee the profit level you set. Otherwise, you could choose a strategy that doesn't cash out.
Who Is Behind PounceBet?
This service is offered by a company called PounceBet Limited. Their Twitter profile states that they are based in London.
PounceBet have been offering this system since 2014. No team members appear to be mentioned on their site. When I looked on LinkedIn, the only person I found was Myuran Balendran. He is a senior software engineer.
According to LinkedIn, Balendran is founder and CTO of PounceBet. However, it has him leaving the company at the start of 2018. Their Companies House registration confirms the London address but not much more.
How Much Does It Cost?
The mobile app is free to download. But you then need to pay for the ongoing service. There are three levels to choose from.
Basic subscription. This is the simplest option that automates most things. Just choose a default stake and how much profit to cash out with. All of your bets will follow this pattern. So, you need the odds to drop in each case until the percentage profit is met. It costs £7.99 per month for this level.
Standard subscription. In this case, you can have two strategies on the go at any time. One is for football matches. The other is for tennis matches. This lets you adapt different approaches with more flexibility. For example, if you are more confident in one of the sports you might prefer to cash out manually. This cost £9.99 each month while I researched this PounceBet review.
Expert subscription. This is where you have most flexibility. As in the previous case, you can have separate football and tennis strategies. You can also tailor your stakes using the PBI, the odds and the type of pounce. It is also possible to choose to blacklist teams and players you want to avoid. It cost £14.99 a month for this option.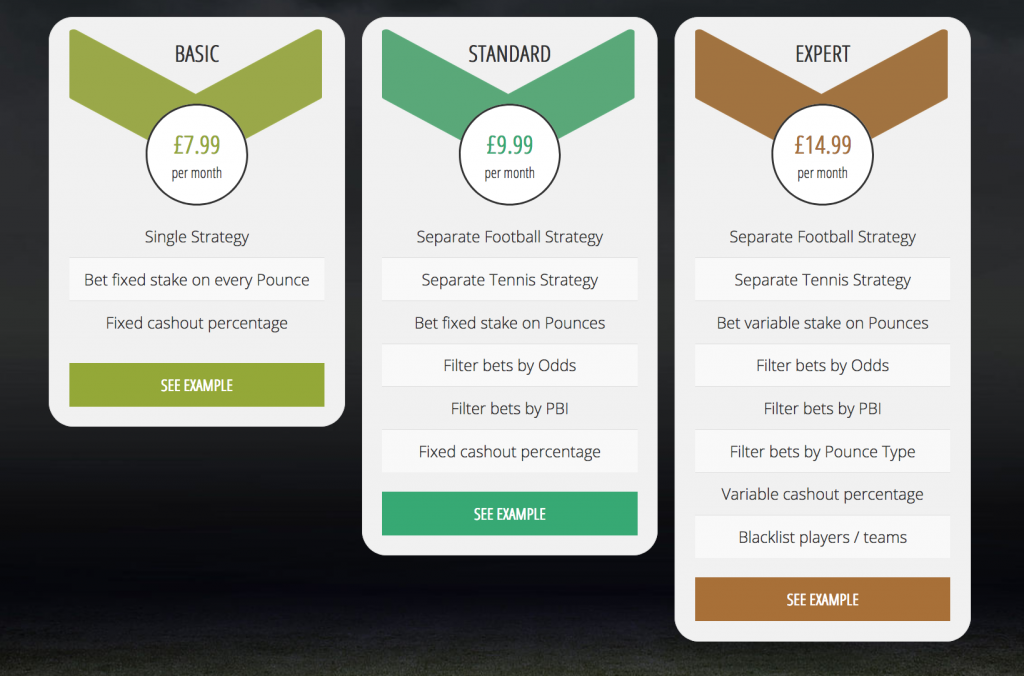 There are all set up as rolling contracts. There are no contracts in place and you can cancel at any time.
At the time of this PounceBet review, there is a trial offer. You can try it for 2 months for free just now. Because most sports have been cancelled due to the coronavirus, existing trials have been extended too.
Will You Make Money?
So far in this PounceBet review, we have seen an interesting system. But what about the amount of money that you could make. Do the numbers stack up enough to make it worthwhile? Or will you barely earn enough to pay for the subscription?
The PounceBet site gives us some interesting figures to consider. For instance, they point out that up to 249.8% ROI could have been achieved in 2018. This really comes down to using a perfect strategy. It also doesn't take into account Betfair commission or your strategy fees.
In the saw way, 2019 had a possible maximum of 127.3%. Remember that you might decide to create your own strategy. So, your profit figures will always be unique.
Perhaps a better indicator comes from a look at their win percentages. This can been broken down by PBI. The following are all of the pounces since the service started up to their latest updates.
There have been 2217 pounces above a PBI of 30 by the time of this PounceBet review. These have given a 63% win percentage so far.
2128 of them have been calculated at over 40. The win percentage in this case is 63%.
There have been 1976 bets with a PBI of over 50. A 65% win percentage has been seen on them.
If we look at pounces over 60 we can see 1539. The win percentage is 68% in this case.
Over a PBI of 70, there have been 867 possible bets. This has given a win percentage of 73%.
A PBI of over 80 has been seen on 380 occasions. These have given a 79% win percentage.
So, the higher the PBI the better the win percentage. This seems to suggest that the calculations they work out are effective.
At the time of this PounceBet review, I could also see another statistic on this site. This states that betting £100 on every pounce would have given a £8,451 profit.
It is important that we look at the variables here. First off, it is clear that the PBI is very important. If you stick to only higher numbers you will win more times. However, there will be far less bets to choose from.
Your choice of strategy is also vital
Your choice of strategy is also vital. If you choose a great strategy, you will be more successful. The auto strategies that you can choose are useful. But an expert trader will be looking to squeeze every possible ounce of profit. This means picking the perfect moment manually.
The company notes that the odds drop in 90% of cases where they notify of a pounce. In theory, this means that there is profit to be gained in 90% of pounces. The key is in making the most of these opportunities.
To help you understand it better, they have listed the first 10 pounces from 2018. 8 of them won and the 2 others lost. The odds on the list vary from 1.31 to 2.18. The possible profits they have noted run from a loss of 20% to a 100% profit. As we have seen in the PounceBet review, not every bet ends in a win.
The site then shows how different strategies would have fared on these cases. Betting on everything with the basic strategy doesn't cash out on anything. This is high risk and gives the best profits on a good winning run. In this case, the losses for those 10 pounces were £200. The profits totalled £541.
The next strategy that they assess on the same 10 pounces is with protection. This is where it is automatically cashed out when odds move in your favour. There is no exact figure given, as this depends upon the threshold set. However, it gives lower profits will less risk than the previous example.
Another set of results show what happens if the PBI filter is set. In this case, we only want those bets with a figure of above 65. This rules out 5 of the 10 bets as being too low-rated. Two of them are the ones that eventually lost. The remaining 5 all won, giving a total profit of £304.
Other expert strategies that they look at give bigger profits. These include using the blacklist function and varying the filters, as discussed elsewhere in this PounceBet review.
These examples show us how your strategy affects the profits. Yet, we need to remember that they are based on 8 wins out of 10. The figures we saw before that suggest that this sort of return isn't too common. A good strategy will help, but you also need a nice run of results to turn a profit.
How Many Bookies and How Many Sports / Markets Are Included?
This system is based purely on placing bets on Betfair. It uses in-play betting opportunities as they arise. So, there is no need to place any bets with bookies.
In terms of sports, only football and tennis are covered right now. As we have seen in this PounceBet review, you can choose different strategies for each sport. Bets are usually placed on outright winners.
The system seems suitable for other sports too. It will be interesting to see if they extend it to other sports in the future. It is easy to imagine rugby, cricket and some other sports being included.
What Are PounceBet Reviews Saying About It?
There aren't many reviews of this service to look at yet. I could see a few ratings on sites with the apps. To be fair, they vary widely, so it is hard to judge on this.
Possibly the best indicator is found on the Betfair site. Here, it is ranked as 4.73 out of 5 stars in the apps directory. This is based on a total of 42 ratings.
The highest score is 4.82 for ease of use. The lowest number is 4.69 for performance. With no comments to go through, it is difficult to read much into this, though. It is certainly higher than the ratings seen on the apps sites.
On Twitter, they have a modest following of under 400. Overall, it is difficult to get much information on what people think. Even on betting forums, I can see people asking about them. But there are no replies to look at.
Will You Get Gubbed using PounceBet?
You are only going to use Betfair for your bets. So there is no risk of being gubbed. You don't need to place any bookie bets at all.
Just remember that the Betfair commission comes off your profits.
Advantages of PounceBet
Are there some good reasons for using this service? In this PounceBet review, we have seen the following advantages.
Very easy to use
Choose your most suitable strategy
The PBI number tells you the possibility of winning
A high success rate has been noted to date
Can be used by people of different experience levels
Disadvantages of PounceBet
This PounceBet review has seen some weak points too. If you are thinking of giving it a go then take the following into account.
The basic strategy is quite inflexible and fairly high risk
A good exit strategy is needed
You will lose on some bets, even with a high PBI
High PBI pounces aren't too common
Who Might It Suit?
The different subscription plans and strategies make this an option for a range of people. Anyone who likes a fairly high risk level could go with the basic strategy. You don't need to be a trading expert to do this. Everything is done automatically for you. But it will produce mixed results of big losses and big wins.
If you are new to Betfair, you will want this automatic approach. At least until you are feeling confident about making your own decisions.
If you are confident about trading then you can choose a more advanced strategy. This lets you lower the risk by hedging and cashing out. It also give you a lot more control over how you bet. The basic profits can be increased nicely in this way. But you may need to actually follow the action rather than just catch up later.
It won't suit someone who doesn't ever want to lose. It isn't like matched betting, where you always win. Rather than steadily winning smaller amounts, you might see big swings. Some people might like this but for others it could be too nerve-racking.
PounceBet Review: Conclusion
This PounceBet review has covered a betting service that gives you an interesting way of trading in-play on Betfair. It uses a sensible approach that has produced decent results so far.
The different strategies mean that it may suit a wide range of people. If you like the thrill of in-play trading then it is a helping hand in identifying opportunities. If you are new to trading then it is higher risk and less flexible.