In-play football strategies that work
Have you heard about in-play betting in football and wondered whether to try it? The amount of in-play betting has increased hugely in recent years. This is a popular way of adding some extra excitement when watching a match. But could it also be profitable for you? In this guide, I'll be telling you about the some in-play football betting strategies.
You might that this is a highly complicated type of betting. Maybe you expect it to involve complex and time-consuming strategies. Thankfully, this isn't really the case, although it does need some research carried out. Pretty much anyone can try it, but not everyone will do it well enough to get a profit.
First of all, there are some things that you need to know about this approach. Let's look at the basics. We can then see what type of bettor is best-suited to doing this.
What Is In-Play Betting?
In-play betting is where you place a wager on a match that has already started. This means that the odds will be fluctuating all the time. The ebb and flow of the match will determine what happens in the different markets.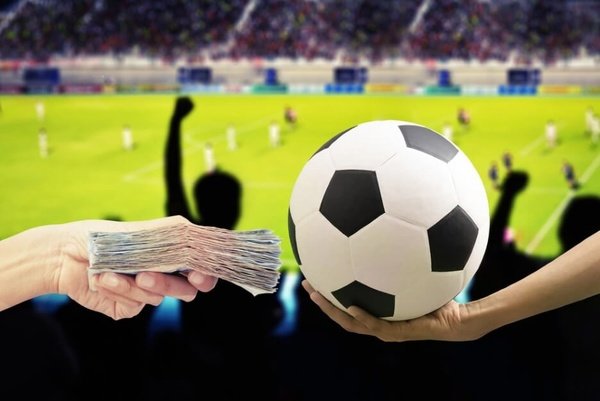 The massive number of online bookies and exchanges makes it easy to place these bets. All good bookies offer this option. You will usually find this in an "in-play" or "live" tab on their websites. Many of them let you follow the action live on their site too.
You can usually bet on a range of markets, as you would with a pre-match bet. Choose who you think will win or who will score next. Or how many goals will be scored. Choosing the right market is one of the keys to success. So we will look at that in a minute.
Some bookies say that they make more than half of their profits from in-play betting. So it is clearly extremely popular. And something that the bookmakers win plenty of cash on. It is easy to see why they go all out to encourage it.
The nature of in-play betting brings up new challenges for bettors. For a start, this is a fast-moving market. You need to be ready to think on your feet and act fast. Lots of punters get carried away in the thick of the action.
As for making money, the key is in finding value. This usually means using a betting exchange. There just isn't the same chance of getting value from a bookie. With that in mind, let's take a look at some of the best strategies for in-play betting.
Laying the Draw In-Play football Betting Strategies
This is probably the most sensible way to bet in-play on a football match. It is also one of the easiest to get to grips with. This makes it ideal for someone who is getting started on this kind of betting.
The classic way of doing this used to involve laying the draw before the kick-off. You would then wait for the first goal to go in. After that, you would hedge all of the different outcomes possible. This can lead to a tasty profit if things go your way.
However, this has become a less popular approach over time. Part of the reason for this is that is now less profitable. Therefore, we have had to look for a new way to lay the draw.
The solution? Laying the draw in-play. This can prove to be far more profitable than the pre-match option. So how does it work? The first step is to look for a match that is in the second half but still level.
You can then lay the draw using in-play betting. This works by lowering the risk that you are running. The odds on a draw will be lower than they were pre-match. And the profit is bigger if one of the teams then scores a goal.
Another option is to just lay the draw in this way and leave it. So, you don't need to trade out of the position. This makes it even easier to use this strategy. It's no surprise that a lot of newcomers to in-play betting choose it first.
When should you think about laying the draw in-play? The best situation is when the favourite has a strong incentive to win. Maybe they are pushing hard at the top of the table and need the points.
Or perhaps it is a cup game that is vital to their season. It is good news when the favourite has strong reasons to go for it. This means that they aren't likely to settle for a draw.
We also want to see that the other team could score. They might be the underdog, but they need to show some signs of danger. Maybe they will hit with a fast goal on the counter-attack. If only the favourite looks like scoring, the best move might be to just back them.
Laying the Correct Score on In-Play football Betting Strategies

The previous example is the easiest way of using in-play betting. But it certainly isn't the only one. Another strategy you might like is laying the correct score.
In this case, we are betting on there being more than one goal. Why is this suitable for in-play betting? If you place this sort of bet pre-match, the odds will be high. Wait until the game kicks off and the odds will be better. This opens up more opportunities for making money.
You want a situation in which there is urgent need of a goal. One of the teams needs to be desperate to score. For example, the home team might be the favourites in a cup time. But they are losing by a goal in the second half. If they fail to score they are out.
In this case, you expect to see them push hard for an equaliser. This also opens up the possibility of the away team hitting on the break. A one goal difference isn't a big amount. Even if the game is near the end, the players should keep going to try and recover it.
You will also want to take a look at the way the game is going. Is the team in the lead killing the game? Or it not very open and end to end? Does the team that is behind have a game-changer on the bench? Or does their manager tend to make bold tactical changes in these situations?
So far, we have seen that you need to have a reasonable grasp of the game. It is important to bear this in mind. Someone with no interest in football will struggle to understand the subtleties of these situations.
Corners In-Play football Betting Strategies
You can find an in-play betting strategy for most football markets. If you can bet on it pre-match, you can probably do so in-play too. We could look at betting on corners, for example.
The situation the match is in is vital here. Pre-match betting on corners is more about assessing the teams. You would make your wager based on their respective strengths and history of getting corners. This involves a lot of guess-work.
For example, the favourite might tend to win a lot of corners. But if they take an early lead they might ease off. Or they might be very accurate and clinical in their attacks in this game. This could lead to them scoring more goals than getting corners.
Once the match is underway, you can see how it is unfolding. What if a team is chasing the game? They might start hitting long balls and winning more corners. If the defending team is clinging in, they might concede corner after corner.
Even a team that doesn't usually win a lot of corners might get a cluster of them. They often appear late in the game at things get desperate. It is impossible to predict accurately. But you can get a feel for what is most likely to happen.
If it has turned into an unadventurous midfield battle, there will probably be fewer corners awarded. The manager chasing the game alters his tactics it could be a sign. If he brings on a tall striker or moves a defender up front, expect corners to follow.
Equally, a team defending a lead might introduce a no-nonsense defender. He could be someone who is happy to put the ball behind regularly. These are all factors to take into account.
What Other In-Play Betting Markets Are There?
Is there a certain type of football bet that you like? If there is, you can probably bet on it during the game too. For example, there is the over/under goals market to look at.
It is now more common to bet on over-under goals in-play than before the game. This is because it is easier to get a feel for the way the game will go. You may feel confident about betting after just a few minutes.
A popular tactic here is to bet on fewer than 2.5 goals before it starts. If around 15 minutes pass with no goals, you can then lay under 2.5 goals. This is because the odds should have shortened by this stage. So, you will be looking for a profit no matter what happens.
You could also look at the first half goals market. Statistics suggest that two-thirds of matches have goals in the first half. The odds before the kick-off are generally too low to be tempting. But the odds often increase quite soon after it starts.
Total goals and next goal are other popular in-play markets. In each of them, you should be looking for a strategy to help you out. The fast-moving nature of these markets means that value can be found. You just need to know where to look for it.
Who Should Try In-Play Betting on Football Betting?
This approach isn't right for everyone. But for some bettors, it is an exciting and profitable idea. The following are some of the key factors you should look to meet.
Be able to think on your feet. This is a fast-moving market and value can pop up at any time. You might need to change strategy rapidly.
Good bankroll management. You will want to be able to manage your funds well. It can be too easy to get tempted into chasing losses with in-play bets.
Able to dedicate time to it. You need to watch the games and the markets as they evolve. This isn't the type of bet you can just place and forget about.
Have decent knowledge of football and betting. This isn't something that requires you to be an expert. But you do need to understand the basic principles of football and betting. This will help you to see trends and opportunities.
Enjoy watching football. This isn't essential, but it makes sense. If you don't like the sport, you won't be happy to have to watch so much of it. A true fan will look forward to every game.
Able to keep cool and make good decisions. You need to keep a clear head even when things get really exciting.
How to Prepare for In-Play Betting
The best idea is to bet on matches that you watch. You could follow the match online through text updates. But you will miss a lot of the details in this way.
If you can't watch live on TV, check a bookie's site. You might be able to follow it in this way. For example, Bet365 is a good choice. There are also some sites that provide live data feeds from football games. These include the popular Flashscore.
Nothing really beats seeing what happens with your own eyes. As we saw earlier, a lot of the strategies depend upon you noting the match evolution and swings. So, take some time to find a way of watching the game.
You should also look to do some research too. It is good to know as much as you can. Which team really needs to win? Who is on the bench for both of them? Does one of them traditionally start or finish games strongly?
You never know exactly what will crop up, so you need to be ready to react. The more information you have ready the better.
Then there is bankroll management mentioned earlier. You should put some thought into how much you plan to wager. This will help you to make fast, accurate decisions.
You can use free stats sites to find the figures you need. The best ones include the likes of Soccerstats and Soccerway. Look for one that it easy to use and navigate.
Once the Game Starts
Don't just rely on your own eyes. While this is a part of the process, you will also want to see some stats. Combining these two methods is perfect.
You will find statistics for in-play betting on most bookies' sites. Choose a reliable bookie that you trust to stay up to date on this matter. Some of them might lag behind the play.
In this way, you might spot something you can use. For example, you might notice from watching the game that one team is dominating. But this isn't yet reflected in the corners awarded. It could be that they are due a run of corners to reward their play.
It is important to remember that you should only bet when the conditions are right. Don't feel under pressure to make a bet just because you are watching the game. This is where being a football fan helps. You won't feel that you have wasted you time just by watching without wagering.
Make sure you are placing value bets. This is the key to using the right in-play football betting strategies.
Another point to bear in mind is around the bets that bookies offer. As you watch, they might pop up an ad for a certain type of bet. Generally speaking, this is likely to be a poor value bet. Stick to finding your own bets through good research and instincts.
As mentioned earlier, betting exchanges are more suitable for in-play betting. You can also check a comparison site like Oddsportal. This will let you see a live feed of the different prices around.
In-play football betting strategies Conclusion
In-play betting on football is hugely popular for some very good reasons. It is exciting and adds a lot of fun to watching a game.
Having said that, bookies love it for a reason. They make tons of money through rushed and ill-judged bets. It is easy to get carried away and lose money in this way.
We can safely that this isn't right for everyone. You need to be a footie fan and have a decent grasp of betting markets. Of course, if you are already a fan, you can learn about betting.
Get it right and in-play betting can be profitable in the right circumstances. It is a great feeling to pick up some wins in this way. However, it isn't a substitute for a solid, sustainable approach like matched betting. Instead, I would suggest that you look on it as an interesting addition to your betting.
If you already enjoy watching football, in-play betting can add some extra spice to the games. For some people, this makes it an ideal way to place some smart wagers. Finding the right in-play football Betting Strategies will help you profit over the long term.