Five best football betting strategies
Football is certainly the most popular sport when it comes to online betting. It attracts tons of money on a regular basis, but most of the players are losing in the long run. The reason is simple, they have no strategy and try to guess what's going to happen in a certain match. Such an approach is guaranteed to fail in the long run, as the bookmakers always have an advantage thanks to the margin they add to each betting market. This article will show you the top five best football betting strategies and how to take full advantage to win in the long term.
Before I start talking about the 5 best football betting strategies…
If you're tired of betting scams and want a proven making money system check out my recommendation below. It's helped me earn a small fortune over the last year alone:
Recommended: Go here to see my no.1 recommendation for making money betting
If you want to be a winner, you will have to be smart. The system works in a way that favors the bookies, but the competition for customers between them creates opportunities thanks to promotions and other factors.
1. Football accumulator offers
The so-called accumulator bets are very popular. Simply put, you can select more than one match and place your wager on all of them. The odds on each selection are multiplied and you get a tasty overall price. Usually, there's no limit on the number of matches you can bet on.
What people miss here is that the bookmakers are way ahead, because each selection has a certain margin that favors the sportsbook. By multiplying the margins, they become even larger and your overall expectation, in the long run, is terrible. This is why the bookies are trying to encourage the players to bet on accumulators through various promotions.
One of the most popular among them is that you get a refund of your stake, if only one selection fails to win. This creates a great opportunity to win without a risk by laying each selection of the accumulator on a betting exchange. If you don't know what laying means, it's essentially betting against a certain outcome to happen.
Here is a video example of how it works using Accumulator Generator.
For the strategy to work, it is essential to select games that are not played at the same time and there's at least a two hour and a half gap between each match. The main concept here is that if only one selection of the accumulator loses, you get a refund of your stake.
As soon as you find enough of them, place your wager. The next step would be to lay the first selection at the betting exchange. Initially, you will be laying against your original stake at the bookie. When one selection loses, you must keep laying. This time, you are laying against the refund offered by the sportsbook and the stakes are much smaller. You should keep doing this until you hit two losing selections. At this point, you have locked the profit and it's in your betting exchange account.
There are a couple of factors you need to have in mind. For a start, check the terms and conditions of the bookie promotion. There usually are requirements of a minimum price of each selection and a number of selections that will qualify for the promotion. Also, the betting exchange will usually charge a certain commission you have to calculate. If you execute the strategy correctly, you can profit up to 20% on your back stake with this strategy.
2. Football Matched Betting
Probably one of the simplest profitable football strategies is matched betting. All you need is a free bet offer which is something almost every bookmaker on the market has. At the very least, most sportsbooks will give you a welcome offer in the form of free bets. Often, there are other free bets for a limited-time only. The important thing is to find a free bet offer, so you can apply the matched bet strategy and win without any risks. Simply put, you will be backing a certain outcome at the bookie and laying it at a betting exchange. Thanks to the free bet offered by the sportsbook, you will have a guaranteed profit no matter what.
Typically, there are a couple of different phases here and I will give you an example how to easily go through each of them. Let's say, that a certain bookmaker is offering a £10 free bet on football if you place a £10 wager. Here are the different steps:
Step 1: the first step would be to place the qualifying bet. For example, you decide to stake £10 on Arsenal to beat Newcastle at home. At the same time, you go to a betting exchange and lay Arsenal. Usually, this will bring a small loss because of the difference in the odds. However, you will get a £10 free bet that makes up for that.


Step 1 example

Step 2: it's time to use your free bet of £10. Similarly to step 1, you should back an outcome at the bookmaker and lay the same outcome at a betting exchange. The aim is to extract 80% of the free bet value or £8 in this example.


Step 2 example
If we make the final calculations, you invest £20 during the first step and lose roughly £1 because of odds differences. Since you have to play with the free bet, you aim to make £8 profit. The total amount you have at the end of the day is the £19 from the initial investment + the £8 free bet profit. This makes for a return of £7 with an investment of £20.
As you can see, matched betting is a sweet way to earn some money and there are plenty of opportunities out there. You could even get a larger profit than the one in the example, if you find better odds. One of the few risks would be to carefully check the terms and conditions of the promotion to avoid any risks.
If you want to learn more about Matched Betting, click here to visit Profit Maximiser.
3. Football price boosts
One of the most popular promotions across all bookmakers is the price boost on football matches. Simply put, the sportsbook will give you enhanced odds for a limited time on a certain market. It could be the match winner, the first goalscorer, or anything else. You will often see such special deals for popular competitions like the English Premier League and the Champions League.
The increased odds already give you an advantage, but you could go one step further and secure profit no matter what happens. You can do that by using the services of a betting exchange to lay (bet against) the same outcome or find another bookie and place a bet on the opposite outcome on odds that will bring you a profit in any scenario.
Price boost example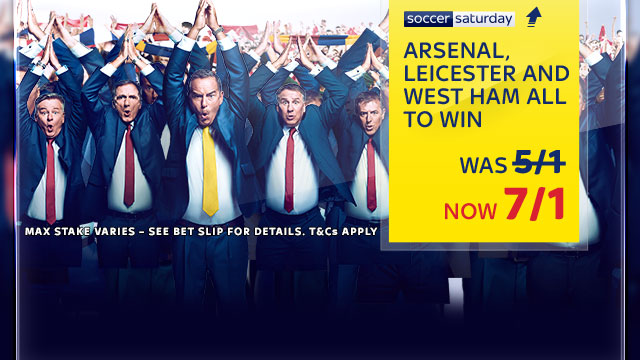 Sky Bet have Arsenal, Leicester & West Ham all to win (8.0)
This can be layed off on the Betfair exchange at odds 6.6.

To work out the profit open the matched betting calculator.
– Select bet type qualifier
– Back stake £50
– Sky Bet back odds 8.0
– Betfair lay odds 6.6
– Commission 5%
– Click enter to work out the lay stake.
That gives us a easy profit of £8.02 whatever the outcome.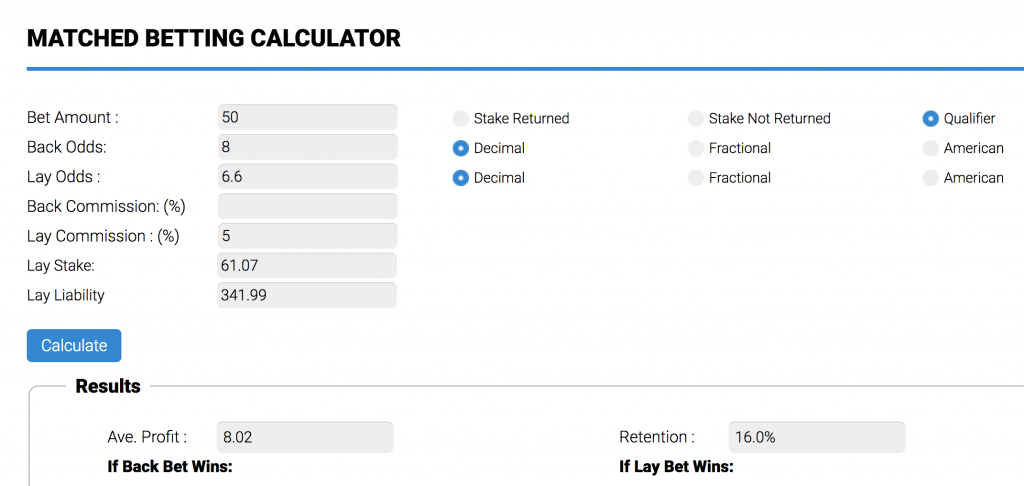 Sometimes the maximum bet is limited by the bookies for prices that are boosted. However, there are countless opportunities each week. If you put the effort, you will certainly find enough games where the arbitrage is possible thanks to the football price boosts. It's a winning strategy that involves no risk whatsoever.
The best website for following price boosts and other bookmaker offers is Profit Maximiser.
4. Football refund offers
Another type of promotion you will often see are the so-called refunds. As the name suggests, instead of losing you will get your wager back in certain cases. A good example of that would be the classic football refund offer if a game finishes 0:0. A lot of bookies will give your money back if you placed a bet on another correct score. This is probably the most common example, but you will be able to find plenty of different promotions that will bring your bet back under certain circumstances.
This often provides great opportunities to find some positive expected value. Let's take a look how this works by using the 0:0 moneyback example I mentioned above. The first step would be to find a correct score option different from 0:0 where the odds of the bookie and the lay odds on a betting exchange are close.
Place your bet that qualifies for the promotion at the bookie and lay the same outcome in the betting exchange. The next step would be to place another lay bet, this time on the 0:0 correct score. The key here is that the odds are low enough which creates an opportunity to win. Also, you should place an underlay bet, which is similar to the standard laying with one big difference. When you underlay, you don't try to get similar results whatever happens. You aim at being break even if your lay bet on the exchange wins and get a huge profit if the bet at the bookie wins.
The same principle applies to all refund offers. You have to find solid odds for the back option at the bookie and the lay at the betting exchange first. Then check the lay price for the outcome that could be refunded. If they are low enough, there's value for the taking.
5. Betfair football trading systems
As you can see in my previous example of profitable strategies, using the services of a betting exchange is essential. It gives you the flexibility to back or lay various outcomes, trade live, and much more. The biggest betting exchange out there is Betfair and it offers the highest number of markets, a lot of liquidity, and tons of opportunities to make money.
Lay The Draw
A good example of a football strategy you can use on Betfair is called Laying the Draw. This approach has been popular for a while and as a result, it's not that profitable as it used to be. However, there are still opportunities to make money with low risk.
As the name suggests, you will be laying the draw in certain football matches. However, it's not that simple, so let's see how the whole thing works. For a start, you have to select a game where one of the teams is a clear favorite to win, usually the home team. Then, the first thing you do is lay the draw. Your intention is not simply to wait for the game to end and take profits. You can secure a win much earlier or take a tiny loss depending on the way the match is unfolding.
Usually, the favorite will be ahead at some point and this is when the price for a draw will skyrocket. You will be able to back it at much higher odds compared to the lay price you took before the game. This will guarantee a profitable outcome no matter what.
Of course, sometimes there will be no goals until the 60-70th minute. In such cases, you could back the draw at smaller odds and take a loss. It's a bad scenario, but it will still cut your losses significantly.
Be careful
Finally, there's the option that the underdog scores first and is ahead. In such cases, you usually should wait up to the 60-70th minute mark and see how it goes. If the favorite manages to take the lead or at least level the score, it's business as usual. Should the underdog is ahead by two goals or more, you will be able to secure a huge profit by backing the draw at a large price. If the underdog is still ahead by one goal only, it becomes a bit tricky. You could risk it and hope they hold on. Alternatively, you could back the draw at a low price and take a small loss.
The strategy is really simple and profitable, if you follow a couple of important rules:
Good selection of games: do some research and find games where one of the teams is expected to win. Ideally, you want to pick matches of teams that score early;
Don't be greedy: the key to this strategy is that you will often win and lose just a fraction of your investment every now and then;
Be patient: it's not necessary to close a game as soon as the favorite is ahead, because a second or third goal will bring you a much larger profit. Usually, you should wait at least until half time before closing the bet.
The good news is that experience helps a lot when you lay the draws and it should become easier to find good opportunities.
Recommended: Go here to see my no.1 recommendation for making money betting