TradeShark Tennis Review
There is no doubt that football is still the leading sport for betting on. Many people love following this game and have a deep knowledge of it. Yet, there are other sports that you could make money from too. You don't even need to be a fan or an expert at the start.
Tennis is one option you might want to consider. With big matches all year round, there is always something to bet on. Will you win big at Wimbledon or clean up at the Australian Open?
Tennis has traditionally been a popular sport among bettors. Could you do it better and make more money? By using clever trading techniques, you can look to earn regular profits on tennis matches. This TradeShark Tennis review will look at one of the best options for learning how to do this.
What Is TradeShark Tennis?
This is widely regarded as one of the leading systems for tennis trading. If you are interested in trading on tennis then this is a good starting point.

It is worth noting that you don't need to be an expert. Neither on tennis nor on Betfair trading. You will learn everything you need to know about both. You can get started easily with this guide.
The official site says it is about "common sense and hard work". So, you aren't going to make a fortune right away. Instead, it all about learning the ropes. You can then put the strategies you learn to good use.
The service itself has been around for a few years. But the information is comprehensive and up to date. Let's take a look at the TradeShark Tennis review in more detail now.
What Does It Provide?
This is a training guide to trading on tennis matches. If you want specific tips they can be obtained with a different service from this company. In this TradeShark Tennis review, we are looking purely at a training package.
What you pay for here is access to a training course. This includes videos that show you the basics. You are also encouraged to advise the owner on your progress. This means that your training can be adapted to your pace of learning.
The basics are well covered here. You will learn everything that you need to know about tennis and trading. Even a complete novice will soon get to grips with the theory.
The idea is that you become an expert trader. You won't just be following tips to make money. Instead, you are trained so that you can make your own decisions. This means that it is very flexible. Take from the training what you need to know and are most interested in.
There is more to come, though. For instance, the Stats Spreadsheet is incredibly useful. This is where you can enter the name of the players you are interested in. You will then see all of the up-to-date stats that you need. It is a great tool that makes life a lot easier when researching for matches and tournaments.
Another useful feature to mention in this TradeShark Tennis review is called Player Notes. This is a spreadsheet that lets you see lots of details on the top players. It covers the top 100 tennis players in the world. It is very handy for anyone who is learning about this sport.
What you'll learn
The actual trading guide starts off with details for newcomers. If you aren't a beginner, you can probably skip this part. After that, it moves on to other, more advanced issues.
For instance, you will learn about staking levels and bank management. There is also good advice on how to control your losses. These are vital areas that not everyone is comfortable with. It is good to see that they are covered here.
You might also like the section called What Do I Do If? This gives you examples of some common scenarios. It is a quick way of finding out what to do in certain circumstances during a match. You can see exactly what the current situation calls for.
What about the tennis trading strategies that you will use? This is the most vital part of the whole service. Learning the basics won't be any use to you without solid strategies. You need to know which bets to place and when to do it.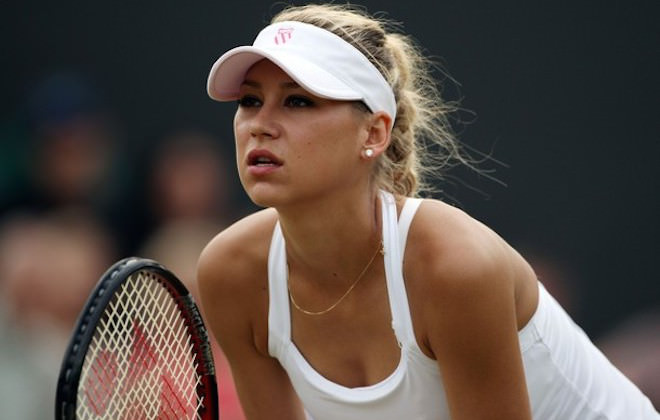 When researching this TradeShark Tennis review, I could see several strategies. The most popular seems to be Lay the Leader. However, there are others that you might be interested in too.
It is always worth having a selection of possible strategies. This lets you choose the right one at any given time. The more you can learn, the more situations you can take advantage of.
Each of the strategies is well explained. You can see from the videos how to carry them out correctly. The videos include examples of the strategies in action. You will even see some cases in which it doesn't work out perfectly for some reason.
Who Is Behind It?
The founder of TradeShark Tennis is called Paul Shires. He says that he discovered Betfair trading back in 2008. According to his comments on the site, he quickly found out how to make money from tennis.
In June 2010, Paul quit his regular job. From this point on, he has traded full-time for a living. This makes his TradeShark one of the longest running names in the industry. He started it as a blog and trading community site.
Apart from trading, he says that his background is in training and coaching. He has more than 30 years' worth of experience in this area. This means that the training aspect of this service is one of its strong points.
I found out a bit more about Paul while writing this TradeShark Tennis review. He was born in Bradford but lives in Worcester now. He said that he helps out with his daughter's cleaning business and also does some dog training.
Why does he now focus on tennis trading? In an interview, he said that he played tennis and table tennis to a decent level when younger. He thinks that understanding the mental side of the sport is a benefit when trading.
How Much Does It Cost?
Getting the right price is crucial with any trading system. This is what lets you start off with a level of investment you feel comfortable with. At the time of this TradeShark Tennis review, the price is listed as £39.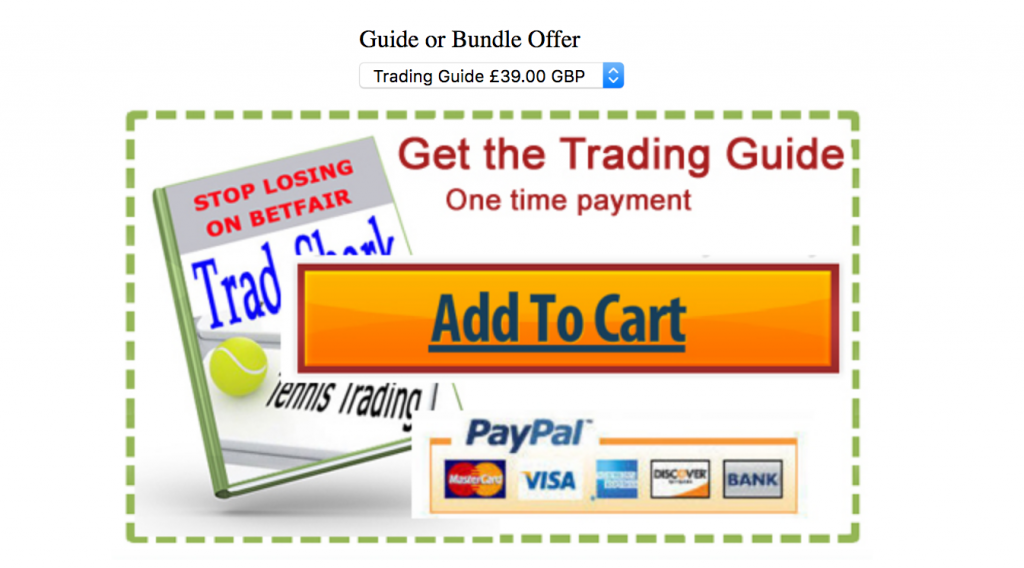 This isn't a weekly or monthly price. It is the cost for lifetime access to the training and tools. There is no ongoing subscription fee. It is clearly stated on their site that future updates are free.
It is a very reasonable cost, to be fair. For just £39, you get access to good training courses and tools. This means that you could become a profitable trader at little cost. After you recover this fee, you will be looking to earn pure profit from then on.
Then there is the lifetime access to an experienced mentor. This is potentially very useful too. Users have commented that the owner is friendly and approachable. If you want to get started on sports trading, this is one of the cheapest approaches.
Also included in the package are 10 days of Trading Tips emails. This lets you see the best tips without finding all of the information yourself. You can even pause them. So that they arrive after you have completed the training.
A bundle offer is currently advertised as well. This costs £49 at the time of writing. You get the TradeShark Tennis access plus two months of Trading Tips emails. This is a saving of £30 off the normal price.
If you prefer just the trading tips, a month of them costs £20. You can also get 7 days of tips for £10. This means that you just get a daily email with tips and estimated prices. You don't need to do your own research in this way.
Will You Make Money?
Of course, making money is the key to being a success at trading. This is why you are reading this TradeShark Tennis review in the first place. You want to see if you can use it to make money. The answer isn't an easy yes or no.
The problem with trading courses like this is that there are no definitive results. Everyone who uses it will then find their own way. So, you can't use other people's results as a guide. I could use his strategies and tool for months and publish the results. But the numbers would mean nothing, as you wouldn't repeat them.
Having said that, there is a lot of good advice here. You will learn how to trade effectively. That is great news for a lot of people. If you learn well, it is easy to imagine turning these skills into profit. You will be able to trade in differing situations all year round from now on.
However, what it doesn't do is guarantee that you win. You can still lose using these strategies. Therefore, it isn't an option if you want sure-fire profits. You will still need to deal with losing streaks.
Overall, this is a decent service for learning how to trade on tennis. But it won't give you constant wins. There is the chance for big wins, though. It is a question of sticking at it and following the right strategies. Expect some setbacks along the way.
Taking all of this into account, will you make money? It seems likely that you will. The information provided is good. Therefore, you can expect to win more than you lose. It is all about using the strategies wisely.
What Are Other People Saying About It?
A look at other TradeShark Tennis reviews helps to show what people think of it. Since it has been around for so long, there are a few online reviews.
In general terms, these reviews are positive. Indeed, you might see it described as the best tennis trading service around.
The positives mentioned in other reviews include the range of tools and the videos. Reviewers also tend to like the fact a mentor is available. On the other hand, some people think that the layout is a bit messy.
The fact that it is so time-consuming to use is also mentioned in TradeShark Tennis reviews. This is a point that is sure to put off some people. Many people look for a fast, simple approach these days.
It is worth remembering how long this service has been running for. In all that time, it has been shown to work. A trading service simply doesn't last this long if it isn't any good. And there would be plenty of poor reviews after all this time.
As it is, more people like this service than those that don't. Since it is the kind of product that normally divides opinion, that is a good sign.
Will You Get Gubbed By Using TradeShark Tennis?
There is no reason for getting gubbed with this service. It is a training guide for Betfair use. So you don't need to place bets with the bookies.
You aren't following exact tips on certain matches. Instead, you are using the strategies that you learn.
Advantages of TradeShark Tennis
There are some good reasons for giving this service a try. The following are some of the advantages we have seen in this TradeShark Tennis review.
Inexpensive service with no on-going cost. You don't need to spend a lot of money to get started.
Easy for beginners to get to grips with the basics. No tennis knowledge or trading experience is needed.
Good variety of tools and strategies. You can really go as in-depth as you want to.
Support available for a trading mentor. There is no need to feel alone when help is always available.
Strong community aspect. This is an important point in any trading system.
Long-running, respected trading service. It has been running long enough to earn a good degree of trust.
Disadvantages of TradeShark Tennis

What about the other side of the coin? There are also some negative aspects to mention in this TradeShark Tennis review.
You won't win every time you trade. Expect to lose matches even when following the strategies
A lot of the information might be obvious for experienced traders. It is focused on beginners in parts.
There is still a lot of time and work needed. Other systems will give you faster results with less effort.
You need to pay extra for the daily tips. This is part of the package just for the first 10 days.
Who Might It Suit?
Is this likely to be the betting system that best suits you? Has this TradeShark Tennis review convinced you to give it a try or not? There are some different aspects to it that are worth considering.
For instance, are you a newcomer to tennis trading? If so, this is a good way of getting started. You will learn the basics well on here. It is easy to learn a few strategies by following the videos that are included.
It is also a low-cost option. This might suit you if you aren't convinced whether trading is right for you. For a relatively small investment, you get to give it a try. It could turn out to be a smart investment over time.
Someone who wants fast, easy profits won't be impressed. You need to put some time and effort into it. It is a good choice if you want to get a new hobby. If you don't have much free time, you will struggle to use it.
In terms of wins, it won't suit you if you want to win every bet. Not everyone is comfortable dealing with losing streaks. The training here tells you how to deal with this. But it is still something to take into account.
What if you are already experienced in trading? A lot of the general information might be too basic for you. However, you can still learn a lot from this course. The handy tools will also make it easier to make good trades.
TradeShark Tennis Review: Conclusion
In this TradeShark Tennis review, we have seen that it is a decent service. It isn't perfect for everyone but it can help in some cases.
It is probably a good choice for someone who wants to get stuck in. If you are keen to learn all about tennis trading, you will do so here. You will want to spend quite a lot of time using it, though
Don't expect easy, guaranteed profits. If that is what you want, look at matched betting. Equally, if you want something fast and simple then you could try a tipster service or surebets. But you can expect to enjoy learning some new skills if you try the TradeShark service.