OddStorm Review
OddStorm claims to offer the "fastest odds comparison and surebets services". Since speed is vital in this type of bet, it is worth taking a look at.
What does it offer and how much can you hope to earn? In this OddStorm review, we will look at all aspects of it.
If you are interested in arbitrage betting, this is an option to consider. Let's take a look at what it is all about.
What Is OddStorm?
Their platform looks through 64 bookmakers to find the latest odds. This information is then used to search for arbitrage bets. These are bets where you are squeezing extra value out of the bookies.

Why is their speed so important? In arbitrage betting, opportunities come and go in the blink of any eye. A second can make all the difference to you in finding the best bets.
The speed of their scanning service is the biggest factor here. Sometimes, the bookies will remove bets where the odds are wrong. This can happen in the blink of any eye. So reacting too slowly can see the chance slip through your fingers.
This speed is achieved partly due to due to them only focusing on football. Many different leagues from around the world are covered. But only featuring one sport is presumably a method they use to save time.
The latest figures suggest that they update pre-match odds every 15 seconds. The in-play figures are updated every three seconds or less. Numbers like these are a lot better than anything their main rivals produce.
For some people, the difference might not sound like much. But anyone who is experienced in arbitrage betting knows how important this is.
As well as only focusing on football, there is another secret to their velocity. They say that they have found a way for their server to process the odds more speedily. This is what lets them give you quicker updates.
What Does It Provide?
The service covered in this OddStorm review is an arbitrage platform. Basically, they allow you to find surebets quickly. It is the type of wager that is virtually impossible to find manually. This site lets you do it effortlessly.
You can use the service using their desktop site. Or else you could try their mobile app. The service is really the same. However, the desktop site offers more customisation options for you.
Let's go through the different options on the Pre-match tab. At the time of this OddStorm review, you will see the following options.
Surebets
Middles
Polish middles
Odds
Asian lines.
Surebets are their most popular option. A look in here shows us that the list of games they find is quite extensive. If you haven't joined as a member then some of the information in here will be hidden.
Each featured match is listed down the side of the screen. This tells you the different odds, bookies and other information that you need. It is easy to use and quite clearly presented.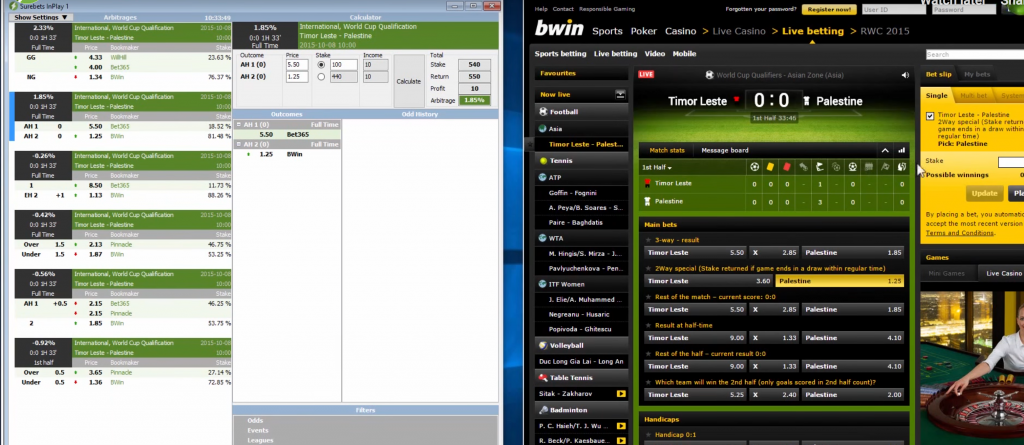 For instance, at the time of writing, I could see TSV Buchbach – FV Illertissen in the German leagues. Clicking on it opens up the calculator. The first half outcomes include under 1.25, over 0.5 and over 1.5. The arbitrage on this bet is given as 1.29%.
Other opportunities when researching this OddStorm review are in other leagues. Games in the Brazilian, Slovenian, Argentine and Swiss leagues are all included. Remember that it makes sense to use high-profile games where possible. These are the bets that bookies are less likely to notice.
You can filter your search to narrow down your options too. For instance, you can choose the minimum and maximum arbitrage. Choose your stake level to see how much you could win.
You also have the option of setting an alarm in certain situations. This lets you stay up to date even when you are doing something else.
The In-play tab covers surebets, middles, Polish middles and odds. At the time of checking, there were plenty of opportunities here too. As we will see later, you can choose pre-match, in-play or both.
The Calculator tab allows you to put in your own figures. As for Prices, this covers the cost of the service. We will look at this a bit later on in this OddStorm review.
There is also a blog and a news section. Overall, the website is fairly simple. But it contains enough information for you to get started.
Who Is Behind It?
This service has been running since 2007. The company behind it is called OddStorm Ltd. It is described as being formed in the EU, although I couldn't see an exact location mentioned.
Their site says that they are made up of "sport experts, developers and consultants". They also say that they want to provide "high quality unique services, betting experiences and support"
A quick look on LinkedIn brought up Iliyan Lishkov in Bulgaria as their COO. I then saw that Chavdar Kopoev, also from Bulgaria, is a software engineer who is listed at their CEO.
They are described as being the first firm to provide good quality Polish middles online. This came in 2008 and they have continued to expand since then.
How Much Does It Cost?
Arbitrage bets tend to give small, regular wins. Therefore, it is important that you get a service that doesn't cost too much. You don't want the cost of the service to wipe out your profits.
There are actually a few different plans you can subscribe to. The first choice is if you want pre-match, in-play or a combination of both of these approaches. This is a hugely important point. It will determine how you can place your bets.
The pre-match only option starts at €7 for a day. You can also choose a weekly package for €50. A month costs €155 and a year €1395. These are the prices at the date of this OddStorm review.
The in-play alternative is more expensive. A single day of the service costs you €9 and a week is €63. If you choose a month of this service the price rises to €195. For a full year, you need to pay €1755.
What if you choose to combine both pre-match and in-play? In this case, you pay €14 for a day. If you want a week it costs €95. The monthly price is €295. If you want it for a year you need to pay €2655.
The prices quoted above are for the standard service, called VIP. There is also a higher level, called VIP Plus. This is more expensive. It starts at €250 for a month of pre-match. The top figure is €3510 for a year of pre-match and in-play.
This VIP Plus option has a number of advantages listed on their site. These include the following.
Access is provided to OddStorm Navigation
Navigation is possible real or virtual machines
You can use different bookmaker accounts on each machine
Basically, the VIP Plus option gives you smoother, one-click betting. This is good to have, of course. But it could be argued that it should be added as standard. It seems like a fairly pricey way of giving something that you would expect to be there.
The VIP Plus service also promises that you will get more bets. They say that you will catch 30% more of them. This means being able to place more wagers before the price shifts.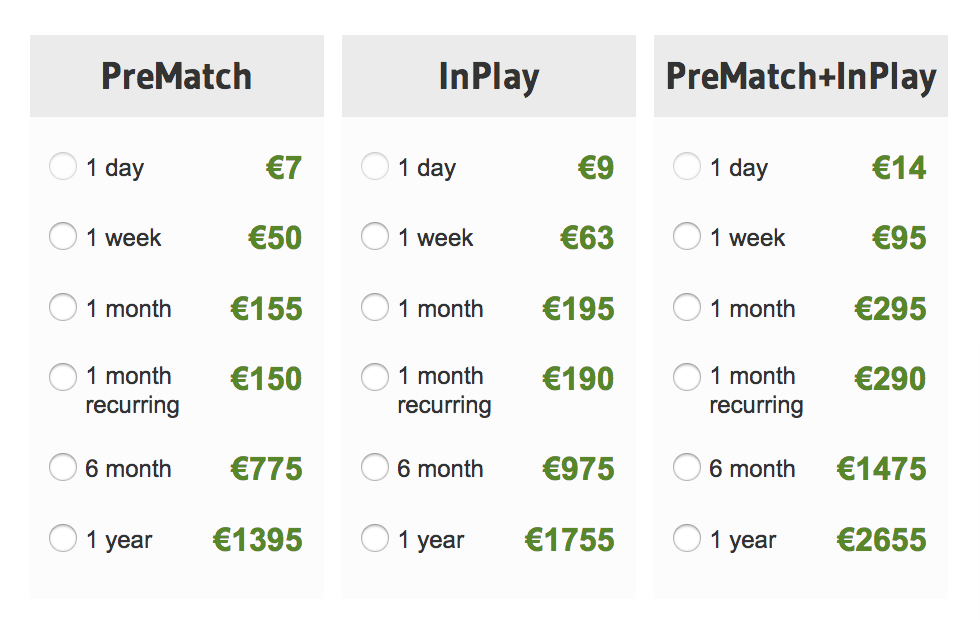 In fact, the service is quite expensive whatever you choose. This might put off some people but not others. It all depends what you are looking for.
Will You Make Money?
As we have seen, the subscription cost is fairly high. This means that you are going to need to make a lot of winnings on your bets. Will you earn enough to come out in profit?
You are going to have to win a lot on your bets to come out ahead. Just covering the cost of joining is going to take some time. You don't want to end up simply breaking even.
So, you really need to dedicate enough time to placing these bets. The alarm function means that you are notified of new opportunities arising. You don't want to miss any great bets with big profits.
If you have the time then there is money to be made here. Surebets and middles are proven ways of winning from the bookies. The big question is how much can you win. This ultimately comes down to the quality and quantity of the bets.
A fairly large selection of bets always seems to be available here. This means that you can find ways to make money without too much problem.
You might take some time to get used to the layout of the site. It is quite different from most arbitrage sites in this respect. However, once you get to grips to with it, you will see that it is easy to use.
As is typical with this sort of site, there is no guarantee of how much you can win. It all depends upon which bets you make and what happens to them. Every user will have a different experience because of this.
Other OddStorm reviews confirm the possibility of decent profits. They mention the speed of the service as being key in this. You will still find that some odds disappear by the time you try to place the bet. But this should be less common than on slower platforms.
However, given the high cost of joining, you might want to carry out a short trial. A single day or week subscription will allow you to get a good feel for it. Do you win enough in this time to justify the cost?
How Many Bookies and How Many Sports / Markets Are Included?
As noted earlier in this OddStorm review, football is the only sport covered. They use 64 bookies to find arbitrage opportunities.
While you only see football matches, there are a number of markets. These include over / under, corners, correct score and so on.
As for the different types of bet, which will you see? The following are the kinds that are covered:
Surebets guarantee you a win every time. These are arbitrage bets that tend to pay out relatively small amounts. You cover all of the possibilities. The amount you win just depends upon the exact outcome.
Middles won't always win but they can give bigger wins. You are looking for middle ground that leads to more than one win. The software looks for low-risk opportunities in this area.
Polish middles are something you won't see often. In fact, this site claims to be the leader in them. They are like middles except you don't want the middle outcome to occur. You can win both bets if the middle ground doesn't happen.
What Are Other Odds Storm reviews saying?
This is far from being the only OddStorm review on the internet. The other reviews I have seen are fairly positive. There is certainly no suggestion that it is a scam or fraud.
Most people seem to like the speed of the service. A few reviewers have pointed out how they were able to place a lot of bets in little time. This is important if you want to win a lot of cash. The more good-quality bets you get the more you will win.
It is clear that a few reviewers think that price is a bit high. Certainly, it isn't a cheap service. This will no doubt put off a lot of people.
A few of the OddStorm reviews also mention the layout being awkward to use. There are also some comments made about a few errors being spotted. Other, relatively minor issues have also been noticed.
Overall, the reviews say that this is a decent product. There are a few problems mentioned, but it does what you expect it to do.
Will You Get Gubbed using OddStorm?
What are the chances of your bookmaker accounts getting closed or restricted? The simple truth is that this is always a risk with arbitrage bets. There is no way to completely avoid this risk.
The bookies don't want you to grab lots of value from them. And you don't want to pay for a service that you can't use effectively. The more accounts that are gubbed the less options that you have.
There are some general tips for avoiding this being a problem. For example, some people will round up bet amounts so they don't stand out. It is also a good idea to vary between different bookies.
The fact that over 60 bookmakers are scanned here is a help. This means that you can use a number of them. It won't guarantee that you won't eventually be gubbed, though.
Advantages of OddStorm
So far in this OddStorm review, we have seen the following advantages.
Fast updates
Easy to use
Good range of football markets
Different types of bet (surebets, middles etc).
Alert advises of new opportunities
Disadvantages of Odds Storm

There is no doubt that the price is the biggest disadvantage with this platform. It is likely that a lot of people see it as being too expensive.
Not everyone likes the layout, although it is really a matter of taste. It is worth taking a look, to see if it suits you.
Apart from the price, the biggest disadvantage for some will be the lack of other sports. You can only bet on football games here. While there are lots of different markets, this restriction still might not suit everyone.
It is also worth mentioning the one-click bet option. This should really be an advantage of the platform. However, the decision to make it part of the more expensive VIP Plus package goes against this. Now, it is a disadvantage on the standard package.
Who Might It Suit?
What kind of person is likely to sign up after reading this OddStorm review? It will probably be someone who is serious about making money. After all, they will need to pay a hefty subscription fee.
This means that someone with just some curiosity will probably give it a miss. There are cheaper ways of just giving surebets and middles a try. So, you are only likely to pay the price if you are convinced about it.
The speed of the updates is a point that will sway some people. If you understand the importance of speed, you will want to make the most of this advantage.
The alert system also offers a way of finding out instantly about new bets. This is ideal for someone who doesn't want to spend all day scanning the site. If you use your PC for work or other tasks, this is a smart way of betting.
OddStorm Review: Conclusion

There are some very good points about this service. We have seen in this OddStorm review that it is a good service with a few flaws.
If you are serious about getting the fastest arbitrage service you might like to give a try. However, many other people will be more comfortable paying less for a similar but slower service.