Can Casinos Change the Return to Player (RTP) on Slot Machines?
If you are going to play in casinos then the RTP is a crucial figure. This is especially true when you want to grab a bonus.
Yet, not everyone knows what this number is. Or how important it is. The fact is that it is the most important information about any slot.
To use your bank wisely, you need to know all about the RTP you get. After covering the basics, we will look at whether casinos can change this figure. You might be surprised at what you find out.
What is RTP?
The starting point for this subject is in understanding the RTP. This is the Return to Player on a casino game. Therefore, it tells you how much of the wagers are given back as wins. You will see it expressed as a percentage.
It would be wrong to think that this is how much you will personally get back. If a slot has a 95% RTP and you bet £100 what happens? You might get back exactly £95. But it is more likely that you receive more or less than this.
This is because the number is worked out over thousands or millions of games. It is meant to be a guide to the overall return to all players.
The more you play, the closer you should get to this number. If you play thousands of spins, you should be close to that 95% by the end of them. The casino expects to pay out that figure overall but not to every player.
This is how casinos make their money
The RTP ensures that they take in more money than they pay out. With a 100% rate, you would get back what you put in, theoretically.
How could a game lose the casino money in the long run? The RTP would need to be over 100% for this to happen. You will never see this sort of figure. It just doesn't make sense for the casino operator.
Slots will usually have an RTP of between about 92% and 97% or so. But this can vary widely. Even the same developer can have very different RTPs on all of their games.
Either way, it is the key for the casino to make money. It is also the best way of seeing how to make money as a player.
In this article, we will be looking at the impact of changed RTPs. It is important to remember that this has a massive effect on your winnings.
This is due to the play through requirements on bonuses. You normally need to play through any winnings 30 or 40 times. Sometimes more. Every time that you play through the cash, the house edge takes a chunk out of it.
Therefore, you need to be very aware of this number. It will have a direct effect on whether you walk away with some cash winnings.
Can Casinos Alter the RTP of Their Games?
You need to bear in mind that most casinos don't develop their own games. They will add in games from third-party software developers. This is why you might see the same games on different sites.
The developer works out the game's mechanics. As part of this, the payouts and win frequency are included. This will give an overall RTP for the game. If there is a progressive jackpot then the contribution to this may be noted separately.
This leads to an interesting question. Can casinos change the RTP on slots? Or will you see the same RTP on the same game anywhere you play it?
It is clear that the developer builds a certain RTP into any of their games. But casinos can opt to tweak it if they choose to.
Of course, they are most likely to lower it than raise it. It would certainly be nice if they made some RTPs higher. But in this article we are going to see instances where the RTP is lowered.
We can see confirmation of this if we look for examples. First of all, Video Slots confirmed the adjustment to some slots' RTP. This was for games from Pragmatic Play, Play'n GO, Red Tiger Gaming and IGT. They said it was done due to new tax laws coming into force.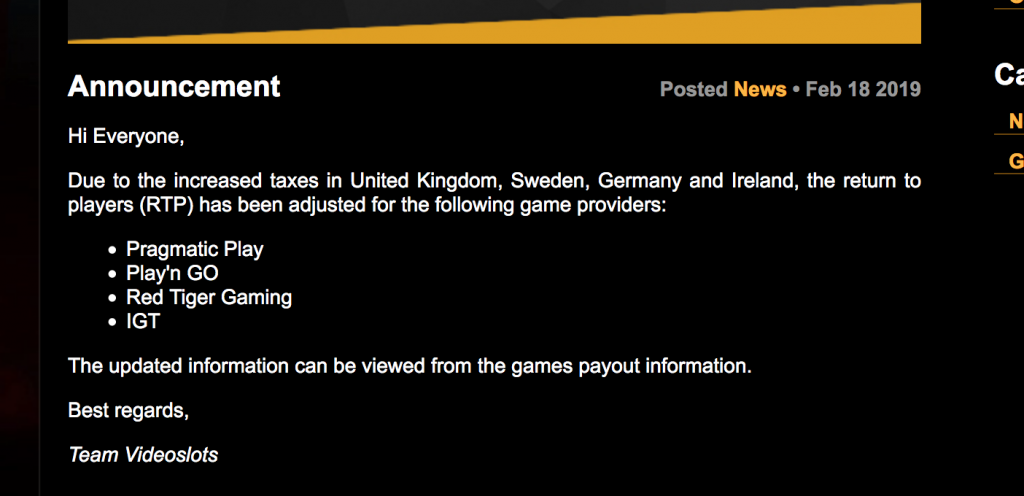 NetEnt is one of the most popular slots developers in the business. Their classic Starburst title is one you will see on many casinos. Yet, the RTP isn't always the same. The NetEnt site has it as 96%. Video Slots states 94.05%.
Just because you see Starburst, you can't assume the RTP is what you have seen before. This is just one example, but it applies to other games too.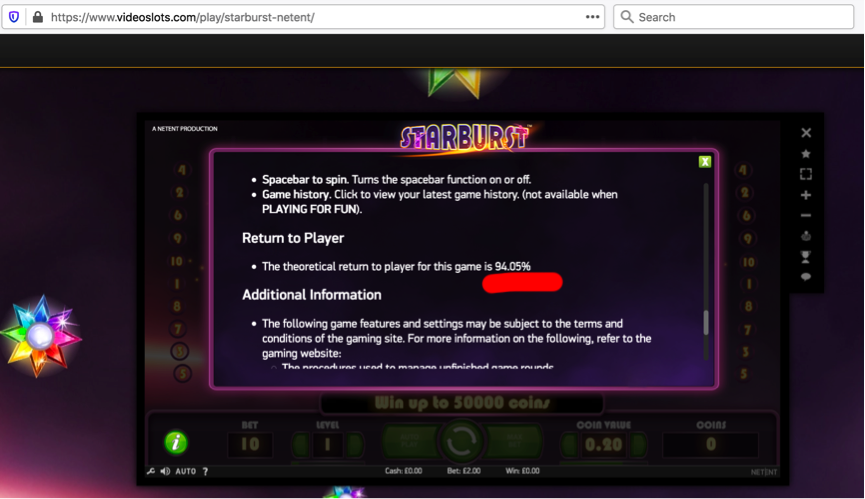 Some games creators will also offer a number of options to operators. This can often be seen in the product specifications that they create for casinos. In these technical documents, a variety of RTPs is sometimes given.
This allows the casino to choose the option that they prefer. Do they opt for a low RTP for more profits? Or do they want to attract more players with a higher number?
What is more of a concern is when they change the existing RTP. This may be done with a game that is on the site. If they do this, they need to make sure that players can see the new figure. They need to know the updated chances of winning.
Do Some Casinos Show the Wrong RTP?
You may notice complaints on casino forums about the wrong RTP being used. This seems to occur at times when the casino changes to a new platform. They may neglect to update the information to reflect the changes.

This shouldn't happen, though. The casino has an obligation to show the correct RTP. They can't show incorrect numbers.
How can you tell if the RTP that is shown is wrong? The bigger the difference, the easier it should be to spot. A small change is going to be almost impossible to spot just by playing. You might only notice after completing a lot of spins.
So, it is difficult to know when this happens. If you regularly play the same game, you may think it feels different. Perhaps you aren't winning as often as before. Maybe you can see your funds starting to slip away.
But you probably put this down to bad luck. I expect that you need to play a game numerous times to be sure. By then, you could have lost a lot of money due to the switch.
Of course, proving that they have done this on purpose is almost impossible. It might be a genuine oversight. Or it might be a move to earn them more money.
Let's look at it the other way and consider why they might do it. What does a casino gain from changing the RTP?
Why Are They Doing This?
The simple answer to this is to make more money. A lower RTP means less money is paid out to players. Even a relatively small tweak can make a big difference over thousands of spins.
If they lower the RTP, they keep more of the wagers. It must be tempting for them to do this. Especially if they are going through a difficult time with low earnings.
Yet they need to get the balance right. Punters will leave if they feel that they aren't getting value. This is especially true if players feel they are being cheated in some way.
Why would casinos run this risk? Are they so desperate to increase their earnings? Or do they see it is an easy way to squeeze more profits out of their games?
Tax Changes
Perhaps the key is in understanding recent changes to the gambling scene in the UK. I wrote a while ago about the FOBT stake cut. This has changed the online betting industry.
Bookies are losing a lot of money from this change. However, many of them own casino sites too. So they could see this as a way of making up for this loss.
Casinos tend to be profitable ventures. But it is now a massively competitive market. There are new casino sites springing up all the time. This makes it more difficult to attract new players.
We have also seen law changes in other countries that have affected profits. In Sweden, some operators have been talking about losing players. Many are going to unlicensed, offshore sites because of the tough Swedish regulations.
The truth is probably a mixture of these factors. Gambling operators are always looking for ways of boosting their profits too.
They might that a slot is very popular but has a small profit margin. This could make it a candidate for a lower RTP. This is just speculation, of course. There is no way of knowing the real reasons unless the casinos tell us.
Is There Anything That Can Be Done to Avoid This?
You can't stop casinos from switching their RTPs. We have already seen that this is something that they can do. It might not seem fair but we just have to accept it.
However, you can make sure that you are fully informed before playing. This means checking the RTP before you start. In this way, you know whether to avoid a game or not.
Don't just assume that it is the same RTP you have seen elsewhere. Or that it used to be on this site. You need to be sure that there has been no change to the return offered.
Thankfully, this is something that is easy to check. Don't just rely on the casino's summary of the game in the lobby. You can delve deeper to find out the exact figure.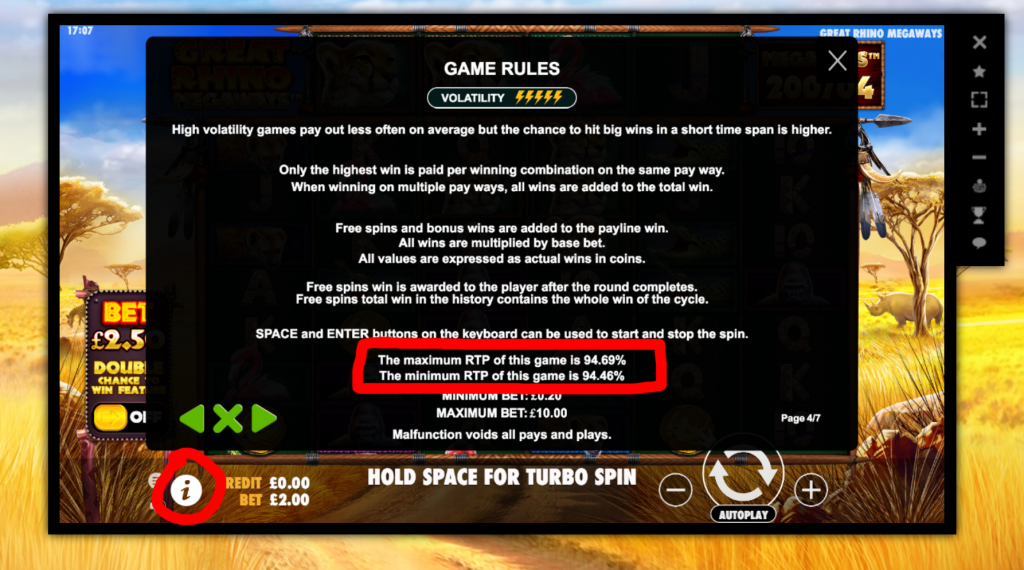 You can do this by checking the RTP on the site you plan to use. It may be found in the information button (i) with the rules. Or you might see it in the paytable. Either way, the up to date number has to be shown on licensed casinos.
If you can't see an RTP this is a different worry. Is it an unlicensed casino with an unreliable software provider? Some regulatory bodies are also more lax about this. For instance, casinos and developers regulated by the Curacao authority don't always list their RTPs.
In most cases, you can now see if the RTP is different. Or if it is still the same as you had calculated. Is it still worth playing this slot? Or should you be looking for something else now?
Don't cut off your nose to spite your face. You might not like the fact that the RTP has gone up. But it could still be the best option for playing through your bonus. You simply want to find the best possible RTP.Without the exact RTP it is impossible to decide what slot to play. The same can be said about having incomplete information. You need to be fully informed with the current numbers.
What Effect Will It Have on Profits?
The reason the RTP is so important is for the difference it makes to your profits. It is easy to underestimate a small change. What is 1% or 2%, after all?
The truth is that it matters little on just a few spins.
Over more spins, the effect on your profits is clear. A lower RTP reduces the estimated value. Even a small difference can eat into your profits.
It is most important when you are taking advantage of a bonus. This is because you are playing lots of spins to free up the cash. This can mean hundreds or even thousands of spins.
If we look at a slot with a 96% RTP what does a change to 94% mean? It means a large reduction in value.
The more spins you play, the bigger the difference. So when does it really pay to find the best RTP? When there is a big bonus and large play through requirements. This is when you need to be especially careful.
Use a different slot
If you do find the RTP is much lower than you expected, find a different slot. Do not accept taking less value.
Are you going to come across lots of slots with changed RTPs? At the moment, it isn't something that is too common. Most of the games that you play won't have been changed.
I have only seen it in some casinos up until now. It is most commonly done with Play N GO games. It certainly doesn't appear to be widespread on all gaming sites yet.
But this could change in the future. It is possible that other casinos start doing this. It is easy to imagine it becoming a common tactic among casinos.
Therefore, it makes sense to get into the habit of checking the RTP. This will be even more useful in the future if this trend continues. For the sake of a couple of seconds extra, it already makes sense.
As I said, it is most important when there is a big bonus in play. It can help you with a smaller bonus, though. In this case, you have more chance of walking away with something.
Are Casinos Allowed to Do This?
You may be wondering whether this is legal. Changing the RTP certainly seems like a sneaky move, right?
Well, there is nothing to stop them doing this. A casino can change the RTP on any game they want to. There is no law to stop them from making this change.
They have to always publish the correct RTP. As long as they do this, there are sticking to the law.
If you see a game with an incorrect RTP that is a different matter. Every casino has to publish the right figure in this respect.
Conclusion
The RTP of a slot is the best indicator of how suitable it is for use with a bonus. The higher this number is, the better your chance of playing through the bonus.
In most cases, this number is as expected. However, the recent trend for changes is worrying. You should definitely keep an eye on this before playing. If in doubt, always stick to the highest RTPs.