BetBurger Review
Can a sports bet ever be classed as an investment? This is the question that we are faced with at the BetBurger site. They claim that they offer surebets as investments. What is it all about?
It is an arbitrage betting site. Basically, it identifies arbs opportunities for you. This is a popular type of bet. But you need to be completely sure of what it involves before getting started.
So, let's start by seeing what this really means on this BetBurger review. Then we can look at the full details and the cost of the BetBurger software.
What Is Arbitrage Betting?
Arbitrage betting is also called surebets on this site. It involves covering all possible outcomes on a sporting event. This means that you win no matter what happens. You will lose one bet but win another, for example.
In the case of a football game, how does this work? Well, if it is Chelsea vs Man United you would want to bet on both Chelsea and Man United winning. Add in the draw and you have covered all possible outcomes.
This is a simple idea, but it can be tricky to find the right opportunities. These are typically hard to spot. In some cases, you will be taking advantage of bookie errors or oversights.
You also need to stake exactly the right amount. You want every bet to guarantee you a cash profit if possible. If not, you at least don't want heavy losses on any particular outcome. This can be virtually impossible to calculate without some help.
For this reason, it is usually done with the help of software. Identifying the right bets and stakes is made a lot easier to place arbitrage bets. Which is what this betting tool does for you.
So is BetBurger good at doing this? What types of bet can you expect to place? The next part of this BetBurger review will look in more detail at what it offers.
What Is BetBurger?
This BetBurger review looks at a site that aims to help you to place arbitrage bets. It talks about using surebets as an investment. How does it go about this?

The software scans bookies and sports in many different markets. This means that you will see events from around the world.
It then comes back with what is called "unique arbitrage situations". The idea being that you aren't as visible to bookies with these bets. This is because you aren't making the same bets as lots of other people. A problem with some betting software is that you end up making the same bets as many other people.
It is a site that has been around since 2014. The latest figures I can find while doing this BetBurger review suggest that it is popular. It has some 75,000 people using it at the time of writing.
The software is also easy to use. It is all done in your browser, and can be run on desktops or mobile devices. This gives you a great deal of flexibility in terms of where and when you bet.
Who owns and runs this site? It is listed as being owned by Aspira Limited. This company is registered in Malta. Other reviews suggest that the software was developed in the Ukraine. But I can't see that confirmed anywhere.
How Many Bookies and How Many Sports Are Included?
One of the keys to this sort of software is the scope. The more bookies and events covered, the better it is. In this case, how does BetBurger stack up?
Well, they say on their FAQ that more than 100 bookies are covered. You can see a full list of them on the site. This list even tells you what payment methods you can use with them. In addition, it rates each bookie for odds, arbs quantity and loyalty.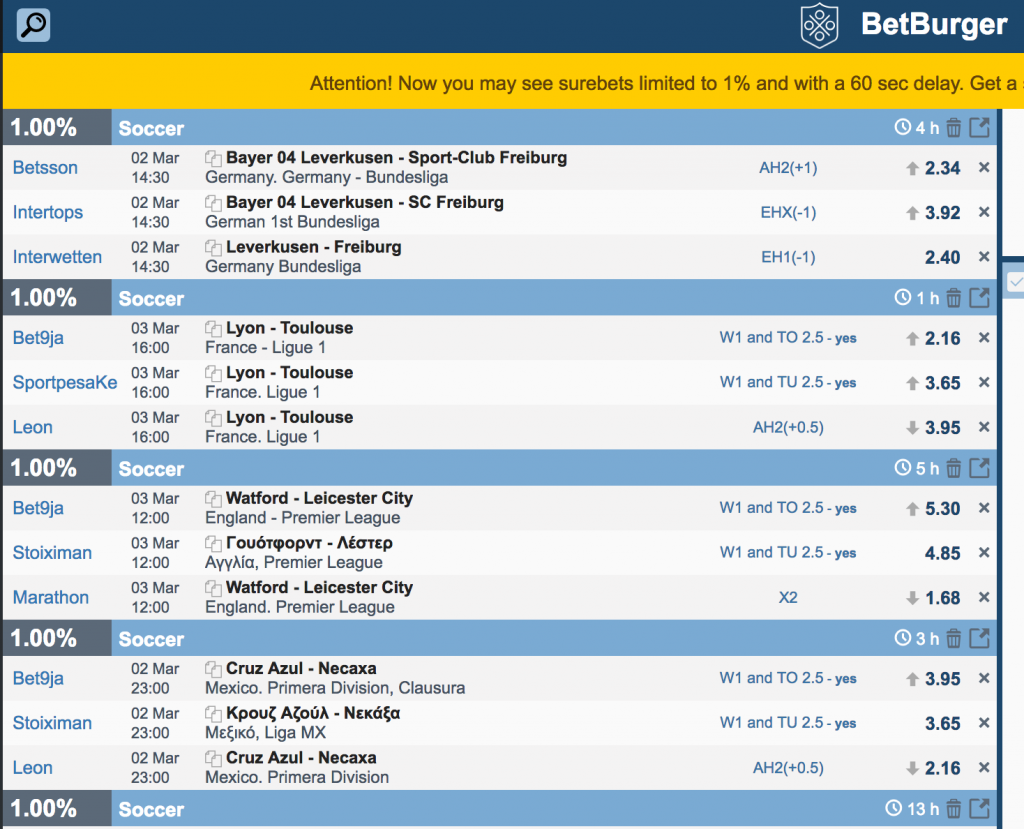 In fact, the bookies are actually split into two sections. The prematch list has 80 of them with 64 clones. The live section has a total of 63 bookies with 50 clones.
It is worth bearing in mind that some of these bookmakers are a bit obscure. You might not feel comfortable using all of them. Perhaps you prefer sticking to names that you know and trust.
There is a much smaller list of the bookies they recommend that you use. This cover 10 live options and 9 for prematch bets. You have the option of only choosing the firms that you want to bet with on your personalised list. If you do this then you won't see the other suggested bets for other bookies.
As for the sports, there is also a lot to choose from. Football, tennis and basketball were the most common bets when I looked. However, you can expect to see a range of other sports too.
It looks as though this service is growing. Previous BetBurger reviews mention lower numbers of bookies being used. The addition of more bookies is a good thing. Provided that the quality isn't lost, of course.
What Happens When BetBurger Finds an Opportunity for Arbitrage?
You will be notified when the scanner finds an arbitrage opportunity. This means that different bookies have got prices that suit you. This happens often, as a lot of bets are identified.
The software will tell you the exact bets to make with which bookies. It also lets you know what stakes to place. So, it is very easy to get started.
Basically, you will see the different bets on one even grouped together. So, in the case of these Chelsea vs Man United game what do you see? You will see a home win, an away win and a draw. The price for each bet will be listed beside each one.
While writing this BetBurger review, I saw Watford vs Leicester and Lyon vs Toulouse listed. There seems to be no shortage of betting options. If you want to be kept busy this is a good choice of tool.
You should have accounts set up with the bookmakers in advance too. This means that you can just go straight to placing the bet. As we will see, you don't want to lose time when placing bets.
BetBurger Pre-match Arbs
As mentioned earlier in this BetBurger review, the site is divided into different types of bet. One of them is the pre-match arbs section.
This is where you place a bet on something that is yet to start. So, there is more time to get a bet on with no fuss. This is the approach that is recommended for newcomers who want to take things slowly.
The odds don't change very quickly on here. There are also a lot of options to choose from. It is a fairly simple way to get going with the concept of sports arbitrage.
Having said that, some of the bets do disappear quite quickly. So you can't afford to hang around for too long. You will see bets from different markets here, as the net is cast far and wide.
BetBurger In-play Arbs
Betting in-play is a bit more of an advanced strategy. You do this by placing betting as the action takes place.
Naturally, this makes it more of a fast-moving environment. The odds can change very quickly. This means that is probably better for experienced bettors. You won't want to get started in this way. But it is a good option for later on.
Typically, you will find more bets using the in-pay section. This lets you get stuck in with plenty of arbs. It is ideal for someone who wants plenty of excitement and betting opportunities.
However, this is a more time-consuming approach. So, it is likely to be right for some people but not for others. I could see football, tennis, volleyball and hockey matches here.
BetBurger Value Bets

There is also the chance to find value bets on here. These are situations where the bookie's odds look to be too generous. This can happen for a number of reasons.
Maybe the bookie is slow to react to changes, for example. The BetBurger software scans for these opportunities too. So, you can add value bets to your way of betting.
The site claims that this can help you to earn 10% in revenue. While writing this BetBurger review, I couldn't see too many bets of this type. It is usually a fast-moving market. So you need to be ready to react quickly.
BetBurger Arbitrage Betting Academy

This is a service that is suitable for newcomers. For a start, the site is neatly presented. So it is easy to get the hang of.
In addition, the presence of the BetBurger Betting Academy is another help. This is where you can get started if it is all new to you. There is a variety of diverse information gathered in here.
The arbitrage betting vocabulary lets you understand the expressions used. This comes in the form of a simple A to Z list. To be fair, many of the words covered here are really basic betting terms most people know. Having said that, there is no real harm in having it available.
The educational articles are probably going to be more useful to you. These are pieces that tell you how this type of betting actually works. There is a lot to read and some of it is more useful than the rest.
It is well worth taking some time to read through this. Not all of it is going to help you. But it is a nice way to get going. It is worth pointing out there is a blog too. You can find decent articles regularly posted in here.
The forum is another place where you can find useful information. Other users put good tips on here that you might want to follow. At the time of this BetBurger review, the forum is exclusively dedicated to sports arbitrage.
Finally, there is the section that they call software education. This is where you can see how to use the software correctly.
It might not be the most exciting thing to read. However, it is useful for seeing what you need to do. Reading through it at least once is recommended.
BetBurger Price

How much will you need to pay to use this service? The first point to note is that you can see some bets for free. You don't even need to register to do this.
At the time of this BetBurger review, I could see a few bets without logging in. These included 10 live bets. For non-members, these are limited to 1% with a 900 second delay. Most bets were on football matches, with some tennis too.

In terms of pre-match bets, I could see 10 too. These are limited to 1% with a 60 second delay. As with the live bets, it was mainly football covered.
This counts as their free trial. What if you are happy with it and want the full service? Interestingly, they offer a one-day subscription so that you can give the full system a try.
If you decide to sign up, you can pay by Skrill, Neteller, Visa or MasterCard. But how much will you need to pay? This is a fairly expensive package with a few options to choose from.
As pointed out earlier in this BetBurger review, you can choose from pre-match or live arbs. The pre-match option is recommended for newcomers.
If you choose pre-match the daily subscription is €6.49. The weekly cost is $34.99. For a month it is €99.99. If you choose to pay for 6 months you get a 20% discount. This means that you pay €479.99. An annual subscription has a 30% discount, meaning it costs €839.99
The live arbs options is for experts rather than beginners. It is also more expensive than the pre-match alternative. In this case, the daily subscription is €10.99. It costs €55.99 for a week and €189.99 for a month. The 6 month option with 20% discount works out at €914.99. For a year, it is $1599.99, taking into account the 30% discount.
What Are the Other BetBurger Reviews Saying?
There aren't too many BetBurger reviews around. Those that I could find are generally positive about it.
The system is praised for being easy to use and comprehensive. There are lots of tools that make life simpler for you. The free trial that you can take part in is also given a thumbs up from reviewers.
The cost is something that is probably the biggest sticking point on this system. This doesn't seem to have been discussed widely in BetBurger reviews. However, since it has been around for a while it would be nice to see actual profit figures. Do you win enough to justify the high cost?
The reviewers who have tried it seem to have been impressed with their winnings. It certainly seems to work. Yet, without a comprehensive trial it is difficult to say how well it works.
Who Might It Suit?
This is a nice piece of software. The key question is whether it is right you for, though? To understand this, there are some important points to take into consideration.
For a start, arbitrage betting is generally fairly low risk. This way of betting will often give modest but fairly safe returns. Previous BetBurger reviews suggest that this system gives better than average returns.
What about the cost, though? This is sure to put a lot of people off the idea. You need to invest a lot of money here. So it isn't going to suit everyone. You are going to need to use it a lot to stand a chance of recovering the subscription costs.
There are no such worries over the ease of use. This is a tool that has been created with both newcomers and experts in mind. You can get going smoothly thanks to the information on the site.
What does all of this mean? It probably means that this a tool that will appeal to certain people. If you want to try for big profits and don't mind paying for an expensive service? Then this could be for you.
The way that you can see some bets without registering lets you try for free. If you are new to sports arbs then this is a good way to get started.
BetBurger Review: Conclusion
What conclusion can we reach at the end of this BetBurger review? This is an interesting sports arbitrage option. It covers a wide range of sports and bookmakers. In this way, you get to see a lot of different bets to choose from.
There are a lot of good points about BetBurger. It is simple to use and has a good range of features too. Newcomers will be comfortable here, as will existing sports bettors.
The biggest drawback is in the price. It is fairly steep to subscribe to. This is no doubt going to put a lot of people off. Even a short subscription costs a lot of money.
Overall, it is easy to see why some people like this service. However, it is also easy to see why others might prefer to avoid it. Ultimately, it probably comes down to how comfortable you are with the cost.