The Complete Guide to Horse Racing Trading Strategies
Trading on horse races is becoming more popular than ever before. The widespread popularity of betting exchanges like Betfair certainly helps to make it more accessible. However, it is the easy access to horse racing trading strategies that has really made the difference.
It is now incredibly easy to find details of how to do this. Does this mean that it is a guaranteed success? No, you can still lose money on trading. But knowing the basic strategies gives you some exciting ways to try and make a profit.
It is more complicated than just betting outright on a horse. Thankfully, it isn't as difficult as you might think, though. Let's take a look at what it involves and how to get started.
The Basic Horse Racing Trading Strategies

What is the difference between betting on a horse and trading? Well, one key different difference is that you aren't just betting on a horse winning. You can make money even if your chosen horse finishes outside the places. In fact, there are going to be times when you want this to happen.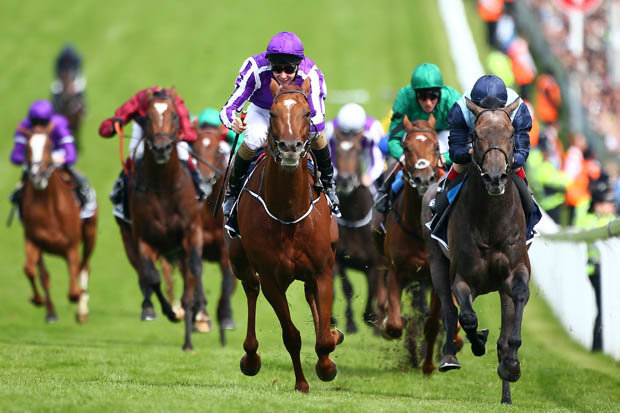 Trading is all about taking advantage of movements in the market. When the odds rise or fall, this presents opportunities. Trading smartly on horse races is about knowing when to make a move. How do you get started on doing this?
You might back or lay a horse before the race begins. You then want to see the price move in the direction that you expect to see. But you will be looking at exiting sometime before the race ends. You aren't planning on sticking with it all the way to the end.
In play Horse Racing Trading Strategies
Prices can change a lot once a race begins. For example, there are horses that always front run. Their odds will tend to drop sharply once it gets underway. Others will hang back and then finish strongly. I've written more about these strategies here.
There is nothing quite like the feeling of seeing your plans come through. This is when you see the horse do exactly what you expected it to. You can then complete your strategy by exiting at the stage you planned to exit. Having said that, you also need to be prepared to react to anything unexpected happening.
A horse that usually hits the front might not do so. Or one that tends to finish strongly may not do this time. This element of the unknown keeps things exciting all the way through. You can never just tune out until your profit is guaranteed.
It is a strategy that can lead to small but regular profits. Generally speaking, it is easier to pick a horse for trading than it is to pick a winner. So, how can you go about trading? There are a few different strategies to bear in mind.
Why Carry Out In-Race Trading?
If you have tried traditional betting, you might be ready to try in-race trading. But what are the main reasons for doing this? The following are some of the benefits you will get.
Cut out the bookie. This is one sure-fire way to avoid the bookies. Maybe your accounts have been gubbed. Or perhaps you are unhappy with their in-built advantage. Either way, you will only be using Betfair for your horse racing trading strategies.
The chance to understand the price changes. A horse's price will often change before the race start. But it often isn't clear why this is happening. With in-race trading, you can see exactly why the price is moving in a certain direction.
Better value. This approach lets you judge the accuracy of a horse's price better. You can compare the current price to what you see happening in the race. The money bet on the race before it started doesn't take into account what has happened since then.
A more flexible type of bet. This is a way of adding a good degree of flexibility to your betting too. You don't need to just make a straight bet at a fixed price. One possible approach is to gradually back or lay off a horse as its price moves.
More opportunities to make big profits. The odds can swing wildly during a race. For instance, as the first place horse falls behind another. Or when a horse makes a surge from behind to take the lead. These sudden, significant changes mean that there is the chance for big profits.
More enjoyable. For many horse racing fans, trading is more fun and satisfying than simply betting.
Drawbacks to In-play Trading
It isn't all good news and happy thoughts when you trade. There are a few drawbacks that you need to be aware of before you get started.
The need for training and practice. Most people can place a bet with a bookie pre-race. Even a complete novice can do this without any problems. When it comes to trading, a bit more knowledge is needed. This means spending some time learning about the process and practicing it.
Liquidity issues. One of the big issues when trading can be a lack of liquidity. You may find it awkward to trade as much as you want to or to find the right price. Choosing big, popular races is the best solution to this problem.
The speed of trading. Not everyone is comfortable with the speed that they need to trade at. This involves making quick decisions and then carrying them out right away. It can take some time to get used to this urgency.
Any delays in the broadcast. If you are seeing TV pictures of the race, you will be slightly behind the real-time action. This means that people at the racetrack have an advantage over you.
Set Your Trade Before the Action Starts

One popular option is to set the trade before the race begins. There are a few different reasons for doing this. For instance, you might not be able to follow the race live on TV. Or you might worry that the prices move too fast for you to keep up.
The other approach is to back and then lay your runner before the race has even started. You are taking advantage of the odds movements before the race has started.
In either case, you are looking for a horse whose odds will shorten. Since exchanges now have a fast, slick process, it is easy to trade out of a position quickly. The key to a big profit is in deciding when the odds are likely to be at their best.
So, let's look at a few popular horse racing trading strategies now.
Trading Front Runners
This is one of the most widely-used strategies. It involves looking for horses that like to lead races. This type of horse will typically see its odds shorten at some point in the race. This makes it one of the easiest ways to grab a fairly simple profit.
Just back it before the race starts and then lay during the race. The other option is to back it once the race starts, and then lay it off later in the race. Backing it like this usually means that you get a lower price.
To make it work, this approach needs a bit of research done on it. Basically, you need to know which horses like to hit the front. Ideally, you will find a horse that likes to stay there for a while. If it only stays in the lead for a short time, your profit options will decrease.
It is also important to know about the other horses in the race. Are there others that will be pushing hard to hit the front? Or is your selection likely to be virtually unchallenged for a long spell?
To find out all of this, you need to research previous races. You don't want your horse to start off too strongly, though. If it does this, the odds could lengthen. As bettors will realise that it will burn itself outside long before the end.
Lay Front-Running Horses
This horse racing trading strategy has something in common with the previous one. But there are also some differences. In this case, you just look for a horse that is being heavily backed during the running of the race. You then lay it.
This is worth doing when the price gets too short. For instance, a lot of traders might be following the previous strategy and back it. The price needs to be short enough to be attractive. But you need to be careful. If it is extremely short, it might be that the horse is actually looking like winning the race.
Back to lay is the term used when you back pre-race and lay at shorter odds. This is usually done with a horse that starts strongly but doesn't finish as well. You expect the horse to take up a good position by the half-way mark. But you expect it to not go on to win the race.
The opposite approach is to lay it around the half-way point. You then want to back the horse at higher odds when it falls back later.
Identify Different Types of Horse
One of the secrets is in identifying different kinds of horse. Strong travellers and those that are fast but have a difficult attitude offer good opportunities. Anyone who hasn't researched them as well as you may back them at the wrong moment.
Then there are hold up horses. These are the runners that tend to hang back until later in the race. Their odds will typically increase at the start of races when they fall behind. But your research will have told you that they have a good chance of finishing strongly.
There are all sorts of horses out there. To trade wisely on them, you need to understand more about them. The greater your knowledge, the more you can expect to earn by trading.
Other Factors to Take Into Account
So far so good, but there is more to look at. The way the race plays out will depend upon a variety of factors. The following are a few of the key points to take into account when trading.
The weather conditions. Do they suit the horse you are interested in? You need to look at the horse's record to see how it performs in different types of condition.
The length of the race. This is especially important when looking at front runners and those who hold back initially. Is the race long enough to make your strategy work? Or is possible that there just won't be enough time to trade successfully?
The size of the field. Some horses run better in smaller fields, while others prefer bigger groups. The more horses are running, the more research you will need to do. It could be that there are several front runners in the field, for example.
The jockey. Is the jockey likely to push the horse on to a better performance? Or will he let it run at its own pace? Some jockey/horse combinations get the very best out of each other and others don't.
Most people bet on races without taking all of these factors into account. This puts them at an advantage right away. If you look into all of this, you are already ahead of the game. Now, you need to ally the information to a solid strategy and carry it out well.
What Skills Are Needed for Trading?
As we have seen, there is a range of different skills needed to trade on horses. First of all, you need to be good at researching. Then you need to be able to understand and react to the changing market during a race.
Patience and a cool head are needed. If you rush in, you could lose money or lower your profit. A horse only lasts for a short time, but you need to choose the perfect moment for each action.
After a while, this should become second-nature. There are certain situations that you will see occur over and over again. So, the more you trade the better you should become at it.
We can then wonder who horse racing trading strategies tend to suit. It may be perfect for someone who is fed up losing money to bookies. Making money off traditional horse racing bets is incredibly difficult.
With trading on an exchange, you are removing the bookie's advantage. It is now more of a level playing field. So the person with the most knowledge and best system is likely to win.
This doesn't mean that you will always win when trading. However, a good strategy will help you to lower the risk. With practice and experience, you should bring the risk of loss down significantly.
Paid Horse Racing Trading Strategies

Trading seems too much like hard work to a lot of people. Not everyone has the time or patience to do the research needed for the previous strategies.
This is where a paid system can come in useful. These systems make it easier for you to get started and make money. You generally need to just follow some simple guidelines to choose your horse and strategy.
They will make it easier for you to get started and choose a horse. A good system will then guide you through the steps that you need to take to trade successfully. The following offer useful horse racing trading strategies you might be interested in.
One solid example is Betfair Sniper. This provides a process that can be learned in about an hour so. It is about trading favourites, and being patient is a big part of it too. You only need to use a Betfair account for this method, with no bookie bets needed. Anyone can try it, even if they currently know nothing about trading.
Caan Berry provides another paid trading system. This one comes with a hefty amount of training material. It perhaps is a bit more difficult and time-consuming for newcomers to get started with. But it does give a solid grounding in the most popular trading strategies.
Betfair Scalper is another way of learning how to trade. It takes a systematic approach to profit from price movements during races. Again, you need to get some training to get started confidently in this way.
As you can imagine, a good paid system for trading costs money. You need to pay for access to the training material. In some cases, there is also a cost for on-going access to the software.
Therefore, you need to use it enough to make money overall. This sort of paid system is certainly a good starting point for anyone who is new to trading. It gives you an easy, gentle way to start trading with some valuable help.
Horse Racing Trading Strategies Summary
For a lot of people, trading gives an exciting new way of betting. If you are looking for a new approach, it is well worth considering. Horse racing trading strategies might not be right for everyone. But it makes sense for a lot of people.
It takes a bit more time and effort than simply backing a horse with a bookmaker. But by doing the necessary research, you will put yourself into a far stronger position.