GG Tips Review

Do you love horse racing but hate losing your bets? Most punters suffer far too many losses to make any sort of profit. Isn't that just part of this hobby, though? Or is there the chance to win more sometimes?
Not everyone simply accepts that they will lose money when betting. Some punters look for new ways to turn the table on the bookies. How can this be done? One option is to look at a tipster service to help out.
In this GG Tips review, I will look at a popular tipster option. Is this the way to make more money from betting on horses? Or would you better looking for other ways of making money?
What is GG Tips?
Let's start at the very beginning. This GG Tips review covers what is essentially a free service for betting fans. They offer daily tips, news and alerts. It is a kind of one stop shop for finding out all about horse racing.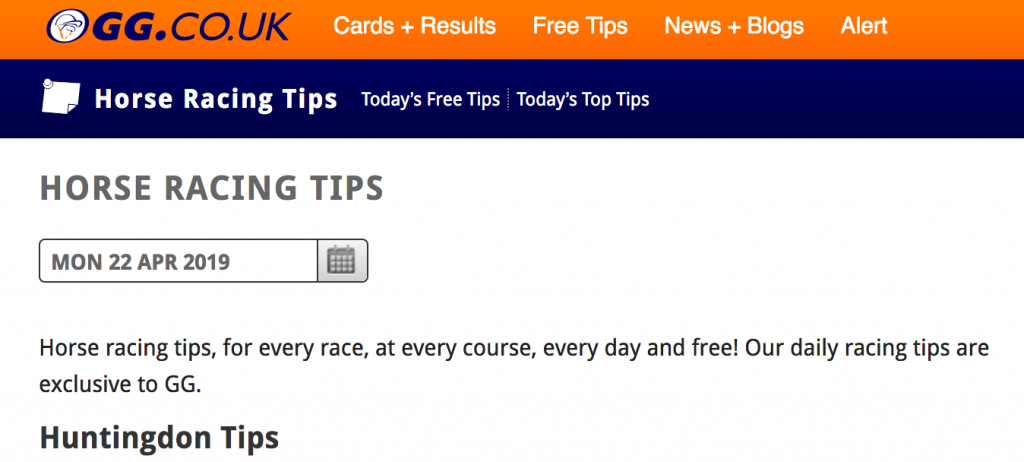 Everything on the site is free. You can also access all of the information without signing up. This makes it one of the best sources of horse racing data on the internet.
They have been around for a while now. While this isn't a guarantee of success, it is usually a good sign. This kind of service just disappears if people don't use it.
I couldn't see any details of how many people use their site month on month. It is pretty well-known though and presumably has good traffic levels. So it seems safe to assume that they get lots of regular visitors.
Their website is neatly divided into sections. One part is the Today's Free Tips page. This is where they gather the day's tips. You can typically see at least a dozen tips here. Some days you will find more than 20 of them. Is that a lot? We will cover more about this later on.
Another important area is Today's Top Tips. You will see a more limited selection on this page. Expect to see around 10 or so. This is still quite a lot of tips, especially when this is apparently their top selections page.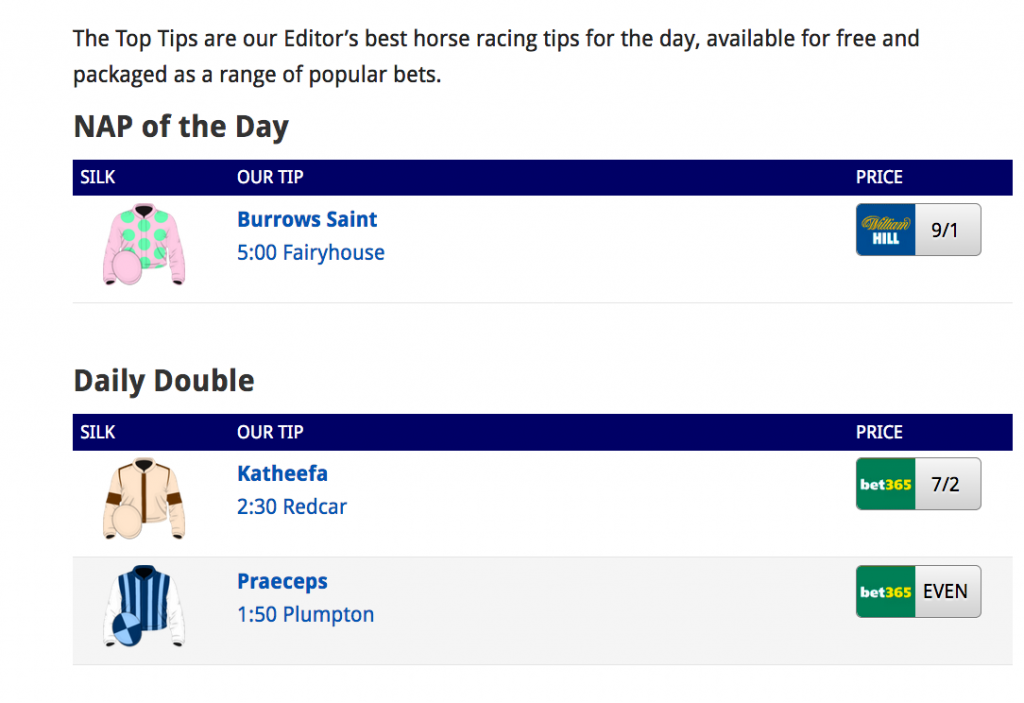 You can also see daily cards and results on here. In addition, there is a section on news and blogs. You will find tons of useful information in this part. It clearly takes a lot of time and effort to put all of this together.
It looks like there is a fairly big team that work on the site. The tipster blogs have a few different names to them. These include Sam Turner, Andrew Mount and Kevin O'Malley.
There is at least one new tipster blog added each day. Most days there are 2 or 3 of them posted. For instance, the day I wrote this section of the GG Tips review, there were 2 of them.
You will also see a few betting blogs each day. It isn't clear who writes them, as they are just credited to GG.co.uk.
I also checked Twitter as part of this GG Tips review. The team are very active on there. They regularly post news and updates on Twitter. This is something that takes time. So the team are very busy.
Overall, it is a fairly comprehensive approach. Even if you don't follow their tips, the site is interesting to read. There is a lot to it and most of the content is fairly enjoyable.
Who Owns GG.CO.UK
The current owner of this site is called Catena Media. They bought it over in 2018. Reports from around that time suggest that they paid £2 million up front. Interestingly, the news stories of the purchase pointed out that GG Tips earns about £150,000 each quarter.
At the time, the Chief Executive of Catena Media, Henrik Persson Ekdahl, spoke about the deal. He called it a "small yet strategic" site that is "very well-known". He also pointed out their "vast opportunities for growth".
Who are Catena Media? This is a Malta-based lead generation company. Their own site mentions their target for 2020. This is to become the world's biggest provider of high-value online leads.

They work in the iGaming and financial service industries. According to their site, they boast of customer retention rates of 5 million monthly users. The firm was founded in 2012 and has over 350 employees around the planet.
Catena Media also owns the BettingPro, CasinoUK and Ask Gamblers sites. Basically, they make money by driving traffic to bookies sites and casinos. This is why the site and their blogs have so many links to bookies you can follow.
Indeed, this is how many sites work. You could say that it provides a service for customers looking to find good deals. Their AskGamblers site also provides a hugely popular complaints resolution service.
Yet, it is worth bearing in mind that this is how they make their money. They offer free tips and make money when you follow a link to sign up with a bookmaker. Some people are completely comfortable with this business model and others aren't. Ultimately, it comes down to a personal decision.
What Tips Does GG.CO.UK Provide?
While writing this GG Tips review, I could see the following Daily Tips. 7 Lingfield Park tips. 8 tips for Newcastle. 7 tips for the races at Bath. How many winners did they pick correctly? Today, they got 5 horses in 1st place and 5 in 2nd place out of the 21 tips.
At the time of writing, I could see the following Top Tips. 1 nap of the day. 2 daily doubles. 3 tasty trebles. 4 lucky 15 selections. 1 outsider of the day. In this case, they got 2 winners and 4 horses in 2nd place.
This is a lot of tips for just one day. How do they find their bets? The truth is that there is no real information given on this. If they have a system then it is a closely guarded secret.
In some other GG Tips reviews, it is suggested that they produce their tips fairly randomly. Perhaps using some sort of software rather than doing it manually. Given the huge number of tips provided, it is easy to see why people think this.
Either way, it is a service that seems to cover too much ground. Their large number of tips give the impression of being thrown together without too much care.
This might seem like an unfair assumption. Yet, the high volume of tips certainly makes it easy to think like this.
All of this means that you need to put some thought into which tips to follow. This isn't like some tipsters, whose every tip you can follow blindly. While researching this GG Tips review, I found similar complaints from many users.
What about the odds on offer. They seem to generally offer 1 outsider tip a day at long odds. For example, today's outsider tip is at 16/1 (it finished 4th). Most of the other tips are fairly short odds.
What I noticed is that their winning tips are usually strong favourites. Today's winners included horses at 1/4, 1/3 and 4/9.
Will You Make Any Money Following GG.CO.UK Tips?
Can you hope to make money in this way? Or will you lose more than you win?
It has to be said that the sheer volume of tips makes it incredibly difficult. While they do pull out some winners, there are also plenty of losers.
The figures noted earlier in this GG Tips review back this up. They have some winners most days. But there are just too many losers. You can't expect to win cash consistently in this way.
As we saw, the winners are often at short odds. This doesn't help you to build up profits.
This just doesn't look like a good way of finding value. The best tipsters tend to produce only a couple of tips a day. Some give even less than this. This is because un-Earthing genuine, solid tips is hard work.
The GG Tips approach is all about producing high volume. This means that the quality and value naturally suffer. It simply isn't feasible to produce so many tips each day and win most of them. There are no tipsters who get it right on so many races every single day.
Generally, you will look for a tipster to give a small, carefully selected range of tips. This GG Tips review shows that their business model is pretty much the opposite of this. They post as many tips as they can cram in.
This makes for a lot of excitement. You can have great fun reading their site and following their tips. But you can't expect to win money like this.
What will happen if you follow all of their tips? You will almost certainly win some bets. Yet, you will lose more than you win.
Given that most of their odds are pretty low, you can expect to lose money rather than win it. Therefore, as a horse race tipping service it doesn't offer good value.
What Are the Other Reviews Saying?
The last point suggested that you probably won't win money following these tips. Do the other GG Tips review articles online bear this out?
Sadly, they do. Most reviewers note regular losses when placing their bets. In fact, these losses can add up. Placing bets on every tip leaves you open to potentially big losses.
Given the volume of tips, you could work through a big bank. If you are keen on sticking to every tip, you will need to bet on dozens of races every day. Few people will be able to carry on like this for long.
Some GG Tips reviewers have dug a bit deeper to see if there is any way of using this service profitably. It seems clear that betting on every single race is a bad move. Equally, the doubles and trebles don't work out well.
However, the bet of the day service tend to have better figures. Concentrating on these bets might make sense. You might also fare better if you manage to find better prices than those quoted.
Overall, most GG Tips reviews suggest that it is a service to avoid. You need a tipster to give you a great strike rate to be worthwhile. The GG Tips service doesn't work because it spreads itself too wide.
Who Would GG.CO.UK Tips Suit?
Most betting sites appeal to a certain type of person. Some are best for someone with a small bank and lots of free time. Others are suited to someone who is happy running some risks.
What about this service covered in this GG Tips review? Is there a kind of gambler who would get most use of it?
It isn't low risk and it needs a fairly big bank. The number of tips involved also means that you need to put some time into it. There doesn't seem to be a clear type of user who would most benefit from using this site.
Perhaps it is right for someone who loves betting and has lots of time. This would let you see lots of possible bets. You could spend hours looking through everyone on the GG Tips site if you wanted to.
In fact, let's explore this idea in the next section. What way can you find to use this service? Maybe this GG Tips review will point you in the right direction.
How Can You Best Use This Service?
We have seen that this isn't a tipster service to blindly rely upon. Do you want to use a tipster to give you regular profits? In that case, you need to look for one that gives fewer tips.
Having said that, could you still use this site? Perhaps there is some other way of making money from it.
Since they list a lot of races and news, this is a good start. You can carry out plenty of research on here. What will you do next, though?
As we have seen in this GG Tips review, blindly following their tips isn't recommended. But can you adopt a different approach?
Let's imagine that you look at their list of daily tips. You could then do more research. What are other tipsters saying about the same races and horses? Can you see any reasons why this horse might be a good tip?
By comparing their tips elsewhere, you can see the bigger picture. Will you end up winning money? It really depends upon the quality of your research. But it is a smart approach.
In this way, it is acting as a source of information rather than tips. It involves a bit more work. But it does seem to make sense.
Does GG.CO.UK Have Any Other Useful Features?

It isn't just about tips on here. There are a couple of features worth knowing about too. For instance, the alerts. Even if you don't plan on following the tips, their alert service is worth giving a try.
This is a way of getting advised when a horse you are interested in is due to run. You can also set up an alert for a certain jockey or trainer. This is a smart idea that could be really useful.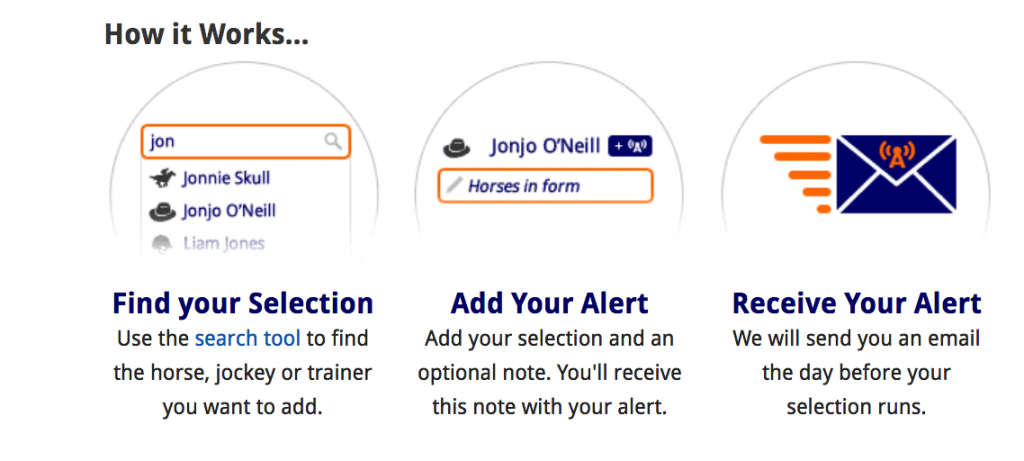 There are just 3 steps to remember here. The first one is to search for the selection you want. Once you have found this, you then set up an alert. While doing this, you can add a note that reminds you why you set it up.
You will then get alerted by email. This message will come through the day before their next race. So you will have time to act on it.
The note that you added will be there. I couldn't see details of whether you get a maximum number of alerts, though.
The other worthwhile service here is the day's race card. You can easily research the day's full racing on here.
They show you the runners and riders for every race on this site. You also get access to live prices and form details. It is a pretty comprehensive approach.
So even if you don't use their tips there is a reason to visit the GG site. It has one of the best race cards around and is free every day.
GG.CO.UK Tips Conclusion
There is a lot to like about this site. But the tips aren't really high on that list. The problem is just that there are way too many tips. Many of them seem to have been added to bulk up the numbers. Not enough care seems to have been put into them.
This means that you won't find tips with value here. Having said that, it can work as a starting point for your own research. In this way, you look to add some flesh to their tips.
However, it is best used as a general betting aid. You can do research here. You can set up useful alerts and so on. It is a good site provided that you put some thought into how you want to use it.