BetOnValue Review
BetOnValue is classed as an odds comparison service. Yet, it also offers a sure bets service as well. Then there is the promise of value bets. So what exactly does it offer to you? Is it going to make it easier for you to make money from betting?
This BetOnValue review will look at all of the different parts of the site. If you are looking for a better way to bet then find out whether it suits you.
There is a lot to cover here, as the site is packed with information. We can get started by looking at what it is all about in fairly general terms. Then we will cover the most important areas in more detail.
What Is BetOnValue?
Among other things, this site gives you access to a range of sure bets. It isn't their only focus. However, it is what we are most interested in with this BetOnValue review.

This type of wager is otherwise known as arbitrage betting. It is a popular way of trying to beat the bookies with no risk.
BetOnValue is one of the main arbitrage services around just now. In fact, it is one of the longest-established sites of the kind still around. It is a popular tool and other BetOnValue reviews are pretty positive.
They also have the odds comparison element. With this, they let you see odds from over 170 bookies. This covers more than 40 different sports. They also offer graphs showing how the prices have moved and other tools.
You can also follow sporting events on here live. The idea seems to be that this is a sort of one-stop shop. They want you to identify your bets on here. You can then follow the link to add it to your betting slip. Then you can follow the action on this site too. As a comprehensive betting service it makes sense and is easy to understand.
At the top of the screen, you can choose "odds" first of all. This takes you to the odds comparison bit. At the time of this BetOnValue review, there is a good deal of variety. This is identical to Bet Brain who are owned by the same company.
You can compare odds from numerous bookies here. It is nicely set up so you can quickly see the odds on offer. You can see the sure bets on offer without registering. However, you will need to sign up to get the tools that you really need to use.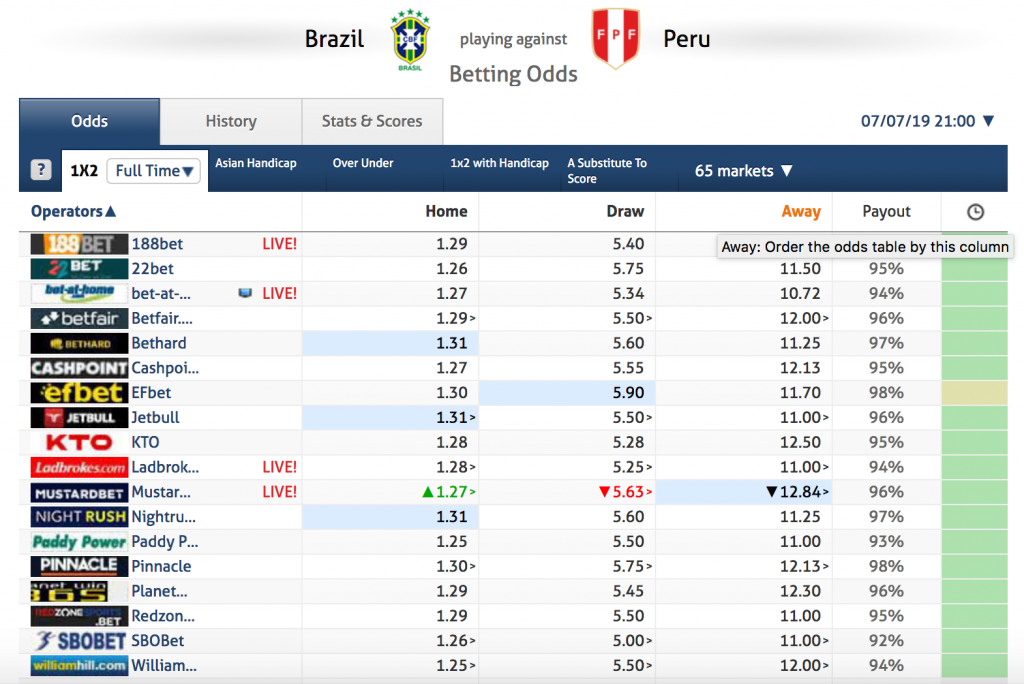 The next option on the top bar is for those "tools". This is split into three parts; accounting, sure bets and value bets. You need to be a member to enter any of these sections. There is a lot in these sections that make it possible to find and place smarter bets.
Next along is the list of bookies. This is where you can see which bookmakers you can find odds for. We will look at this later on in the BetOnValue review, as it is a crucial matter. The other options after this are "affiliates" and "help".
Below this, you can see the live centre. This is where registered members can see live updates. Next to this is the list of the next, upcoming matches. Again, you need to sign up to see what is coming next. There is also a coupon category where you can sort out your coupon very easily.
Your first impressions might have been that this is really just an odds comparison site. To be sure, the sure bets and value bets aren't very prominent. Yet, by digging a little, you will see that this is worth checking out.
What Is Arbitrage Betting?
One of the key features of this BetOnValue review is their arbitrage betting service. Indeed, it is what I want to most cover on here. So what is it all about?
If you have never seen arbitrage betting before then it is sure to interest you. This is a clever way of making sure that you never lose to the bookies. How can that be the case?
This type of betting uses a mathematical approach. Basically, you bet on all possible outcomes of the event. This means that you can't lose, or else your losses are very low.

It only works if you get the numbers just right, of course. The vast majority of matches, races and events aren't right for this approach. In most cases, you will lose if you bet on every potential result. So you are looking for those special cases that slip through the bookie's net.
The odds have got to be perfect for it to work. You also need to work out exactly the right stake so that you can't lose no matter what happens.
So, if it is a football match, you need to put on three bets. These would be a home win, an away win and a draw. Since the odds on each event will be different, the stake needs to reflect this.
Naturally, this makes it pretty complicated. Identifying bets and then working out the correct stakes is hard work. This is why people choose a service like this to do it for them. You just need to look through their selection for the bets that most appeal to you.
How Many Bookies and How Many Sports Are Included?
When it comes to arbitrage bets, the scope covered is vital. You really need the service to cover as many options as possible. This gives the best chance of finding good bets out there. The more bookies that are included, the more chance of there being odds that suit your needs.
The site's own description says that they include more than 170 bookies. In the site information they mention 165 bookmakers. Another part says 113 bookmakers. So it is clear that they have updated their list at various times. I guess that the highest figure is the latest number, although I can't be sure. They might have removed some rather than adding them.
They also mention over 40 different sports. I decided to have a look around the site, to see if this is really the case.
The list of sports is easy to find, as it is on the side of the home page. The sports mentioned at the top are the ones you would expect to be the most popular. These include football, tennis, basketball and golf. Horse racing is a little bit further down.
As you scroll further, you will find other sports. These range from ice hockey and snooker to Starcraft and surfing. In all, there are more than 40 sports, as advertised. If you click on a sport, it opens up details of upcoming matches or events
Such a big range of sports is great news. But the number of bookies covered is even more crucial. As part of this BetOnValue review, I decided to check this out too.
The bookies tab at the top of the screen takes you to a list of the "best online bookmakers". There are just short of 40 listed here. Many are household names, such as Ladbrokes, William Hill and Paddy Power. There are also some less well-known bookies like Mustardbet and KTO.
They link to each of these bookies' sites. So it seems clear that they make money from affiliate deals with them. This isn't necessarily a bad thing. But it is something worth knowing about when you start.
If those are the best bookies then who are the rest? There doesn't seem to be a definitive list of all 170 (or 165) companies that they use. However, by looking through the bets, I could see a few others. These include Winamax, Betcity, and France-Pari.
I'd recommend researching some of the bookies before depositing. They do seem to recommend some poor outfits that I know other people have had problems with.
Membership Levels
As we have seen on this BetOnValue review, you need to join to get all the services. For example, you can't see the latest sure bets and value bets otherwise. You also need to become a member to use their range of tools.
So what are your options for doing this? The first piece of good news is that there is a free option. Then there are a couple of different levels that you need to pay for. Let's take a look at all the different options.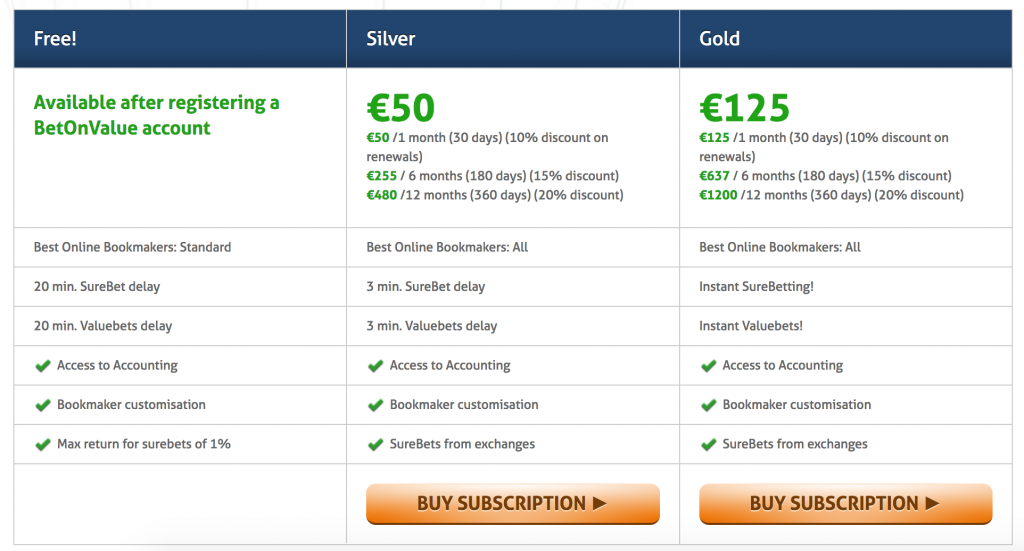 First off, the free membership is a decent starting point. This lets you see what they offer without paying anything. However, as you would expect the service is fairly limited.
As a free member, you get the standard list of best bookies. I assume this is the list of around 40 I mentioned earlier. You also get access to accounting too. Importantly, you are limited to a maximum return on sure bets of 1%.
Timing is vital with this type of bet. So it is worth noting that free membership comes with a 20 minute delay. It is a decent starting place for no money, but this delay will seriously hamper you.
The first paid level is called silver. The cost of this is €50 per month. If you pay for 6 months then is costs €255. Choose the annual subscription and it costs €480. So, what does this give you?
The silver level of membership brings the sure bet and value bet delay down to 3 minutes. You also get access to all of their bookies and sure bets from exchanges. These might not seem like big differences at first. Yet, they will definitely help you to place more bets and win more.
What is the most expensive option? You won't be surprised to see that the level above silver is called gold. This costs a hefty €125 on a monthly basis. The 6 month option has a price tag of €637. For a full year of the service, this costs €1200.
So what is the difference that you are paying for? The main point here is that there is no delay. You have access to instant sure bets and value bets. You will also see in-play odds update instantly. So, it can be confusing for newcomers but very useful for experts.
Clearly, this is something that is only likely to appeal to serious bettors. It will help them to squeeze some extra value out of the service.
How Does BetOnValue Compare with Other Arbing Services?
This certainly isn't the only arbing service around. In fact, you can choose from a number of options in this category. How does this one stack up against the rest? I've reviewed other arbing systems here.
There is a decent range of tools here to help you find and place bets. The filters and customisation options certainly make it pretty easy to use. For instance, you can filter by certain bookies, sports and odds. It is then possible to track your bets very simply.
It is certainly a slick-looking package. The range of bookies is pretty wide and they have just about every sport you can think of is here. On the negative side, the paid packages are quite expensive. Having said that, the free service is a decent starting point.
Advantages of BetOnValue
So far in this BetOnValue review, we have seen a few good things. Perhaps the best idea is to sum up the advantages with a list.
Big range of bookies
Most sports you would expect to see are here
Free package for newcomers
Easy to filter and track
Disadvantages of Bet on Value

There are also some disadvantages to take into account. What are the main weaknesses of this site? The biggest one we will look at in a minute. Before then, there are a few more minor issues to cover.
Removing the delay is expensive
Value bets selection seems quite limited
Free service is of fairly limited use
A Red Flag
So far in this BetOnValue review so good. However, there is a major red flag that we need to look at before going any further.
To understand this issue, we need to see that the CEO of EveryMatrix is Ebbe Groes. He set up BetBrain Ltd in 2001. This company is now part of EveryMatrix. Image below is taken from here.

What does this have to do with BetOnValue? Well, BetBrain own this sure bets site. If you look at their registered address, you will see that it is the EveryMatrix address in Curacao.
How is this likely to affect you in real terms, though? Well, this is a list of the bookie white labels whose odds are provided by EveryMatrix. As you can see, there are some of the same bookies that are on this service.
What if you pay for the BetOnValue service and then bet with one of these bookies? The fact is that you are likely to get gubbed very quickly in this way.
Will You Get Gubbed using BetOnValue?
Getting your account gubbed is one of the big risks with arbitrage betting. It needs a really clever approach to avoid this happening. Therefore, whether you are likely to get gubbed is one of the first questions to ask. It is vital that we cover this in any BetOnValue review.
Unfortunately, this service seems destined to cause your account to suffer this fate. It is highly unlikely that you will be able to keep on betting for long without problems of this type.
Why is this? As we just saw, their links to EveryMatrix is a big factor. This increases the inherent risk of being gubbed that comes with any sure bet service.
It would be very bad news if you had already paid for a full 6 months or year. You could test the water by using the free service. As we saw, this is a decent starting point although quite limited.
Who Might It Suit?
Taking into account everything we have seen in this BetOnValue review, who might like it? Let's start by thinking about expert bettors. This type of person knows all about arbitrage and wants a powerful tool.
There are enough features and variety to keep them happy. They will find plenty of instant sure bets and some value bets. However, this type of bettor is very aware of the risk of being gubbed. So, paying out a high fee represents a huge risk for them.
For beginners, this is a sensible starting package. The free service is limited but lets you see what arbitrage is all about. Of course, the substantial time delay means that you probably won't find too many good offers.
There is also still the risk of getting gubbed at some point. If you aren't too bothered about then you could give it a try. On the other hand, what if you plan to make money from betting in the long term? This could be a problem, as you might soon find your options heavily restricted. You will make ore money in the long term Matched Betting.
Taking everything into account, this is a decent place to test the water. You can find out how arbitrage works and use some good tools. If you start off without knowing much then you will learn a lot quite quickly.
However, in the long run you will probably need to find another way to bet or risk getting gubbed. Stay on here too long and you could limit your future options.
BetOnValue Review: Conclusion

There are a lot of good things about this service covered in this BetOnValue review. It pulls together a lot of information in one place for you. There are also some useful tools to make life easier.
On the other hand, the risk of being gubbed is a big red flag. Overall, it is a nice site with some good ideas but might not let you win for very long.