Betconnect Review
Are you looking for new ways to bet? Maybe you would like to find out what the experts bet on? Following tipsters has long been a popular approach. But is there a more modern way to do this now?
Well, there are now far more ways of betting than ever before. So it was time that pro bettors got a new platform. This Betconnect review looks at an interesting new betting service. Basically, it takes the idea of pro tipsters and gives it a novel twist.
Betconnect is described on their site as betting's inner circle. Launched in September of 2018, it is an approach that uses the power of social media.
It is also described as the first major piece of disruptive technology in betting since 2000. This was when Betfair was launched. Will it have anything like the same level of success as that exchange has? What is it all about anyway? How can you hope to win money with this site? Let's take a look at the full details in this Betconnect review.
What is Betconnect?
The Betconnect site says that it is the "world's only social betting network" that shows you professional gamblers' bets. What does this really mean, though? And how can it help you to make money?

We will see later in the Betconnect review how there are different types of account. These are for punters and for pro punters. Basically, it lets you either follow pros or have punters follow you.
This means that it is a type of peer to peer betting exchange. The pro members submit bets for the punters to consider matching or laying. There is a certain time limit for punters to accept these bets in. This is currently set at 15 minutes from when the bet request is received. I found the 15 minute limit too short and frequently missed bets.

You can choose from a few options at this point. This means copying, laying, following or rejecting the bet.
What about the protection you are offered? It is regulated by the UK Gambling Commission. All of the money bet is held until settlement. This removes the risk of someone not paying up.
The site lists the betting rules for a wide range of sports. These include football, horse racing, cricket, American football, golf and darts. However, it isn't limited to these sports. Pros can provide bets on any sporting event.
Who Is Behind It?
Betconnect is registered in Weybridge, Surrey. Mark Weaver and Dan Schreiber are the co-founders.
Schreiber comes from a background in trading. He discovered the idea for this new platform while working on financial sports betting. He then saw what social trading site eToro was doing. Schreiber realised that the model could work in sports betting.
On the other hand. Weaver comes from a career in sales, business management and data analysis. He says that he never had any doubts about it working.
They started working on it in 2014. By 2015, they had some sort of prototype started up.
The initial launch in September 2018 was on a beta version. At the time of this Betconnect review, it appears to be the full version now.
There is also a mobile app that you can download for Android or Apple devices. The co-founders mention eToro as one of their inspirations. This is a social trading site that lets people follow expert traders.
They apparently teamed up with US technology firm Prefinery to build the platform. According to news reports at the time, they had a large waiting list of new members waiting to join.
As for the future, they want to add more social aspects to it. This seems to be crucial to their vision of Betconnect going forward. There aren't many other Betconnect reviews about just now. Since it is quite new, I would expect more to pop up as it grows.
Punter Account Details
Should you open a punter account here? What are the benefits to doing this? In other words, why is this better than just following a tipster in the traditional way?
The punter account is for people looking to follows pros. You don't need to pay any commission on the bets that you follow. Neither do you pay regular subscription fees to the tipster. Other tipsters can charge fairly hefty fees to members.
If you set up in this way, you get to choose who to follow. There seems to be no limit on the number of pros you can follow. Naturally, you might prefer to follow fewer pros in order to focus more. However, you could easily follow quite a few of them if you want to.
When you look at bet requests this is a 2 stage process. It is important to understand how this works before you start.
The first part is when you receive a pro's bet request. You get a message through asking if you are ready to match a bet request. If you confirm that you are then you move onto the next stage.
Accepting the bet request then unlocks it for you. You now have 15 minutes to decide whether to go ahead. The full details are now revealed if you have enough money to cover it.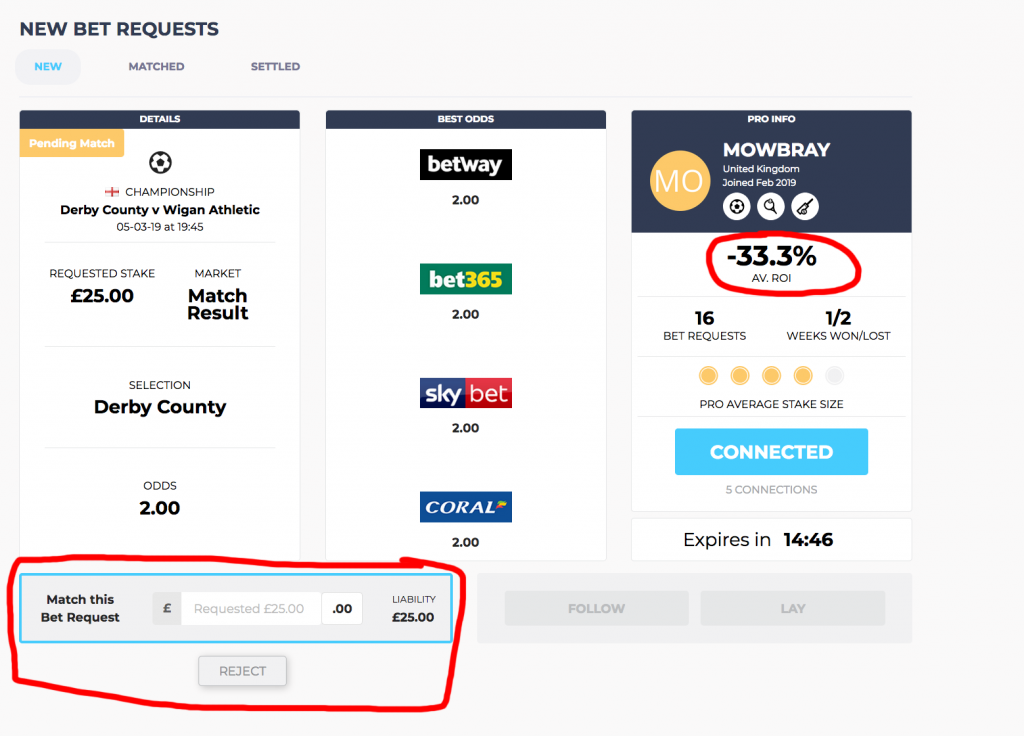 In the example above, I would have to place a £25 bet for the pro on Betconnect. Then I would have to go and place the bet for myself with one of the bookmakers listed. You can see this pro has a -33% ROI so I wouldn't recommend following him. You want users who have a good ROI above 10%.
If you don't have enough cash in your account then you only see basic information. This includes the amount needed, the sport and the specific event. The rest will be shown once you make a deposit for the liability.
It is worth pointing out that you get to specify a maximum bet liability when you sign up. The bet requests you get will never be over this amount. So you won't be tempted to bet more than you planned to.
Another point to cover is that your reputation will suffer if you don't act on an unlocked bet request. You need to use those 15 minutes of decision time wisely. There is no obligation to place a bet, of course. However, if you unlock one your rating will drop will drop unless you use it.
Who Should You Follow?
Which pro punters should you choose to follow? At the time of writing this Betconnect review, the site is fairly new. So the choice is likely to grow over time as it gets more popular.
They say that they want to attract pro bettors. In fact, they encourage people who are so successful they have been blocked by the bookies. This means that they have a new way of making money using their expertise.
It should be noted that there are no strict entry rules for pros. How will you know who to follow? What if you follow someone who turns out to be poor at selecting bets?
Well, you will be able to check out their track record. This lets you see how they have been doing. There are a lot of statistics worth checking out. As we will see later on in the Betconnect review, their blog has useful information too.
The idea is that the people who become punters are highly successful. So they have been blocked by the bookies. As the site says, why would else would they pay commission to use Betconnect?
Will You Make Money As A Punter?
The most important issue here is whether you will make any money. Will you do this by blindly following the pros? The truth is that you won't.
The main reason is that you need to put down about £10 – £20 for each bet for the pro. This is on top of your own bet. What this does is lower your overall effective odds. Indeed, it lowers them by quite a lot. I'm not convinced it's possible to make money long term paying this much per bet. I can't imagine most punters betting hundreds on top to help cover the fees.
Then there is the option of laying the pro bets. This is an interesting idea. By looking the current Betfair lay odds this could be worth a try. I've seen several examples that were worthwhile.

You can see in the example above I've layed the pros horse Abbey Grey each way at odds 13.0. The Betfair market Abbey Grey is 25.0 to lay. Also there is no commission to pay with Bet Connect. This could be worth investigating further.
It helps if you understand betting terminology and tactics. Absolute beginners might struggle to make good choices consistently.
Pro Punter Account Details
The next point in this Betconnect review is for pro punters. If you are a successful bettor, will this site help you to make money? Remember that you pay 3% commission for using it.
The platform is said to distribute bet requests intelligently. This means that they get sent to the punters most likely to match them. It uses machine learning and artificial intelligence to do this. All of this aims to give you the highest possible match rate.
As mentioned earlier in this Betconnect review, there is no strict entry. Anyone can sign up to become a pro, really. How will punters know whether to trust you or not? To do this, they need to check your ROI. They can also view your winning / losing figures.
Have your accounts have been blocked by the bookies? If you have been winning regularly you may be running out of options. Becoming a tipster is a good move in this case. But should you use Betconnect to share your knowledge?
The key factor is in the amount of money you can win. Will this be enough to make it worth getting set up here?
Will You Make Money As A Pro?
Is it worth having a pro account? How much money can you expect to make here? There are some things to take into account before you do this.
For a start, it's difficult to get the punters to match your bets. This Betconnect review was written when the service will still fairly new. It really needs a lot more punters to make the system work.
The situation might improve if it becomes a lot more popular. If a lot of punters start to use it, you might earn far more. Having said that, the arrival of new pros will increase the completion for punters more.
Then there is the commission issue to consider. You also pay a 3% commission on all of your bets that are matched. This is clearly something that which will reduce your profits overall. My question is why not just place the bets on the Exchanges. Both Smarkets and Betdaq charge just 2% commission and both have decent liquidity.
How many followers can you expect to get? I checked out the Betconnect blog to get a feel for this.
A post from the end of January 2019 mentioned 70 new connections as being the new weekly record. In the same week, a few pros got over 30 new followers. In recent weeks, the numbers of new connections seem to be a bit lower.
Since the service is new, this should be the time to pick up lots of new followers. There should be plenty of new punters looking for pros right now.
Also in the blog, we can see updates on ROI figures. The top ROI for the week mentioned earlier was 255.4%. Looking at other posts, I could see more numbers. For instance, the week before this Betconnect review, the highest ROI was 128.7%.
Many of the best bets mentioned are from football or horse racing. However, I did notice that rugby union had a good ROI some weeks. The blog lists things like the week's best bet and best specialist bet.
Of course, if your accounts at the bookies are blocked this could be an attractive option. It lets you bet once again. It remains to be seen whether the bookies move to try and get this service stopped, though.
Can You Use Betconnect for Matched Betting?
What if you are already a fan of matched betting? Could you use Betconnect to do this more smartly? Well, it is possible to lay the pro's bets if the bookies have an offer on that event. Yet, you can't choose which event you want to bet on.
Overall, I'd say that it's not possible to use effectively with matched betting. If you like matched betting then you should look for some other way to do it. This platform isn't the right choice for doing it.
Will Betconnect Become Popular?
This is still a pretty new service. Reports at the time of launch it was reported that they had over 400 pros. More than 3500 punters were said to have signed up too.
This was a decent start alright. I can't see any current figures for the number of pros and punters. Has it grown significantly since starting out?
As we have seen in this Betconnect review, more users could make it more interesting to use. More pros mean more bet requests. More punters mean more earning possibilities for pros. Is this likely to happen, though?
At the moment, the current pricing scheme isn't very appealing. Having to bet around £10 – £20 to see a pro tip is very expensive. A better idea could be to charge just a few pounds for each tip.
In this way, people might hang around a bit longer. They could place far more bets, which would be good for everyone involved. Pros and punters would also have a better chance of making a profit.
As it is, it is unclear how popular it will become over time. Social betting sounds like a good idea. But will another company come along and steal their thunder? It is certainly possible.
Who Might It Suit?
Who is likely to be tempted to use the Betconnect platform? Since there are 2 types of user, it makes sense to look at each of them in turn.
To start with, what about punters? This might suit newcomers making their first bets. If you aren't sure what to bet on you might like the idea of a helping hand.
However, you need to bet a fair amount to earn decent profits. So it might not be the ideal starting point for some new punters
What about the pros? We have seen in this Betconnect review that they can get followers. This could be a way of earning more money. It could be particularly appealing for someone who is blocked by the bookies.
Yet, it isn't quite as easy as it sounds. For a start, the commission eats up a fair bit of the profits. This isn't a guarantee of making profits for expert bettors.
Betconnect Review: Conclusion

This site represents a new, social model of betting. Some of the ideas behind it are pretty interesting. There is something in it that makes it seem possibly very useful in the future.
Overall, I think it would benefit from a few tweaks, though. Making it easier for pros and punters to earn a profit would be a good move. Right now, the pricing structure just looks a bit off. They should be making it more enticing especially for the punters.
There is a chance that this type of social betting takes off eventually. However, at the moment the jury is still out. While researching this Betconnect review I saw some good things about it.
This service is worth keeping an eye on. If it evolves more then it could become a worthwhile way of making money. For the moment, I have some doubts about it, though.