Optipp System Review
Can you take £1,000 and turn it into as much as £160,000 in 60 weeks? It sounds like an impossible task. Yet, this Optipp system review looks at a process that talks about doing exactly this.
This is a system that lets you try and earn money. How does it do it? Is it guaranteed? The founder describes it as a type of money pump that you can control. The amount you put in determines how much comes out.
So, you can choose to aim for a relatively small amount or go all in for more cash. Let's take a look at what it is all about in this Optipp System Review.

The Basics
This system is based on football betting. However, it isn't about gambling. You aren't going to be guessing who will win or who will score next. Instead, it is a statistical approach that uses an algorithm to find bets.
That doesn't mean guaranteed wins every time. You will lose some wagers. Later on in this Optipp system review we will look at the exact figures.
Some of the bets may be placed with bookies. However, the majority are to be put on a betting exchange like Betfair. You will need to open an account with Betfair to get going.
What Does It Offer?
This system looks out for potentially profitable football bets. There are instances where the chance of a certain result is higher than the odds suggest.
So, it seems to be a way of identifying value bets on Betfair. They don't mention value bets on the Optipp site, though.
It can be a profitable area of the market. This is why there are other value bet systems on the market. They are popular, as they can provide good profits. The unique idea with the Optipp system is it works on Betfair, most others require bookmakers. There are usually some drawbacks, though.
One issue tends to be that bookies will block your account if you take too many value bets. Since this system uses Betfair, this isn't an issue.
Without more details, it is impossible know exactly how they approach this. What type of algorithm do they use? How do they select their bets?
It does seem like a tempting combination, as they talk about a high success rate. We will see in a minute that they talk about a win rate of over 90%. This is higher than you would expect from value bets. Normally, you would expect to take more losses but win in the long run.
Yet, this high win rate is combined with a decent profit. Is there something at play other than value bets? Or have they simply shown the most optimistic figures? We will need to look in detail at the possible profits in a minute.
The system itself seems pretty simple. They let you know which upcoming matches you might be betting on. Then they confirm which ones to go ahead on.
Giving the timescales, it doesn't appear to involve any in-play betting. There is a relatively short time for wagers to be placed. So it might be the case of betting just before kick-off.
What Are the Results Like?
91% accuracy is predicted. This means that you should look to win on 91% of your bets. The risk comes in the fact that you will lose an expected 9 times out of 100.
This is a very high percentage of wins. If it is some type of value bet then you need to wonder how it can be so high. The other possibility is that the true results over time aren't as high as this. It may be that the 91% figure reference is the absolute highest you can expect.
It is important to remember this 91% figure isn't guaranteed. This is based on historic results but it could vary in the future. The level of potential earnings is also uncertain. This is because the exact matches and odds can't be guaranteed in advance.
The example provided shows that £522 was the potential profit on a £1,000 starting bank this season. That works out as a 50% profit. The interesting thing about this is that it is worked out on the results over just 6 weeks.
During those 6 weeks, there were 56 possible bets identified. Of this number, 51 won and just 5 lost. This gives a win rate of just over 91%. What isn't clear is how long this rate can be sustained for.
It would also be good to see what games this involved. Football betting is notoriously difficult to get consistent wins on. On the face of it, the results mentioned here are on the exceptionally high side.
There is a mention of thousands of pounds being won in the past. But no statistics are presented to back this up. This is a mixture of money made by the person behind it. He has made profits both for himself and for clients. However, little details are given about this.
Therefore, it isn't clear whether this 91% rate has been consistent over a longer period of time. On balance, it sounds too good to be true. I would imagine that the win rate could drop over time.
That doesn't mean that you won't make money with it. However, I would think that your profits would end up lower than suggested. Certainly, based on the numbers provided, it would be an exceptional return with apparently little risk.
Potential Profits
Nonetheless, all of the potential profits listed are based on the 91% rate. They also use a system of 10% stakes. This gives the possibility of profits reaching over 52% in 6 weeks. So, if you started with £1,000 you could have £2,310 after 12 weeks. After 60 weeks, this number reaches over £65,000.
The number of variables listed means that these figures shouldn't be taken as gospel. This 91% rate is a good starting point but it is by no means guaranteed. It also uses a compound basis, meaning that the profits are left in there all the time. You never put in any more cash than the initial starting point, though.
Another option is to add some extra cash as you go along. The example given on their site suggests the addition of £17 each week. This makes a big difference in terms of the overall profit gained. In this way, the number after 60 weeks is over £84,000.
Other examples are given, based on different top-ups each week. They are all based on the profit rate mentioned earlier. So, none of the possible profits are guaranteed.
You need to bet on all of the matches that are brought up to hope to match these figures. If you miss some games this will affect your overall profit.
Clearly, these figures are designed to be extremely tempting. Who doesn't want to multiply their cash with little risk? Yet, I would suggest that there is some risk that can't be ignored.
If you are using 10% of your bank as a stake then a bad run can quickly reduce your cash. It is difficult to see how you can avoid a losing streak at some point.
Results since the system started
Tim Lowe emailed screen shots of his Betfair account profit / loss and it seems to be going well to begin with. 18 bets placed so far, £115 profit and only 2 losers.
If the results stay similar, this will be a very popular system indeed!

Package Costs
How much does it cost to start using this system? The truth is that the cost to get started is pretty steep.
The initial cost at the time of writing this Optipp system review is £1,497. This gets you everything that you need to get started. It is a lot of money for a system of this type.
After this, you need to pay a support fee each month. This costs £138 each month, although the first 30 days are free.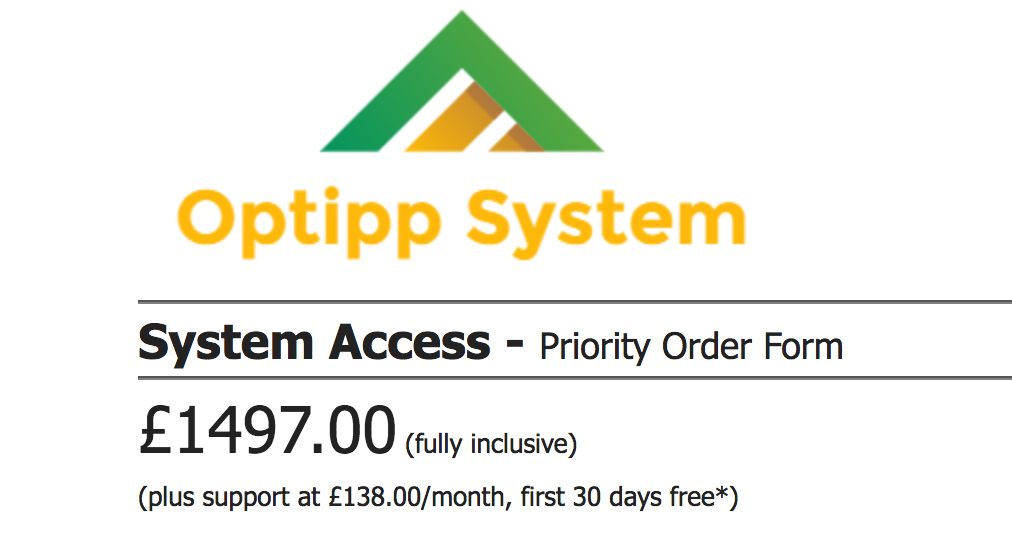 A refund is offered in the first 14 days. This applies until you start betting. So, you can ask for a refund after watching the videos but before you place any bets. It would be nice to be able to try the system first of all.
There is no doubt that this is a high price. You will find other money-making schemes on the internet that are cheaper. If the system is as successful as it claims to be, they need a high price tag to stop it becoming over subscribed quickly. But is Optipp worth it?
This really depends on how much you are likely to earn. If the profits pan out as stated then it makes sense. For that sort of subscription figure, you should really be completely confident about long-term, sustainable earning power.
How to Get Started
The first issue to consider is the starting bank. This is something that makes it clear how accessible a scheme is. In this case, the recommended figure is £1,000. If you don't have this amount, it is going to be difficult to make good money.
It is possible to start with more or less than this if you want to. Under £100 is mentioned as being possibly too little. You would need to use small stakes. This means that you might not earn enough to cover the cost of the scheme.
However, there is a degree of flexibility in terms of how much you get going with. You don't have to stick to $1,000. If you want to wager more then it is suggested that you start with £1,000 and add to it each month. Otherwise, you don't need to put in anything else at all.
10% stakes are the recommended level. You can use a lower amount than this is you want to. However, it is suggested that you don't go above this figure. Part of the reason for this is to ensure that you can bet on more than one match at once.
It is also worth remembering that you will lose sometimes. While the win rate figure to date is very positive, this isn't guaranteed. If you stake more than 10% a losing streak could really eat into your bank. The number of losing bets is probably going to increase at some point.
You will also need a Betfair account. And possibly some bookie accounts too. However, this is easily done. So there is no great holdup or issues expected when you start playing. If you have never used Betfair before then this isn't a problem.
You then get send out details in the middle of the week. This tells you the upcoming matches that are suggested. You will get told by email. You can also check out the details on the site at any point.
A final reminder will let you know whether each bet is definitely to go ahead. This will be given with about an hour or so of notice. You then need to go to Betfair and just place the bet that is needed.
The People Behind It
The introduction to the Optipp system comes from Tim Lowe. You may have seen him advertising other money-making schemes in the past. Tim is one of the most prolific figures in this world of making money from home. He always seems to have something new to promote.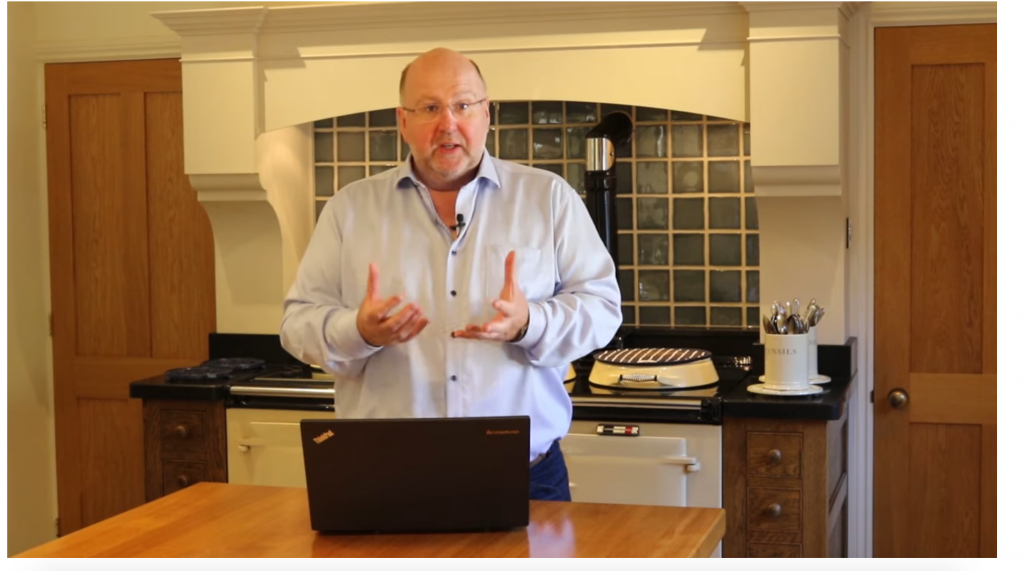 A few of his other offerings include Daisho, 2 Minute Trader and the Football Hedging System. Reviews on these services are mixed, as is typically the case with this kind of thing. Some people have happily made a lot of money while others complain of these ideas not working.
On the positive side, this idea seems easier than some of his other stuff. If you have been put off by complexity in the past, you should be happier with this.
The other person working on this has apparently made hundreds of thousands of pounds for his clients. In fact, he is said to have earned £135,000 for himself in 8 months. He is called Roddy and he has 5 degrees.
Roddy's surname doesn't appear to be mentioned in any of the publicity. It is Tim Lowe who is the public face of the Optipp system. He appears in the video and says that he will be investing in it as well. However, it is Roddy who brings the ideas and the algorithms that make it tick.
He has spent the last five years offering this system to private clients. In fact, it is mentioned that he has been working on it for 15 years. Now it is available to anyone who wants to join them. While it would be nice to know more about Roddy, this offer is based largely on Tim's profile.
If you have made money with him before, you will possibly be happy to give this a try. He has offered many products under the Waverley Media banner over the years. With 20 years of experience in the money-generating niche, his name does have some weight behind it.
Roddy is clearly keeping a lower profile at the moment. His algorithm is the key to success. Yet, all we know about him is the information provided by Tim. So, it is a question of whether you trust him and the figures he has given you.
What Are Other People Saying?
Since this is a new system, there are no reviews of it online. At the time of writing this Optipp system review, it is still new to the market.
After searching online, I could only see a few comments. One of them was interesting, as the person has looked at the profit figures mentioned. In this comment, they suggest that the odds for each match must be around 1.20. They worked this out on a spreadsheet and their numbers seem to stack up.
This would mean that the bets are at very short odds. So, it isn't really about identifying particularly attractive odds. It is more about consistently winning small amounts at good odds. After this, it is the compound aspect that helps the money to grow over time.
It is a clever idea, but only time will tell how it works. Once some people relate their experiences over a few months we will get a clearer idea. Do they really win 91% of the win? Are the profit figures mentioned genuinely possible?
Even a few consecutive losses could really mess up the compound aspect. The figures presented by Tim drop significantly with a lower win rate.
Naturally, we will see more comments and reviews appear in the future. However, for the moment there isn't a lot to go on. I guess a lot of people are still weighing it up. Maybe there are all looking for an Optipp system review to guide them.
Any Complaints?
As with the previous point, there isn't a lot to go on. The system is too recently on the market to get a feel for this. There are no Optipp system reviews and few comments to go on. So, there are neither complaints nor endorsements.
We saw earlier that Tim's other systems tend to have a mixed bag in the reactions they receive.
Who Could This System Suit?
As with any system to make money, this won't suit everyone. There are some reasons for thinking that it could be right some people, though.
As we saw the Optipp system review, it is a very easy system to use. This means that it could appeal to anyone who wants to make money with no fuss.
Will it appeal to someone who wants to avoid risk? I would suggest that it won't. There is no guarantee of winning every time. And your stakes keep on increasing. So if you get nervous about losing money you probably won't enjoy this.
Is It Easy?
60 minutes a week is the total amount of time needed to make this work. This figure is divided up into small chunks of time. So you really only need to spend a few minutes a time on it.
It is also really easy. You don't need to be a football expert to use it. Neither do you have to understand betting markets or the latest technology.
The introduction video tells us that you just need to do what they tell you. If you don't follow their instructions then you will fail. The same applies if you don't put in the time needed.
Optipp System Review Conclusion
We have seen some positive aspects in this Optipp system review. The figures provided are tempting and the system promises to be easy to use.
Yet, there are some issues still to be cleared up. For the moment, I quite like the idea & am interested in seeing if the system delivers the results promised.