I tried eBay Arbitrage for 3 months, here's what happened
The idea of using eCommerce sites to make money isn't new. In fact, many people have been making great profits from the likes of Amazon and eBay for years.
What if you don't have anything particular to sell, though? If there any way that you can get started on this anyway? Well, in that case you might want to consider eBay arbitrage.
This is also known as eBay and Amazon drop shipping. But what is it? And how can you benefit from it?
This is seen by many people as being a smart way of making some money with no risk. If you have never heard of it before then it is worth looking into. I did some research on the subject, to see what it is all about.
What Is eBay Arbitrage?
Let's start at the beginning. You already know that millions of people buy items from Amazon an eBay. Some people prefer buying from one of these sites. Others prefer to use the other. So how can benefit from this difference?
One possibility is to take advantage of the price differences between these two sites. This is essentially what eBay arbitrage is all about. You buy a product cheap on Amazon and sell it on eBay for a slightly higher price.
Let's look at an example. This eBay user is selling the Anker SoundCore Bluetooth Speaker for £39.78. They've sold 131 of them!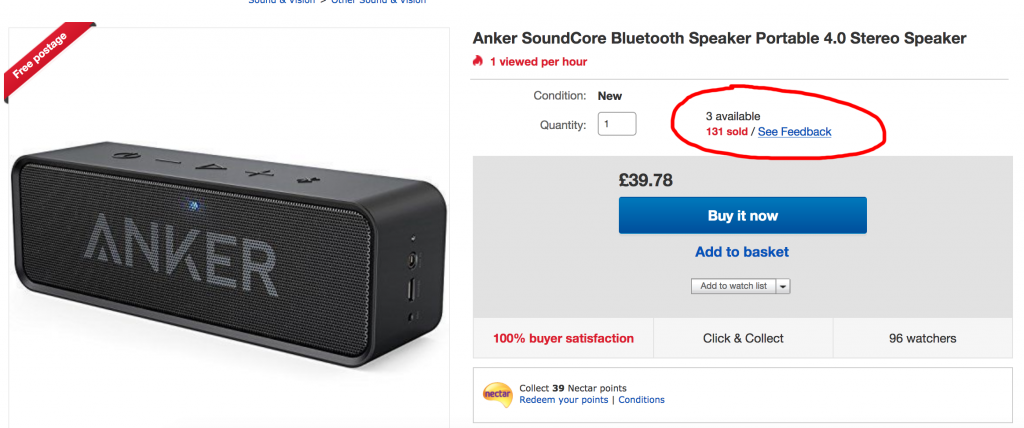 The speaker can be bought from Amazon for £29.99.

Every time the eBay seller sells a speaker, they simply order it from Amazon and ship it directly to the buyers address. After all eBay and other fees are accounted for, the user will make a £5 profit each time they sell one!
This sounds like a great idea, doesn't it? It also sounds nice and simple. Having seen that people make money in this way, I decided to give it a try.
Is it something that provides a nice, regular income? Or is too much hassle or time-consuming for the profits that can be earned in this way?
How Does It Work?
Naturally, we don't want to spend too much time looking for items to re-sell. Therefore, we need some software to help us. For eBay arbitrage, this software will look for items for sale on Amazon. These need to be products that you can then sell at a higher price on eBay.
I used the Profit Scraper tool to do this. This is one of many similar tools that you can choose from. It identifies items that you can offer on eBay. What if someone orders it from you? Then the software automatically orders it from Amazon for you to send it on.
The main benefit of using software is that is so much quicker. It very quickly finds thousands of items that you can sell. You just need to get the software to search the listings on both sites. The fact that it is automated means that you can get started without too much pain.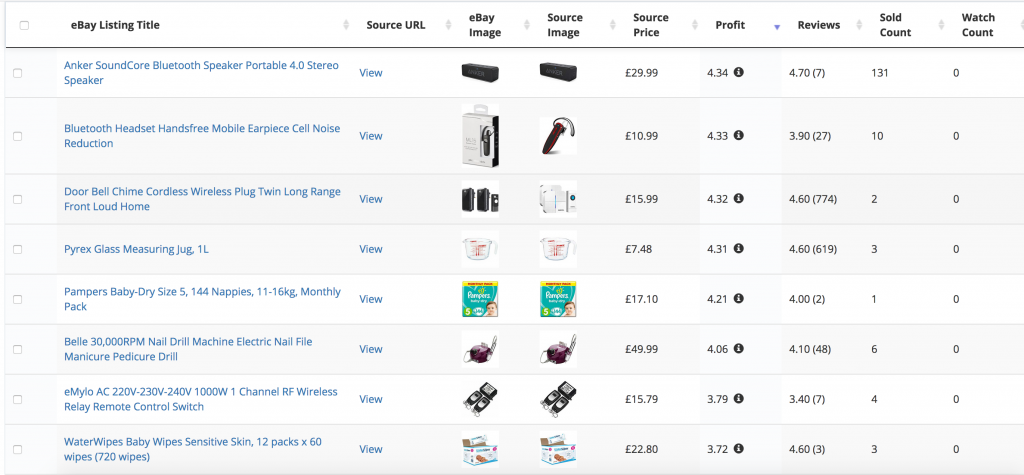 You then just need to clone the existing listing. So you find a listing that you like. Maybe it has a good potential profit. Or perhaps you have a reason for thinking it will sell well. It doesn't take long to get dozens of products on your listings.
You are ready to go after doing this. Just be sure to check it is a perfect match you get. It can occasionally bring back a pair of listings that don't match.
The tool then updates your price on eBay if the cost goes up on Amazon. This ensures that you are always working with a profit margin. Since the prices can move, this is an important point.
The fact that it is easy to do means that thousands of people are already doing this. Maybe you have already unknowingly bought something from someone using eBay arbitrage.
One point to remember is that the number of eBay listings is restricted for new sellers. So, you can't just lump on thousands of products right away. You will need to start off with a reasonable amount, though. Having just one or two products listed is unlikely to work.
You also need to deal with your customers manually. This means answering queries and complaints as they arise. As we will see in a moment, this can eat up a fair bit of your time. However, neglecting to treat your customers well is a big mistake.
How Much Can You Earn?
This is the key question with any sort of money-making scheme. Are you going to be pulling in a fortune every month? Or is it more likely that you are going to earn a pittance from it?
There are two important factors to take into account with eBay arbitrage. The first one is the profit that you get from each item. The second one is the amount of items that you sell.
The profit per item can vary significantly. This all depends on the exact products that your scraper tool brings back. Some will give you a profit of just a couple of pounds each. Others could give you £5, £6 or something along these lines. You probably won't see much bigger profits than this.
As for the number you sell, this depends on different things. For example, how many other people see the same item? What sort of competition are you up against? Since you can scrape other seller's listings, others could be doing the same with yours.
All of this means that the earnings here add up but are still fairly modest. You shouldn't go into this expecting to earn a fortune. It looks like it can give you a decent additional income. But let's see whether it is a worthwhile way to spend your time.
My Test Results
I ran a short test on eBay arbitrage covering the months of November to January. The results varied quite a lot month by month, it has to be said. Some of this comes down to the Christmas effect, of course. I sold a lot of toys and other gifts in December, which really boosted the figures.
January had a pretty poor return, though. It seems clear that this is a seasonal business in some respects. If you want something that brings you consistent profits then this might not do the trick.
In November, my sales added up to £631.11, from 25 orders. The cost of buying the products was £482.98. Once we take off the fees of £92.29, I was left with an overall profit of £55.84. It was a decent start, although I had high hopes of things improving in the run up to Christmas.
In December, I had an impressive sales total of £1409.94. This came from a total of 89 orders made during the month. The costs added up to £1044.97 and the fees were £214.23. All of this left me with a profit of £87.32 for December.
Having said that, this is probably the best month of the year for online sales. The presence of eBay discounts with 15% off also helped to boost sales in this month.
Things were a lot slower in the month of January. During this month. I only had 6 orders totaling just £139.04. With cost of £103.38 and fees of £23.64, the overall profit was £12.02. Clearly, this was a meager return for a full month of sales.
So, in over the three months of trial, the profit was just over £150. Obviously, I would need to carry out eBay arbitrage for longer to get a real feel for it. I should also point out that I didn't go full-out on this trial. There are selling limits for new eBay users which I will cover in more detail shortly.
Yet, this initial test was enough to understand it a lot better. I can now say that some money can be made in this way. Yet, it wasn't as much as I had hoped for.
Is It Worth Using Gift Cards Too?
Another idea that I wanted to explore was that of using gift cards. This is a way of increasing the money you make from sales. Is it going to give you decent profits, though?
To start with, you buy these gift cards on eBay. But you need to be proactive as they don't last for long. Is it going to take some effort to find the cards that you need?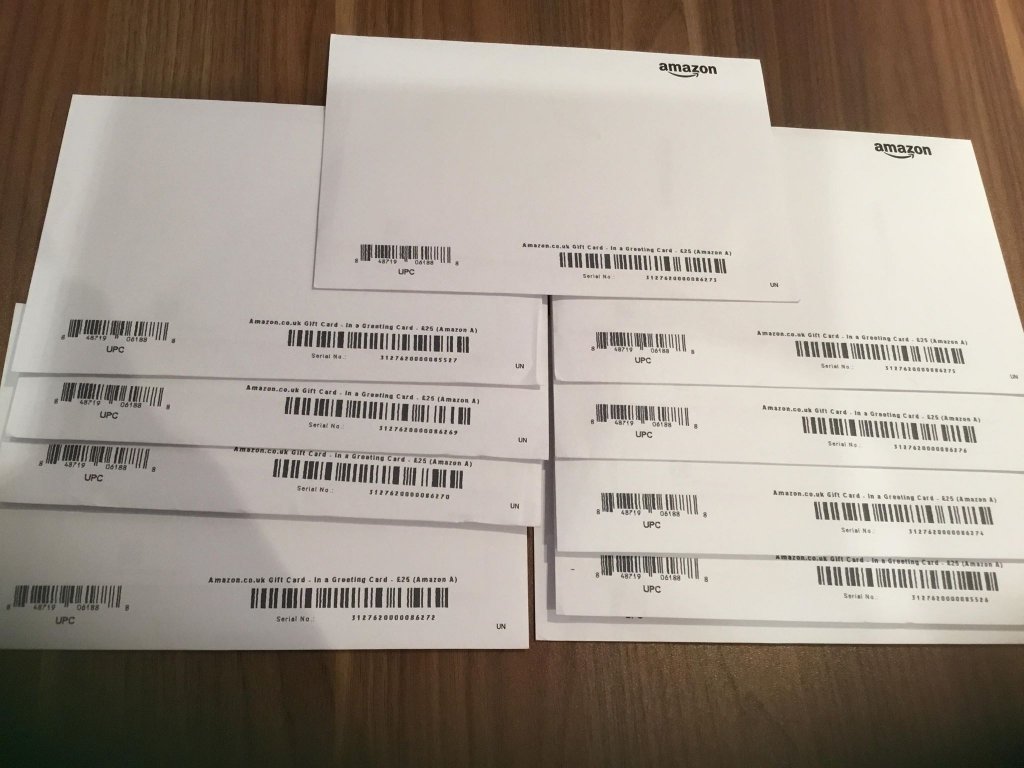 These gift cards then come in useful for saving you some money. The idea is that you spend less. For example, If you buy a gift card for £90, you can buy £100 of stuff on Amazon. That gives you an extra £10 profit for every £100 worth of stuff you sell.
This helped me to increase the money made each month. If you wanted to succeed with eBay arbitrage, you will need to find a reliable gift card seller. That's how the big players make their money.
What Are the Benefits of eBay and Amazon Drop Shipping?
Before we look at some of the main issues, let's consider the benefits of eBay arbitrage. The fact that it is easy to get started is a big plus. Using the right software, you can be up and running in no time.
The lack of a big up-front investment helps too. You don't need to buy anything until the buyer has made an order. So it is easier to manage your funds.
With more people than ever looking to work from home, this is an option. Will you make this part of your home-working strategy? It probably won't be enough to make up your main income. But it can give you something extra each month.
However, you shouldn't take this as being a simple way of working. There are still some issues that you can run into that complicate matters. Let's take a look into this, to see what else you need to know about.
What Problems Can You Run Into?
I have to admit that eBay arbitrage wasn't as much plain sailing as I thought it would be. The idea in itself is great but there are a few problems I ran into. These can take some off the shine off the strategy.
The first one worth mentioning is the competition. As I said earlier, there are lots of other people carrying out eBay and Amazon drop shipping. This makes it really difficult to get enough orders to make decent profits. What if many of them use the same software and identify the same opportunities?
There were also a few issues with deliveries. A couple of times, either the item wasn't delivered or else the box was empty. This can cause you a bit of a headache. However, I found the customer service to be excellent from Amazon and eBay. Just about any issue can be sorted out with some time and effort.
You can see the order below placed on the 18th December. It says on the way, but it's running late. The package never turned up. Luckily Amazon refunded the money so I could refund the eBay buyer.

Another thing to be aware of is the problems that you can with refunds. It is to be expected that some people will ask you for refunds. Yet, this can cause you a whole lot of hassle. If someone returns an item to you on eBay then you need to return it to Amazon.
The selling limits were also a bit annoying.
You can see my current limits of 300 items per month or £6500 in sales. When I started, the limit was 100 items or £2000 in sales. Once you hit the limit, you aren't allowed to sell anything else until the next month. Obviously this slows you down. You can't list thousands of items when you first start out.

I had to call eBay once a month to ask for this be increased. As part of that, they asked where the stock was coming from. I said I was drop shipping, without mentioning the site I was buying from.
This isn't a problem as long as you don't have bad feedback. However, the person you speak to might give you a bit of a ticking-off.
Items being out of stock is another problem you might come across. You don't want to leave any of your ordered unfulfilled on eBay. If you do, then your listing will drop down and you will get fewer orders in the future.
So, what if someone orders from you but the item is now out of stock on Amazon? In this case, you need to scramble around to find it somewhere else.
This can be a real pain and take up a fair bit of time. For example, I had to buy from Asda once, and from another eBay seller another time. This sort of complication really pushes up the time spent on your eBay arbitrage work.
What About Using Other Sites?
What sites can you buy from and sell to? Is eBay arbitrage using Amazon stock your only option for this type of scheme? No, the idea of Amazon and eBay drop shipping is something that can work with other sites too.
Are there any benefits to be had from looking elsewhere at retail arbitrage opportunities? Well, this could offer you better profits if the price difference is better.
There is also the level of competition to take into account. eBay arbitrage using Amazon stock is an extremely popular idea now. This means that a lot of people could be selling exactly the same things. You might find it easier to make sales using other products from different sites.
So, using alternative retail sites could allow you to tap into less competitive markets. However, it probably still needs to have a fair amount of work done on it to succeed. For the moment, I think there is a good reason why people tend to stick to eBay and Amazon.
I saw eBay users drop shipping items from Smyths Toys and Wilkinson's. There was almost no competition for their items, they had better profit margins and they sold a lot of items.
Is the Profit Scraper Software Any Good?
This is a good tool that makes eBay arbitrage easier than it would otherwise be. In fact, without this sort of software, this money-making strategy would be pretty much impossible.
For a start, this is the way that you identify stock in the first place. So, you can get started a lot more easily. In a matter of minutes you can get your listing up and running.
After that, it helps you to carry on as smoothly as possible. For example, it automatically orders the items from Amazon when you get an order.
It also monitors the price difference and stock availability. Having said that, things can move quickly on these sites. It is still possible to get caught out by price changes or unavailable stock.
Of course, there are other software options of this type out there. I didn't check out the others at all. But Profit Scraper was decent enough for Amazon drop shipping in my opinion. At the time of writing, there is a 7-day free trial offer available.
Overall I was happy with the service they provide.
It Is Worth It? eBay Arbitrage Conclusion
Overall, this was a very interesting experience. eBay arbitrage is something I had heard a lot about and was keen to try.
I found out that some profits can be made like this. However, I have to admit that they were fairly modest. There was nothing to suggest that this could turn out be a huge money-spinner.
This could change if I got more products listed. If I left more items for sale for longer then I should sell more. On the other hand, this would undoubtedly lead to more issues with complaints, deliveries etc. There probably comes a point at which it is more hassle than it is worth.
I also have to admit that Amazon and eBay drop shopping is a bit of a pain at times. It can be frustrating and it can also take more time than I had hoped that it would.
I am glad that I took the time to give this approach a try. However, it isn't something that I plan to carry on with. At the time, the profits don't really justify the time and effort that is needed.