Bookie Blowout Mobile App
I've made a mobile app for Bookie Blowout so you can have the notifications sent to your mobile or tablet. This saves you sitting at the computer waiting for the notifications on the website.
Why not just send emails?
This is a big change for Blowout users. Previously I used to send emails each night.
One day Gmail, Hotmail and Yahoo all decided to start delaying the bets making the information useless! Good luck trying to place value bets with emails that have been delayed by 12 hours.
After 12 months relentless work, I'm proud to announce the Bookie Blowout mobile app. This solves all of the previous problems. The bets are now sent in real time straight to your mobile phone or tablet. You can place your bets whilst on the go rather than being sat at your computer waiting for them to come through.
Were do I download it from?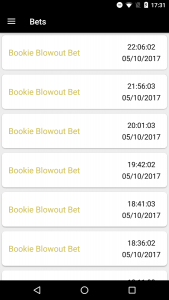 Can I get involved?
The Bookie Blowout application is available to all registered users. Click here to sign up now.